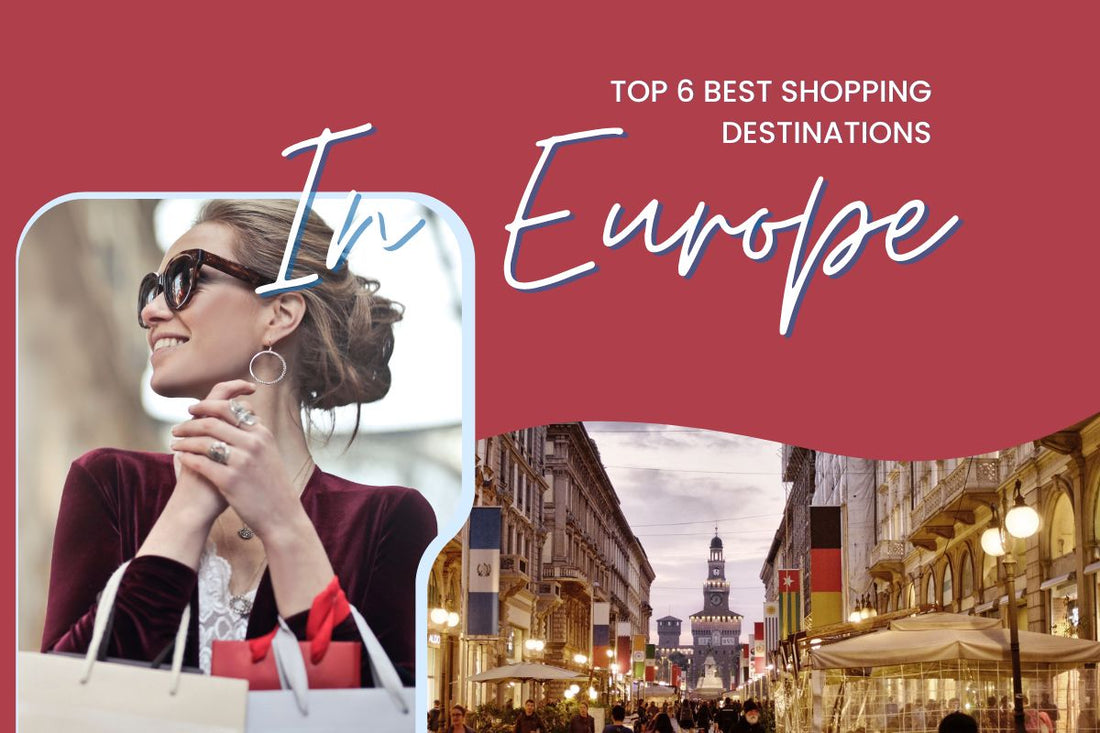 Top 6 best shopping destinations in Europe
Europe's best shopping destinations are a must-see for anyone who loves to window shop and find their perfect souvenir. For those looking to make major purchases, plenty of interesting antique shops will take your breath away with beautiful pieces from centuries past!
Milan
Milan is the heart of fashion in Italy, a city where you can find anything from trendy street style to high-end designer boutiques. 
With many global brands headquartered or located, there are no shortages of fashionable shoppers here. 
You'll be surrounded by great opportunities at every turn: head down Corso Buenos Aires, which has one store per square foot more than anywhere else across Europe, and explore Via Montenapoleone full of luxury labels, such as Armani, Prada, Versace, Salvatore, Ferragamo & Ermenegildo, Zegna. 
And don't forget that those less famous designers are working hard, so their customers have everything they need.
Paris
Paris has a rich history as one of the world's most famous cities, and it continues to draw people from all over. The Champs-Élysées is always bustling with tourists looking for high-end shopping that can be found nowhere else on earth.
However, there is more than just this street when you explore Parisian neighborhoods like Belleville or Ménilmontant, where locals shop without teeming crowds in their own authentic markets filled with fantastic finds.
There's no doubt about it. The Marais is a mecca for those looking to style themselves up. Here you'll find everything from high-end jewelry and cutting-edge fashion brands at your local boutique stores, or hip wine bars with friendly staff, who will happily pour them some coffee while they browse through new releases in bookstores- whatever their heart desires really.
Just around the corner from bustling Les Halles, Rues Étienne Marcel, du Jour, and Montmartre are jam-packed with big names like Yohji Yamamoto or Agnès b. 
However, it also boasts many smaller boutiques that are popular among young, hip Parisians, such as Shine, where you can find great clothes at reasonable prices.
Antwerp
If you are looking for a shopper's paradise, then look no further than Antwerp. The city offers an array of trendy stores and designer boutiques, where local fashion designers show off their latest creations alongside international retailers like Zara or MaxMara. 
It is hard not to be captivated when walking down any streets lined with exquisite dress designs from this stylish region.
Provence
What's not to love about a place where you can find anything from food and clothing, to collectibles like old paintings or furniture, even antiques? 
The markets in Provence are so much more than just places for these items: they're hubs of cultural activity, enabling locals and tourists to interact with the people on their own level.
Not everything in Provence is perfect. But there are some things worth loving about the region, especially its markets. So go ahead and enjoy your time spent browsing through this colorful scene until you can because one day, it might be gone forever, like so many other cultures before us that have lost their traditions due to globalization.
The Souleiado tablecloths may seem silly at first glance, but yield yourself up for joy when puttering around town doing errands or visiting friends. These flea market-style activities make life more interesting.
Venice
Globalization has made most goods available in Venice and items like Venetian glass widely accessible. While the selection of Italian or specially made products may be better than what you would find at home, prices are often lower across borders because retailers discount their sale items drastically to make them more attractive for shoppers abroad.
The city of Venice is a must-see for any traveler, but if you want to save money on antiques from this historic haven, then be sure to check out what's available back home before your trip. There are countless vendors with their trademark wares, such as glass and lace that can't be found anywhere else in Italy.
The authenticity of some goods can be suspect, but they're often pleasing to the eye regardless. There are also some interesting craft and art studios, where you'll find high-quality one-off items that won't show up anywhere else in Venice, even if it is just lace or glassware.
You may want to visit other Italian cities for leather clothing, furnishings, etc., as there is more choice here than on first impressions.
Brussels
Brussels' art scene is on the rise, with boulevard Barthélémy playing home to some of Belgium's most innovative galleries. There you'll find antique dealers and smart art stores specializing in new or rare examples from Europe.
One such shop is those found within Galeries St-Hubert - an elegant arcade lined with posh shops selling clothing for men & women, while also containing several booksellers who constantly stock their shelves accordingly.
There are a number of fashionable boutiques along rue Antoine Dansaert and place du Nouveau Marché aux Grains, near the Bourse. These stores carry fashion by up-and-coming designers and interior design items for your home with an artful touch.
Avenue Louise offers chic clothing from brands, such have been seen on runways around Europe, but at prices, you can afford, come shopping here today if that's what interests you most about being out clothes shopping.
It will be perfect if you rent a bus to drive yourself and explore those destinations. Contact MBS87: sales@mbs87.com or +33771800874 to book our service!