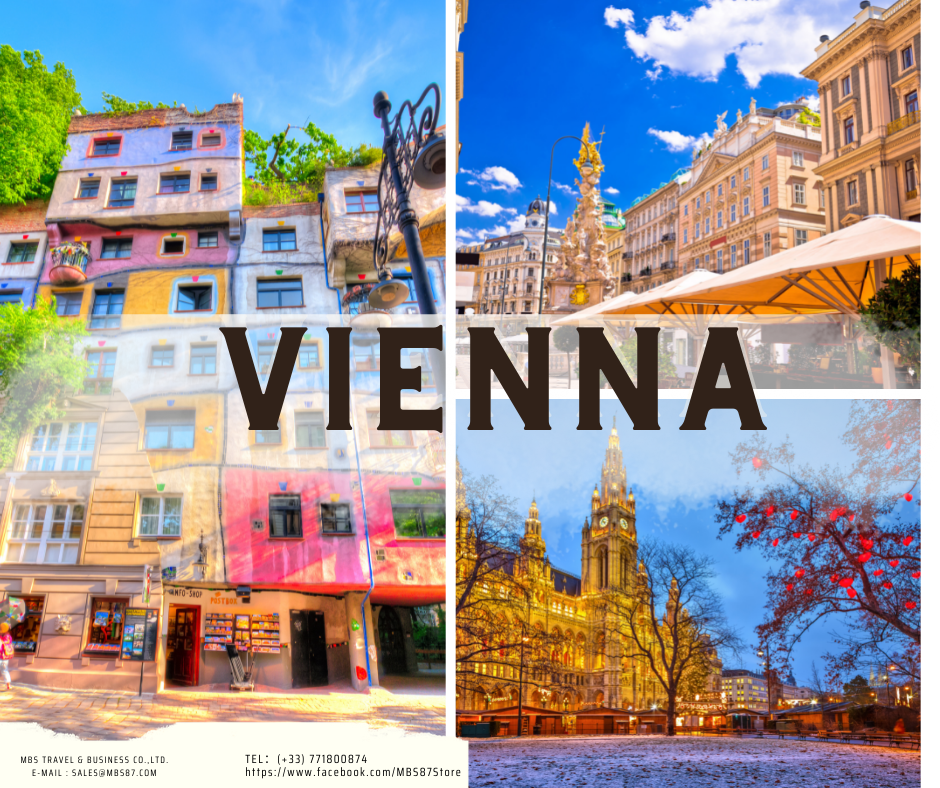 How To Spend 3 Days In Vienna
Our 3 days in Vienna turned out to be incredible. Partly because the Austrian capital has long been on our bucket list and partly because we decided to celebrate our 
DAY 1 IN VIENNA
Start the day at Vienna's most visited tourist attraction. During Maria Theresa's reign, the Schönbrunn Palace became the imperial summer residence. Today it is a UNESCO Cultural Heritage Site. The Schönbrunn is a Baroque palace and has 1,441-rooms. It is one of the most important architectural, cultural, and historical monuments in Austria.
Tip: make sure you reserve your tickets online. If you have the Vienna Pass, try to arrive as early as possible and pick up your ticket from the Vienna Pass representative. Your ticket has a specific entrance time on it, you cannot enter the Palace before that. Make sure to leave your bag at the cloakroom, prior to your tour. Audio guides will be provided in your language.
GLORIETTE AT SCHÖNBRUNN PALACE
The Gloriette provides unique views of the Park and Schönbrunn, as well as large parts of Vienna. It is one of the most popular sights in Vienna and very photographed attraction.
The maze is a beautiful green labyrinth which offers a relaxing walk in the baroque park. The maze consists of three parts: the maze, the labyrinth and the Labyrinthikon playground.
ORANGERIEGARTEN AT SCHÖNBRUNN
This is the second largest baroque Orangerie in the world, after the one in Versaille. Here, you will find exotic plants such as pomerans, olive trees and beautiful myrtles.
PRIVY GARDEN AT SCHÖNBRUNN
The Privy Garden or the Crown Prince Garden were used as the imperial family's private gardens until the end of the monarchy in 1918.
PALM HOUSE AT SCHÖNBRUNN
One of the most important Palm Houses in Europe and the biggest of its kinds in continental Europe. You will find an amazing array of exotic plants, beautiful blooms, trees and gigantic snails. If you are a botanic garden lover like we are, this is an absolute must. Sure it's not as large as the Royal Botanic Garden of Kew or The Royal Botanic Garden of Edinburgh, but still, pretty amazing. We loved it.
APPLE STRUDEL SHOW AT SCHÖNBRUNN
Want to know how to make the original Viennese Apple Strudel? Of course, you do! Attend the Apple Strudel Show located just outside the Cafe Residenz at Schönbrunn. The show runs every hour so make sure to time your arrival well. You will see a pastry chef preparing an Apple Strudel right in front of your eyes. Of course, you will get to also sample some amazing Apple Strudel and fall in love with the taste. At the end, you will receive the original recipe and the number of the Apple Strudel hotline in case you need help whilst baking your first strudel. I mean, come on, how cool is that?
QUICK LUNCH AT CAFE RESIDENZ
After enjoying the apple strudel show, why not sit down for a nice lunch? We ordered a couple of cakes and coffees. If you are hungry, you can order food here, but the prices will be a little higher than in less touristy places.
Tip: If you want to preserve your energy between all these awesome Schönbrunn attractions, then take the Panorama Train. The Panorama Train is wheelchair and pram accessible. You can hop on and off as often as you like or stay for the full tour which takes 50 minutes. They stop every hour and every half-hour at the Gloriette Hill and the Schönbrunn Palace.
A day pass costs 7 EUR or Free with the Vienna Pass.
STATE HALL OF THE AUSTRIAN NATIONAL LIBRARY
The State Hall of the Austrian National Library is one of the world's most beautiful historic libraries. Today, the State Hall houses 200,000 valuable books published between 1501 and 1850.
Located in the heart of the city, Albertina is the largest former private Habsburg residence. Today Albertina houses an amazing array of art, including permanent and temporary exhibitions. If I could recommend one single thing to do in Vienna, a visit to the Albertina would be it. I loved the collections so much. I got to see Monet and Picasso (permanent), as well as the Raffael (temporary) and the Bruegel collections (temporary).
TIME TRAVEL VIENNA
Time Travel Vienna is an entertaining experience which lasts roughly 50 minutes. Get audio guides at the beginning, then walk around from room to room to learn something interesting about Vienna. As part of the tour, sit down in a 5D cinema, enjoy some multimedia shows and fun effects. You can even experience a bunker during war bombing. All in all, a fun little adventure, which mainly targets young adults, but worth visiting for some late evening fun.
DINNER AT LUGECK
Can you imagine a better way to end your first day in Vienna, than by enjoying a warm schnitzel and a glass of beer? We wanted to enjoy dinner at Lugeck, although we were surprised to learn we needed a reservation. Luckily, we could sit at the bar area and enjoy the same level of service as everywhere else in the restaurant. In fact, we prefered the bar area as it was a little more intimate. If you rather, you can visit their website and book your table in advance. We ordered the Wiener Schnitzel with a glass of Attakringer Zwickl each. It was pretty damn perfect
DAY 2 IN VIENNA
An interactive wax museum with several photographic opportunities. You can study the wax figurines up close and see the incredible craft details. You can even interact with a few of them. If you've never been to a Madame Tussauds, then this is great. If you are familiar with the museums, then you might want to consider skipping this attraction. Don't worry though, plenty to do around the Prater park.
Address: Riesenradplatz 1, 1020 Wien, Austria
Opening Hours: 10:00 - 18:00
Public Transport: U1, U2 Praterstern
Admission Fee: 23 EUR or Free with the Vienna Pass
The Vienna Giant Ferris Wheel has been turning since 1897. The views of Vienna from above are truly outstanding. The wheel rotates quite slowly which enables you to get steady pictures of the city. Of course, many remember the wheel from the epic film "The Third Man".
Address: Im Wiener Prater, Riesenradplatz 5, 1022 Wien, Austria
Opening Hours: 9:00 - 23:45
Public Transport: U1, U2 Praterstern
Admission Fee: 10 EUR or Free with the Vienna Pass
Have you ever heard of Friedensreich Hundertwasser? He founded the Kunst Haus Wien which is the world's biggest collection of his work. Check out his incredible work (honestly, it really is fantastic) and don't forget the international photography exhibitions on the top floor. When we visited, we saw the Vision of Nature and got to take a huge free poster of grass with us. I'm serious, it looked epic!
Address: Untere Weißgerberstraße 13, 1030 Wien, Austria
Opening Hours: 10:00 - 18:00
Public Transport: Tram 1, 0: Radetzkyplatz
Admission Fee: 12 EUR or Free with the Vienna Pass
Only a few streets away from the Kunst Haus Museum, the Hundertwasser Haus is a super colourful apartment house. You can't actually visit it, but you can take pictures from outside. Within the house, there are 53 apartments, 4 offices, 16 private terraces, 3 communal terraces, and a total of 250 trees and bushes. It is considered a cultural heritage.
Address: Kegelgasse 36-38, 1030 Wien, Austria
Also known as the Capuchin Crypt, the imperial burial vault is the resting place of the emperors and empresses of the House of Hapsburg. It is interesting to visit, as the Crypt itself has various sculptured coffins, but ultimately it is a little morbid. We sort of zoomed through as we felt odd just walking through what essentially is... a graveyard. Nonetheless, if history is your thing, then you should probably add this to the list.
Address: Tegetthoffstraße 2, 1010 Wien, Austria
Opening Hours: 10:00 - 18:00
Public Transport: U1, U2, U4 Karlsplatz;
Admission Fee: 7,50 EUR or Free with the Vienna Pass
The Leopold Museum is located in the Museum Quarter and hosts some important Viennese Art Nouveau, Wiener Werkstätte, and expressionism. Although I enjoyed the art presented in the museum, I found the customer service to be a little abrupt.
Address: Museumsplatz 1, 1070 Wien, Austria
Opening Hours: 10:00 - 18:00
Public Transport: U2 Museum Quartier
Admission Fee: 13 EUR or Free with the Vienna Pass
There are several options for lunch. You can sit down at the Leopold Museum cafe and enjoy the views over the Museum Quarter. Alternatively, you can have a traditional sausage at the Bitzinger stand located in front of Albertina, 13-minute walking distance from Leopold Museum. If you fancy something more sophisticated, then we strongly recommend the Palmenhaus, a great restaurant in an old palm house, which serves great food and drinks.
Leopold Cafe: Museumsplatz 1, 1070 Wien, Austria
Bitzinger: Augustinerstrasse 1, Vienna 1010, Austria
Palmenhaus: Burggarten 1, 1010 Wien, Austria
Mumok is the largest museum of modern and contemporary art in Central Europe. If you like Pop Art, Cubism, Futurism and Surrealism, then this is the place for you. My concern with the museum was that I had to pay extra for the cloakroom. You see, I had my large poster from the Kunst Haus and I was not allowed in the museum with it. It was too big for the lockers as well so I had no choice but to pay 1 EUR on top of the normal fee. I thought that was poor.
Address: Museumsplatz 1, 1070 Wien, Austria
Opening Hours: 10:00 - 19:00
Public Transport: U2 Museum Quartier
Admission Fee: 11 EUR or Free with the Vienna Pass
The Natural History Museum opened in 1889. It has an amazing collection, including the famed "Venus of Willendorf", a 29,500-year-old artefact. It also houses the largest and oldest meteorite collection in the world.
Address: Burgring 7, 1010 Wien, Austria
Opening Hours: 10:00 - 18:30 (open until 21:00 on Thursdays)
Public Transport: U2, U3 Volkstheater
Admission Fee: 10 EUR or Free with the Vienna Pass
The Belvedere is a UNESCO Heritage Site. It features beautiful gardens which connect two palaces. The Upper Belvedere is home to the world's largest collection of Gustav Klimt's art. The Lower Belvedere features many temporary art exhibitions.
Address: Prinz Eugen-Straße 27, 1030 Wien, Austria
Opening Hours: 10:00 - 18:00 (open until 21:00 on Friday)
Public Transport: Tram 0, 18: Quartier Belvedere, Tram D; Schloss Belvedere
Admission Fee: 20 EUR or Free with the Vienna Pass
We heard rumours about this place. They sell this crazy platter for two which has sausages, schnitzels, steaks, sides and more. So we couldn't wait to visit Gasthaus Kopp and order it for ourselves. The result? A huge meal which we could barely finish. The beers were also great and the service impeccable. The platter was just 20 EUR for two people, a huge meal well worth every penny. When we return to Vienna, this is our first stop for food. Just note that they are a little out of the city centre.
Address: Engerthstr. 104, 1200 Vienna, Austria
Opening Hours: 06:00 - 01:00
Public Transport: Train to Wien Traisengasse Bahnhof or U6 to Dresdner Straße
This has to be one of the coolest ways to start the day. This market offers exotic foods and spices from all around the world, as well as great fruits and veg. There are several restaurants where you can enjoy brunch. It can get a little busy over the weekend, but it's a fun place nonetheless. We recommend trying the huge green olives and feta cheese with some freshly baked bread.
Address: 1060 Vienna, Austria
Opening Hours: 9:00 - 18:30
Public Transport: U4 Kettenbrückengasse
Admission Fee: FREE (yay)
We kept one of the best for last: the epic Bank Austria KunstForum which is great for classic modernism, impressionism and avant-garde lovers. I was so excited about seeing some incredible collections here, but unfortunately, the museum was not open when we arrived. I was devasted. I was so looking forward to seeing some Van Gogh, Cézanne and Toulouse-Lautrec.
Address: Freyung 8, 1010 Vienna, Austria
Opening Hours: 10:00 - 19:00
Public Transport: U3 Herrengasse, U2 Schottentor
Admission Fee: 11 EUR or Free with the Vienna Pass
It's time to do something a little different than visiting museums and art galleries: a short hiking trip. Take the U4 subway to the end of the line (Hütteldorf), then follow the signs to Lainzer Tiergarten. We recommend that you make your way up to the Rohrhaus by following either the red (longer route) or orange (shorter route) signs.
Along the way, you will have plenty of photo opportunities. Enjoy panoramic views of Vienna, hike through dense forests and take a breath of fresh air. Can you believe it that this place is only 25 minutes away from the centre of Vienna? Incredible! There are boars and wild deer roaming freely in this nature reserve.
Address: 1130 Vienna, Austria
Opening Hours: 08:00 - 18:30
Public Transport: U4 Hütteldorf
Admission Fee: FREE
What's better than traditional food after a hike in nature? To get to Rohrhaus you need to hike for about an hour. Order a Schnitzel and have a glass of beer. Warning: the portions are huge! We also ordered an apple strudel with vanilla pudding, a glass of sturm and some coffee. We left Rohrhaus super happy.
Address: Rohrhausstraße, 1130 Wien, Austria
Opening Hours: 10:00 - 19:00
You are in the capital of classical music, so getting tickets to a classical concert is an absolute must. We reserved tickets several months in advance for Mozart Requiem at the St. Charles Church. The church was incredible, looked majestic, especially at night. The concert was superb, just as expected. You can check the latest events and buy tickets in advance.
What better way to end your 3 days in Vienna than by having dinner in one of the finest restaurants in the city? Mini Restaurant was founded by a Hungarian, so expect some Hungarian dishes on the menu. The staff are mainly Hungarian but they speak English and German too. The food was exquisite and well presented. I found no faults with the service either, and the wine was magic. Being one of the best restaurants in Vienna, you can imagine that you should make a reservation in advance.
Address: Marchettigasse 11, 1060 Wien, Austria
Opening Hours: 18:00 - 23:00
Public Transport: U4 Pilgramgasse
We realise that there is still so much left to do in this gorgeous city, and we couldn't cover everything we wanted to see during 3 days in Vienna. For example, we really wanted to visit the Hofburg, the Johann Strauss apartment, have a river cruise, check out the Sigmund Freud Museum and enjoy a wine cellar tour. Clearly, we need to go back to Vienna and dedicate even more time. Not that we mind, as Vienna managed to conquer our hearts. So much so, that we are happy to call it the best city in Europe. We absolutely loved everything about it.
This article was created in partnership with Vienna Tourism Board and Vienna Pass. We thank you for your support and guidance. We loved Vienna so much, we can't wait to call it our home. We are most excited to share this incredible destination with our readers, it truly deserves its outstanding reputation.
What will you do during your 3 days in Vienna? Are you interested in more food, even more culture? Let us know in the comments section below.