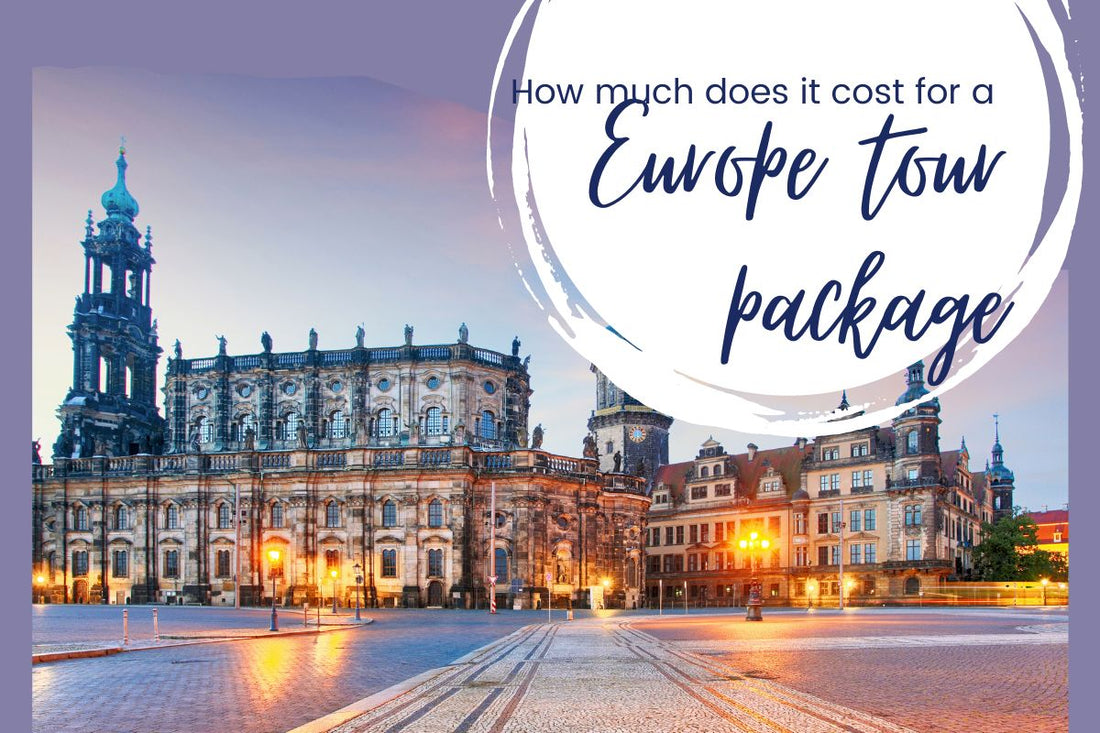 How Much Does It Cost for A Europe Tour Package?
There is no one answer to this question, as the cost of a Europe tour package varies greatly depending on your budget and travel style. However, it is possible to have an amazing European holiday on any budget.
If you're looking to explore some of the most beautiful and interesting places in Europe on a budget, our two-week budget below is perfect for you! It includes average transportation, food, and accommodation costs in some of our favorite destinations.
Air ticket
A trip to Europe can cost anywhere from $650 to $1,000 or more, depending on your location and how you get there.
Depending on where you're flying and when, the price of a plane ticket can vary significantly. For example, tickets to Amsterdam and Ireland are much less than other European destinations. Keep in mind that flights in the summer will likely be more expensive than those during other seasons.
Being flexible with your travel plans is the best way to find cheap flights. However, there are other ways to save as well. For example, booking a multi-destination ticket can be cheaper than a direct ticket. Also, discount carriers can help you save money on travel expenses.
By flying with a European airline, you can get a free stopover in one of their cities. You can get great deals on airfare by signing up for email alerts from websites like Skyscanner or Google Flights. Skyscanner is a website that allows you to search for the best flights from hundreds of different airlines.
If you're Canadian, consider applying for one of the best travel rewards credit cards in Canada. These cards can help offset your costs by awarding you points every time you use them.
If you're looking for a travel credit card with a great welcome bonus, the American Express Platinum Card is a great option. With its large sign-up bonus, you can potentially get hundreds of dollars worth of free travel.
There are a few different credit cards that offer no foreign transaction fees. These cards can be helpful when traveling abroad, as you won't have to worry about paying any additional fees for making purchases in foreign transaction fees.
Accommodations
A Europe tour package can be a little pricey, but it's definitely worth it. Depending on your style, you can expect to spend around $150 per night on your hotel. This comes out to about $1,950 for 13 nights. There are many great accommodation options in Europe, so you're sure to find something within your budget.
Choose hostels for your Europe tour package
Hostels are a great option for backpackers traveling through Europe. They offer great value for your money, with rates averaging around $15 – $20 per night. Suppose you're looking for a more comfortable experience. In that case, there are also many great boutique hostels available that can cost a bit more but are worth it for the added amenities and convenience.
Mid-range hotels
If you're looking for a cheap but comfortable place to stay, $150 a night is a good deal for a hotel. Keep in mind that prices may vary depending on the country you're visiting.
Luxury hotels
Depending on which city you visit, you may find a number of luxury hotels to choose from. If you're looking for a luxurious experience and don't mind spending more, budget an extra $200 – $300 per night.
Airbnb apartments
You can find private apartments in great locations for around $100 a night on Airbnb. If you're traveling with kids or family, Airbnb can be great since you can usually find a space to accommodate your party. Though Airbnb has become more expensive, it's still a better hotel alternative.
Transportation
$400 should cover your transportation costs for getting around the cities during your trip. This includes flights and/or trains to every destination and transportation within each city. Keep in mind that you may also need to budget for trips to/from the airport, day trips, and other public transportation use.
If your Europe tour package includes 3 countries over the course of two weeks and aren't taking many day trips, we don't recommend you take a Eurail pass. If you're buying tickets in advance, you can usually get good prices and a confirmed seat.
Tourist attractions for a Europe tour package
There are a lot of fun things to do in this city without spending a lot of money. You can check out the free museums and art galleries, or go for a walk in the park. If you want to do something more active, there are also plenty of affordable activities like bike tours or kayaking.
Parks are always a great option if you're looking for a way to explore a new city without spending any money. And, if you're feeling adventurous, you can always take a walk around the neighborhood – it's an easy and free way to see everything the city has to offer. Additionally, there are many free walking tours available in Europe – so why not take a look?
There are a lot of different ways to save money when you're traveling. Some people choose to camp or Couchsurf, while others take advantage of free walking tours. If you're looking for something a little more comfortable, check for museum passes or discounted attraction tickets. No matter your travel style, there's a way to save money!
Klook offers discounted tickets and skip-the-line privileges for some of the top attractions. So if you want to visit some paid attractions, don't miss Klook.
Food and drink
Meals for two can range anywhere from $5 to $30 or more, depending on what type of food you choose and how much alcohol you drink:
Depending on your spending habits, you could expect to spend anywhere from $30 to $60 per day on your Europe tour package. This will cover your food costs as well as some extras, like drinks and museum admissions. 
If you like to drink alcohol, your budget will need to be higher. You can try mixing street food with restaurant meals and buy breakfast and snacks at the grocery store. This helps to save money without sacrificing too much comfort or variety.
We recommend trying the local delicacy if you want to experience the local cuisine. Every city, every country has its own dish that's worth trying, so be sure to ask around and see what's available. It might be a little more expensive than your usual meal, but it's definitely worth it!
Extra spending
Be sure to budget for your shopping needs when planning your vacation! You don't want to be caught off guard and spend more than you planned. Whether you're buying gifts for friends or souvenirs for yourself, make sure to account for them within your budget.
There's no one-size-fits-all answer to this question, as the best city for shopping depends on what you want. If you're looking for high-end fashion, Milan is a great option, while if you're looking for cheaper options, road shops or smaller stores are a better choice.
Generally speaking, you should budget around $200 or 200 Euro for unexpected expenses that may come up while you're traveling. Even if that means spending a bit more on tourist activities, you won't regret it.
In a nutshell, how much a Europe tour package tour costs depends on what you want out of the trip. You can save money by researching and planning, but it's easy to spend a lot of money if you think it's necessary. If you don't know or don't want to build a schedule yourself, MBS 87 can help you. Contact us today so we can build you the most affordable schedule.
https://mbs87.com/en-vn/blogs/eastern-europe-tour