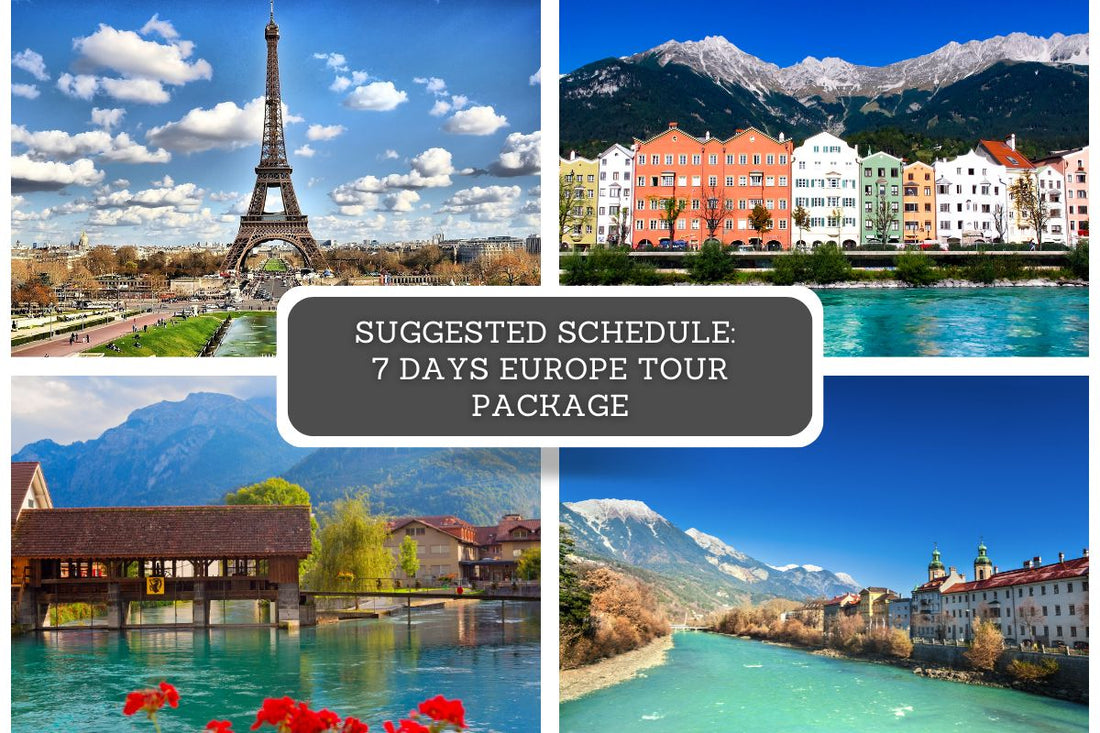 Where Should I Visit in 7 Days Europe Tour Package?
Where Should I Visit in 7 Days Europe Tour Package?
Take a trip to Europe with this 6 nights and 7 days Europe package! This tour includes everything you need to see and do amazing things in each country. From France, Switzerland, Liechtenstein, and Austria, you'll be in for a truly unique experience that you won't want to miss.
Day 1: The 1st day of 7 days Europe package: Paris
Your Europe tour package gets underway in the amazing city of Paris.
Welcome to Paris, one of the most beautiful cities in the world! Upon your arrival at Charles de Gaulle Airport, you will be met by our representative and transferred to your hotel. After check-in, enjoy a delicious dinner and then explore all that this city has to offer. Paris is sure to enchant you from its amazing music scene to its stunning architecture.
The cruise on the River Seine is a breathtaking experience that you won't want to miss. As the night progresses, be sure to enjoy an Illumination Tour of Paris - it's nothing short of magical. Finally, cap off your first day in Europe with a spectacular show at the Lido.
Day 2: Visit Disney
On the second day of your 7 days Europe tour package, you'll get to enjoy a delicious breakfast at the hotel before visiting either Euro Disney or Walt Disney Studios. These world-famous theme parks are filled with thrilling rides, amazing shows, and your favorite Disney characters. It's a fun-filled day for the whole family!
Disneyland Paris is a place where you can find excitement around every corner. Whether it's racing through space on Space Mountain, dodging traps on Indiana Jones, or flying through the sky on Big Thunder Mountain, there's something for everyone to enjoy. And what better way to capture the fun than with a photograph of you and your favourite Disney character?
If you're looking for thrills and excitement, then Disneyland Park is the place for you. With rides like Indiana Jones and the Temple of Doom, it's sure to get your heart racing. If you're looking for something a little more low-key, then Walt Disney Studios may be more your speed – with its behind-the-scenes look at movie making, it's a perfect place to explore your creative side.
Next, visit some of the most famous monuments in Paris, such as the Pyramid of the Louvre and Garnier's Opera. See where many important people were executed at Place de la Concorde.
Strolling down the world-famous Champs Élysées, you will be treated to the perfect mix of fashion and style. If that's not enough for you, an exhilarating ride up the Eiffel Tower will give you a breathtaking view of Paris at its finest.
As your whirlwind Europe trip comes to a close, you enjoy a delicious dinner at your hotel and settle in for a comfortable night's sleep.
Day 3: Arrive Geneva
The third day of your vacation finds you in the stunning city of Geneva in Switzerland. After a delicious breakfast at your Paris hotel, it's time to explore this amazing city.
The first stop on our tour is the Palais des Nations, the European Headquarters of the United Nations. This imposing building is home to some of the most important meetings and discussions in the world. We'll then visit the Musée Ariana, which is dedicated to ceramic and glass artwork.
In the afternoon, take a break for lunch and refuel yourself. Then, be prepared to be amazed by the Jet d'Eau- one of the tallest fountains in the world. It's a great place to snap some photos.
Your Geneva hotel will be a great place to rest and relax after today's activities. Enjoy a delicious dinner in the hotel restaurant, and then retire to your comfortable room for a good night's sleep.
Day 4: Visit Geneva
On the 4th day, enjoy a delicious breakfast at the hotel before embarking on an exciting adventure to Glacier 3000 in Switzerland. With ski lifts and cable cars, Glacier 3000 is the perfect place for thrill seekers and nature lovers alike. With stunning views of the snow-capped mountains, it's easy to see why Glacier 3000 is such a popular destination.
Experience the thrills of cable car rides, the Alpine Coaster, and amazing views from the viewpoint on your holiday in Les Gets.
Have a great time skiing and snowboarding on the glaciers, and then take a thrilling Snow Bus ride over the ice. You will be amazed by the views, especially from inside the cable car. After a day full of fun, enjoy dancing and a delicious dinner. Then return to your hotel for a comfortable night's sleep in Switzerland.
Day 5: Interlaken
On the day of your six-night, 7 days Europe tour package, you will be transferred from Geneva to Interlaken. Once you arrive in Interlaken, you will check in at your hotel and then relax.
Today is the last full day in Interlaken, and you have plenty of options to choose from. You can enjoy a final optional excursion to Jungfrau or the 'Top of Europe'.
Those who choose to go on the Jungfrau tour will be able to experience the highest railway station in Europe while taking in the breathtaking mountain scenery. Lunch is at your own expense, but you will have plenty of opportunities to take pictures and walk on the great Aletsch Glacier.
The second day of your Eurotrip will be spent in the mesmerizing town of Interlaken. After breakfast, you will visit the Sphinx Observation Terrace, which is a marvelous technological feat. You will then be able to see the beautiful Lakes of Brienz and Thun. As the day ends, you will return to your hotel in Interlaken for dinner and restful sleep.
Day 6: 7 days Europe tour package: Head to Innsbruck, Austria
After breakfast, check out of the hotel and begin your journey to Innsbruck. This beautiful and lively city is one of Europe's most popular tourist destinations.
As your drive through the scenic Swiss and Liechtenstein countryside progresses, you'll be treated to some of the most picturesque lakes, snow-capped mountains, and lush meadows around. Make sure to snap pictures of the famous Lion Monument, Jesuit Church, and Kapellbrücke in Lucerne, as well as the lovely natural scenery in Liechtenstein's capital of Vaduz.
In the afternoon, you will have a delicious lunch. Afterward, you will visit the Swarovski Crystal Worlds museum in Wattens. This museum is home to a giant crystal wall called Unicum. It's said to be the biggest crystal in the world! In Innsbruck, you will take an orientation tour of famous attractions.
Today, explore the mesmerising Golden Roof in Innsbruck. Witness some of the best wonders of Europe at the Imperial Church and Hofburg Palace. Later, check-in at the hotel and enjoy a tasty dinner. End the day with a comfortable overnight stay.
Day 7: Departure
This six-night, 7 days Europe tour package has been an amazing experience. From the vibrant city of Paris to the stunning mountain ranges of Innsbruck, I have seen and experienced so many new things. You'll be grateful for this opportunity, and cannot wait to do it again!
The above schedule is just a suggested itinerary for a 7 days Europe tour package. Depending on your needs and preferences, MBS 87 can adjust schedules and destinations flexibly. Contact us to get a more detailed schedule, including restaurants and hotels you will stay on during your trip.
MBS 87 Business & Travel Co.,Ltd.
Tour Operator - Incentive - DMC - Coaches
Address: 60 rue François 1er - 75008 Paris 
E-Mail : sales@mbs87.com
TEL:(+33) 771800874
www.mbs87.com
https://www.facebook.com/MBS87Store