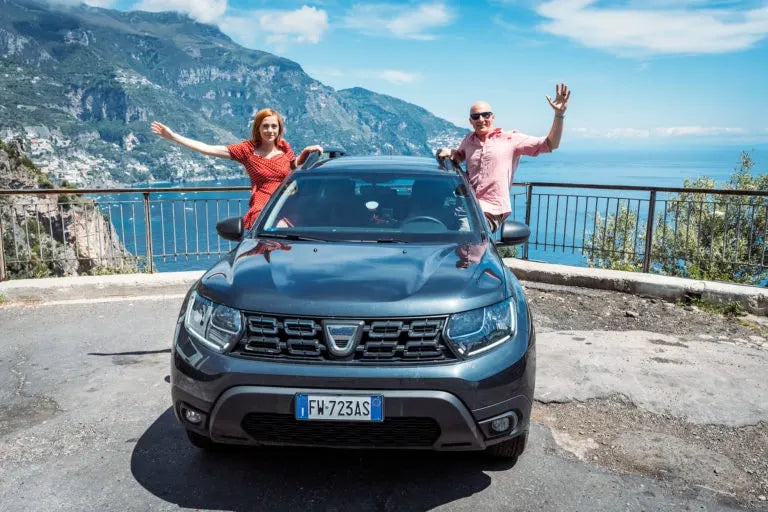 All You Should to Know When Renting A Car In Europe
Renting a car in Europe and self-driving is a great way to experience the EU. But there are a few different things you should know before you embark on a European road trip.
1. Should You Rent A Car In Europe?
True adventure, with no set schedule or timetable. Driving around European destinations with the freedom to stop anywhere fun you happen to find along the way. Discovering places off-the-beaten path — that bus tours might miss.
If that's the kind of traveler you are, renting a car in Europe is the way to go!
Sure, many parts of Europe have an excellent train system compared to the United States. But EuroRail passes can be surprisingly expensive, and they can also limit your options for where to travel.
Another nice thing about having a rental car was the ability to store luggage in the trunk, so you can explore cities with small travel backpacks rather than lugging a giant suitcase everywhere.
2. Where To Rent Your Car In Europe
The best site to book your car is Discover Cars. They search both local and international car rental companies to help you find the best possible price. This is the easiest way to rent a car in Europe.
They search for deals from popular European car rental companies like Avis, Hertz, EuropeCar, Sixt, Budget — as well as the lesser known local ones.
We've rented cars here in Italy, France, Iceland, Austria, Ireland, Scotland, Germany, Poland, Greece, Slovenia, Norway, and more.
Some of my favorite European drives so far include exploring the beautiful Amalfi Coast in Italy, and an epic photography road trip in Norway's Lofoten Islands.
3. Car Rental Insurance In Europe
Some of the rumors about driving in Europe are true, and the roads can be VERY narrow. Especially the back roads outside smaller towns. And some countries have more aggressive drivers than others.
Typically, rental cars in Europe come with a basic Collision Damage Waiver (CDW), but this isn't exactly insurance, and only covers the car for up to €1000-3000 EUROS worth of damage.
This is the amount they hold on your credit card until you return the car in one piece. CDW typically does not include tire, cracked windshield, or undercarriage damage either.
While you can often save money booking your car with a travel credit card that includes car rental insurance, you REALLY must read the fine print, because many people wrongly assume their card covers them everywhere.
If you get in a wreck driving in Europe, declined full coverage, and you suddenly learn your credit card doesn't actually cover the damage — you're screwed. I can't tell you how many travel horror stories I've heard like this…
4. How Much Does It Cost To Rent A Car In Europe?
Renting a car in Europe is going to cost you around $30-$80 USD a day, depending on the type of car you get, and which country you rent it from. The typical compact 4-door sedan we usually rent averages about $40 per day.
I recommend renting a car with an actual trunk that can hide your luggage from prying eyes. It helps to prevent break-ins if thieves can't see your stuff.
Gas Prices
Gas (petrol) prices in Europe might seem cheap to Americans, but remember that the rest of the world quotes gas in Liters, not Gallons (1 Gallon = 3.78 Liters).
Currently, gas costs about $7.14 per gallon (€1.55 per liter) in Portugal, $6.87 per gallon (€1.49 per liter) in Italy, and $5.93 per gallon (€1.29 per liter) in the UK. Diesel cars will often save you some money on gas.
Automatic vs Manual
Automatic cars are more expensive to rent than manual cars (but manuals are more common in Europe), and you must specify what type you want when booking.
If you've never driven a manual car before, don't start in Europe! It's safer to get an automatic, even if it costs more.
One-Way Rentals
There's an additional fee for one-way car rentals in most European countries, which can vary by company. For example, if you want to drop off the rental car in a different city than where you started from.
These fees are even more expensive if you want to drop the car off in a different country — which can add a few hundred Euros to the price.
Admin & Credit Card Fees
If you opt to use your own credit card insurance, some companies in Europe will charge you an "admin fee" of about €20-€30 EURO. Other companies may charge a small fee for using a credit card.
Book In Advance
Your best bet is to book ahead if you want a good deal, particularly if you want to travel to popular destinations. Six months in advance seems to be the sweet spot for the best rates.
Many car rental companies offer free cancellation, so if your plans change you can always cancel down the road, without paying a fee. Just make sure to read the fine print.
Travel Off Season
Consider taking your European road trip during the shoulder tourist seasons, or off-season to get lower rental car rates.
Border Crossing Fee
When crossing the border from an EU country to a non-EU country by car, the rental agencies may charge a fee between €15 to €50. However there isn't usually a fee for crossing from one EU country into another.
5. Rental Car Requirements In Europe
Each country has their own rules when it comes to driving. Canadians and Americans usually just need a driver's license and passport to rent a car. However, some countries require an International Driving Permit (IDP).
Rules can change from place to place, but generally you'll need an IDP if you plan to drive in the following countries: Austria, Bosnia-Herzegovina, Croatia, Greece, Hungary, Italy, Poland, Romania, Slovenia, Slovakia, or Spain.
You can get an IDP at the American Automobile Association or Canadian Automobile Association. Expect to pay about $20 plus the cost of two passport photos.
6. European Driving Laws Tourists Should Know
Right On Red Is Illegal
Unlike in the United States, it's illegal to make a right turn on red lights in Europe, with some exceptions in Germany as indicated by traffic signs.
Learn European Street Signs
Street signs in Europe can differ greatly from your home country, and even between European countries. Before you start driving in Europe, research the meanings of different street signs for the countries you're traveling to.
Passing Other Cars
In some countries (such as France, Germany, and the Netherlands), it's illegal to use the slower lane (right lane) for passing other vehicles. Although in the United Kingdom and Ireland, remember that the lanes are opposite, and the passing lane is on the right side!
If you encounter a slow moving vehicle, and they have their blinker on, it might be an indication that they want you to pass them. This isn't used consistently, but you may see it from time to time. Especially with large trucks or tractors (yes, tractors!)
Children's Car Seat Requirements
If you're driving in Europe with young kids, make sure to rent or bring your own child seat or booster seat. The EU requires children between the ages of 2 and 12 to use an appropriate restraint in cars. If you fly from the United States, FAA regulations allow passengers to bring a car seat onboard, an easy way to save money versus paying an extra daily fee on renting a car seat.
European car seat regulations are slightly different too, and if you're using an American style car seat, and get pulled over, there is the potential to get a ticket. Although many tourists just take the risk.

Personally, we like to bring our own travel car seat that packs down super small for road trips overseas!