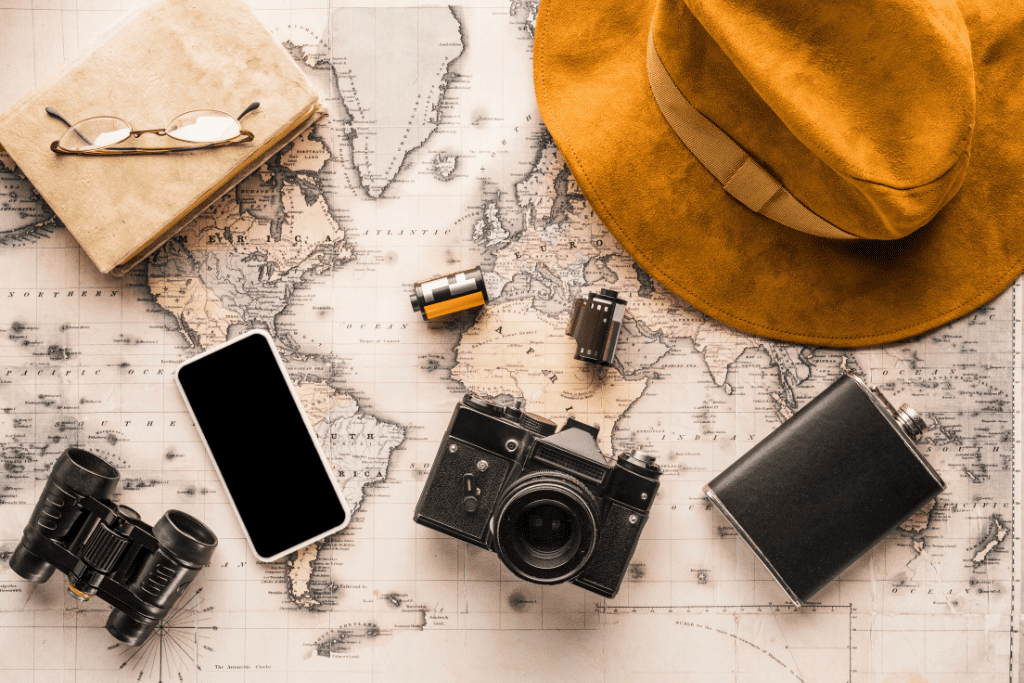 9 Essential Must Have Travel Items For Europe In 2023
It becomes even more stressful when you can't quite figure out how to organize yourself and ensure that you will be comfortable during your trip. Some of the best travel tips are found in what you absolutely need to bring with you on your trip.

After tons of flights to Europe and hundreds of hours of travel, I've put together a list of the best must-have travel items for your European vacation in 2023.

If you've started your Europe packing list already, add these to it!

These items have changed how I travel, and I hope they make life easier for you, too!
1. RFID Blocking Travel Wallet (With Passport Holder)
When you're traveling to Europe, it is so important to carry a wallet that has room for everything you need, all in one place.

Otherwise, you're that person in the airport searching desperately for your passport and boarding pass at the same time.

Decrease travel stress by carrying the RFID-blocking Zoppen Travel Wallet.

I've tried tons of wallets while traveling to European countries, but this one is the absolute best.

It easily fits my license, credit cards, passport, and boarding pass if I have a printed one. It also has a zipper pocket for coins and a space for a pen, in case, like me, you always forget that you'll need one to fill out arrival paperwork on international flights!

This wallet has held up for years and many trips and is one of my top must-have travel items for Europe!
2.
 

Bluetooth Headphone Adapter
I recently added this Bluetooth Headphone Adapter to my travel packing list for Europe- it is functional AND helps me save money!

I don't go anywhere without it anymore!

Just plug this baby into the headphone jack of your airplane entertainment screen, and voila!- you can use Airpods during your flight!

No more tangled wires or trying to find your old Apple headphones that actually have a jack on them.
3. Portable Charger & Battery Pack
One of the top Europe travel necessities is a portable charger.

In a world where we use cell phones and other items so frequently for travel (keeping boarding passes, checking reservations, using maps), it is more important than ever to have access to a backup power source in case you need it.

You do not want to be walking around a European city with a dead cell phone– this is a must-have travel gadget regardless of where you're going!

This Anker portable battery pack has multiple ways to plug into your devices, the easiest of which is a USB port. It is light and thin and holds three full cell phone charges.
4. Travel Blanket
You can never overestimate the value of a good travel blanket.

This one check all the boxes. It is cozy but not suffocating- just warm enough to cuddle up with on an airplane without sweating profusely. The packaging on this is beautiful! The Eversnug blanket folds up into a carrying pouch that attaches directly over your suitcase handle.

No more trying to balance all of your carry-on items in your hands!
5. Apple Airtags
If you've been paying attention to travel chatter lately, you've no doubt seen that international airports are a disaster right now, specifically with so much lost luggage.

I've read countless stories of people who have been able to find their bags in rooms packed with suitcases just by using an Apple Airtag. So, of course, this made the list of must-have travel items for 2023.

The Apple Airtag can go inside your luggage. It will provide you coordinates so that you know where it is, and you can set it to emit a sound when you're nearby.

For such a low price, the peace of mind is worth it!
6. A MUST For Your Europe Packing List: Belt Bag
If you haven't heard yet, belt bags are back. They are all the rage right now, and with good reason.

This bag, though it looks relatively small, holds a deceptively large number of things.

While out and about on your Europe trip, this will hold cards, sunglasses, chapsticks, and any other necessary items. There are a few separate pockets which made keeping things organized so simple! Plus, it comes in 44 different colors.

As an added bonus, this can be strapped directly across your chest, making it much easier to prevent pickpocketing, which you're likely to come across in cities like Paris.
7. Packing Cubes
These ones are incredible. They are made of durable fabric, easily zipper, and pack beautifully in a suitcase. They save SO much space. I love that this pack comes with a few different sizes of pouches so that you can mix and match them as needed.

I've been able to pack ALL of my son's clothes for a trip in just one pouch, so pack those babies full and enjoy the added organization once you arrive.
8. Foldable Rain Jacket
No matter where I'm going, I never leave home without my Columbia packable rain jacket. It is literally one of my top travel accessories.

This jacket is perfect for any type of weather. It is light enough that you won't sweat terribly in spring rain but heavy enough that it provides some warmth against the chill. It is waterproof, meaning that you can enjoy your trip even if it does rain!

This thing is a lifesaver for rainy days in London or Amsterdam.

Although this jacket comes in at a bit higher price point, I've had mine for ten years and it is still in great shape!
9.
 

Reusable Water Bottle
High on my list of Europe travel necessities is a reusable water bottle.

Without one, you will be spending a ton of money on water, drinking out of plastic bottles, and wasting time trying to find water during your travels.

Instead, save money and drink out of this stainless steel one.

Although not collapsible like some travel water bottles, I SWEAR by this one.

It is durable, fits in the side pockets of my bookbag easily, and has a hook on top, making it easy to clip this reusable water bottle to anything!

This is a must-have for any Europe trip to help you stay healthy and hydrated and save money.
https://www.facebook.com/MBS87Store