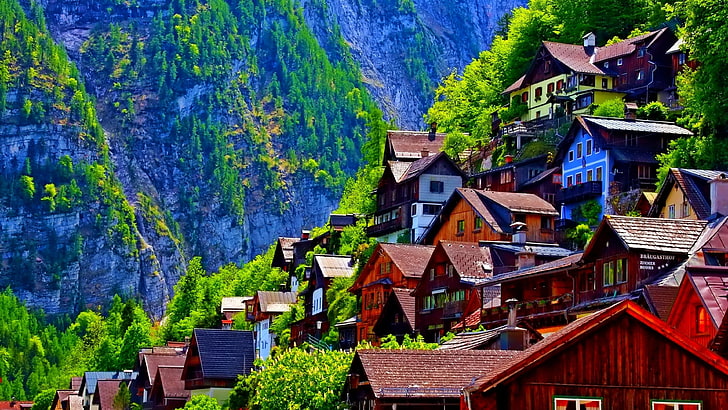 8 Stunning Towns You Can't Miss When Travelling Europe
8 Stunning Towns You Can't Miss When Travelling Europe
Europe travel has become so much more than visiting the iconic landmarks. Its rich history and diverse culture lie far beyond the well-known travel destinations such as Rome or Paris and today, travelers are eager to take the 'track' less travelled and enjoy a more authentic European adventure.
The bigger cities in Europe do have their easily recognizable attractions, but the quaint charm of the smaller towns in Europe is really where you get to experience local culture and cuisine. You've seen the incredible history of Rome, but have you ever experienced the vibrant town of Vipiteno, South Tyrol or the stunning landscape of Lucerne? Well now you can, by train! Thanks to
Eurorail's comprehensive network
, which makes it is easy to access a spectacular array of destinations across European rail systems.
If you're travelling across multiple countries, it is recommended to purchase the
Global Pass
, which comes in many different formats: 15 days to 3 months, consecutive travel days or flexible, first or second class - and gives you access to 33 countries in Europe. Otherwise, if you're adventuring deep into one country, there are the
Swiss Rail Pass
,
Austrian
,
German
and even
Italian
Passes.
Here are our top 8 cities and towns you can't miss on your next adventure through Europe:
1. Colmar, France
Approximately a 3.5 hours train ride from Paris, Colmar is one of the most underrated cities in France. With cobblestone streets and stunning architecture which has influence of both German and French, this small town almost feels like a fairytale. Explore Colmar's old town where you will be mesmerized by its charm and wonderfully colorful buildings or take a stroll through picturesque Little Venice. This little town is also located in the region of Alsace which is known for its wine production, so be sure to hop on a 4 Wonders of Alsace Day Tour where you can enter a wine cave in Riquewihr and taste a variety of wine such as Gewurtztraminer, Pinot Gris, and Pinot Blanc.
2.
Luzern, Switzerland
Sitting amid snow-capped mountains, Luzern is a well-preserved medieval town that knows how to throw a great party. Try to get there for the Luzern Carnival known as the 'Fifth Season'- five days of non-stop celebrations. Don't miss out on visit this town's main landmark, the flower-bedecked Kapellbrücke also known as Chapel Bridge. Built in 1333, this is the world's oldest covered wooden bridge and crosses the Reuss River in the heart of the city. Also, take a thrilling day trip from Lucerene to Mount Pilatus, a 2,128-metre mountain with spectacular views overlooking Lucerne at the summit.
 Travelling Europe
3. Zermatt, Switzerland
Another stunning town in Switzerland and home to the undeniably magnificent, Matterhorn. There is no escaping this stunning view of the famous jagged peak, with vantage points found throughout the town. Zermatt is perfect for any adventure traveller; with amazing ski runs for all level skiers and incredible outdoor activities including mountain biking, hiking (especially the 5 Lakes walk if you want extraordinary views of the Matterhorn) and paragliding.
Getting there: You can catch the train to Zermatt from either Zurich or Geneva in just under 4 hours; this route is widely recognized as one of the most stunning, scenic train rides in the world as the train makes its way through the Swiss Alps.
 Travelling Europe
4. Weimar, Germany
Travelling from Berlin to Frankfurt? Take the train and stop in at Weimar, relatively undiscovered by tourists, this city is where Bauhaus all began, and has so many beautiful UNESCO listed sites to discover. And of course, there is the added bonus of taking in the countryside as you glide past, giving you an even greater glimpse of Europe. Weimar is a beautiful historic town, one not to be missed on your next trip to Europe.
5. Olomouc, Czech Republic
Located in Morava, Olomouc is one of Czech Republic's best places to visit for architecture and culture. This city is home to two World Heritage Sites, as well as a host of restaurants and microbreweries which will enable you to sample delicious, local cuisine and experience some of the most authentic European culture of Europe.
6. Vipiteno, South Tyrol, Italy
Located in Northern Italy, Vipiteno is known for its colorful homes and medieval squares. Surrounded by Alps, this town is picturesque as the mountains feel so close you could touch them. There is never a dull moment with countless activities for everyone to enjoy, from hiking to cycling, horseracing to family walks and museums to shopping; there is something for everyone to enjoy. Vipiteno is not a city to be missed, as it perfectly blends culture and nature.
7. Lugano, Switzerland
As you can see by now, Switzerland is home to some of the most stunning cities only accessible by train and Lugano is no exception. This is an Italian- speaking region of Switzerland perfect for avid hikers, with a range of hikes close by to explore. If you're looking for something more relaxing, Lugano has a stunning waterfront which you can walk around and take in the views, as well as lively squares to explore, amazing shopping options and restaurants.
8. Hallstatt, Austria
Located between Salzburg and Graz, Hallstatt is a UNESCO World Heritage site located in Austria overlooking Lake Hallstatt. Some key attractions include Hallstatt's quaint Old Town which is picturesque with its narrow, winding, cobbled streets and medieval architecture, and Market Square, which is buzzing with restaurants, cafes, bars and shops that will keep you entertained for hours.
https://www.facebook.com/MBS87Store