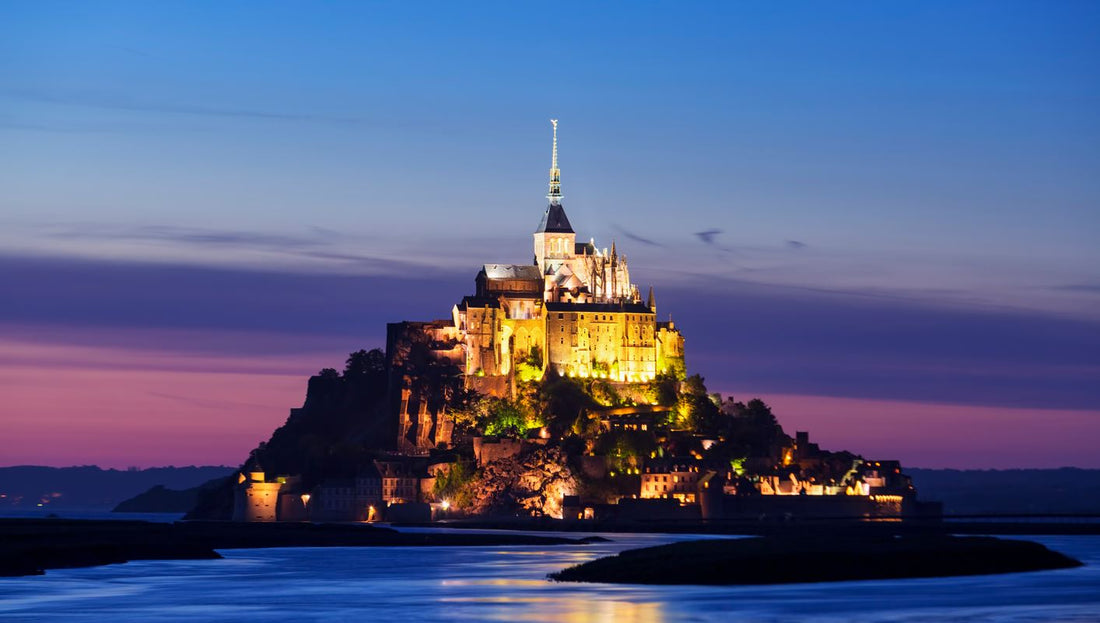 Exploring Mont St Michel: A Famous Historical Journey in France
In this comprehensive guide, we will embark on a deeper exploration of Mont St Michel's allure, the myriad ways to experience its grandeur. And the added convenience of venturing through this enchanting destination with the assistance of bus rental service in France.
The Enthralling City of Mont St Michel
Beyond being a mere destination, Mont St Michel serves as a portal to a realm of timelessness. With its medieval architecture and a rich history stretching back to the 8th century, this UNESCO World Heritage Site exudes an aura of mystique unparalleled by most places. 
Perched majestically atop a rocky hill, the abbey seemingly emerges from the surrounding sea during low tide, creating an awe-inspiring spectacle that lingers in the memory. The labyrinthine alleyways, age-old stone edifices, and panoramic views conjure images of an era long past.
Mont St Michel's history is intricately woven with tales of pilgrims, monks, and ingenious architectural feats. Evolving from a modest chapel, it transformed over the centuries into a grand abbey, incorporating strategic enhancements that harmonize with the natural surroundings. The abbey's significance as a haven for pilgrimage and worship layers a spiritual dimension upon its historical and architectural eminence.
Seamlessly Exploring Mont St Michel
Unlocking the treasures of Mont St Michel is seamlessly facilitated through the use of bus rental services. Opting for a bus rental accompanied by a skilled driver amplifies the ease of your journey. Whether you're a solitary explorer in search of tranquility or part of a group, having a dedicated mode of transportation elevates the experience, enabling you to be fully immersed in the ambiance. Equipped with plush seating, expansive windows, and knowledgeable drivers, you can unwind while soaking in the awe-inspiring vistas en route to your destination.
Embarking on a Picturesque Bus Journey
Embarking on a journey to there is further streamlined through specialized bus rental services. These services not only ensure comfort and safety but also provide a local perspective through experienced drivers who navigate the routes with finesse. 
From the instant you step onto the bus, you're greeted by a picturesque expedition through the French countryside. As the landscape transitions from undulating hills to coastal panoramas, the anticipation of reaching Mont St Michel augments the thrill of the adventure.
Mont St Michel Tour from Paris: A Voyage Within a Voyage
For those discovering the bustling streets of Paris, embarking on a Mont St Michel tour stands as an essential expedition, transporting you from the city's heart to the serene beauty of the island commune. With each passing mile, the urban energy dissolves into the tranquility of the French countryside, ultimately revealing the striking silhouette of Mont St Michel.
Guided tours delve comprehensively into the abbey's history, its architectural marvels, and its profound significance. Accomplished guides contextualize the abbey's architecture, its spiritual importance, and the captivating narratives that echo within its walls. The tour bridges the temporal gap, fostering a profound appreciation for Mont St Michel's cultural and historical significance.
Exploring the Charms Within Mont St Michel
As you step foot on the cobbled streets of Mont St Michel, a world of exploration unfolds. The abbey itself is a masterpiece of Gothic architecture, with its intricate arches, towering spires, and ornate detailing. Visitors can wander through the abbey's halls, chapels, and chambers, absorbing the centuries of history that reside within its walls.
Aside from the abbey, Mont St Michel offers a variety of attractions. The charming village that surrounds the abbey is replete with quaint shops, offering local crafts, souvenirs, and delectable treats. Strolling through the narrow alleys, you'll discover hidden gems that beckon you to explore further.
Savoring Culinary Delights
Exploring Mont St Michel isn't complete without savoring its culinary offerings. The island's restaurants serve up an array of delectable dishes, often featuring fresh seafood caught from the nearby shores. Indulge in a leisurely meal with a view, as some eateries offer panoramic vistas of the bay. From traditional French cuisine to local specialties, the gastronomic experience at Mont St Michel is as rich as its history.
Elevating Your Journey with Tour & Bus Rental Services
To fully optimize your Mont St Michel experience, consider the holistic services provided by Tour & Bus Rental Paris. This encompassing service not only furnishes seamless transportation but also imparts insightful guided tours that enrich your comprehension of the region's past and culture. With adept drivers steering the course and erudite guides unraveling Mont St Michel's tales, you're guaranteed an enriching and unforgettable escapade that seamlessly intertwines convenience with education.
In conclusion, Mont St Michel beckons with a synthesis of history, architecture, and natural exquisiteness. Embracing bus rental services ensures a journey streamlined with convenience, contributing to the enchantment of the experience. Whether you're journeying from Paris or embarking on a local exploration, the odyssey to Mont St Michel pledges indelible memories. Standing atop the rocky prominence, gazing upon the breathtaking vista, you'll recognize that you've embarked on a sojourn that transcends time, granting a glimpse into the past while kindling fresh memories for the future.
As you chart your next adventure, contemplate the captivating Mont St Michel and the convenience that accompanies traversing it with the guidance of bus rental services. Irrespective of whether you're an aficionado of history, architecture, or a seeker of novel horizons, Mont St Michel promises an expedition as extraordinary as the destination itself.
Experience the enchantment of Mont St Michel harmonized with the ease of Tour & Bus Rental Paris - MBS 87. Discover a realm where history resurrects, beauty flourishes limitlessly, and convenience heightens your journey to unprecedented pinnacles.
>> Read more: Loire Valley