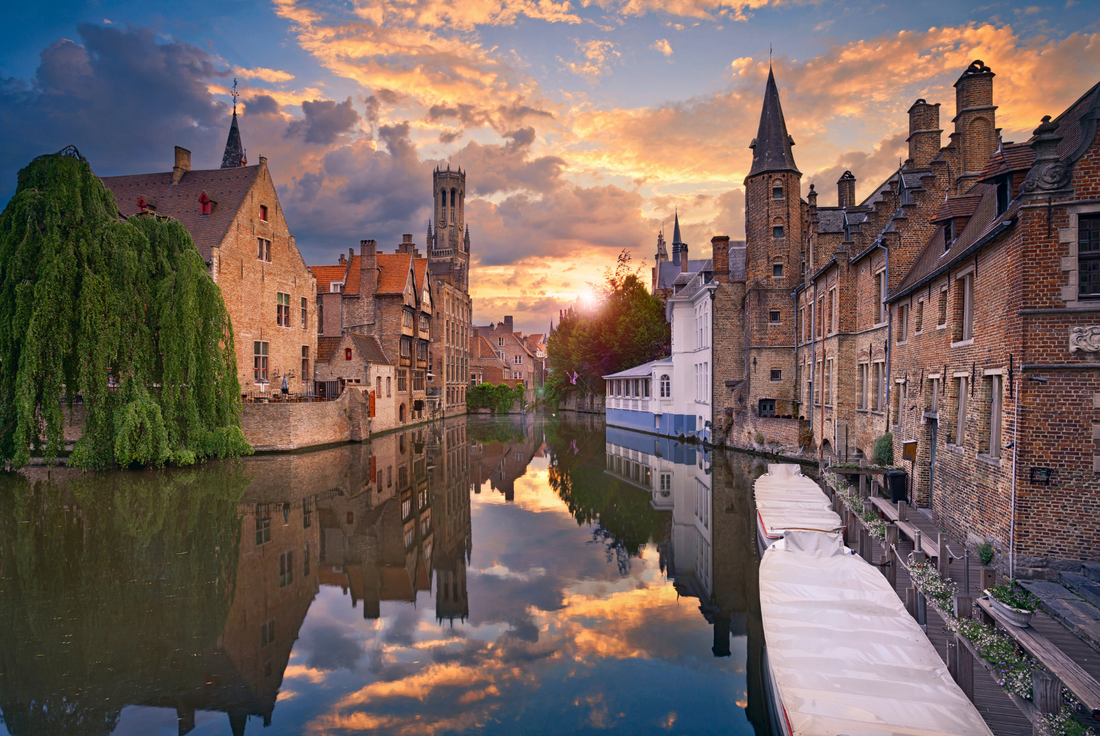 Bruges - What if you plan a bus tour to explore Bruges in France?
When talking about Belgium, besides the capital Brussels, there is also a place that preserves the famous history of Europe, the city of Bruges. Let's walk around this city with MBS87.
Bruges - a city of "history"
Bruges is the largest city and capital of the province of West Flanders, Kingdom of Belgium. Visiting Bruges, visitors feel like they are going back in time to the Middle Ages. This entire historic city has been declared a UNESCO World Heritage Site and Bruges is one of the best preserved cities in Europe. So, let's come with us on the bus rental service in Belgium to find out the amazingness of Bruges.
History, geography, climate and culture
Since prehistoric times, humans have lived around the city of Bruges. And through a history of many fierce wars, around the end of the 19th century, Bruges was revived and became the number one tourist destination, attracting many tourists around the world, especially tourists from England and France. 
After 1965, restored Medieval buildings, settlements, business, historic buildings and churches caused much tourism and economic activity in the city center. And recently, Bruges has been designated a "European Capital of Culture" and attracts around 2 million tourists annually.
Bruges owns an intricate river system, flowing around buildings and roads, which is why people refer to Bruges as the "Venice of Northern Europe". The small winding canals surrounding the city and the image of silent ancient houses silhouetted against the clear blue water create a peaceful and poetic picture.
Bruges city center once possessed many medieval architectural works, however, the current architecture here has been heavily influenced by the Gothic architecture of the 19th century renaissance. And because the intersection of historical periods has created an ancient and solemn Bruges.
Only 100 km from the capital Brussels, MSB87 always ready to take you to Bruges on a private bus tour in Belgium. The tourist season here is in April and from September to November. If you come in April, you will be immersed in the warm atmosphere of the weather. And if you come at the end of November, you will admire how this ancient city celebrates Christmas, which promises to be very sparkling and very special.
Places to visit in Bruges
Burg Square
One of the places that gathers unique architecture, Burg Square is considered the heart and symbol of the city of Bruges, Belgium. Built with Gothic architecture, the ancient buildings here are unique sculptures. And the most beautiful and famous architectural work is the Old Civil Registry, built in the 15th century. Besides, other famous architectures such as Brugge Vrije museum, Golden Palace,...
Basiliek van het Heilig Bloed
This relic has existed since the Middle Ages and is the place where the Holy God Blood relic was collected by the ancient Joseph of Arimathea - the person who shrouded the body of Giesu. Located in a corner of Burg Square, next to the town hall, Basiliek van het Heilig Bloed consists of two intact chapels. The Holy God Blood achievement is located in the upper chapel. 
Grote Markt central square
Belfry bell tower here is what attracts tourists. After climbing 365 steps, standing from the bell tower, you will have a complete view of Bruges city from above. Besides, there are also famous fries and cafes with classic style.
Choco-story Museum
Belgian chocolate is a famous dish in the world. And at the Choco-story museum in Bruges, visitors can discover the origin and making of chocolate. In addition, visitors can also experience making their own at the chocolate factory here.
Typical dishes in Bruges
Besides famous tourist destinations with ancient architecture, the city of Bruges also has many typical and famous dishes around the world.
Chocolate Shop
Belgium is known as "the sweetest country in the world" because it is home to some of the best chocolates in the world. When you go to any Belgian chocolate shop, you can enjoy the most complete and unique flavor of chocolate. A famous chocolate place here is Chocolate Brother, opened in 2017 but the store owners have a family with more than 100 years of experience making chocolate.
Fast food
Besides chocolate, Bruges is also famous for fast food, including Belgian-style waffles. This is a type of semi-combination with many different fruits and ice cream flavors, very delicious to eat. And in addition, the crispy Belgian-style French fries also make many visitors impressed and linger on their flavor.
Carbonade Flamande and savory dishes
Carbonade flamande is a sweet and sour beef dish with traditional Belgian and French Flemish onions. This dish is made with beer, seasoned with thyme, mustard and bay leaves, and is often eaten with french fries. This is also a dish on the list of "dishes you must try when coming to Bruges, Belgium".
How can I travel to Bruges?
Only 100 km from Brussels, you have many ways to get to Bruges, be it by bus, private car, train, .... If you are still wondering about this issue, we - MBS87 - Bus rental France company - will help you organize a tour to Bruges in the most complete and meaningful way. You can take a look at our coach hire Paris to choose the most suitable choice.
We have many types of buses (standard bus, minibus, coach, ...) with many different types of tours (sightseeing tours, private tours, VIP tours, experiential and learning tours for students and pupils). tablets, ...). For each customer, we will provide the type of service that suits the customer's budget and needs.
With a team of experienced staff and local guides who know about places in Bruges, we promise to bring new knowledge and experiences that you can only feel when coming to Bruges. Don't hesitate to contact us, we always give you free advice and quotes. See you on your next trip.
>> Read more: Reims Champagne