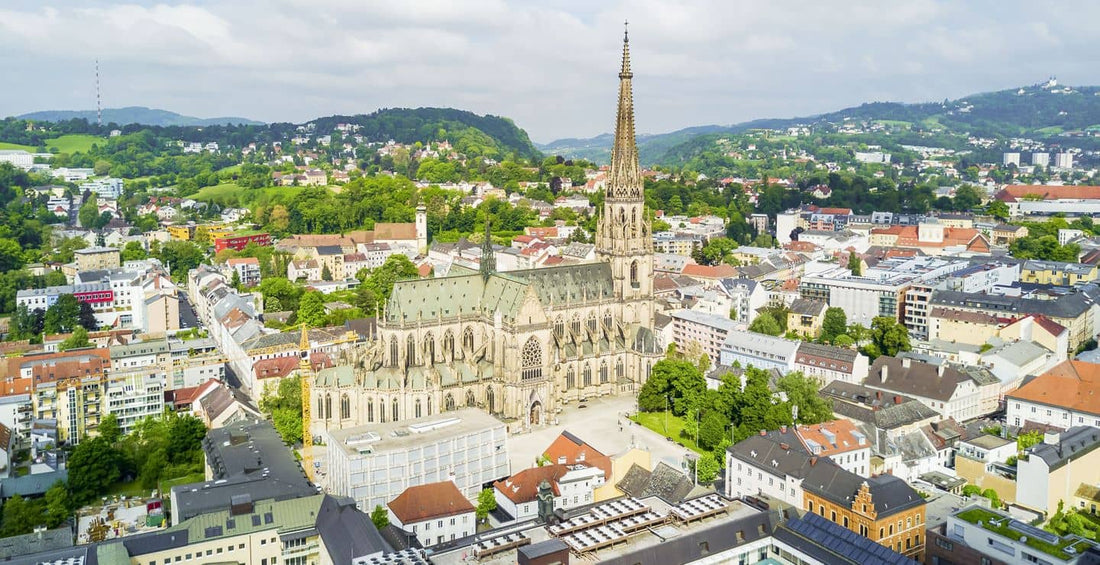 Bus rental for Linz - Explore the industrial city of Austria
Explore the vibrant city of Linz, Austria, known for its industrial prowess, with our reliable bus rental for Linz services. Discover the fascinating blend of innovation and culture as you traverse this dynamic urban landscape, making your journey through Linz a memorable one.
Linz -  the third-largest city in Austria
Linz, the third-largest city in Austria, is a melting pot of art, technology, and history. With its medieval Old Town, stunning architecture, and numerous museums, the city offers a rich cultural experience. Linz is also renowned for its cutting-edge technology companies and research institutions, making it a center for innovation. Additionally, its picturesque location on the Danube River provides a serene environment for leisurely strolls and outdoor activities. Whether you are a history buff, a tech enthusiast, or simply seeking a charming city to explore, Linz has something to offer for everyone.
Let's make a tour bus in Linz to explore this beautiful city!
Famous landmarks in Linz
Linz Castle
Starting our list with the crown jewel of the city, Linz Castle is a magnificent hilltop fortress that stands proudly over the Danube River. Dating back to the 9th century, the castle has witnessed several historical events and has been beautifully restored throughout the years. Today, it houses the Upper Austrian Provincial Museum, displaying exhibitions that explore the region's rich history and culture. From the castle's tower, visitors can enjoy panoramic views of Linz, making it a must-visit landmark.
Ars Electronica Center
If you're a fan of technology, art, and innovation, the Ars Electronica Center is a landmark that you cannot miss. Located on the banks of the Danube, this futuristic building is a hub for scientific and artistic exploration. It showcases interactive exhibitions and installations that incorporate cutting-edge technology, robotics, and virtual reality. Prepare to be amazed by the wonders of the digital age and immerse yourself in the world of art meets technology.
Hauptplatz (Main Square)
The heart of Linz, Hauptplatz, is a vibrant square with a historical flair. Surrounded by colorful Baroque-style buildings, this bustling square is a hub of activity. Take a stroll along its cobblestone streets, lined with cafes, shops, and restaurants, and soak up the lively atmosphere. At the center of the square, you'll find a striking Trinity Column, a monument erected to commemorate those who died during the Plague in the 17th century. Hauptplatz is the perfect spot to relax, people-watch, and absorb the city's energy.
New Cathedral
Dominating the city's skyline, the New Cathedral (Neuer Dom) is an architectural marvel. This Neo-Gothic masterpiece took over 80 years to complete and boasts intricate stained glass windows, towering spires, and grand interiors. Step inside and marvel at the high vaulted ceilings and the impressive Bruckner Organ, named after the famous composer Anton Bruckner. Climb the 400 steps to reach the observation deck, where you'll be rewarded with panoramic views of the city and the surrounding countryside.
Lentos Kunstmuseum
Rounding off our list is the Lentos Kunstmuseum, an iconic landmark dedicated to modern and contemporary art. Nestled on the banks of the Danube, this striking glass cube houses a vast collection of artworks, including paintings, sculptures, and installations from renowned artists.
From Expressionism to Pop Art, the museum offers a comprehensive overview of various art movements. After exploring the exhibits, relax in the museum's café overlooking the river and enjoy the serene ambience.
Transportation to get to Linz
Transportation to get to Linz has become an easy and affordable experience for global citizens who wish to travel and explore various countries. With its beauty and historical significance, Linz, the industrial city of Austria, attracts millions of tourists each year.
If you are planning to explore Linz within a short period of time or if you are unsure about what to do during your visit, MBS87 is here to help. Our company specializes in providing a range of services to make your trip to Linz unforgettable.
Private tours and bus rental in Austria are perfect for those who prefer to travel with friends and family, exploring special places according to their preferences. With our over 10 years of experience in the European tourism industry, we understand the unique needs of each customer and can cater to them in an efficient and straightforward manner.
To navigate through Linz without any worries about time constraints and parking, you can rent a tour bus from MBS87. Our fleet includes a variety of vehicles such as standard buses, minibusses, and limousines, accommodating any group size and covering any desired distance.
We understand that affordability is important when it comes to planning a trip. At MBS87, we always consider the current market situation and customer feedback to offer the most suitable and cost-effective prices for our services.
With our headquarters based in Paris and branches throughout Europe, MBS87 is confident in reaching and serving customers wherever they are, especially one of our perfect service such as bus rental for Vienna.
Our professional team members are extensively trained and dedicated to listening to customer feedback, promptly addressing any concerns, and continuously improving our services. Our goal is to ensure that all our customers feel comfortable and satisfied with their choice to travel with us.
How to reach Linz by bus?
MBS87 will simplify all your travel arrangements. By choosing our coach rental service in Linz, you can sit back and relax while we take you to your desired destinations, whether it is within Austria or throughout Europe. 
If you are currently residing in neighboring countries and wish to visit Linz, choosing MBS87 as your transportation provider would be an excellent decision. With our extensive transportation network across Europe, we can pick you up no matter where you are and offer a customized minibus tour rental in Linz based on your preferences. 
We are always prepared to serve you, so please do not hesitate to contact MBS87 right away.
>> Read more: Bus rental for Hallstatt