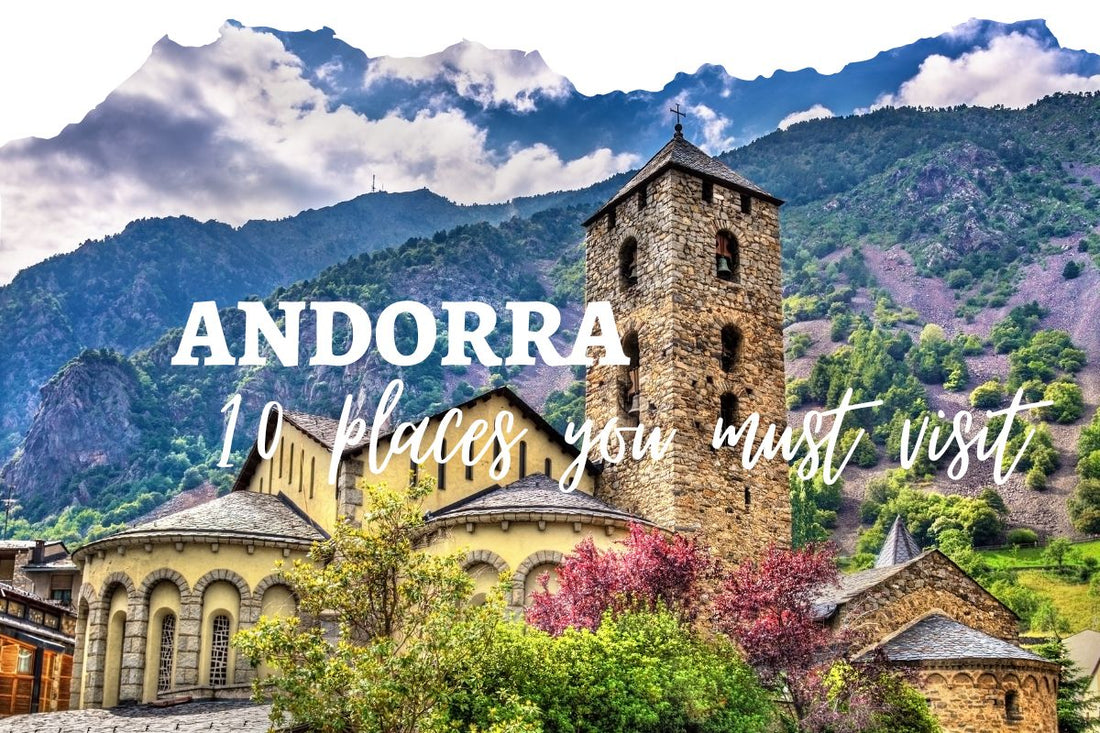 Top 10 places in Andorra you must visit
Even though Andorra is small, it boasts many premium attractions, such as skiing terrain, hiking trails, and gorgeous scenery. 
The capital city of Andorra la Vella has a lively arts scene along with great food options. In addition, the largest spa complex in Europe is located here. Much of the rest of Andorra consists of quaint villages and towns that are nestled among stunning vistas.
Andorra is the perfect place to explore and find treasures you never knew existed. Here are the top 10 places you must visit!
Andorra la Vella
Although it has a small population of just over 20,000 people, the capital city of Andorra la Vella in the Pyrenees boasts many tourist attractions.
Andorra la Vella contains a pulsing main artery in the form of the main street that includes galleries with local art, handicraft shops, and eateries. This inviting hub is complimented by Andarra's lively bar and cafe culture.
If you're hoping to peek into Andorra's fascinating past, take a guided tour of Casa de la Vell. This 16th-century building is treasured for its beautiful artwork and rare documents from bygone eras.
Another must-see is the Sant Esteve Church, constructed in the 12th century with elaborate wooden carvings. Head to Plaça del Poble, Andorra la Vella's major square, for spectacular views of the city and beyond.
Pas de la Casa
Pas de la Casa, which is situated on the border with France, has 31 ski lifts that give visitors access to all areas below Pic d'Envalira. It's one of Andorra's top ski resorts and caters mostly to intermediate or advanced skiers because of the many red pistes in the surrounding area.
La Massana
Visit La Massana during the winter if you're looking to get outdoors and enjoy some challenging premium sports. You'll find it at an elevation of 1500 metres with 89 kilometres of ski trails, 41 pistes, and 26 lifts spread out over its large size when compared to other Andorran resorts.
The resort is linked to neighboring ski areas via gondolas. You can ski, snowboard, snowshoe, and even attempt paragliding, depending on your fitness levels and interest!
El Serrat
El Serrat, a quaint village in the Valira del Nord Valley, is perfect for visitors seeking an escape from Andorra la Vella. The mountainside location affords breathtaking views of the countryside in every direction. Nature enthusiasts will especially enjoy this region for its many beautiful hiking trails through the Alpine scenery.
No matter the season, El Serrat has something for everyone. In the spring and summer, take advantage of hiking and bird watching. Then when winter comes around, enjoy cross-country skiing or snowboarding in the area's gorgeous downhill snowy terrain.
Centre Termolúdic Caldea
The Centre Termolúdic Caldea, a towering glass structure that easily pierces the city's skyline, is easy to spot when you go to Andorra la Vella. The spa complex's main feature is its size, which measures over 6,000 square meters, so guests can fully appreciate all the spa has to offer.
There are indoor and outdoor lagoon pools where guests can swim or float, as well as saunas, hot tubs, and various in-house treatments that provide distinctive massages.
The 12,000-square-foot spa features treatment rooms with marble floors that are believed to have healing effects and Roman-style baths. The waters in the spa are infused with minerals and come from a thermal source beneath the city.
Vallnord
Andorra draws in visitors from all over Europe seeking excellent skiing at Vallnord. The Pyrenees location has slopes for skiers of every skill level, so whether you're a beginner or professional, there's something here for you to enjoy.
Vallnord is the perfect place for a ski trip with the family. The area offers lessons and group activities like tobogganing, snowshoeing, and even snowmobiling.
Encamp
There's no better place to relax and take in natural beauty than the town of Encamp, which is located between the Valira d'Orient River. This spot is perfect for visitors who want to explore historic buildings and charming cafes while tasting local culture. You can also find art galleries and craft shops selling one-of-a-kind pieces made by talented artists from the area.
The National Automobile Museum in Encamp is another major attraction. It has a massive collection of classic automobiles, including steam-powered vehicles and motorcycles. It is the beginning point for several key locations in Andorra, such as the Pic dels Pessons Mountain. Hiking and rambling are easy to do in a day from Encamp, since the area offers many attractions.
Winter is the perfect time to visit this region, with a ski lift taking passengers to Grau Roig or Pas de la Casa for some skiing in style.
Les Escaldes
Les Escaldes is located just outside Andorra la Vella and is the ideal place to visit if you like hot springs and relaxing thermal waters. The springs here are famous for being high in sulfur and nitrogen, which may be used to cure a variety of health problems.
Les Escaldes is a historic destination with roots tracing back to the Roman Empire. The town is renowned for its healing waters, which you can enjoy in a traditional Roman bath. In addition to the baths, visitors can explore Les Escaldes fortress named Capilla Sant Roma and take in stunning views of the town from Pont dels Escalls Bridge.
Canillo
The picturesque village of Canillo is the perfect place to get a taste of Andorra's history. Just north of the village, you'll find the 11th century Sant Joan de Caselles Chapel. Built with local stone in the Romanesque style, this chapel is known for its beautiful frescoes and sculptures, including a stucco statue of Jesus Christ.
Andorra is renowned for its breath-taking scenery, so why not combine a visit to the chapel with a leisurely walk in the countryside? You can also sample some of the delicious local cuisines in one of the charming restaurants dotted around.
Anyós
When in La Massana, be sure to visit the dinky village of Anyós, which sits just one kilometer outside of town. You can enjoy some sightseeing there and maybe even catch their annual carnival in July. The highlight of the carnival is the blessing of a carriage in the village square.
The Church of Saint Christopher, from medieval times and in honor of the village's patron saint, is worth a visit. In addition, people living near Anyós usually enjoy bird watching or fishing as their pastime; this location would be great for taking a walk and admiring the local Alpine plant life and animals.
Andorra may not be on your radar yet, but this little country packs a big punch when it comes to fun!