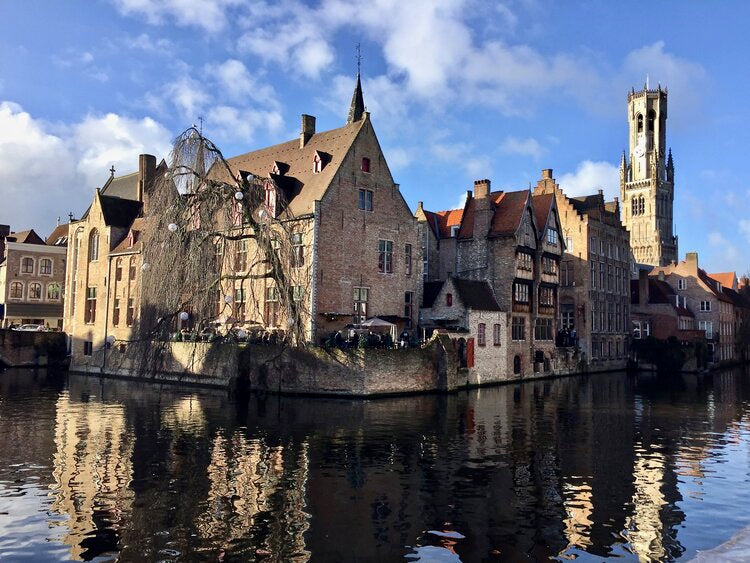 THE BEST WAY TO PLAN A GREAT TRIP TO EUROPE
PLAN A GREAT TRIP TO EUROPE & FOLLOW THE PLAN
TRIP TO EUROPE
Whether you have traveled to Europe many times, or you're new to European travel, planning your journey well is the first step to making sure your trip is everything you want it to be. 
If you'd like help in the planning process, we would love to create a custom itinerary for you or coach you through every step. If you'd like to do it yourself, I invite you to follow the steps below.
THE BEST WAY TO PLAN A GREAT TRIP TO EUROPE
It's just that we have a lot more tools and data available to us in today's environment. It's easy to get lost in the puzzle of information overload you can find on the web. You need a plan to make your plan. Then follow the plan!
It's best to be thorough, yet efficient, in planning your trip. Break down the process into smaller chunks, complete each one, move on to the next, then review to make sure it's all how you want it to be.
CREATE YOUR EUROPE TRIP ITINERARY
Where do you want to go? This is an enormous first question! There are lots of considerations that go into answering this. Have you been to Europe before? When are you able to travel? How much time do you have? Who will you be traveling with? What kinds of experiences do you like most? The list goes on.
I used to teach international business and often took students abroad so they could be immersed in a new culture and experience the world. I always told them that it's best if you can go for an extended amount of time. But since that isn't always possible, if you only have a week, take a week and travel! If you have longer, that's even better!
It's still good advice. If you can only go for a short period of time, then take advantage of what time you have. If you can stay longer, you will have more time to get over jet lag, settle in, meet new people and really experience what Europe has to offer. So, plan to go for as long as you can, and whatever time you have, be sure to use it well.
WHICH EUROPEAN CITY, REGION, COUNTRY OR COUNTRIES WOULD YOU LIKE TO VISIT?
THE BEST WAY TO PLAN A GREAT TRIP TO EUROPE
According to the United Nations, there are 44 countries in Europe today. How on earth are you going to decide which one(s) to visit and where to go within each one?
Answering that question depends a lot on you. Of course, the list goes on and on. But the point is to see the European destinations you have always been most interested in. That's where you should go first. If you've been there and didn't get enough, go back and take a deeper dive into the culture. Or if you've already been to some of the places that peak your interest, what other European destinations make your list?
We find that our clients traveling to Europe tend to enjoy their trip more and get more out of it when they stay longer in fewer places. We find that to be true when we travel to Europe too! It's hard to give up some destinations, but it often yields a better result for your time in Europe. Plan to return and explore more European destinations on your next trip!
Now that you've thought long and hard about how much time you have and which cities, regions, country, or countries you want to visit, establish a European route and timeline for your trip. Do some reading online to learn the kinds of things you'll be able to do and see in each area. Trust that the more you read, the more you will find amazing places to go while you are in Europe. You are on the cusp of planning a great trip.
CHECK YOUR EUROPEAN TRAVEL PAPERWORK
Is all your paperwork in order? When was the last time you renewed your passport? Remember that children's passports expire in 5 years. Adult passports expire in 10. Go look at your passport if you are unsure when it expires and make sure you will have at least 6 months validity after your trip. You do not want to plan your entire vacation just to show up to the airport and be told you can't fly. It's happened. Don't let it happen to you.
Are there any regulations related to COVID that you need to be aware of in order to travel where you want to go in Europe? Most have been dropped, but these can change frequently, so be sure to know exactly what is needed for your specific destinations. Requirements can be different in each country.
BOOK YOUR FLIGHTS TO EUROPE
Now that you know where you want to travel, decide on the European destinations you'll fly in and out of. You may save money by booking a round trip ticket to and from the same airport – but this is not always the case. It may be just as cost effective and could save you valuable time if you book an open jaw. This is where you book a multi-city trip, flying into one city and out of another.
Let's say you want to travel to Italy and you want to experience a lot of the country in the same trip. Flying in to Rome from North America and home from Venice or Milan will allow you to see the bookends of your trip and everything in between without backtracking. This is a great way to see as much as you can possibly see while you are there, and use your vacation time efficiently.
like to use multiple search engines when booking my flights, just to make sure that I find the best price for a reasonable route. In today's world, some options you are given are on multiple airlines. This means you will likely have to collect bags and rebook them during a layover. This could be tough if you have a flight delay, and it's also a bit of a pain in the neck. Packing light helps this situation. You also don't want to have too many stops or too long a layover (unless you plan to check your bag in a locker at the airport and go see the city in your down time). It's such a great feeling to get your flight booked! NOW you really know you are going somewhere!
RESERVE TERRIFIC ACCOMMODATIONS IN EUROPE
Once you know your European route and your timeline, you can start booking your accommodations. Again, there are lots of things to consider. How many are traveling together? Do you need one room or more? Do you want to stay in a luxury hotel? A B&B? An agriturismo? A pension? A castle? Do you want to stay near the train station? In the heart of the city center? Near certain attractions? How hard is it to get to your lodging once you arrive in your destination? If you are driving, is there parking near your accommodation? How much does it cost? What is your lodging budget? Is there availability in the property you absolutely love?
A recommendation I would like to make here is to take ALL of these things into consideration, along with your tastes and interests, and book lodging that really reflects the place you have traveled so far to see. Choose accommodations where you will get to meet the locals and experience European culture.
CHOOSE AMAZING ACTIVITIES IN EACH EUROPEAN DESTINATION
Research, research, research! Go to all the "must see" sights. Make sure to get "skip the line" tickets to maximize your time. Get a guide when that is important. Check to make sure the museums you want to see are open on the days you'll be there! Know opening times long before you arrive.
A number of year ago, Greg took his jazz band to Europe. The trip was organized by a company that planned travel for music groups. We got to visit Prague for one full day. It was amazing, but I really wanted to visit the Jewish Quarter, which is so important to learning about the history and culture in this area. The day we were there was a Saturday, the Jewish Sabbath, and these museums were closed. I was so disappointed.
There are some great places to find good guides, but you really have to read through all the reviews and make sure you find the right guide for you and your travel companions. If you are traveling with a family with young children, you will want a different guide than if you are an art historian or architectural expert. Plan accordingly. Then, see if they are available on the dates you have planned. Starting the process early is very helpful.
HOW WILL I TRAVEL AROUND EUROPE?
Choose your transportation wisely, based on your comfort level and your budget. If you are comfortable renting a car, know that it is very expensive to pick up a car in one country and drop it off in another. In addition, there are often drop off fees when returning a car to a different city in the same country where you picked it up. These can add to your cost, but may be worth it.
Trains are amazing and are a great way to get around Europe. But sometimes they are more expensive than low cost airlines like Ryanair and EasyJet. Also, there are parts of Europe that are more easily accessible by car or by bus. Plan accordingly.
If you are taking a ferry, check on the times and pre-book as necessary. And If all the spots are full and you do not have one reserved, you may be waiting for quite a long time to reach your destination. If you hire drivers to transfer you from one place to another, request an English-speaking driver if that is something that is important to you.
RESEARCH THE BEST PLACES TO EAT AND DRINK WHILE YOU ARE IN EUROPE
Finding the best places to eat along your travels is one of the most enjoyable ways to connect to the local culture and its people. Find lists of what is truly important to the food culture in the European destination where you are traveling. It can be different region to region and city to city within the same country. This research is worthwhile and fun! Go to local markets and see what is fresh. Seek out restaurants that feature what is produced within a 20-mile radius.
Eating in fancy European restaurants is awesome. Do it! Make sure to make a reservation so you will have a seat at the table. But don't limit yourself to upscale dining. Eat from tiny vendors, from street food carts, from markets and from mom and pop restaurants. Don't worry if you don't know the language. Point to something on someone else's plate that looks good and let them know that is what you want! Avoid restaurants that you can go to in your home country. You can go there after your vacation.
OTHER THINGS TO CONSIDER IN PLANNING YOUR TRAVEL ITINERARY IN EUROPE
Research your phone plan and know how it will work overseas. If you need to get an international phone plan, figure that out before you leave your home country. How will you pay for items when you are abroad? Visa and MasterCard are readily accepted but American Express and Discovery cards are not. Cash is necessary for some of the most special experiences. Getting cash from an ATM at your bank's European partner is a good way to go. You may want to let your bank and credit card companies know where you will be traveling before you leave home.
DOUBLE AND TRIPLE CHECK ALL YOUR EUROPEAN TRAVEL PLANS
This is an important step in the process. If you want everything to go smoothly so you can maximize your time while you are traveling in Europe, make sure all your ducks are in a row. Check that every single "i" is dotted and every single "t" is crossed. Now you've made your plan! Work the plan and have an absolutely amazing trip!
Planning is always worth the effort: Anticipating obstacles, knowing your options, and living within your budget are fundamental to a good trip. Now you're ready to enjoy the freedom that rewards good planners and turn your travel dreams into smooth and affordable reality.
https://www.facebook.com/MBS87Store