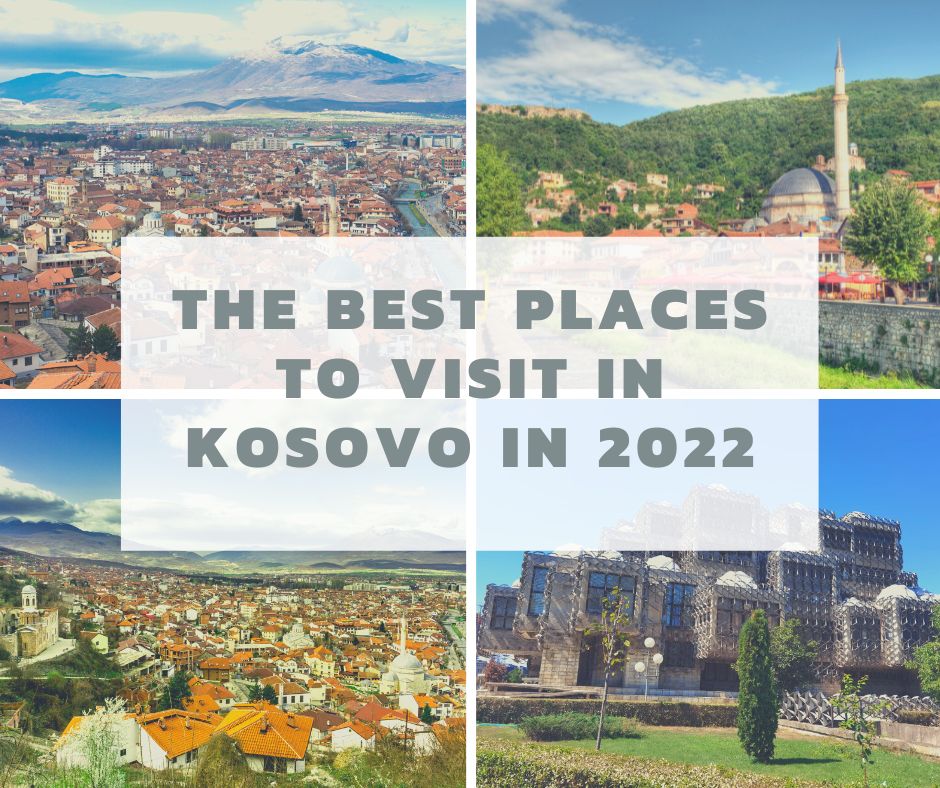 The Best Places to visit in Kosovo
Join us in discovering the best places to visit in Kosovo. Whether you're captivated by ancient history, mesmerized by breathtaking landscapes, or simply eager to immerse yourself in a vibrant local culture, Kosovo has an array of destinations that will leave a lasting impression.
Top best places to visit in Kosovo
Top 1 - Best places to visit in Kosovo: The Capital City of Pristina
Pristina is the beautiful capital city of Kosovo and is one of the most popular places to visit in the country. Aside from the beautiful architecture, coffee shops and nightlife; the city has a lot to offer.
The National Library of Kosovo is found within the city and is known for its interesting and 'very ugly' design. Although the exterior of the building leaves a lot to be desired, the library itself is home to over 100,000 books and has a total area of around 16,500 square meters.
The Newborn Monument is also found within Pristina. As Kosovo only gained its independence in 2008, that makes it the youngest country in Europe. The monument was created to honour this, and every year on Kosovo's anniversary the building is repainted a different colour.
Some of the other sights to see within Pristina include the Clock Tower, the statue of Bill Clinton and the Ottoman Bath. The city of Pristina is definitely one of the best places to visit in Kosovo as it offers an array of authentic experiences and cultures.
Our partners at Get Your Guide offer tours of Pristina.
Pristina, capital of Kosovo
Top 2 - Best places to visit in Kosovo: Kosovo Museum
Kosovo Museum is located within the city of Pristina and is the National Museum of Kosovo. It is the largest museum in the country and was founded in 1949. The building itself has some of the most intricate architecture within the country, but the Museum exhibits are also a must-see.
The museum consists of three different parts in total; these are the museum itself, the Museum of Independence and Emin Gjiku's Housing Complex. The main museum has departments of natural science, archaeology and ethnography and offers a brilliant insight into the countries culture and history.
Top 3 - Best places to visit in Kosovo: Prizren
If you are looking for a hidden gem, then visiting Prizren is a must. Often known as the 'prettiest city in Kosovo', Prizren is located along the banks of the Lumbardhi River and on the slopes of the Sar aka Sharr mountains.
Although it is the second most populated city in Kosovo, Prizren offers a relaxed and atmospheric vibe. Colourful festivals are frequent in this city and most of the popular sights are located close together, making the city easy to explore.
Some of the most popular things to do in Prizren include visiting the Prizren Fortress, walking along the Old Stone Bridge and marvelling at Sinan Pash Mosque. If you love adventure, then hiking in the Sharr Mountains National Park should also be on your list!
Our partners at Get Your Guide offer tours of Prizren.
Prizren
Top 4 - Best places to visit in Kosovo: Rugova Canyon
Rugova Canyon is considered to be one of Europe's deepest and longest canyons. With an impressive depth of up to 1,000m and a length of 25km (16 miles), you can see why this spot has made it onto our 'places to visit in Kosovo' list.
Rugova Canyon was created by water erosion and the retreat of the Peja glacier. Today,
the Peja Bistrica river runs through the canyon. In 1985 it was declared a protected monument of natural heritage due to its incredible landscape and geological values.
If you are an adventure seeker, then the canyon offers amazing opportunities to rock climb, explore caves and hike. Visiting the Rugova Canyon is by far one of the best things to do in Kosovo and shouldn't be missed.
Top 5 - Best places to visit in Kosovo: The Bear Sanctuary
In the Balkans bears used to be kept in cages for entertainment purposes at restaurants and other public venues. Luckily today this practice is illegal, and now this sanctuary is providing homes to many rescued bears.
There are currently around 20 bears at the sanctuary and they have 16 hectares of land to roam. The sanctuary has been open since 2013 and has become a popular tourist attraction in Kosovo.
If you love animals, then this is a must-see whilst visiting the country. However, be prepared to get a little closer than you'd expect. The bears sometimes like to take walks around the perimeter, so sometimes you can get a pretty close view of them!
Top 6 - Best places to visit in Kosovo: Gazivoda Lake
Gazivoda Lake is the largest and most beautiful lake in Kosovo. The lake is that large that it even extends over the border into Serbia. It is a man-made lake that was built in 1977 to supply drinking water and irrigation to north and central Kosovo.
With an average depth of over 100m, the lake is home to plenty of aquatic life. It is also the perfect spot to do a bit of wild swimming if you don't mind the temperature of the water!
The surrounding area offers plenty of hiking opportunities, where you can get amazing views of Gazivoda Lake below. There are also lots of areas to head out on mountain bikes, and even a couple of beaches located along the lakeside where you can relax and take a picnic.
Top 7 - Best places to visit in Kosovo: National Park Bjeshkët E Nemuna
National Park Bjeshkët E Nemuna is located in Western Kosovo and is a popular tourist attraction. The National Park is huge and covers an area of over 63,000 hectares, offering beautiful scenery ranging from mountainous terrain, glistening lakes and dense forests. It is one of the most beautiful places to visit in Kosovo, so make sure you add it to your itinerary.
Some of the most popular activities to do here include fishing, sightseeing, hiking and even mountain climbing. The highest peak in the country is located here and makes for an intense climb. The mountain is called Gjeravica and sits at an impressive height of 2656m above sea level.
If you are a nature lover, there is also an abundance of flora and fauna located here. The area is incredibly biodiverse and is home to a number of large mammals, reptiles, birds and fish. If you are lucky you might get to spot wildcats, roe deer, grey wolves, lynx or even brown bears.
Top 8 - Best places to visit in Kosovo: Gračanica Monastery
Gračanica Monastery is a Serbian Orthodox Monastery that was built in 1321 by the Serbian King Stefan Milutin. The monastery was dedicated to the Holy Virgin Mary and was even constructed on the ruins of an older 13th-century church of the Holy Virgin.
The monastery has had a traumatic past and has undergone many restorations. It suffered damages during the Ottoman rule, the battle of Kosovo, the Great Turkish War, the second siege of Vienna and it was even bombed twice in 1999 by NATO airplanes.
Unfortunately, the majority of original paintings and treasures from the monastery have been lost either in the various fires or damages the monastery has suffered throughout the centuries.
The monastery was listed as a UNESCO World Heritage Site in 2006 and has been attracting tourists from all across the world ever since. So even though we can't see the Gračanica Monastery's original historic art pieces, we can still marvel at its architectural beauty.
Mirusha Waterfalls
Mirusha waterfalls are a series of waterfalls that are found within Mirusha Park. These waterfalls and the 13 lakes that are located here are popular spots for tourists and a great place to swim. The waterfalls are located between each lake, with the highest waterfall being 22m (72 ft) high.
Within the park, there are various caves and canyons to explore that have been carved out by the waterfalls over time. There are also plenty of hiking opportunities that will give you superb views over the lakes and waterfalls if you get high enough.
These waterfalls are located about halfway between Pristina and Peja so are the perfect stop off whilst visiting these destinations. The walk starts from the village of Gremnik and is about a half-hour walk through the countryside.
Peja
Peja is the fourth largest city in Kosovo and is also known by its Albanian name Pejë or its Serbian name 'Peć' which translates to 'cave'. That is presumably due to the popular caves and Rugova Canyon located nearby.
Peja is often a popular spot for hikers as it's the gateway to the Accursed Mountains (which are also known as the Albanian Alps).
Aside from going hiking, there are plenty of other things to do in Peja. Some of the most popular places to visit include the old Bazaar, the main square and simply eating lots of authentic dishes in the cities restaurants. The Patriarchate Of Peć is also located just outside of Peja.
Transportation to visit places in Kosovo
If you are flying into Kosovo, then you will be arriving at Pristina International Airport. The airport is located about 20km outside of the capital city, but there are plenty of transport options. There is a bus that runs from the airport into the city centre which is by far the cheapest option, or you can choose to get a taxi.
Generally travelling overland from neighbouring countries into Kosovo is quite difficult. Some border crossings are for locals only, and others you need to transit via a third country. Another thing to be mindful of when travelling overland is the border between Serbia and Kosovo. Political tensions are still relatively high between these countries, and border crossings can be complicated.
The border town of Mitrovica can see sporadic outbreaks of violence as the town is mixed Serb and Kosovo Albanian separated by a river. Pay attention to local news when travelling in the region.
Important Note
If you enter Kosovo from Albania, Montenegro or North Macedonia, you may not be able to enter Serbia afterward as Serbia deems Kosovo Serbian territory and you will have no entry stamp. Even travelling to and from Serbia may cause issues if they see a Kosovo stamp in your passport.
When I travelled from Serbia to Kosovo in 2010 I was held up at the border when returning to Serbia, taken off the bus and searched (no one else was). They didn't spot the Kosovo stamp as it was well hidden on a page with many others so I was allowed back in. Check up to date travel new or with your embassy before going.
Getting around Kosovo places when visiting
There are various ways to travel around Kosovo including hiring a car and getting public transport.
Renting a hire car is probably the most popular choice as there are plenty of great places to visit in Kosovo. Even though the country is relatively small in comparison to other European countries, the popular sights are located a fair distance away from each other.
Buses connect most of the major towns in Kosovo so are a great way to get around. Tickets are very cheap, and the timetables are often the most convenient. You can travel by train throughout the country but journeys are often slow, so are best avoided unless travelling a long distance.
Whether you choose to get a hire car or public transport, be prepared for a bumpy journey. The road quality in Kosovo is poor, and you are very likely to come across large potholes and uneven surfaces.
The best food dishes to try when visiting Kosovo
Here are some of the tasty dishes in Kosovo that you need to try!
Sarma – Sarma consists of a filling that is surrounded by leafy vegetables. There are many different versions of this dish so the fillings can vary. However, typically the filling consists of minced meat, rice, herbs, seasonings, red pepper and often a tomato sauce. The wrapping usually consists of cabbage, collard greens or sauerkraut leaves.
Flija – Flija is typically described as a stack of layered pancakes, and contains two different mixtures. The first mixture is used for the batter and consists of flour, water, salt and eggs. The second mixture is used as a filling and consists of oil, butter and yoghurt.
Šarski sir – Šarski sir is a salty cheese that is made with sheep's and cow's milk. It is produced in two varieties; hard (which is more traditional) and soft. It is often paired with bread, salads or pie.
The weather in Kosovo
The summers in Kosovo are generally warm and very clear, whilst the winters are known to be freezing with plenty of snow. The warmest month to visit Kosovo is in August, where temperatures reach an average high of 28°C. The coldest month to visit is in January with an average low temperature of -4°C. The summer season in Kosovo lasts from June to September, with the cold season lasting from November to March.
The best time to visit places in Kosovo
The best time to visit Kosovo is generally between April to September. This means you will miss out on the freezing temperatures and snow. The weather between this period will generally be mild to warm, with less precipitation. However temperatures in July and August can get extremely hot, so if you are hiking you need to bear this in mind.
Are Kosovo places safe to visit?
Although Kosovo has had its problems, it's considered to be a fairly safe country to visit. However, there are a few things to be mindful of. Although crime does occur in the cities, the majority is petty crime including pickpocketing, theft and card fraud.
The other major thing to be wary of when exploring Kosovo is where you are walking. Due to the years of conflict, landmines and unexploded bombs once littered Kosovo. A lot of them were cleared in a de-mining project, but some could still remain in rural and unexplored areas. Always stick to well-worn paths!
Kosovo
People have also been known to steal manhole covers for scrap metal throughout the country so keep your eyes down when walking.
It goes without saying to avoid talking politics with people you meet. It's also a good idea not to have any Serbian items on you when travelling in Kosovo.
Accommodation in Kosovo
When it comes to staying in Kosovo, there are plenty of accommodation choices. Here are accommodation choices for some of the destinations we have covered in this article.
Pristina Hotels
Budget accommodation: Prishtina Center Hostel (A double room with balcony)
Mid-budget accommodation: Downtown Apartments (A superior studio)
Luxury accommodation: Swiss Diamond Hotel Prishtina (A business double room with breakfast included)
Prizren Hotels
Budget accommodation: Deni House (A large twin room)
Mid-budget accommodation: HANI I VJETER Boutique Hotel (A double room with terrace)
Luxury accommodation: Hotel Kacinari (A king suite with breakfast included)
So is Kosovo worth visiting? If you love culture, nature and authentic experiences then yes! There are so many incredible places to visit in Kosovo, that there is something for everyone no matter their travel style. You can visit the beautiful cities of Pristina and Prizren, hike through the beautiful national parks or learn about the countries history at Kosovo Museum. There are so many incredible things to do, so make sure you add this country to your (ever-growing) bucket list!
Effortless Kosovo Travel with MBS 87
MBS 87 is a well-established business that excels in the realm of travel, offering a range of services to cater to diverse traveler needs. Among their notable offerings is minibus hire european travel, providing an ideal solution for group travel.
Whether you're planning a corporate excursion, a family vacation, or a group adventure, MBS 87 ensures that your transportation needs are seamlessly met. If you're contemplating a visit to the beautiful and historic destination of Kosovo, this business becomes your go-to partner.
Kosovo, with its rich cultural heritage and stunning landscapes, offers a wealth of experiences. When considering travel to Kosovo, make sure to explore the vibrant capital city, Pristina, and visit the impressive Gračanica Monastery.
With MBS 87's mini bus hire services in Europe, you have the convenience and flexibility to explore Kosovo's wonders at your own pace, making your journey to this Balkan gem a memorable and hassle-free experience.
Trust MBS 87 to be your reliable travel companion as you embark on your adventures across Europe, including your exploration of the captivating places to visit in Kosovo.
>>See more: 25 Best Things to Do in Prague (Czech Republic)