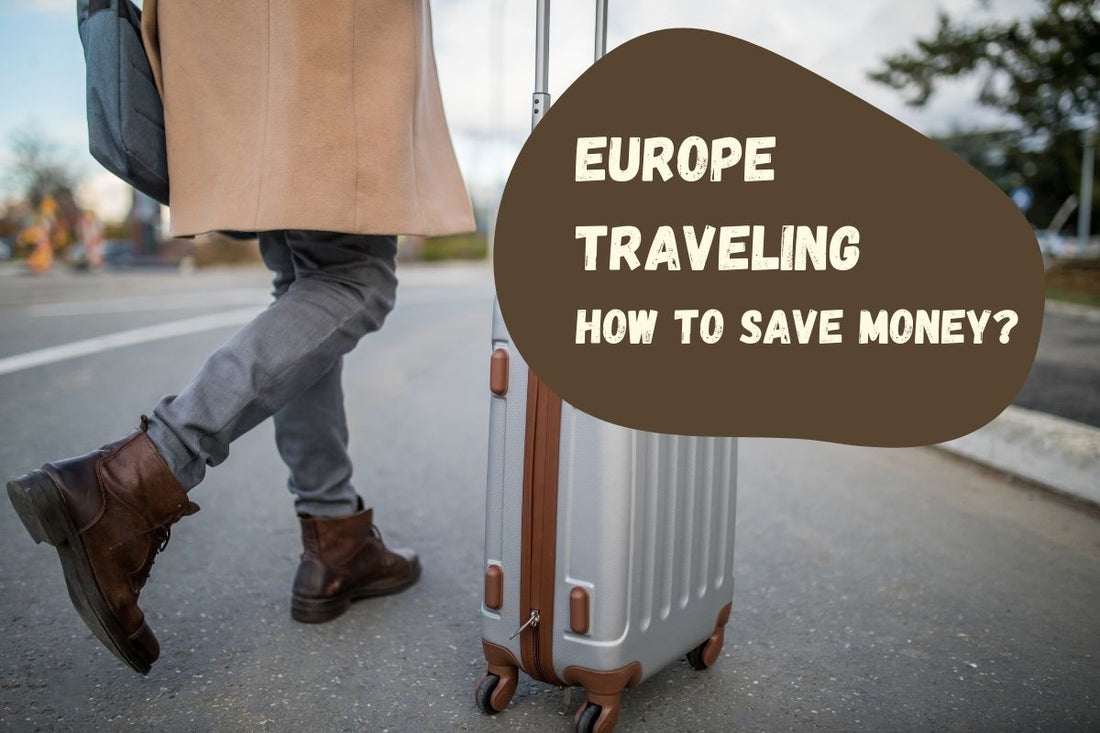 How to Save Money When Traveling in Europe
If you're looking to save money while traveling in Europe, there are a few things you can do. 
Ways to Save Money While Traveling in Europe
The best way to save money while traveling in Europe is to do your research before you go. Look up average prices for hotels, restaurants, and attractions, and compare them to what you're willing to spend. You can also find out if there are any discounts or deals available.
Travel During the Off-Season
Another great way to save money is to travel during the off-season. Prices for accommodation and transportation are usually lower, and there are often fewer crowds at attractions.
Eat Local Foods
Eating local foods is not only a great way to experience the culture, but it's also typically cheaper than eating at tourist traps or restaurants aimed at foreigners. Try to eat like a local and you'll save yourself some money.
Use Public Transportation
Public transportation is usually much cheaper than taking a taxi or renting a car, so try to use it as much as possible when traveling around Europe.
Tips for Saving Money on Flights to Europe
There are a number of flight search engines that can help you find the cheapest flights to Europe, such as Skyscanner and Google Flights. Be sure to set your filters to find the best deals, and remember to check multiple airports if you're flexible on your destination.
Be Flexible With Your Dates
Flexibility is key when it comes to finding cheap flights. Try to be flexible with your travel dates and you'll be more likely to find a good deal. Keep in mind that flying during the week is usually cheaper than flying on weekends.
Book in Advance
One of the best ways to save money on flights is to book in advance. Tickets tend to get more expensive the closer you get to your travel dates, so it's best to book as early as possible. That said, be sure to keep an eye out for last-minute deals too.
Check for Deals and Discounts
There are often deals and discounts available for flights to Europe, so be sure to check for them before booking your tickets. You can often find great deals on websites like Kayak and Expedia, or by signing up for newsletters from airlines or travel agencies.
Saving Money on Accommodation While in Europe
When looking for accommodation while traveling in Europe, it is important to compare prices between different options. There are a number of websites that can help with this, such as Trivago or Kayak. It is also a good idea to read reviews of accommodations before booking anything.
Look for Discounts
There are a number of ways to find discounts on accommodation while traveling in Europe. One way is to search for coupons or promo codes online. 
Another way is to sign up for email newsletters from hotel chains or travel websites. You may also be able to find discounts by booking your accommodation through a travel agent.
Stay in Hostels
Hostels are a great option for budget travelers as they tend to be much cheaper than hotels. They also offer a great opportunity to meet other travelers from all over the world. When choosing a hostel, make sure to read reviews and check the amenities that are included in the price.
Consider Couch surfing
Couch surfing is a popular option among budget travelers as it allows you to stay with locals for free (or for a small fee). This is a great way to save money on accommodation while also getting an authentic experience of the local culture and lifestyle.
Before couch surfing, it is important to read reviews of potential hosts and communicate with them beforehand to make sure you are both comfortable with the arrangement.
House Sitting
House sitting is another great way to save money on accommodation while traveling in Europe. This involves staying in someone's home while they are away and taking care of their property, such as watering plants or feeding pets. There are a number of websites that can help you find house sitting opportunities, such as TrustedHousesitters.com or MindMyHouse.com.
Frugal Transportation Options in Europe
Public transportation is often the cheapest and most convenient way to get around Europe. In most European countries, you can purchase a pass that allows you unlimited travel on buses, trains, and trams. This can save you a lot of money, especially if you plan on doing a lot of traveling within a single country or between countries.
Walk or Bike
Walking and biking are two of the best ways to see a city or town. Not only are they free, but they also give you a great opportunity to explore your surroundings and get some exercise at the same time. If you're planning on doing a lot of walking or biking, be sure to pack comfortable shoes and clothes.
Take Advantage of Ride-Sharing Services
Ride-sharing services like Uber and Lyft are becoming increasingly popular in Europe. They can be a great way to save money on transportation, especially if you're traveling with other people who can split the cost with you. Just be sure to check the rates before you request a ride, as they can vary depending on the city and time of day.
Rent a Car
Renting a car can be a great option if you're planning on doing a lot of driving or if you want the freedom to explore Europe at your own pace. Just be aware that it can be expensive, so it's important to compare prices and find the best deal before booking. You should also factor in the cost of gas and parking when budgeting for your trip.
By the way, you can refer to MBS 87 bus rental service to find affordable service for big group.
Saving Money on Food While Traveling in Europe
One of the best ways to save money on food while traveling in Europe is to eat local foods. Not only will this save you money, but it will also allow you to experience the local culture and cuisine. When possible, eat at local restaurants and markets rather than tourist traps. This may require doing some research beforehand, but it will be worth it in the end.
Cook Your Own Meals
Another great way to save money on food while traveling in Europe is to cook your own meals. This can be done by staying in apartments or Airbnbs with kitchens, or by utilizing hostel kitchens. 
If you are staying in a hotel, you can still cook your own meals by using the microwave and fridge in your room, or by taking advantage of the hotel breakfast buffet.
Bring Your Own snacks
If cooking your own meals is not an option, another way to save money on food while traveling in Europe is to bring your own snacks from home. 
This can help you avoid buying expensive (and often unhealthy) snacks at convenience stores or airports. Some good travel snacks include trail mix, granola bars, nuts, fruit, and veggie chips.
Find Cheaper Restaurants
Finally, another way to save money on food while traveling in Europe is to find cheaper restaurants that are off the beaten path. 
These places are typically frequented by locals rather than tourists, and as such they tend to be cheaper and have better quality food. To find these restaurants, ask locals for recommendations or do a quick Google search before heading out for the day.
Saving Money on Attractions in Europe
Before you travel, it is important to do your research and figure out which attractions are a must-see for you and which ones you can skip. This will help you budget your money better. 
You can read travel blogs, guidebooks, or even ask friends and family for recommendations. Once you have a list of the places you want to visit, you can start looking for ways to save money on them.
Look for Free Attractions
There are many free attractions in Europe, so be sure to take advantage of them! Some examples include walking tours of historic city centers, visiting public parks and gardens, or taking in the views from popular landmarks like the Eiffel Tower or Big Ben. Many museums also offer free admission days or discounted rates if you purchase tickets in advance online.
Purchase Attraction Tickets in Advance
You can often save money on attraction tickets by purchasing them in advance online instead of at the gate. This is especially true for popular tourist attractions that tend to have long lines. If possible, try to buy your tickets a few weeks ahead of time so that you can take advantage of any early bird discounts that may be available. Additionally, many attractions offer combo tickets that include entrance to multiple sights for one price—so if you're planning on doing a lot of sightseeing, this could be a good option for you.
Find Discounts
There are several ways to find discounts on attractions in Europe. One way is to search online for coupon codes before you purchase your tickets. 
Another option is to wait until you arrive at your destination and look for discount cards or passes at the tourism office—these often entitle holders to reduced prices or free admission at various museums, monuments, and other sights around town. 
Finally, if you're a student or senior citizen, be sure to ask about any age-related discounts that may be available.