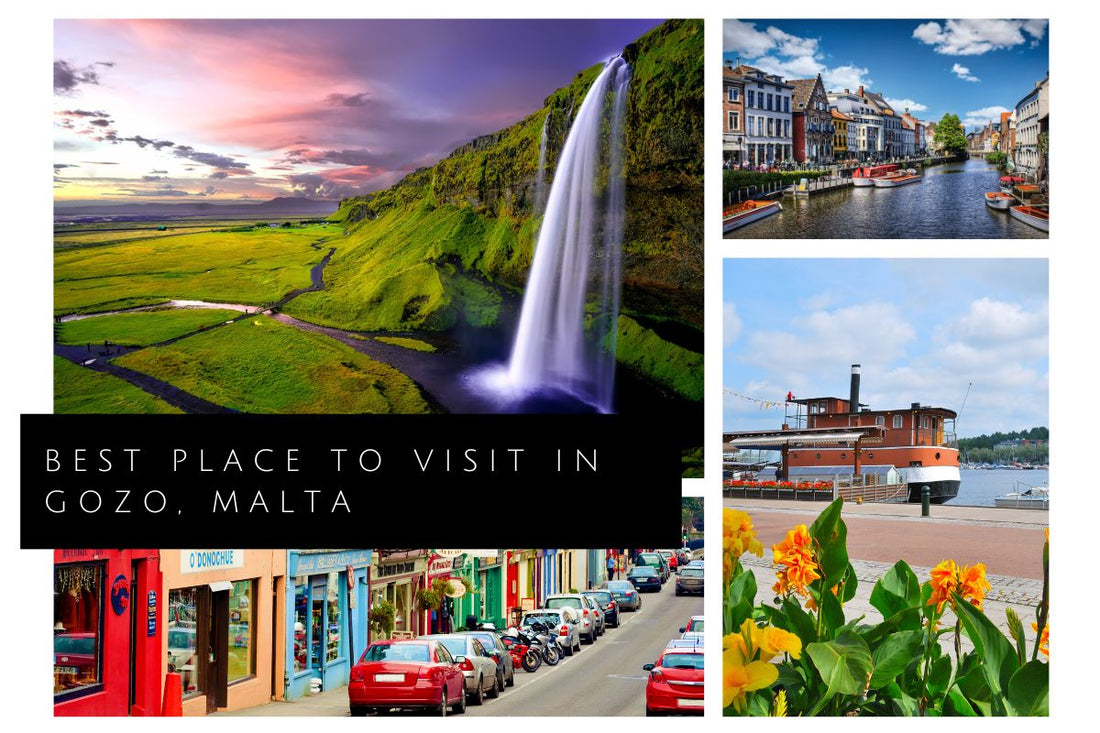 Best place to visit in Gozo, Malta
Visit the beautiful, yet undiscovered island of Gozo on your next trip. It's more remote than its larger sibling Malta and offers a laid-back experience with plenty to see! 
You'll find green hillsides covered in olive groves, turquoise fringed pools that line stone cliffs, or panoramic viewpoints, where you can take it all in before returning home feeling refreshed after an adventure abroad.
If traveling for business, then be sure not to miss out on how many historical spots there are here - each one worth discovering again.
Victoria (Rabat)
With its old narrow streets, red-domed cathedrals, and beautiful gardens Victoria is a city steeped in history. The citadel sits high on top of the hill where you can find an ancient fortress with prison remains covered by paint from those who lived there before, as well as museums that tell stories about life within these stone walls; while outside, it's just more chaotic street life.
Ramla Bay, Gozo
Ramla Bay is a popular destination for its clear blue water and white sand beach. The eastern side of this bay, which contains the most famous cave on Crete (according to legend), provides an excellent opportunity for those interested in Greek mythology fans, who want more than sightseeing opportunities with their vacation time!
Tal-Mixta Cave
Tal-Mixta cave is not only an excellent natural window, but it also provides stunning views across the sea and coastline. The rock creates a unique place to explore that will leave you feeling like you're in another world! It's thought by some people who know about this spot how today, these same Knights of Malta used tal maisda as their firing range, when pirates were attacking them during wartime periods (and now we can safely say there's no better location).
The Ggantija Temples
The Ggantija Temples are a must-see on your trip to Gozo in Malta. These mammoth limestone structures seem older than the Egyptian pyramids!  
No one knows how these giant rocks came about, but locals believe only giants could have brought them here - which is why they're called 'Giant'JIA TEMPLE, meaning 'GIANT's STONE PLACE.' Archeologists and historians studied this site, using radiocarbon dating techniques. It was discovered that hundreds of years ago, people used these temples for fertility rituals.
Ta' Kola Windmill
The Ta' Kola Windmill is one of the last original windmills on Maltese Island. The miller's workshop and living rooms are open for visitors, who can see how grain was ground into flour with enormous stones in 1725!
Salt Pans
When you visit Xwejni Salt Pans, one of the best things to do in Gozo is sitting by these beautiful forts that have been around since Roman times. You can either take an organized tour, or see it on your own and buy some local salt from vendors along the way - they're selling what's left over after harvesting their crop, so don't forget about these tasty treats!
Ta Mena Estate
The perfect way to learn about delicious local foods is by visiting Ta Mena Estate, where you can tour the family-run farm and taste their products. You will be surrounded by beautiful farmland, while enjoying food that has been traditionally produced for generations past down from times when there wasn't any technology used to preserve it!
Comino Day Trip 
The most remote and beautiful island in Malta is Comino. It's home to wild nature, with few people living there, so you can imagine your own pace without any distractions or Television! 
The name "Comino" comes from the cumin flower, which grows all over this magical place, and other flowers like hydrangeas etc., making it a great destination for those who enjoy hiking across rocky landscapes surrounded only by ocean sounds.
Places to visit in Comino
Blue Lagoon: It's no surprise that the Blue Lagoon is one of those things on your list while in Malta. It's intensely bright and feels like total paradise, but it gets really popular, so note that there will be many people during peak season! 
Crystal Lagoon: The Crystal Lagoon, with its lesser-known status and less crowded nature, makes it a perfect destination for those who want to escape the crowds at Blue Lagoon. The rocks here make swimming difficult but not impossible, so you can enjoy this beautiful place without having your photo taken constantly, or being approached by people selling things on every corner as they do near bus stations everywhere else!
Santa Maria Caves: The Santa Maria Caves are a fascinating place for those who love the water. With their lagoon and turquoise waters, you can snorkel among exotic fish that live in such an environment, making this spot all worthwhile! The journey here also has its own unique twist - pass through cave tunnels leading down from Sanmaaria Bay on your way to see it.
Which of these scenic spots have you visited?