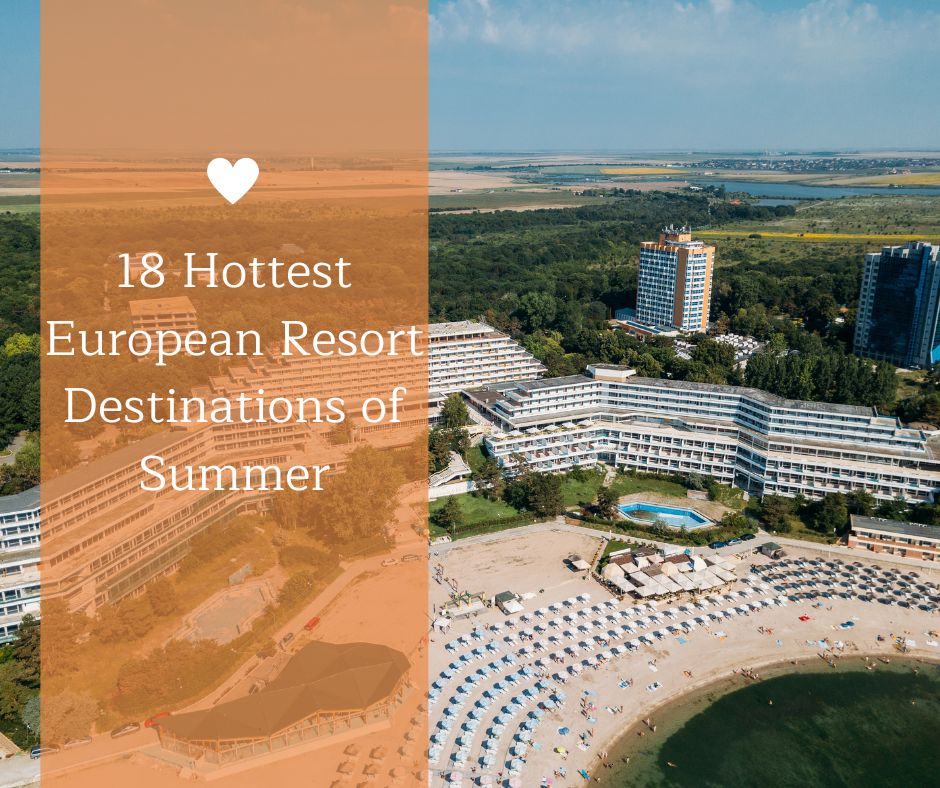 18 Hottest European Resort Destinations of Summer
Surrounded on three sides by saltwater, dotted with lakes, and punctuated by soaring mountain ranges, Europe is spoiled for choice when it comes to summer playgrounds. Think of the best beach destinations, and a few names spring to mind: The Algarve in Portugal, the French Côte d'Azur, the Italian Riviera, the Greek Islands, the Costa del Sol, the Canary Islands, and the Costa Smeralda.
But even after you choose one of these regions, which resorts and which towns offer the best vacation experience? Are the best-known names the best places to visit? And what if your idea of a great summer holiday does not revolve around sun, sand, and sea? What if Alpine lakes and mountain vistas are your nirvana, or the cooler, long summer days of the far north?
Explore the possibilities of these fabled playgrounds with our list of the hottest European Resort Destinations of Summer.
1. La Maddalena Archipelago, Sardinia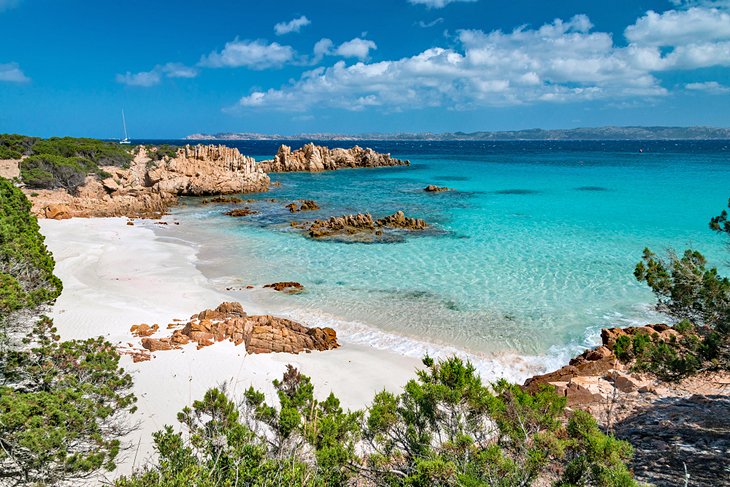 Few places say glamour, glitz, and privilege quite as loudly as the northeast coast of Sardinia, where the Aga Khan and his friends created a swanky enclave of uber-luxe resort "villages" overlooking the white beaches and luminous green waters they dubbed the Costa Smeralda, Emerald Coast.
document.querySelectorAll('#p_content a').forEach(el => el.remove())
The best beaches here are the private property of hotels, but even better ones are free for everyone, on the offshore Maddalena Islands, a quick ferry ride from Santa Teresa Gallura. Protected from the over development of the Costa Smeralda, the islands are a national park, its seemingly endless and almost deserted beaches surrounded by some of the world's best sailing waters.
These low islands just off shore are ringed by pink and white sand beaches that slope gently into brilliantly clear water. Beaches vary-some are tiny coves surrounded by wind-shaped rocks, some long strands. Cala Granara, on Isola di Spargi, is among the most idyllic, with white sands surrounded by palms and tropical foliage.
You can walk to beaches from the ferry landing, or local boats will take you to your own private island and pick you up later. Bring your own towels, umbrella, sun protection, and refreshments, because most of these beaches are undeveloped.
2. Portugal's Western Algarve and Costa Vicentina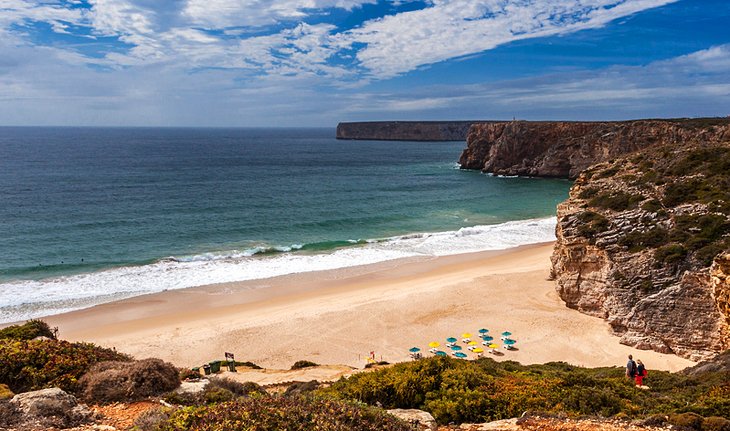 With 300 days of sunshine annually and more than 160 kilometers of golden beaches, it was inevitable that the Algarve would become one of Europe's most popular resort areas. But don't believe everything you hear about its crowds; head west to find some of the continent's most spectacular coastline, where wildly eroded, multicolored cliffs curve around perfect golden-sand beaches with plenty of elbow room.
At Sagres, the far western point where the land ends abruptly in dizzying cliffs, Prince Henry the Navigator gathered Europe's top 15th-century navigators and geographers to direct Portugal's Age of Discovery.
Visit their fortress and look inside the whitewashed churches of Lagos to see altars awash with New World gold. These and the magnificent Moorish castle at Silves lend a richer dimension to a beach holiday here. Below Sagres, the five-star Martinhal Sagres Beach Resort & Hotel blends into the landscape above Martinhal's long crescent of golden sand. You can learn surfing or paddleboarding here, or rent kayaks to explore the south coast.
North, where the vertical cliffs are sculpted by the open Atlantic, some of Europe's finest-and least crowded-beaches are washed by world-class surf and protected by Costa Vicentina Natural Park. Watch surfing competitions from the beaches or from the honey-toned clifftops.
East of Sagres, choose any of the tiny villages that hide their beaches beneath the dramatic cliffs: look for the colorful caverns and arches of Porto de Mós or rent a paddleboard at fun-loving Luz. Laid-back Sagres is an ideally located base for all of these.
3. Puglia Beaches and Torre Guaceto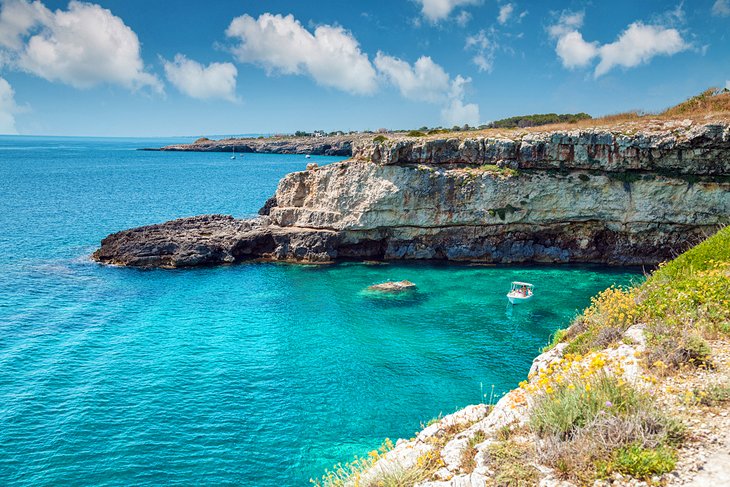 Italy's hottest "just discovered" beach resort area is Puglia, the heel of the country's familiar boot shape. Surrounded by sea, the peninsula alternates between scenic rock headlands and white-sand beaches.
Although these are not nearly as crowded as those farther north on the Adriatic coast, you can find even more solitude in the nature reserve of Torre Guaceto. Backed by dunes, maquis shrubland, and olive groves, the reserve's beaches stretch for miles. Those near the carpark can be crowded, but walk a little farther, and the crowd thins quickly.
There are loungers to rent, but they don't cover the prime spots as they so often do at Italian beaches. For dining, you'll need to head north or south outside the reserve, but there is a beach snack bar.
The visitor center has nature walks, bicycle excursions, and snorkeling tours (bikes and snorkel gear are included) and there are trails to walk or cycle through the reserve, where you can see flamingos and migratory birds. Other programs can include star-gazing talks.
The clean, warm waters offshore are part of the marine reserve and are ideal for snorkeling and popular with kite-surfers. There are plenty of other beaches along the coast, as well as seaside towns filled with beautiful Baroque architecture.
Where the Adriatic meets the Ionian Sea at the tip of the heel, a largely pristine coast of rocky headlands hides deep coves with tiny beaches, protected by the Parco Naturale Regionale Costa Otranto. West of the very tip of the heel are mile after mile of glorious golden beaches.
4. Nerja, Costa del Sol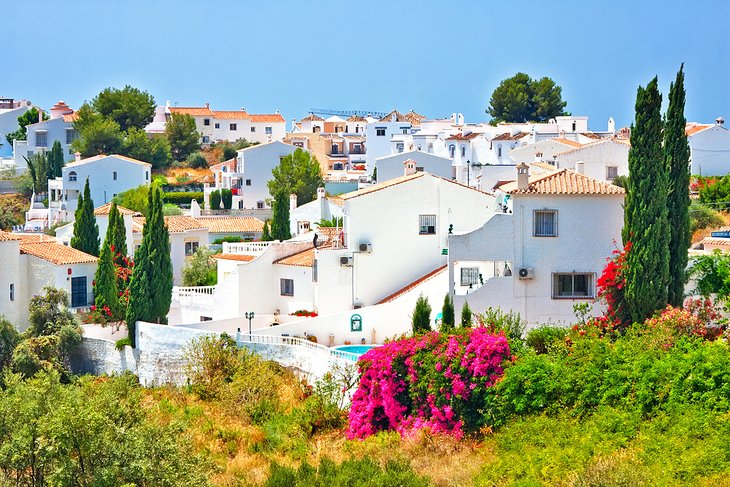 It's time to rethink the old stereotypes of Andalucía's overcrowded beaches backed by cookie-cutter hotels. There's no question that this stretch of Mediterranean coast was overdeveloped initially and served as the poster child for what could go wrong with a coastline.
But in recent years, the Andalusian government has stopped development, torn down the worst examples, and returned entire coastal stretches to natural landscapes with tasteful new buildings. Without losing the good-time holiday atmosphere, the Costa del Sol now provides Spanish experiences with an international twist.
If you like your sand in smaller stretches backed by scenic, rocky cliffs and dotted with small villages, head east from Málaga to the point where the mountains drop dramatically to the sea, hiding beaches beneath their cliffs.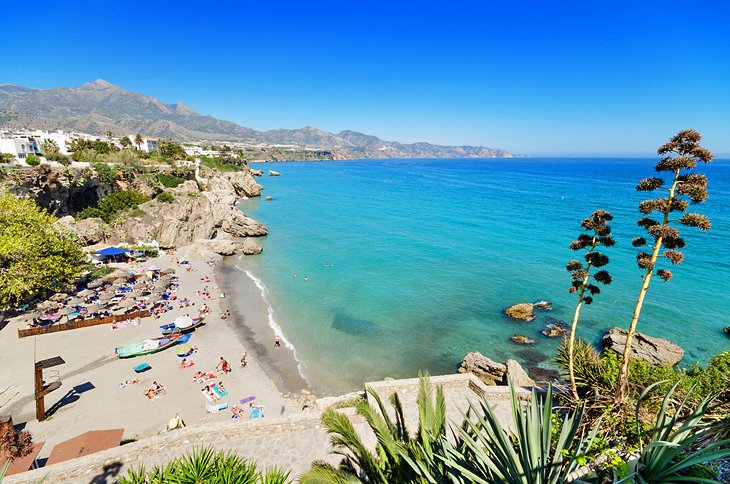 The quiet resort town of Nerja has the best views of this coast, from the Balcon de Europa terrace, which overlooks three of its several beaches: Calahonda, Chorrillo, and Carabeo. Although small and reached only by a footpath, these natural coves are close to the town center and separated by picturesque cliffs and rock formations. The crystal-clear, tranquil water makes them especially attractive for snorkeling and scuba diving.
West of Balcon de Europa, in the center of town and easier to access, La Caletilla's clear, blue waters are also defined by rock outcrops, and you'll find sun chairs, umbrellas, parking, and cafés here. The longest is 1.8-kilometer El Playazo, west of the center, a Blue Flag beach with lounge chairs, showers, and beachside restaurants.
Almost all beaches have chiringuitos, kiosks selling tapas, snacks, and cool drinks. For things to do off the beach, head for Cueva de Nerja, a five-kilometer series of caverns; one of the chambers forms a natural theater where frequent concerts are held.
5. Menton, Côte d'Azur (French Riviera)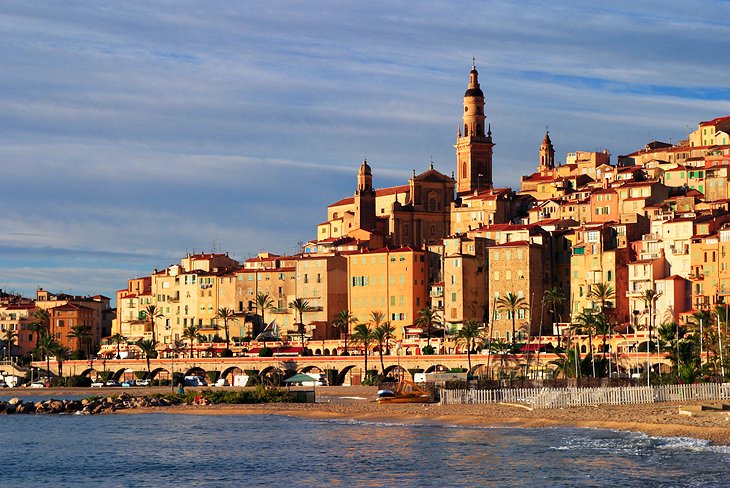 St. Tropez may be the jet-set darling of France's famed Cote d'Azur, and Antibes may have Europe's largest yachting harbor, but for tourists without a title or a bottomless bank account, Menton offers the same long beaches, the same Mediterranean sun, and an old-world air of gentility without the glitz and pretension.
Add lush gardens, the fragrance of lemons, and eye-popping scenery as the Savoy Alps end at the sea, and you'll understand why Belle-Epoque British gentry (including Queen Victoria) chose to decamp here.
Menton sits right on the border to Italy, so you'll find a delectable mix of Italian and French restaurants along the steep twisting lanes of its photo-worthy old town. Take a break from the midday sun by strolling among the shaded pools of Serre de la Madone Garden, where plants from all over the world thrive on stone terraces beneath a Mediterranean forest.
Awaken your avant-garde spirit at the Jean Cocteau Museum, an exciting bit of contemporary architecture clinging to the edge of the sea. It was Cocteau who described Menton as the "Pearl of France." Soak up a bit of Menton's old-world charm by choosing a room at the classic Lido Palace Hotel with a balcony overlooking the beach.
6. Jungfrau in the Swiss Alps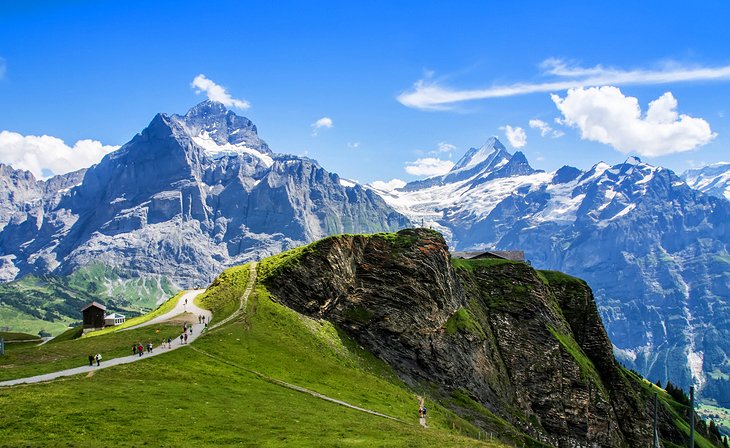 In the summer, the alpine villages, soaring peaks, and spectacular vistas of the Bernese Oberland draw hikers and climbers, and the cable cars and rack railways carry tourists to the best viewpoints. Brown Swiss cows graze among the wildflowers on land so steep it's hard to imagine how they find a foothold, and glaciers feed waterfalls that drop in silver ribbons from the cliffs.
You don't need to be an intrepid mountaineer to enjoy hiking among these peaks, for many trails are reached by cable cars and are fairly level as they wind along ridges and terraces.
Lauterbrunnen is a good base for the Jungfrau, set in a high Alpine valley between vertical rock walls where waterfalls drop spectacularly-one in a 300-meter drop straight into the village itself. Not only are there beautiful walks and climbs in all skill levels, but a rack railroad runs from here up to Jungfraujoch, Europe's highest railway station.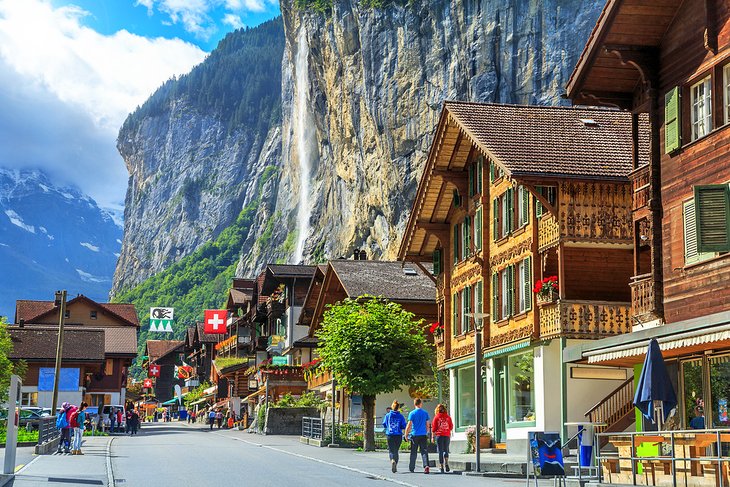 An Ice Palace carved from the glacier is here, and an elevator takes you even higher for glacier and mountain views. Nearby, a 6,967-meter cableway climbs to the Schilthorn, where the revolving restaurant Piz Gloria was the setting for the James Bond movie On Her Majesty's Secret Service.
From picturesque Grindelwald, below the dramatic ledges of the Eiger, you can walk to two glaciers, one with an ice cave and the other reached through the Lütschine Gorge, where glacial potholes have been carved by meltwaters.
An even more spectacular glacial phenomenon near Lauterbrunnen is Trümmelbach Falls, swirling in five stages through a vertical corkscrew carved in the rock by melting glacial water. More walks and climbs in the mountains and Alpine meadows begin from the postcard-pretty towns of Wengen and Murren, the former reached only on foot or by cable car from Lauterbrunnen, below.
7. Biarritz, France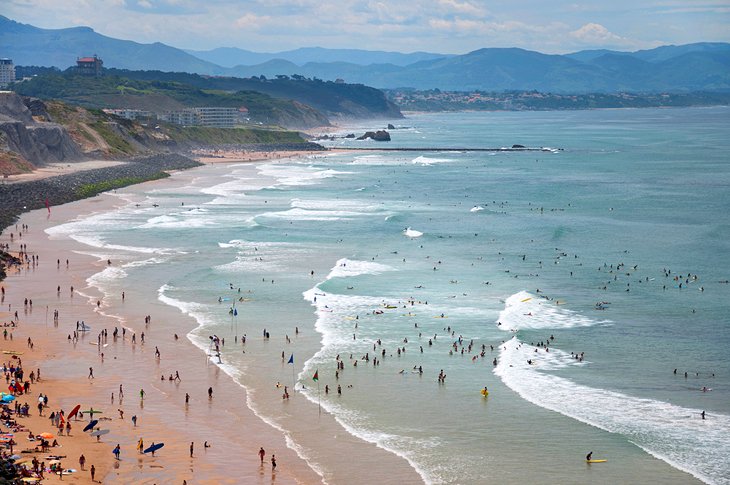 For the history and high-society grandeur of the French Riviera resorts, with better beaches, refreshing summer breezes, and fewer traffic jams, look to France's Basque Coast. On the Bay of Biscay, near the Spanish border, Biarritz was the Belle Epoch watering hole for royalty and Europe's upper crust.
Napoleon III and his wife Empress Eugénie built their summer palace above the beautiful wide beach, the Grande Plage, and you can stay here to enjoy the same view from your window. Now the luxury Hôtel du Palais their palace is still the place to be seen, overlooking the broad, sandy beach with its lines of brightly colored, striped beach cabanas.
A lighthouse on the point and craggy offshore islets give the adjacent Plage du Miramar postcard views. Behind the Grande Plage, the Quai de la Plage promenade is the place for a sedate stroll, and seaside restaurants have terraces where you can enjoy the view, along with superb Basque seafood dishes.
This rugged coast, for all its beauty and the generous expanse of its beaches, is subject to the Atlantic Ocean's powerful waves. Of course this makes some of its more open beaches especially popular with surfers, but swimmers should always be sure to go into the water only where there are lifeguards on duty.
8. Melliehbara, Malta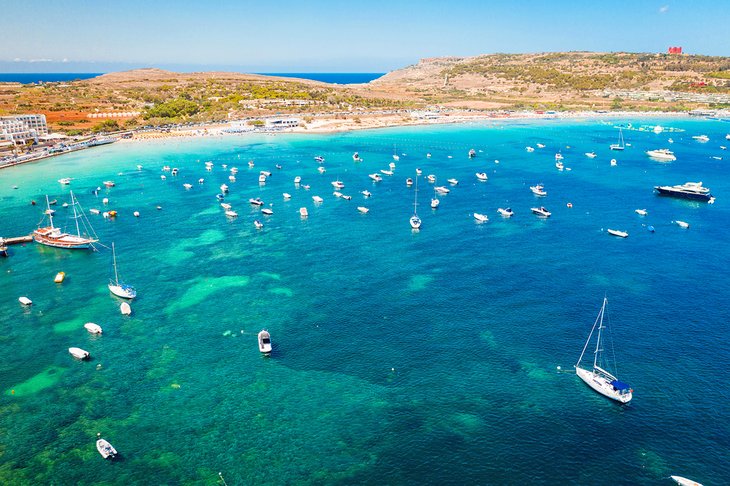 Located at the northern end of Malta Island, the largest of the Mediterranean nation's islands, Mellieℏa is home to some of Malta's best beaches, with a total of 13 located within a dozen coves. The area has a wide selection of seaside resorts and hotels, with easy access to the Gozo Ferry at the northern end of town.
Ghadira Bay, also sometimes called Mellieℏa Bay, is the most popular of the area's beaches and also the largest beach in Malta. It is loved by families for its shallow and calm waters that are well-protected from the open sea. Visitors will find public restrooms, vendors offering refreshments and snacks, and umbrella and sun lounger rentals.
Mellieℏa is also home to several excellent diving and snorkeling beaches, the most popular being Slugs Bay. Although it's not much to look at to the average sunbather, divers can see plenty thanks to crystal-clear water. The Anchor Bay Dive Site is another top destination where divers will find caves and an abundance of sea life, including parrotfish, moray eels, and octopus.
Armier Bay is home to two smaller but excellent beaches that are popular with locals: Armier Bay Beach and Little Armier. The larger of the two has a beach club that offers beach supply rentals and dining, as well as a water sports rental outfitter. Another smaller beach is Paradise Bay, located at the far tip of the island near the ferry to the Island of Gozo; visitors will find a good snack bar and public facilities here.
9. San Sebastian, Spain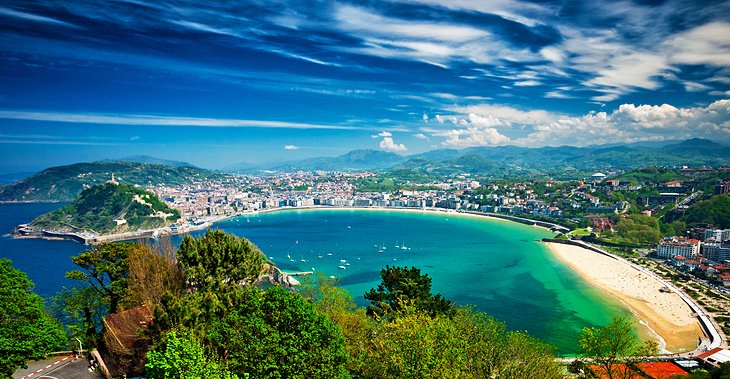 Claiming a whole galaxy of Michelin stars, the Basque city of San Sebastian has long been recognized as one of Europe's top capitals of cuisine. But the secret the Spanish keep to themselves is that within a few steps of these revered dining palaces stretch some of the best city beaches in Europe.
Beginning at the edge of the compact old town, Playa de la Concha curves around a placid bay, backed by a wide promenade that is free of commercial clutter. All summer long, there's a carefree holiday mood here. It's a relaxing and undemanding place, however fashionable its devotees.
For balconies overlooking the Playa de la Concha and promenade, book at the grand Belle Epoch Hotel de Londres y de Inglaterra or the more mid-range and charmingly old-fashioned Hotel Niza.
10. The Greek Islands of Skopelos and Skiathos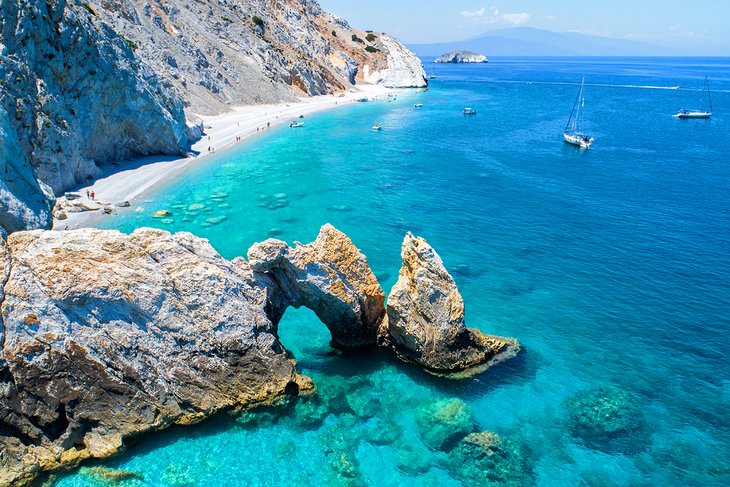 The two neighboring islands in the Northern Sporades were virtually unknown until they became the setting for the on-location filming of the Abba hit Mamma Mia! It's not enough for a Greek island to just have beautiful beaches; it's the whole setting that draws tourists here. The prime ingredients are white Cubist villages dazzling in the sun, lush landscapes, and little chapels set high on dramatic rock promontories above a turquoise sea.
And of course the beaches-long golden strands and tiny coves secluded by rocky headlands. Skopelos and Skiathos score high on all the checklists-Skopelos is known as the greenest island of Aegean Greece-making them the perfect movie set. Although they are now "discovered," they are not over-run, and the locals have not grown tired of the attention.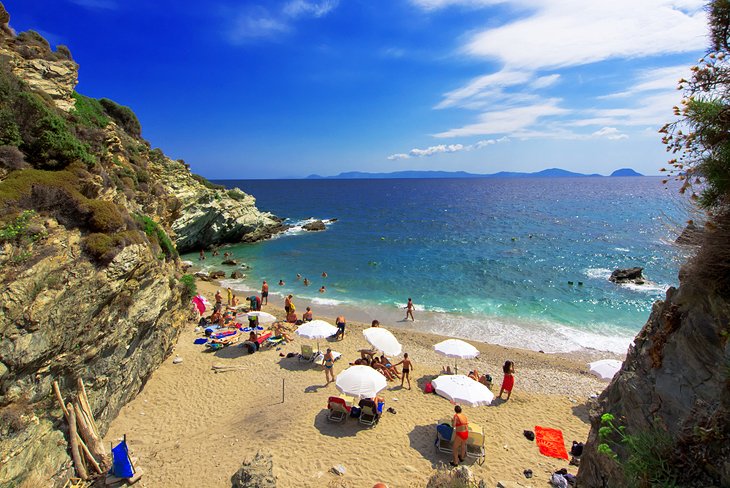 The white-sand beach of Panormos on Skopelos is well supplied with services, and faces a protected bay. Although it's about 12 kilometers from the main town, the adjacent village is well equipped with restaurants and cafés, as well as lodgings.
The 600-meter Velanió beach is an easy five-minute walk beyond smaller Stáfylos beach. It's not only the longest beach but it's undeveloped, backed by pines, and has crystal water for swimming. Locals will direct you to their favorite hidden cove beach.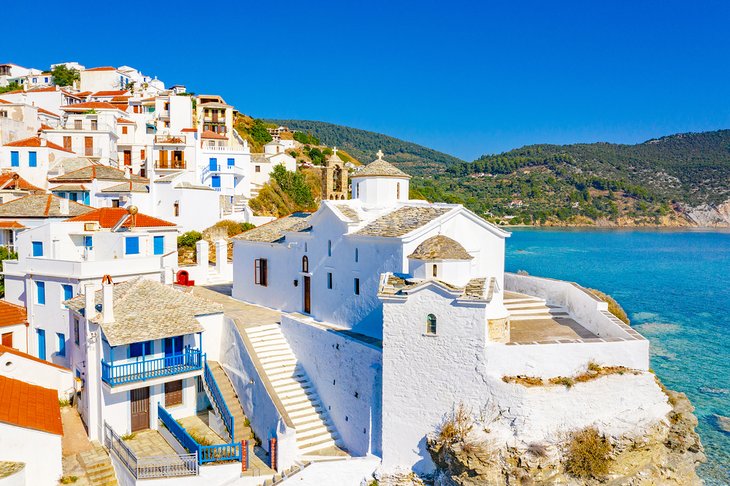 The town of Skopelos was designated a Greek landmark town for its low-profile whitewashed buildings with tile roofs, balconies, and wooden doors. See the Monastery of Evangelistria for its setting and the view of the city and, if it's open, for the 14th-century gold-plated altar and the icons. Other beautiful churches and chapels are worth visiting for their dramatic settings and views.
Take a ferry to Skiathos, once part of the Venetian Empire, to sample some of its 70 beaches and visit the small shipwright that still builds traditional Greek caiques. If you want a preview of what Skopelos and Skiathos look like, see the film-it's the best advertising an island could ask for.
11. Ile de Ré, Brittany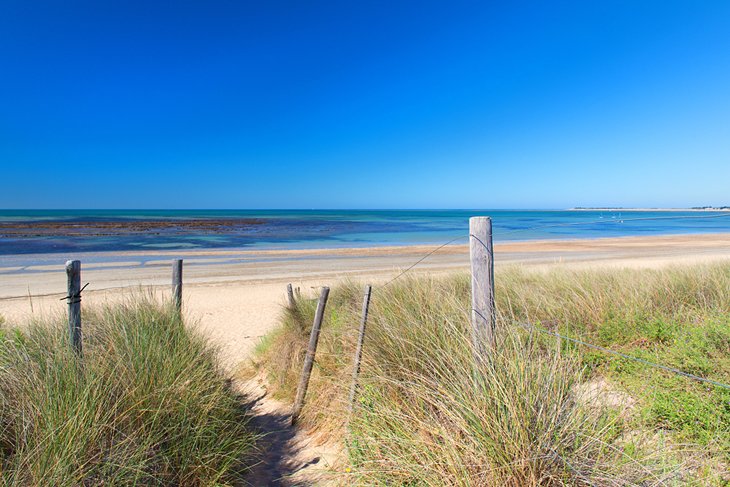 By any measure, the ragged wave-battered coast of Brittany is one of the most beautiful in Europe, marked by soaring headlands, cliffs, and secluded cove beaches. But offshore, linked to La Rochelle by a three-kilometer bridge, lies an idyllic low-slung island of white beaches, flower-filled meadows, pretty villages, and some of Europe's most prized seafood.
The Ile de Ré is webbed with mostly flat cycling and walking trails and bathed in light that brings artists here to paint its villages and seascapes and harbors filled with small fishing boats. The island's photogenic capital, Saint-Martin-de-Ré, is a UNESCO World Heritage Site. From here, you can bicycle along the fortified walls of the citadel, or just settle into one of the superb seafood restaurants to savor the views and the day's catch.
In La Flotte, an easy ride away, a daily market sells antiques and vintage finds. Sandy beaches line the north shore, and there's a lighthouse on the southwest point. There are no attractions you "must see"-the best things to do here are relax, laze on the beach, eat seafood, and enjoy the sea air and sunshine.
12. Island Hopping in Scotland's Hebrides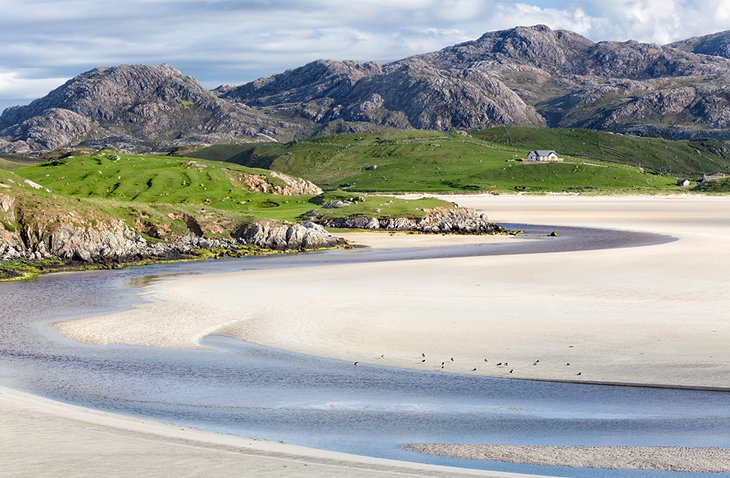 Few places are as well-suited to a restorative out-of-doors getaway filled with land and sea experiences as the islands scattered off Scotland's west coast. Connected by an efficient ferry system between its harbors, the islands are easy to access, and you'll find places to stay within easy reach of ferry landings.
Or bring your car to explore larger islands. A network of hiking trails leads between towns, over low craggy peaks, and along shores that vary from white-sand beaches to towering cliffs. Birders will find puffin colonies, entire sea stacks covered in nesting seabirds, and a number of rare species. Kayakers can paddle in protected coves or visit sea caves and spectacular rock formations, picnicking on uninhabited islands.
For an am-I-really-in-Scotland? moment, cross the island of Barra from its pretty harbor of Castle Bay (it does have a castle in the middle of the bay) to the world's only airport whose runway is a beach. Watch planes land and take off at low tide as you munch scones in the airport tea room, then cross the road and climb the dunes to descend onto a long white-sand beach that could be on a tropical island.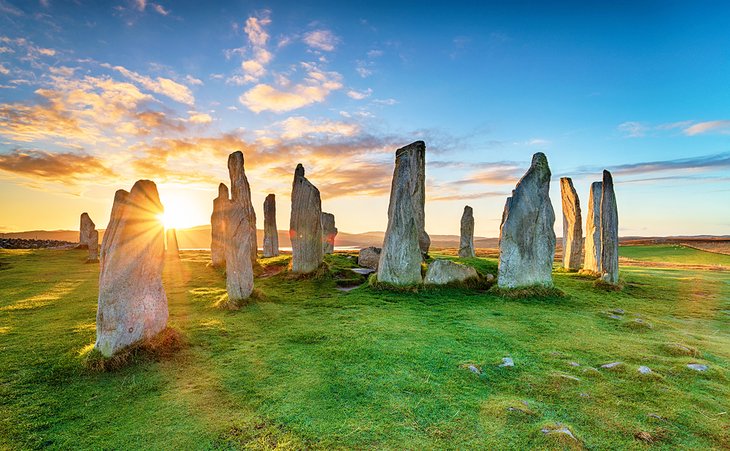 The rocky hills of the Isle of Lewis slope down to more pure white sands. History blends with nature at the Medieval Abbey of St. Columba on Iona and world-class prehistoric sights of Callanish and iron-age Carloway Broch.
While they don't reach the scorching temperatures of a Mediterranean summer, the Hebrides are protected from severe winter cold by the surrounding waters, explaining how tropical plants can thrive in Inverewe Gardens on Loch Ewe, a mainland stop for most ships cruising the Hebrides. You can island hop using the convenient ferry network or go in style, aboard Hebridean Island Cruises.
13. Formentera, Spain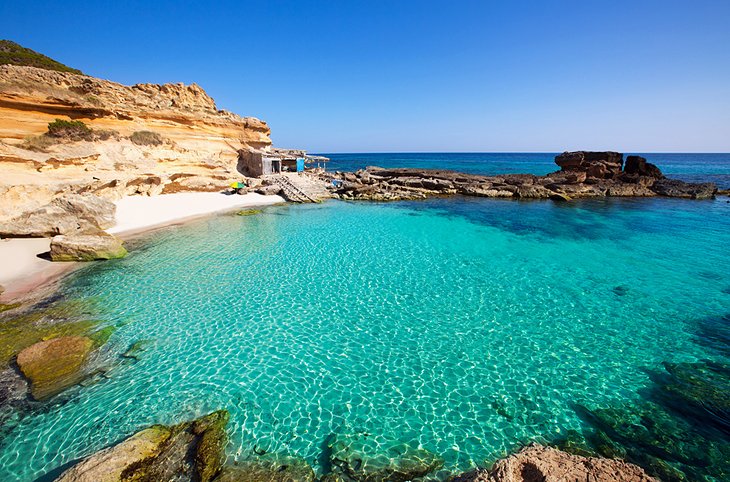 Divers, snorkelers, birders, and beach-lovers seeking quiet sands and crystal waters should head to the southernmost, and smallest, of the four inhabited Balearic Islands, off Spain's Mediterranean coast. Only half an hour by frequent ferry from the life's-a-party scene of neighboring Ibiza, Formentera is everything Ibiza is not.
Stretching from La Savina to Espalmador, Platja de Ses Illetes is the best beach, with fine white sand, plenty of space, and turquoise water reminiscent of the Caribbean. The water is warm and calm, and the beach slopes gently with long shallows, so it's a good choice for children.
Snorkelers should try the island's longest beach, Playa Migjorn, uncrowded even in the summer, when you can rent beach umbrellas and loungers. One of the most beautiful beaches is the tiny cove (it's not even 150 meters long) of Cala Saona, although it's not too small to have food and cool drinks within easy reach.
The diving is superb, with visibility of up to 45 meters and a cliff-lined shore of underwater caves and cliffs. Feathery sea fans and the Mediterranean's best "fields" of seagrass form an ideal habitat for a wide variety of marine life.
At less than 30 meters depth off Punta Pedrera, the sunken shipwreck of the Florin Brothers lies against a wall of seagrass teeming with fish. Most of the best sites are in the Es Freus-Ses Salines Nature Reserve, which covers much of northern Formentera and whose shoreline marshes protect more than 200 bird species, including herons and flamingos.
14. Playa Blanca, Lanzarote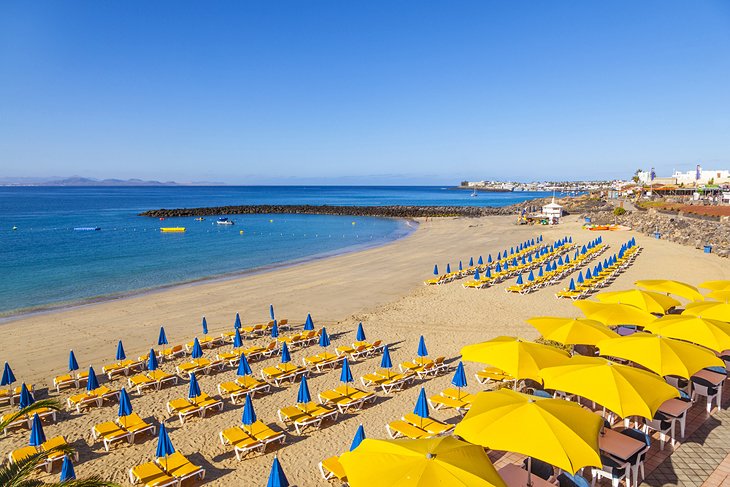 Less well-known than the larger Canary Islands, Lanzarote's dramatic volcanic landscapes are far different from the lush tropical greens of neighboring Tenerife and Gran Canaria. The golden sands of Playa Blanca, on its southern coast, are backed by tall cliffs and tempered in the summer by refreshing trade winds.
A 20-minute ferry ride away, the long, white beaches of Fuerteventura are known worldwide as some of Europe's best for surfing. But you won't want to spend all your time at the beach because Lanzarote is such a fascinating place.
Half-day excursions from Playa Blanca will take you to the summit of the simmering volcano of Timanfaya, where you can lunch on chicken grilled directly over its Vulcan fire. Tour the tortured landscape of lava swirls and caves, then collect a handful of tiny green gems on El Golfo beach or go for a camel ride on the volcano's slopes.
Playa Blanca is a laid-back beach resort town, filled with amusements, restaurants, and lodging for all budgets-most of them a few steps from the beach. In addition to its stretch of golden sand, the luxury Princesa Yaiza Suite Hotel Resort has large palm-fringed swimming pools.
Although you may want a car to explore the island on your own, plenty of day tours will take you to all the island's highlights. Among these are the outstanding works of Spanish artist/architect Cesar Manrique, whose vision and talent saved Lanzarote from the ravages of unchecked mass tourism.
He used the island's unique landscape and resources to create stunning tourist attractions: a stylish modern home inside a lava bubble, a swimming pool in a collapsed lava tube, a restaurant and concert hall inside a huge volcanic cave, and a beautiful cactus garden in an abandoned quarry.
15. Porto Santo, Madeira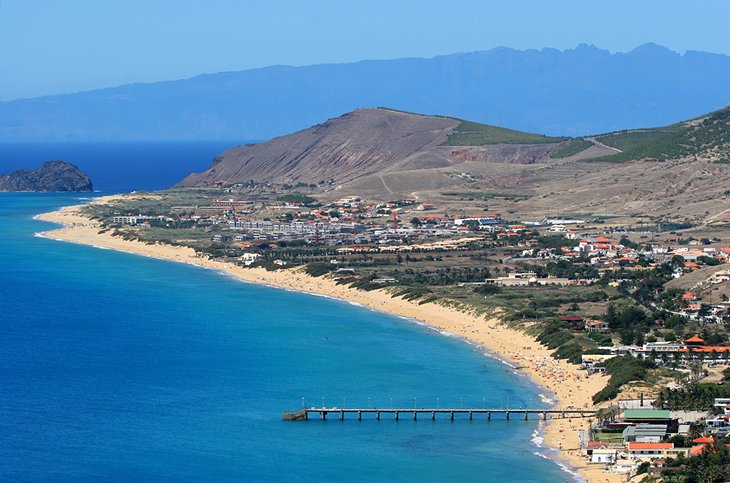 If you want to be way ahead of the curve, Porto Santo is perhaps Europe's biggest secret, yet to be discovered. Nearly 10 kilometers of wide golden-sand beaches ring the little island just off the larger and better-known Portuguese island of Madeira, in the Atlantic some distance off mainland Portugal.
Along with an international golf course that stretches from the dunes and beaches at one side of the island to the basalt cliffs of the other, there are hiking trails into the rugged interior, fishing excursions, diving, and the island's claim to its place in history: the house reputed to have been that of Christopher Columbus, who was married to Filipa Moniz, daughter of a local dignitary.
Porto Santo is mostly about getting away from it all in the low-key surroundings of beach resorts like Vila Baleira Resort Porto Santo whose luxury accommodations offer a seawater swimming pool and thalassotherapy spa. For a secluded wooded setting, ideal for couples, the small mid-range Hotel Quinta Do Serrado has a shuttle to take you to the beach.
16. Brac Island, Croatia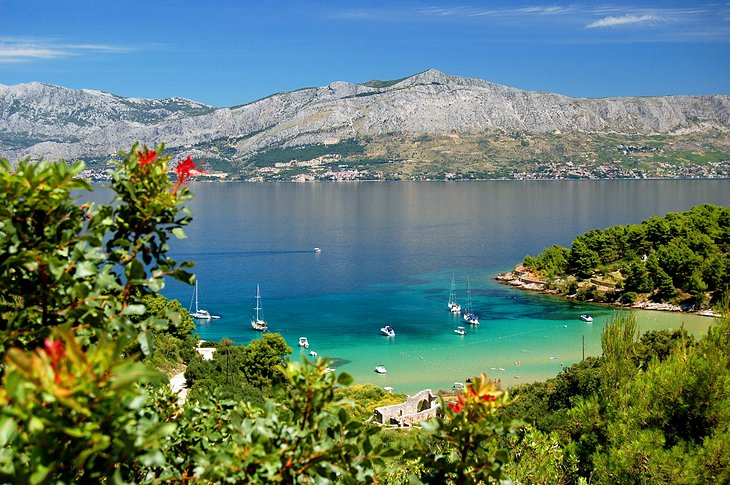 Croatia has been called "the New Riviera," as its beautiful beaches, once the secret getaways of Europeans, have been discovered by the rest of the world. There are plenty to choose from, but perhaps the most idyllic is Zlatni Rat in Bol, on the Dalmatian island of Brac.
A long triangle of sand extends from the foot of Vidova Gora mountain on Brac's southern coast, so perfect that it is nicknamed the Golden Cape. The exact shape and size of this beach peninsula changes continually as winds drift the fine sands, but it extends for about 500 meters. Portions of the beach are traditionally clothing-optional; if this is a concern, ask locally for the exact locations.
This spit of land is about two kilometers west of the town of Bol, where there are hotels, apartments, and restaurants, along with a yacht harbor. Ferries connect Brac to the beautiful coastal town of Split on the mainland and to the island of Stari Grad, just to the south.
It's difficult to tear yourself away from the golden sand, but little Bol does offer a few low-key diversions. Branislav Deškovic Gallery displays about 400 works of regional artists in a beautiful Renaissance-Baroque palace. The museum of the Dominican Monastery has works by the great Italian Renaissance painter, Tintoretto.
17. Norway's Fjords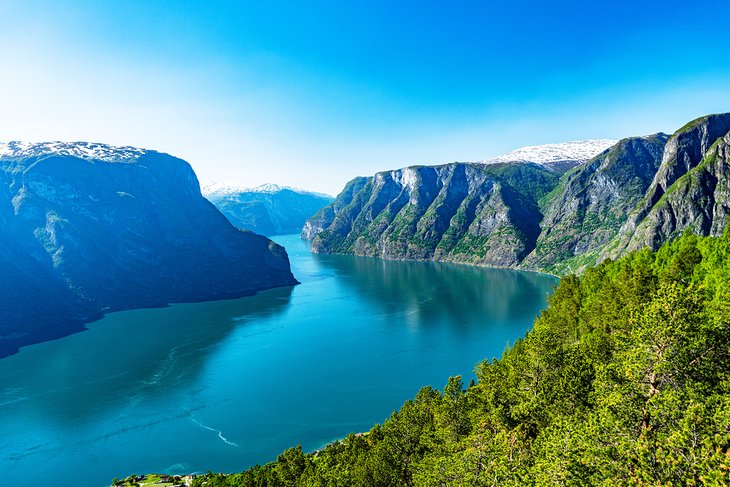 Everyone's image of Norway is the fjords that slice deeply into its western shore, creating one of the world's most spectacular coastlines. Traveling among these is especially appealing in the summer, when the days are so long that the sun seems barely to set. A good base for exploring them is the beautiful city of Bergen.
Nature gave Bergen a perfect setting: a deep harbor below a steep mountainside that made it both beautiful and the ideal place for an important medieval trade center. A colorful row of Hansa merchants' houses overlooks the picturesque harbor, where you can board cruises to explore the fjords.
But first, wander through the narrow passageways between these authentically restored buildings to browse the shops of local artisans and sample fresh-caught seafood in the restaurants. Or be here on the summer solstice, observed throughout Scandinavia with bonfires. The 60-foot tower that is set afire in Laksevåg Park on Midsummer's Eve is one of the world's largest bonfires.
Opening to the sea just south of the city is the Hardanger Fjord, one of Norway's best known, and easy to tour on a day trip from Bergen. To the north is the Sogne Fjord, its walls rising almost straight as it reaches into the center of Norway. These are the fjords most often pictured on Norway's travel posters. Ferries are the easiest way to see them – and to get the best views.
A good way to see the fjords from the water and from the mountains above is on the Norway in a Nustshell tour from Bergen. The self-guided full-day round trip from Oslo makes a circle by bus, boat, and train. Or book a place on Norway's famous Hurtegruten for a day or longer cruise along the coast.
18. Viareggio, Tuscany's Riviera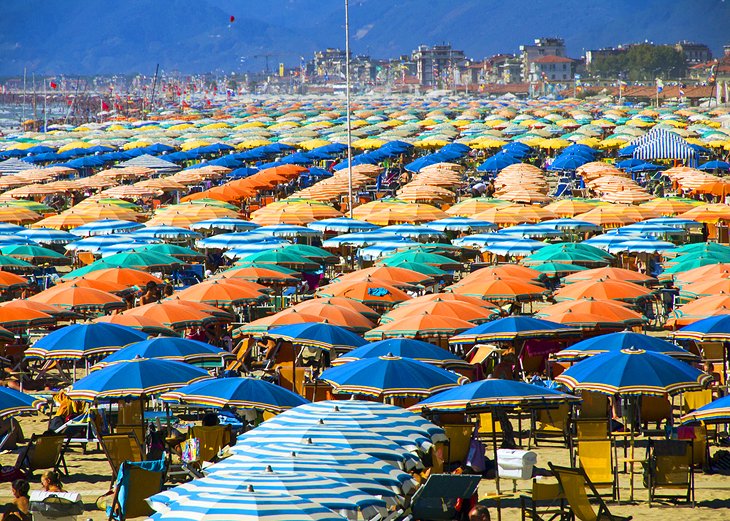 This list wouldn't be complete without one classic Italian beach town. Viareggio goes in and out of style as often as the fashions on the catwalks of Milan, but it always seems to come back; it's hard to match a single beach more than 15 kilometers long lapped by the Tyrrhenian Sea. The sand begins in the north at Forte dei Marmi, a somewhat more sedate beach that made its fame as the playground of the rich and famous in the early 20th century.
To arrive here in mid-summer is sudden and total immersion in the Italian holiday beach scene. Don't even think of Viareggio for a quiet week on uncrowded sands. It's all about the buzz, and you can't ask for a more authentic Italian beach experience. The crescendo is in August, when all of Rome, Milan, and Florence seem to arrive and claim a square of sand.
This sand comes at a price, but pay it to get a lounge chair, umbrella, and access to restrooms and changing cabanas. It's also the way to assure the full experience of what may be Italy's prime social season, a continuing round of effusive greetings, food and drink, beach volleyball, sand castles, bikinis, and occasional swimming, all of which ends abruptly when it's time to change for the obligatory evening passeggiata along the Belle Époque promenade. This ritual stroll, punctuated by stops at fashionable-label shops, is followed by a leisurely dinner of impeccably fresh seafood.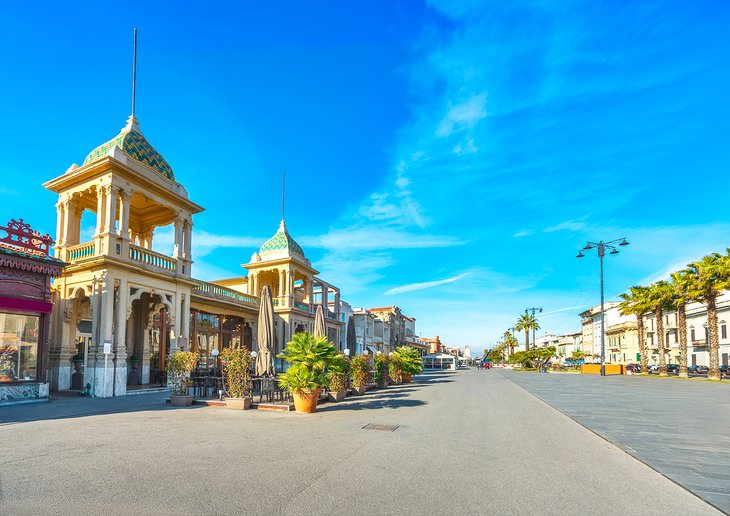 To find the free beach, head south along the Passeggiata Margherita boardwalk for about a kilometer to an opening in the row of private beach entrances. This leads to the public beach. Many of the hotels have private beaches for their guests, a good choice if you plan to spend plenty of time on the beach.