16 Top-Rated Tourist Attractions in Croatia
Historic cities and unspoilt nature are some of Croatia's top attractions. The vibrant capital city of Zagreb is home to some of the country's best museums, galleries, restaurants, and shopping. Along the coast, centuries-old harbor towns are packed with Venetian-era stone buildings, while countless pebble beaches offer things to do such as scuba diving, water skiing, and windsurfing.
On the Adriatic, Croatia's blissful islands are a haven for yachters and those wanting to simply relax and enjoy the Mediterranean sunshine.
To get the most out of your travel experience in this beautiful East European country, be sure to refer often to our list of the top things to do in Croatia.
1. Dubrovnik Old Town Walls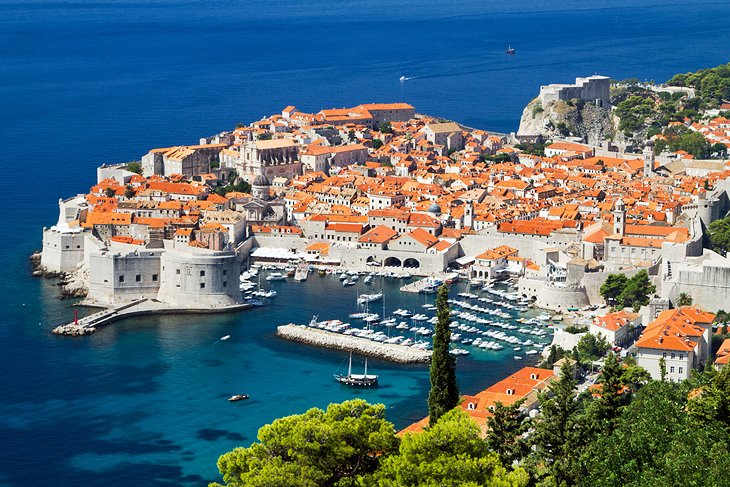 Dubrovnik, Croatia's most glamorous tourist destination and a UNESCO World Heritage site, centers on the magnificent Old Town area, contained within sturdy medieval defensive walls. Any first-time sightseeing tour of the city should begin with a walk around these sturdy old ramparts (the complete circuit measures two kilometers), which incorporate fortresses, towers, and cannons along the way.
You'll also likely enter the Old Town through the famous Pile Gate, built in 1537 and one of the city's most impressive structures. From high up on the walls, you can enjoy amazing views over the Old Town rooftops and out across the glistening Adriatic Sea (be sure to wear comfortable walking shoes and bring bottled water-and a selfie stick).
Other fun things to do in Dubrovnik include exploring the Stradun, a wide 300-meter-long pedestrian thoroughfare lined with boutiques, cafés, and restaurants that's famous for its white limestone cobblestones.
Other must-see attractions here include the attractive cathedral and the spectacular artifacts in its treasury; the spectacular Square of the Loggia, a historic gathering place famous for its lovely old buildings and monuments; and Fort Lovrijenac, one of the country's most important fortresses.
2. Diocletian's Palace in Split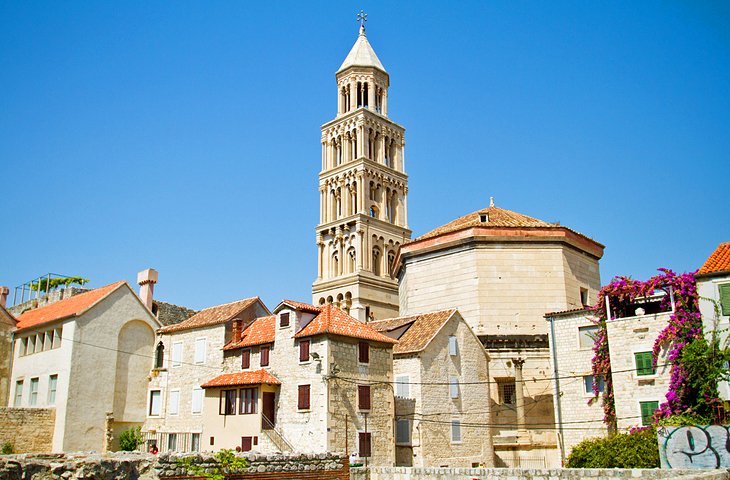 Split, Croatia's second biggest city after Zagreb, was established within the ancient Roman walls of the huge Diocletian's Palace (Dioklecijanova palaca). Situated overlooking the Adriatic Sea, it was built by Roman Emperor Diocletian, who retired here in AD 305.
Square in plan – it's more fortress than palace and actually housed the Emperor's personal garrison – the palace has four monumental gates, three accessible from the land, and one that originally opened directly onto the water. Within the walls, things to see include the magnificent Peristyle (an arcaded courtyard), where you'll also find the Cathedral of St. Domnius with its elegant bell tower.
A fun thing to do at night is to visit and enjoy the illuminated ruins, while during the day, concerts and entertainment are frequently held. The Old Town is a pedestrian-only zone and has been proclaimed a UNESCO World Heritage Site.
3. Hvar Town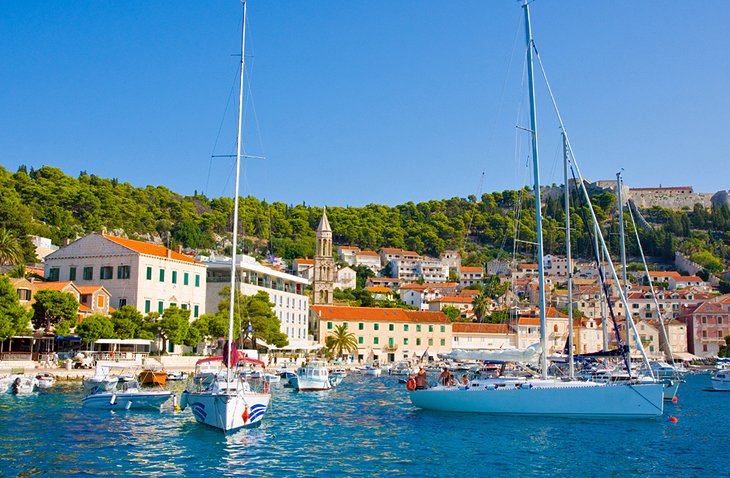 Many tourists visit Croatia to explore the blissful Dalmatian islands, of which the most fashionable is Hvar. Here, the trendy city of Hvar is home to some of the country's top hotels and best seafood restaurants.
Dating back to the years spent under Venetian-rule (1420-1797), its car-free Old Town is made up of a spacious main square overlooked by a 16th-century cathedral, a pretty fishing harbor, and a hilltop fortress.
Hvar is popular with yachters and celebrities, as well as travelers who come here to enjoy its beaches and water sports. It is served by ferry from Split.
4. Plitvice Lakes National Park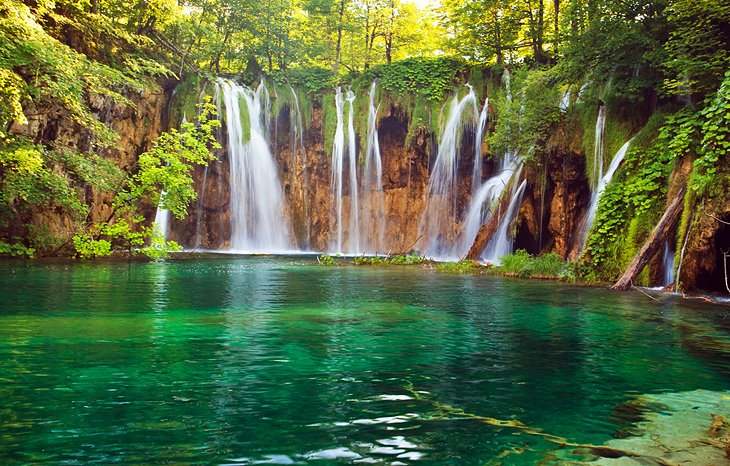 Croatia's most visited inland attraction, Plitvice Lakes National Park (Nacionalni park Plitvicka jezera) encompasses steep forested hillsides surrounding 16 emerald-blue lakes connected by a succession of thundering waterfalls. A network of footpaths and wooden bridges crisscrosses the park (the country's first national park), and the entrance ticket includes boat rides across the lakes.
Thanks to the lush pristine nature, the park is a haven for wild animals, including wolves and bears (though they are timid, so you are unlikely to see them) as well as owls, eagles, and falcons. There are several hotels on the edge of the park should you wish to stay the night. You can visit Plitvice on organized sightseeing tours by bus from Zagreb and Zadar.
If you're planning on visiting without a guide or not as part of a tour, be sure to reserve your tickets in advance-its a very popular tourist attraction that receives over a million visitors a year.
5. Zagreb's Gornji Grad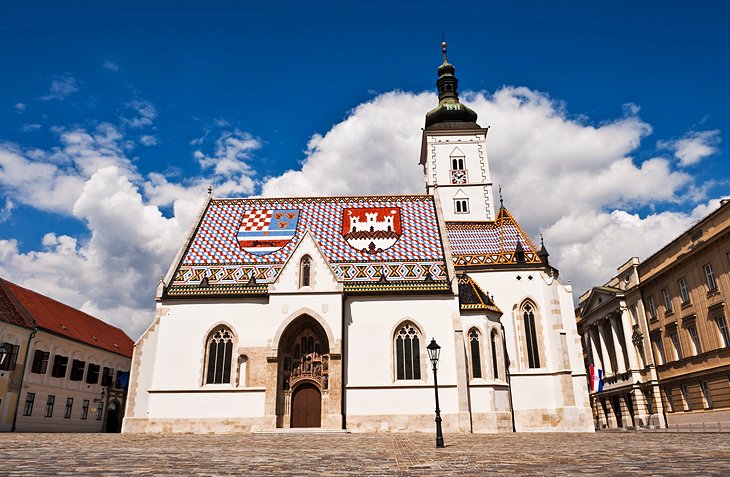 In the Croatian capital, Zagreb, the main sightseeing area is the medieval Gornji Grad (Upper Town) district. Here, popular tourist attractions include the cathedral with its neo-Gothic façade, twin steeples, and treasury with its large collection of religious art and artifacts; and the Croatian Parliament (Hrvatski sabor).
Also worth seeing are the Church of St. Mark with its famous colored tiled roof, and the 13th-century Tower of Lotrscak, which you can climb for fantastic views over the city and the surrounding area. Also be sure to catch most people's favorite, the much-loved Museum of Broken Relationships.
6. Sailing around Kornati National Park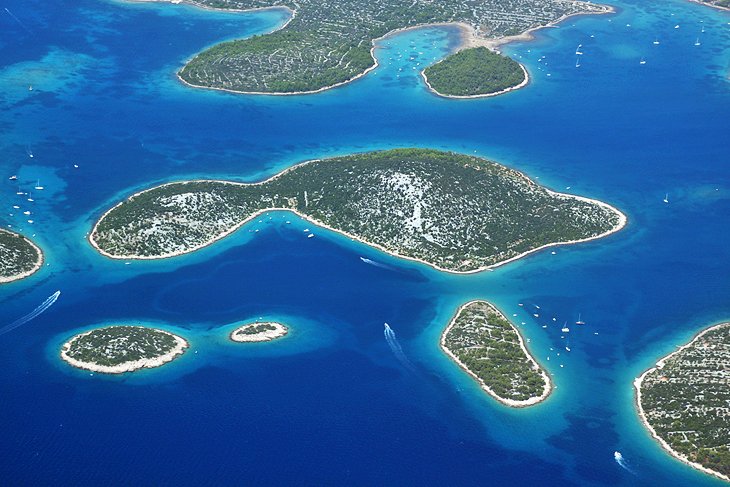 Spreading over an area of some 320 square kilometers-it's 35 kilometers long and 13 kilometers wide-the Kornati archipelago encompasses 89 scattered islets, big and small.
Rocky and arid with little fertile soil, the islets are practically uninhabited, though there are some very basic stone cottages dotted here and there. Originally built as one-room shelters by local fishermen and shepherds, they're now often used as holiday retreats or seasonal seafood restaurants.
The best way to explore this stunningly beautiful coastal region is by private sailing boat, with the nearest charter base being located in Biograd Na Moru. It's also possible to visit the Kornati as a day trip by excursion boat from either Zadar or Sibenik on the mainland. If sailing under your own step, (as it were), you'll need to purchase a valid permit, available online (see the official site below).
7. Pula's Roman Arena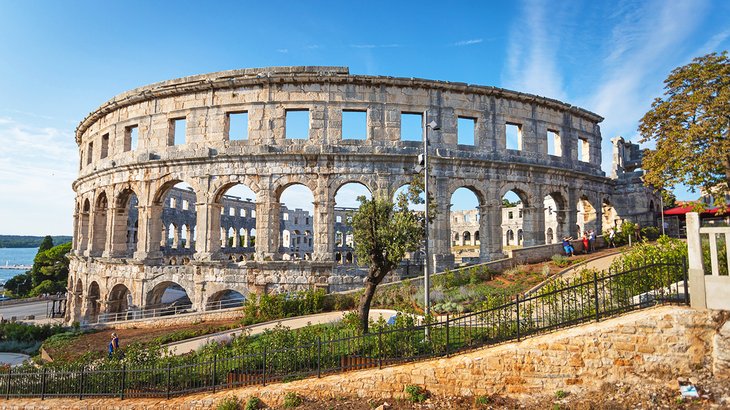 Located on the coast of the Adriatic in Croatia's popular Istria region, the historic city of Pula is well worth including on your travel itinerary. In addition to its lovely seaside setting, including a number of fine beaches, Pula is well known for its well-preserved Roman architecture, and makes for an excellent day trip for those staying in other parts of the country.
Though inhabited by humans for tens of thousands of years, it was the Romans over 2,000 years ago who left their mark. Of the numerous examples of Roman buildings that remain, none are as impressive or as big as the Pula Arena (Pulska Arena). Ordered built around the 1st century by Emperor Vespasian, it's one of the largest surviving Roman amphitheaters, rivaled only by its famous cousin, the Colosseum in Rome.
Designed to host crowds of up to 20,000 people, it was used predominantly for entertainment such as gladiator fighting and jousting. Thanks to careful reconstruction, this impressive structure to this day can still host audiences of up to 5,000 visitors during its regular summer schedule of concerts and festivals.
A number of other Pula Roman ruins are also worth seeing. Of these, the best is the Roman Forum, a well-preserved ancient square that for centuries has been at the center of town life. Here, you'll also find the Temple of Augustus (Augustov Hram), a finely preserved columned structure, which boasts a collection of Roman sculptures.
Address: Flavijevska ul., 52100, Pula, Croatia
8. Zadar's Romanesque Churches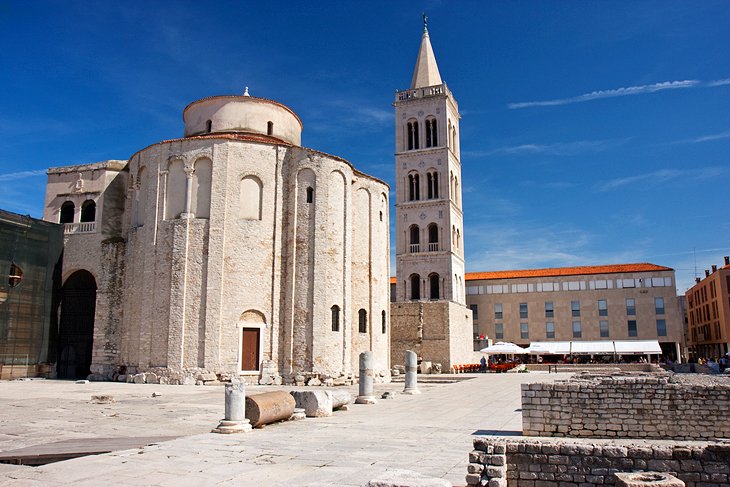 Zadar's car-free Old Town is built on a small peninsula jutting out onto Croatia's Dalmatian coast. Said to be the country's oldest continually inhabited city-it can trace its roots back as far as the Stone Age-its top tourist attractions are its many fine Romanesque churches, most of them built between the 9th and 13th centuries and filled with superbly preserved religious paintings and ornate golden treasures.
Be sure to check out the 9th-century pre-Romanesque Church of St. Donatus; the 11th-century Church of St. Mary; and the Cathedral of Anastasia and the Church of St. Chrysogonus, both from the 12th century.
Other things to do include visiting the Museum of Ancient Glass, as well as two popular modern installations, the Sea Organ and the Greeting to the Sun, both on the seafront close to the tip of the peninsula.
One of the best free things to do in Zadar is to simply relax on picturesque Kolovare Beach, a stretch of sand and pebbles that backs onto a lovely park area.
9. Zlatni Rat Beach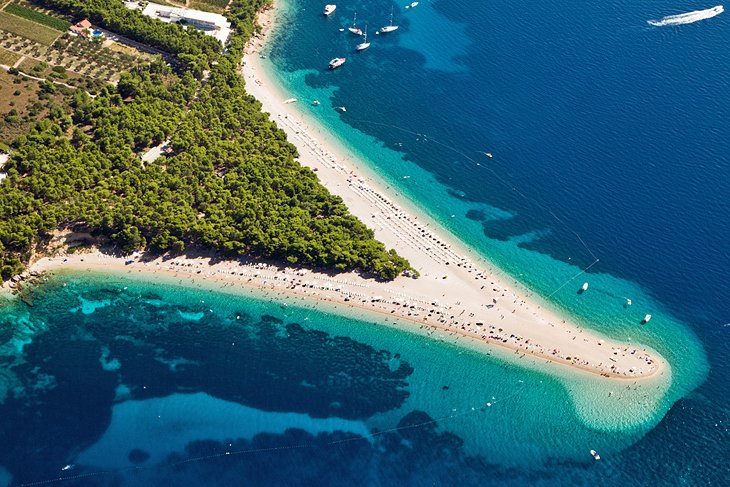 Croatia's most photographed beach has to be the remarkable Zlatni Rat (Golden Horn, or Golden Cape). Located in Bol on the south coast of Brac, this unusual landform, known as a "spit," is made up of fine pebbles and runs 500 meters perpendicular to the coast. Depending on local winds and currents, it moves and changes shape from season to season.
Backed by a cluster of pine trees offering shade and overlooked by the rocky heights of Vidova Gora mountain, it is lined in summer with sunbeds and umbrellas. Widely considered one of Europe's top beaches, the sea is warm enough to swim from June through September, and some people even manage to stretch the bathing season out to May and October, too.
Extra attractions on the beach include water sports such as paddle boats, sea kayaks, and banana boat rides. Zlatni Rat is also Croatia's top windsurfing destination. Brac is accessible by ferry and catamaran from Split.
A number of top luxury hotels are located nearby for those wanting to enjoy an extended stay here.
10. The Pretty Town of Korcula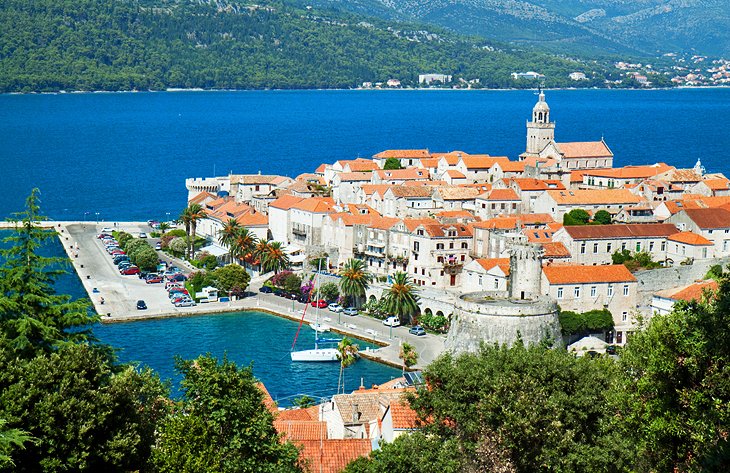 The town of Korcula, the chief settlement on the island of the same name in South Dalmatia, sits snugly on a tiny peninsula. Protected by medieval walls and towers, its car-free stone alleys are laid out in a herringbone pattern so as to give shelter from the prevailing winds. Packed with centuries-old aristocratic stone buildings, Korcula was built at a time when the island was under Venetian rule.
The top points of interest include Marco Polo house, said to be the birthplace of the renowned 13th-century explorer, while one of the best things to do is catch a performance of the moreska sword dance, a traditional dance staged for tourists just outside the town walls on summer evenings.
For a truly special experience, you can reach Korcula's historic town center by catamaran from Split (daily) or Dubrovnik (summer only).
11. Mljet National Park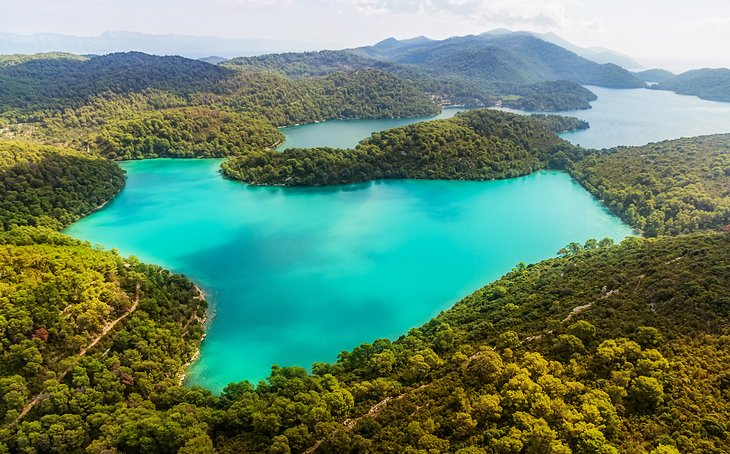 The western third of the island of Mljet has been designated as a national park. Largely covered by dense woodland, it centers on two interconnected, turquoise saltwater lakes, one of which has an islet capped by a 12th-century Benedictine monastery, which you can visit by taxi-boat.
Popular with nature lovers, the park offers plenty of things to do, including exploring the numerous paths that run through the woodland. There's also a nine-kilometer trail that runs around the perimeter of the lakes, making it ideal for walking or mountain biking. The area is also popular for swimming and activities such as kayaking (kayaks can be rented to explore the lakes).
There's only one hotel on the island, but local families do rent rooms to visitors in summer, and a number of reputable campsites are also available. Mljet can be reached by ferry or catamaran from Dubrovnik.
12. Rovinj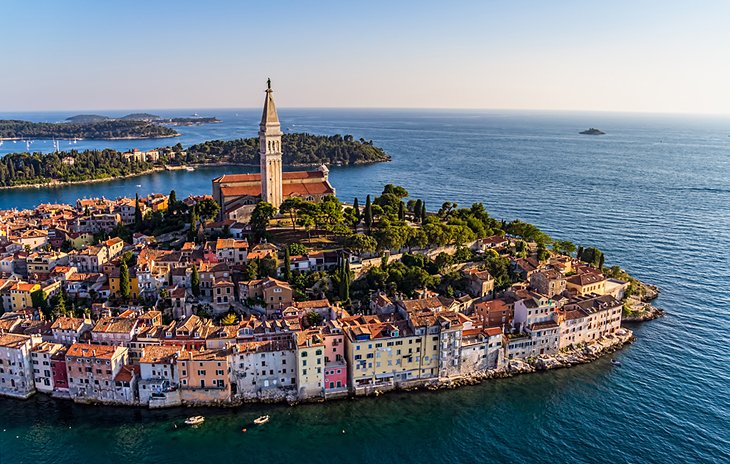 Located in northwest Croatia, on the Istrian peninsula, the Venetian-era seaside town of Rovinj is made up of pastel-colored houses ringing a pretty fishing harbor, and presided over by a hilltop church with an elegant bell tower.
Besides the nearby pebble beaches, the main tourist attraction is the Batana Eco-Museum on the seafront, which tells the story of the batana, a type of wooden boat used by local fishermen. There are also plenty of top-rated hotels, up-market seafood restaurants, and art galleries to explore.
The locals speak a dialect that mixes both the Croatian and Italian languages. The nearest airport is in Pula.
13. Brijuni National Park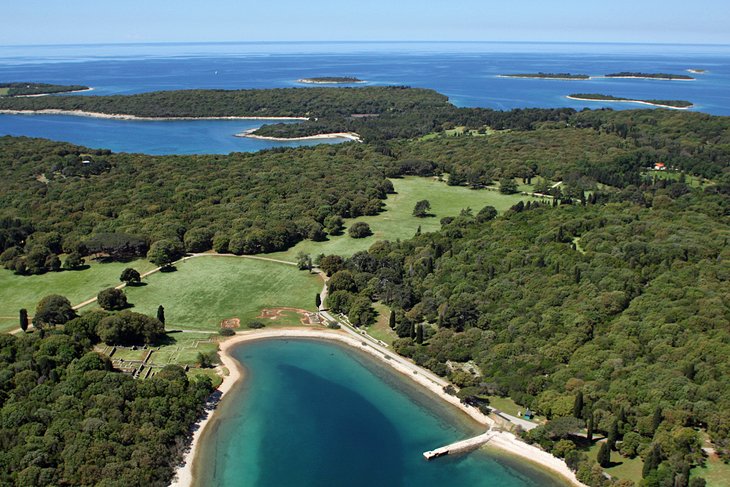 Lying off the Istrian peninsula, this archipelago of scattered pine-scented islets has been designated a national park (Nacionalni Park Brijuni). The largest island, Veli Brijun, is covered with beautifully landscaped parkland and is open to visitors year-round.
The former President of Yugoslavia, Tito, used to entertain visiting foreign dignitaries here, and some of them brought him exotic animals as gifts, the descendants of which are now on show in the small safari park: elephants from India, antelopes from Zambia, and zebras from Guinea are the main attractions.
The island is also home to an abundance of unique flora and fauna, along with evidence that dinosaurs once roamed here.There are two hotels located on the island, along with a golf course and the ruins of a Roman villa. To get here, catch the national park boat (reservations essential) from Fažana on the mainland, seven kilometers north of Pula.
14. Trogir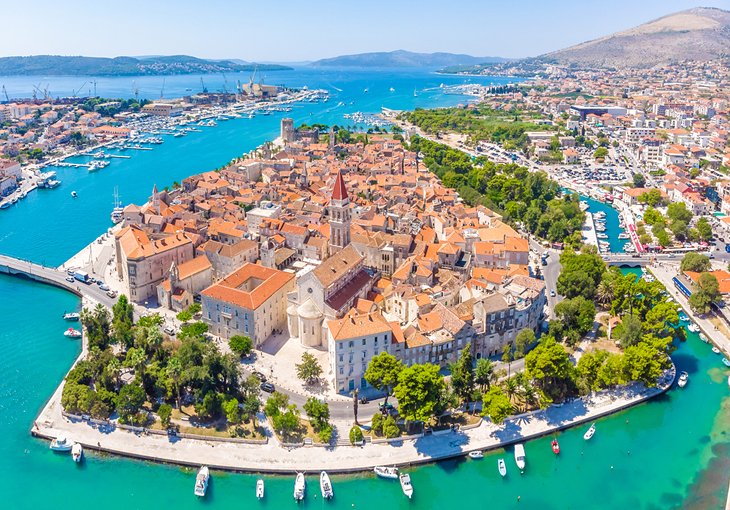 Widely regarded as one of the top places to visit on Croatia's spectacular Dalmatian coast, the attractive seaside town of Trogir is a delightful vacation destination to explore. With a rich history that dates all the way back to its founding in 380 BC, Trogir has at various times been ruled by the Greeks, Romans, Hungarians, and Venetians.
Now a UNESCO World Heritage Site – an honor bestowed on the town in 1997 – Trogir offers tourists no end of fun things to do. In addition to its many top hotels and accommodation options, visitors are spoiled for choice when seeking a good seafood restaurant, or getting in some souvenir shopping.
Thanks to the careful preservation of its many old buildings, history buffs and sightseers alike have plenty of attractions to visit, most of them to be found within the confines of the town walls dating back to the 1400s.
Examples of elegant Romanesque and Renaissance-style architecture can be seen everywhere along the town's medieval streets or lining the attractive waterfront promenade. Notable among these are Trogir Cathedral (the Cathedral of St. Lawrence), Cipiko Palace, and the Church of St. Peter.
15. Rijeka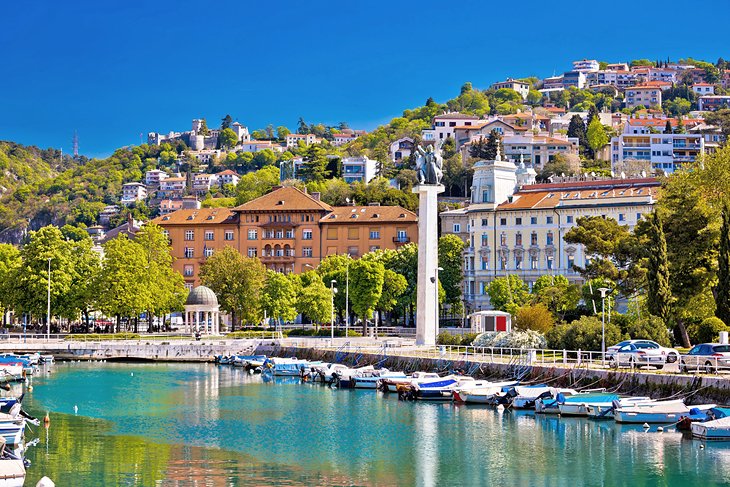 The attractive city of Rijeka, often overlooked by vacationers to the Dalmatian Coast, is well worth adding to your Croatia travel itinerary. In addition to the bonus of having to deal with fewer crowds, this long-important port city offers plenty of attractions and things to do for those who do visit.
Highlights include exploring the Old Town's well-preserved cobbled streets and lanes, each lined with splendid examples of townhomes and dwellings – as well as old shops and places of trade – that were built in the 1700s.
Be sure to visit the magnificent Trsat Castle (Gradina Trsat), built above the town in the 13th century and accessible via a lovely pathway that also leads to the nearby Church of Our Lady of Trsat (Gospa Trsat). Add to this a mix of great art galleries and museums, Croatia's largest carnival, and the nearby Risnjak National Park, and there's no end of good excuses to visit this charming town.
16. Sibenik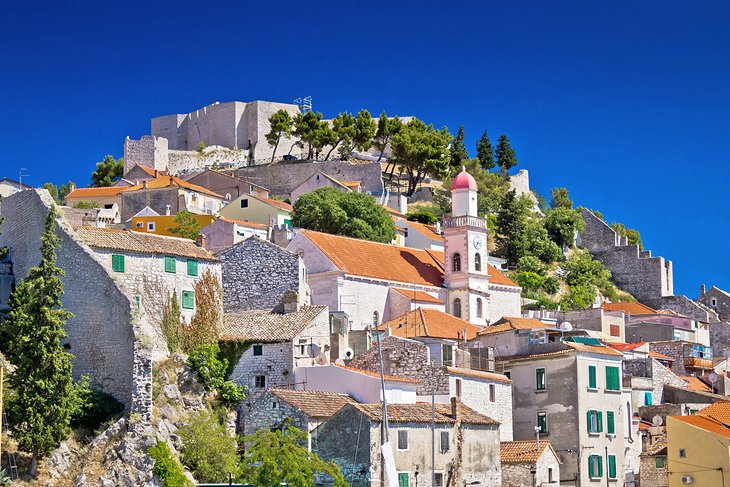 Boasting a rich history that can be traced back as far as the 11th century, the attractive Dalmatian city of Sibenik has much to offer tourists to Croatia. While not always as busy as other popular destinations within this beautiful country, there's no shortage of great things to do here.
Start by exploring the perfectly-preserved historic Old Town center. Here, you'll find elegant 15th- and 16th-century architecture, along with numerous attractions worth visiting. Visit the 15th-century Cathedral of St. James (Katedrala Sv Jakova), a UNESCO World Heritage Site and one of the finest churches in all of Croatia.
Also worth visiting are the remains of St. John's Fortress, perched high upon a hill overlooking the town and boasting magnificent views over the Adriatic, and the equally important St. Michael's Fortress, popular for the traditional cultural performances hosted on its delightful open-air stage.