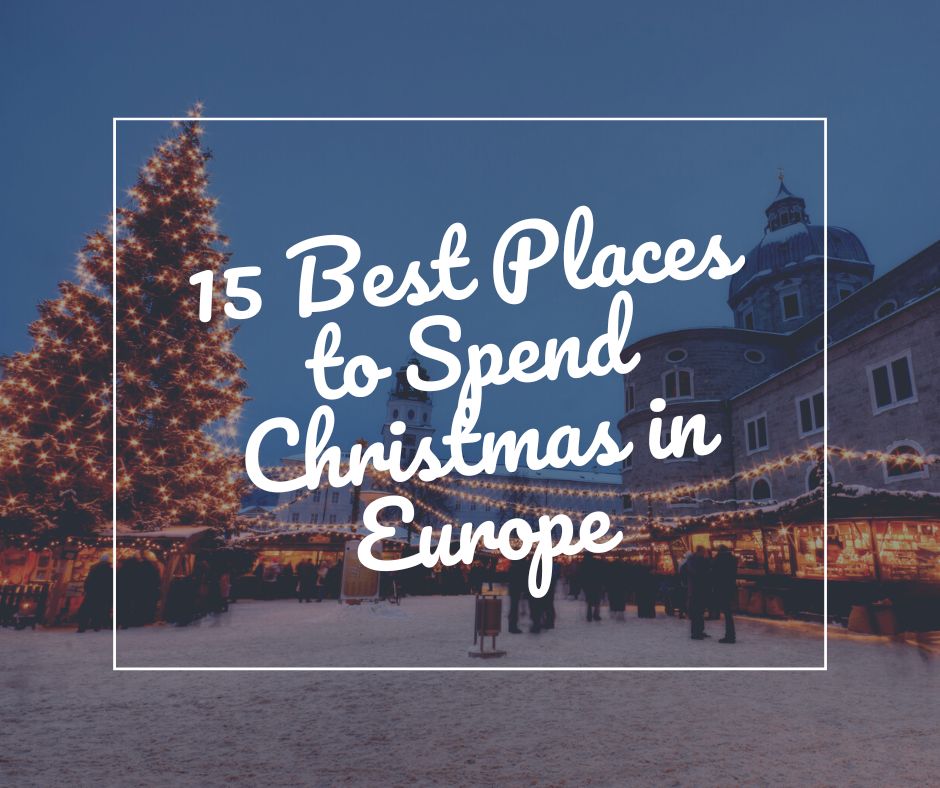 15 Best Places to Spend Christmas in Europe
Most travelers think about Christmas markets when considering Europe in December, but these colorful fairs are not the only attractions for tourists. Equally colorful festivals celebrate the season with lights, ice sculptures, music, and traditional customs that date back centuries.
For travelers, these winter events combine several favorite things to see and do: shopping, sampling traditional foods, sightseeing, local crafts, pageantry, music, and entertainment. In any of these cities and others throughout Europe, look for Christmas concerts in the churches, beautifully lighted streets, and seasonal displays in department store windows.
These are not the only windows to look for. In Germany, some cities turn their city halls into giant Advent calendars, lighting a new window display daily.
Wherever you find them, food is always a major attraction of European Christmas markets, especially in Germany, where the air is fragrant with roasting chestnuts, strudel, spicy Nurnburger Liebkuchen, sausages sizzling on grills, and the local specialties of each region.
Most of these markets and festivals involve being outdoors, often walking in the snow, so be sure to dress warmly and wear boots or heavy shoes. And bring a pack or tote to the markets because you're sure to be tempted by the beautiful handmade goods you'll find.
Use this list to plan your trip, and you'll be sure to find the best places to spend Christmas in Europe.
1. Nuremberg, Germany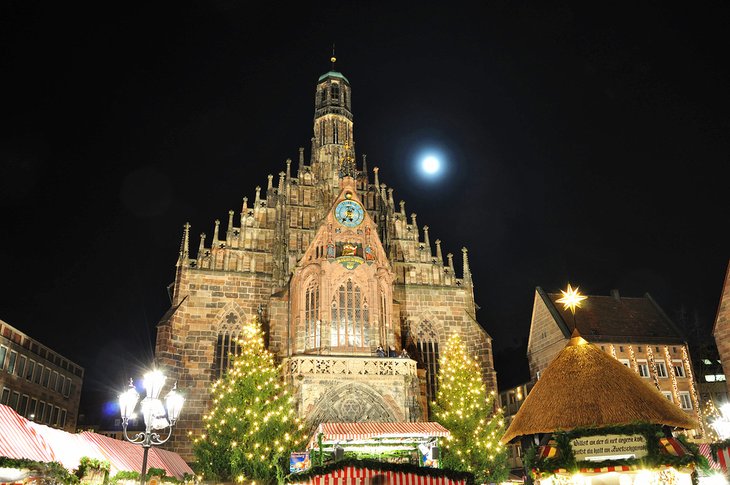 Europe's best-known Christmas market, and the first to gain status as a major tourist attraction, is in Nuremberg. The setting could be a movie set, a large square surrounded by medieval buildings highlighted by a pinnacle-studded cathedral bathed in lights. At one side is a magnificent fountain, also brightly lit, and the entire scene is filled with rows of cabins, each its own glittering wonderland.
Although many of the things you'll see in Nuremberg's Christkindlesmarkt are similar to those all over Germany, look especially for contemporary crafts and design in addition to the traditional local handiwork.
And be sure to sample the city's two famous foods: Nürnberger Lebkuchen are spice-filled gingerbread cookies, as well as larger forms such as the popular frosted hearts and even gingerbread houses. The other thing not to miss is a snack of Nuremburg Bratwurst, right off a sizzling grill and encased in a crusty bun.
A unique feature of Nuremberg's Christkindlesmarkt is the Sister Cities Market, where goods from partner cities all over the world are displayed and sold. You might find pearls from China or traditional Russian nesting dolls or crafts from Nicaragua here.
While in Nuremberg, look for concerts of Christmas music in churches, and tour the old city in a horse-drawn carriage.
The season offers plenty of things to do for families, as well, with a separate children's area in the next square, Hans-Sachs-Platz, where there's a double-decker carousel, a small Ferris wheel, and a kid-sized steam railway. At hands-on booths, they can bake and decorate their own lebkuchen, or make candles, sand pictures, or Christmas cards.
2. Stuttgart and the Black Forest, Germany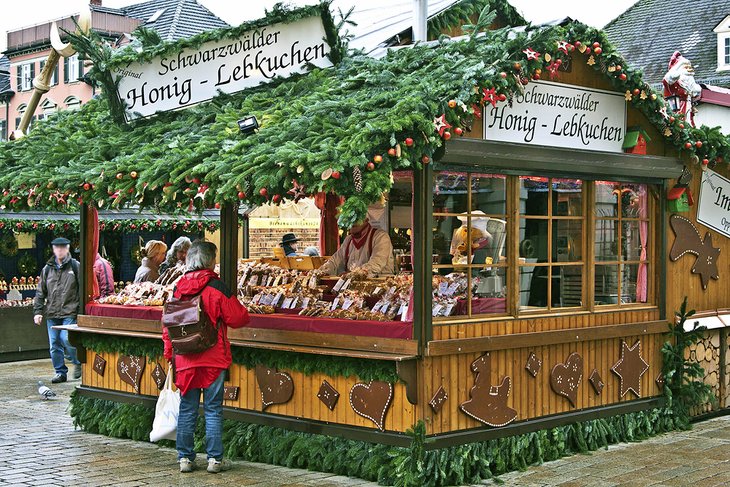 Nowhere are Germany's Christmas markets more enchanting than in the Black Forest region. Stuttgart has one of Germany's biggest and oldest of them (it's been here for 300 years), with nearly 300 beautifully decorated cabins selling gifts, food, and everything Christmas.
An entire section dedicated to children features a train ride through a miniature village and a Ferris wheel of giant Christmas tree ornaments.
Stuttgart's market is only the starting point for a region filled with them. About 20 minutes away, Ludwigsburg fills a postcard-perfect square with the Baroque Christmas Market, where 170 market stalls are decorated in the Baroque style of neighboring Ludwigsburg Palace.
Another short train ride from Stuttgart takes you to Esslingen, and back to the 14th century in time. The Mittelaltermarkt is an authentic medieval street market set among original timber-framed buildings, where craftspeople demonstrate and sell authentic period crafts, dressed as they would have in the Middle Ages.
In the well-preserved Black Forest town of Gengenbach the Christmas Market is under the 200-year-old façade of the town hall, which is transformed into a giant Advent Calendar. Each evening everyone gathers to see another window open, revealing an enchanting lighted scene.
In the first week of December, the narrow streets of medieval Tübingen become a giant chocolate shop for Germany's largest chocolate festival, Chocol'ART. More than 100 of the world's top chocolatiers sell (and offer samples of) beautiful and delicious chocolates in all forms: truffles, chocolate-dipped exotic fruits, molded versions of St. Nicholas, even chocolates that realistically imitate sausages and other foods.
3. Strasbourg, France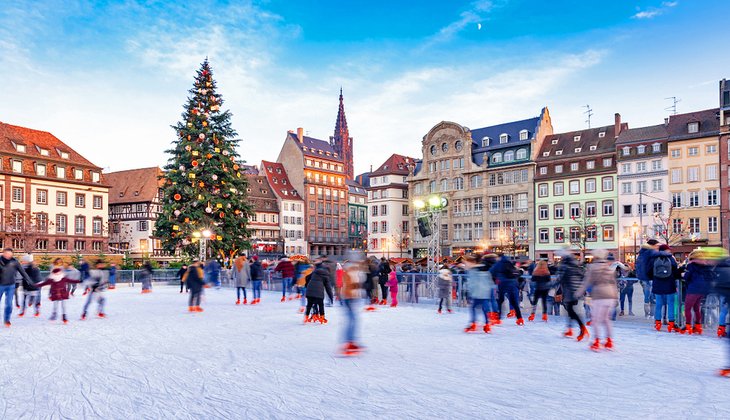 Not one, but several Marchés de Noël fill the large and small plazas of this Alsatian city on the Rhine. Strasbourg has the oldest and best Christmas market in France, and in an unbeatable setting. Half-timbered houses form the backdrop, and garlands of lights hang between them. Elaborate light displays illuminate the squares. In Strasbourg's lovely Petit France neighborhood, the market is along the river, backed by medieval buildings.
The largest of the markets is under the magnificent Gothic Notre-Dame Cathedral, where wooden cabins sell Christmas ornaments, handicrafts, and foods.
Look especially for bredele cookies and the traditional Alsatian honey gingerbread, a dense loaf that's often filled with dried fruits and bits of candied ginger. Snack on warm flammekeuche (tarte flambée in French), a thin flatbread topped with cheese and onions cooked over an open flame. Cabins in Place du Marché-aux-Poissons specialize in Alsatian food products.
One square is dedicated to fine crafts of various European neighbors, featuring the country's best craftspeople. Throughout the market are groups of carolers, nativity plays, and music groups, and there is a skating rink. To find all these markets, stop at the welcome booth near the train station for a map marking the locations.
4. Dresden and the Ore Mountains, Germany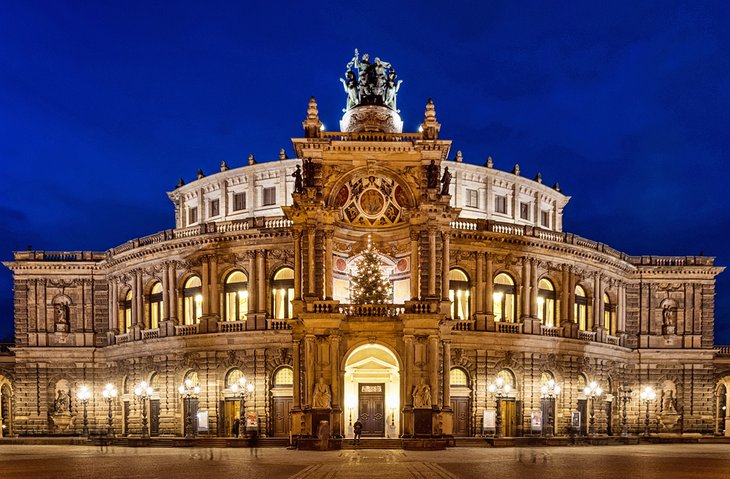 Dresden's Striezelmarkt dates from the early 1400s, so it's steeped in centuries of tradition. None is more cherished - here and throughout Germany - than the Dresden Christstollen, a rich buttery yeast bread with candied fruits inside. It is not just sold and consumed in quantity; it is celebrated in a parade highlighted by the world's largest Dresden Stollen, 13 feet long and weighing four tons.
Markets with different themes scatter throughout the city. Inside the courtyard of the Dresden Royal Palace is a medieval market with no electricity and only authentic crafts, foods, and arts of the Middle Ages. Neumarkt steps back into the 1800s with craftsmen in period clothing selling only quality handmade works, as strolling minstrels serenade the shoppers.
Throughout the markets are booths of the many skilled wood artists from the villages of the nearby Erzgebirge mountains. Nearly all the tiny brightly painted Santas, angels, musicians, children, snowmen, and other wooden Christmas tree ornaments you'll see all over Germany originate in these Saxony towns, where wood turning and carving has been the main industry for generations.
Christmas candle arches and the intricate multi-tiered wooden carousels that turn by the heat of candle flames also originate here, along with the traditional scowling nutcrackers.
To see more of these traditional crafts and learn their fascinating history, visit the villages where they originated. Annaberg-Buchholz and Seiffen each has its own Christmas market, and each has an outstanding museum/exhibition of the woodcarvers art: Manufaktur der Träume (maker of dreams) museum in Annaberg and the Spielzeugmuseum Seiffen.
5. Precepe Scenes, Italy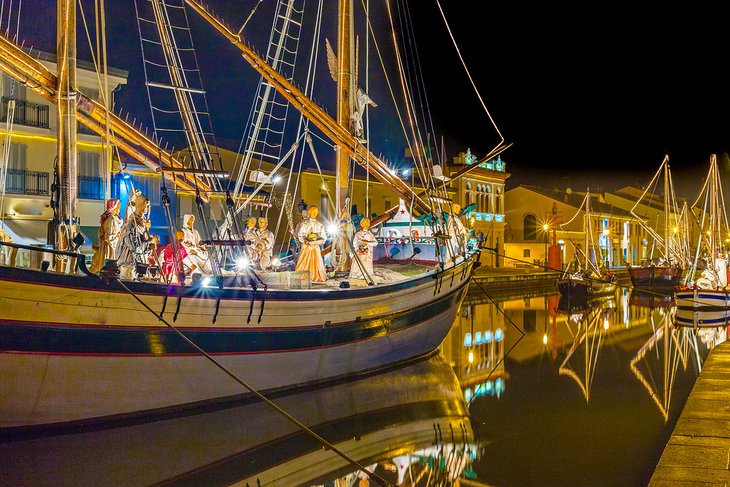 It is thought that St. Francis of Assisi originated the first public nativity scene, known in Italy as a presepe, when in 1223 he built a replica of the nativity at his mountain hermitage in Greccio, near Assisi. The annual tradition continued there and spread throughout Italy, taking several different forms in different regions and towns.
Any tourist in December is likely to see at least a few. Some of the most unusual are tableaus of real people playing the roles of the holy family and shepherds, scenes complete with live sheep and other animals.
In Barga, Tuscany, on December 23, more than 100 costumed people form a procession behind Mary and Joseph as they ask for lodging throughout the town. In Rivisondoli, Abruzzo, the scene includes hundreds of costumed people dramatizing the arrival of the Three Kings on Epiphany.
Elsewhere, you can see life-sized scenes in public squares and churches, with the figures dressed in real clothes. Smaller scenes may have figures and animals made of wood or terra-cotta, and the settings are often local ones. Small scenes may be quite elaborate, replicating Bethlehem or an Italian village scene. Life-sized or smaller figures are made of carved wood, terra-cotta, and other materials. Often the figures are dressed in real clothing.
The most elaborate precepi are in Naples, where studios of craftsmen who make the figures line Via San Gregorio Armenov, crowded in December with shoppers selecting new figures for their own family precepi.
The most unusual is the Presepe della Marineria in the small Adriatic fishing village of Cesenatico, Emilia-Romagna. The town's marina becomes a floating nativity scene, with boats populated by 50 life-sized statues on the first Sunday in December. The figures represent the Holy Family and the local population: shepherds, musicians, bakers, fishermen, carpenters, children, and sailors.
6. Munich, Germany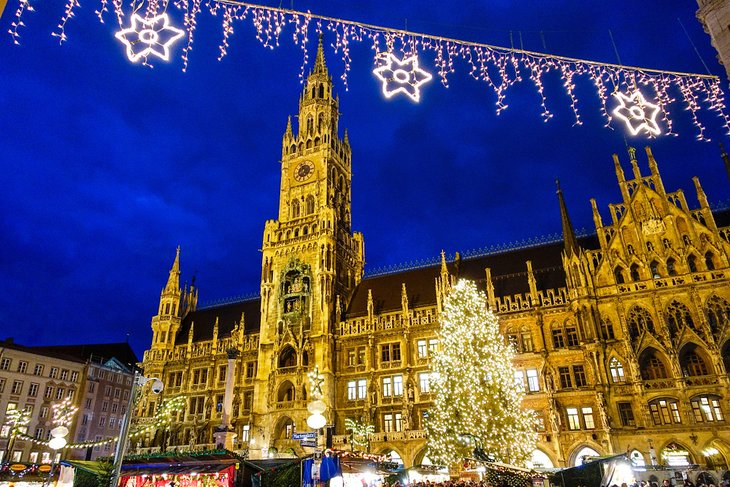 Like most large German cities, Munich's Christmas market is really many separate markets, each with its own character and theme. The main one fills Marianplatz, beneath the ornate neo-Gothic city hall. Here, you'll find a glittering assortment of decorations and gifts, in booths strung with lights and hung with frosted gingerbread hearts.
A few streets away, the Kripperlmarkt is devoted entirely to crèche scenes and their people, animals, and buildings - even tiny household tools and baskets of fruits and vegetables. Along with mass-produced figures, you'll find beautifully hand-modeled figures and delicately carved wooden figures from nearby Oberammergau and Alpine villages in Bavaria.
More intimate than either of these is the cluster of cabins inside the courtyard of the Residenz palace, and in Wittelsbacher Platz, the Medieval Christmas Market is filled with arts of the Middle Ages, including blacksmithing, leatherwork, fine book binding, and calligraphy.
Outlying neighborhoods, including the student quarter of Schwabing; the Chinese Tower in the English Garden; and even the airport, Flughafen München, have Christmas markets.
If you need a break from the tinsel and gingerbread, spend an evening at the Tollwood Cultural Festival, where cutting-edge designers and contemporary craftspeople exhibit their art, jewelry, fashion, décor, and other creations. Music here is unlikely to be traditional Christmas carols.
7. Vienna, Austria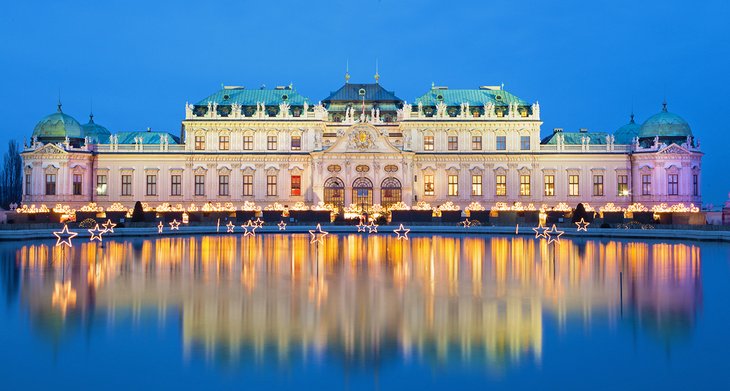 Perhaps no other city in Europe celebrates the holiday season with so much music as Vienna. Every church seems to have concerts, providing settings of Baroque splendor that matches the music.
Palaces provide more venues, especially the beautiful Schönbrunn Palace, where several concerts are held during the season. Classical, chamber, and choral music prevail, and the most famous concert is Christmas in Vienna by the Vienna Boys Choir at the Wiener Konzerthaus. St. Stephen's Cathedral is an especially impressive setting for sacred music.
Palaces also provide settings for two of the loveliest of Vienna's many Christmas markets. Schönbrunn Palace provides a stunning backdrop for a market devoted exclusively to fine handicrafts and traditional decorations. The market in front of Belvedere Palace is perhaps even more spectacular a sight, as each booth is decorated in swirls of lights, which reflect - along with the palace's magnificent lighted façade - in the lake.
The largest of the markets is in the center, in front of the City Hall, under a giant Christmas tree. A skating rink and a special section for kids with a carousel and cabins where they can create their own gifts make this a market for the whole family, with things to do for all ages.
The Viennese love good food, and you should stop to try some of the local seasonal specialties: krapfen (deep-fried pastry similar to donuts and often filled with jam), kartoffelpuffer (potato pancakes), and raclette (bread coated with melted mountain cheese).
8. Zagreb, Croatia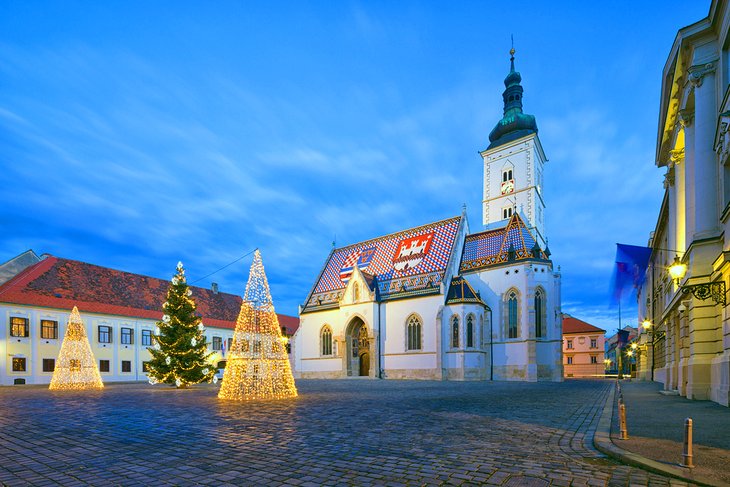 Although street markets selling decorations and gifts are a part of the celebration, Advent in Zagreb is far more than a Christmas market.
From late November through January 3, Croatia's capital city is a wonderland of lights, music, art, entertainment, and food. Colorful displays of lighting line the streets, fill the parks, and create scenic viewpoints all over the city. The fountain in Ban Josip Jelačić Square is transformed into a light display, and there is a huge Christmas tree decorated with lights.
Lanterns light the promenades in Zrinjevac Park, which is a center for musical performances and for pop-up studios, where you can buy art and handmade gifts. Other wooden cabins sell hot chocolate; cookies; and other traditional foods such as strukle, a cheese-filled pastry.
Join people skating in the Ice Park on King Tomislav Square, where there are also live concerts and performances.
Strossmayer Promenade hosts four separate Christmas markets - each with its own theme - and wonderful views of the city as you climb the stairways. In the late afternoons, next to Zagreb Cathedral, a Live Nativity Scene re-enacts the Christmas story.
You can tour the various venues and markets on the Merry Christmas Tram, starting from Ban Jelačić Square. Along with being less crowded with tourists than many of the western Europe Christmas events, Advent in Zagreb has another attraction: it is also one of the least expensive places to visit during the holiday season, with some very good hotels and hotel packages available.
9. London, England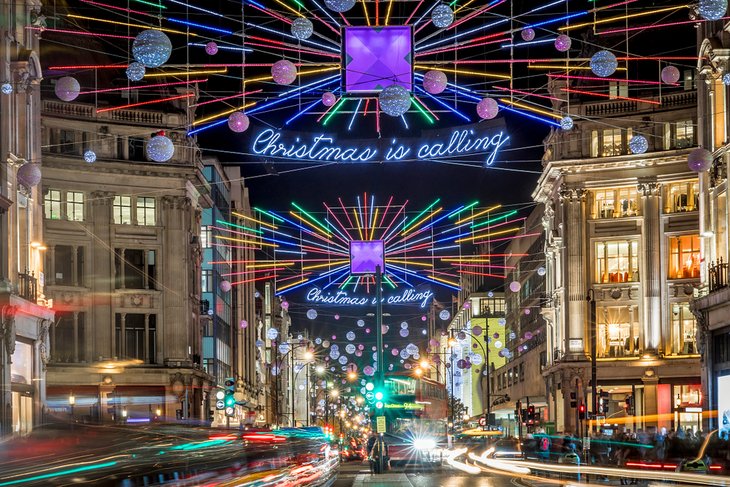 It's hard to decide what the biggest attraction for tourists is at Christmastime in London. Banners of lights form a sparkling canopy over the streets of Mayfair, Sloan Square, Regent Street, Oxford Street, and other shopping districts.
Department store windows become magical scenes filled with imaginative displays that range from workshops of busy elves to futuristic fashions. Each year brings new surprises as the windows of Selfridges, Harrod's, Liberty, and others unveil their displays.
Hyde Park turns into a Winter Wonderland, with trees covered in twinkling lights, the city's largest outdoor skating rink, Christmas carolers, a Ferris wheel, and a German Christmas market.
There are skating rinks everywhere, and Christmas markets spring up from Kew Gardens (where there's a spectacular lighting display) to the Docklands, where a market is dedicated to Japanese crafts, performance, music, and food.
The Tower of London returns to 1284 to recreate scenes from the court of Edward I during its medieval Christmas at the end of December. St Paul's Cathedral and other churches and concert halls host concerts and musical events, including carol sing-alongs.
For quite a different sort of December experience near London, be among the hardy few hundred to watch the sunrise at Stonehenge during the Winter Solstice. Stonehenge is an easy day trip from London.
10. Amsterdam, Netherlands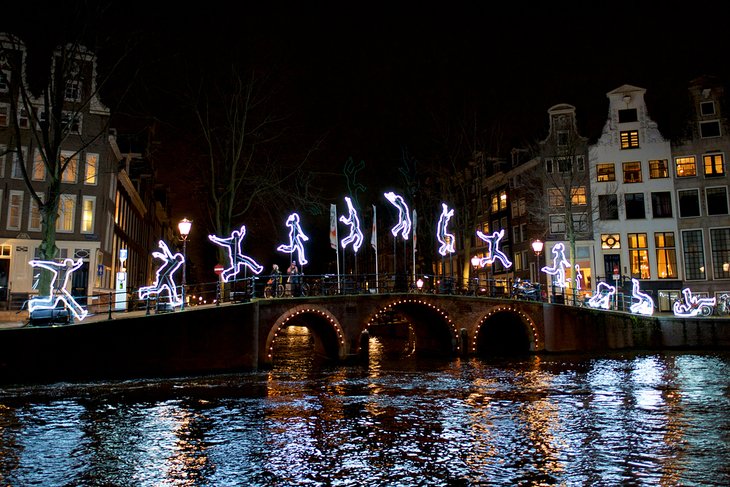 From November through January, Amsterdam glows with dozens of light installations that illuminate buildings, decorate the bridges, and reflect in the canals. The Amsterdam Light Festival has a different theme each year, and illumination artists have free reign to interpret it, with spectacular results. Most displays are in the Canal Ring and the Amstel River areas.
Some displays are static: a twinkling spider poised above a bridge, butterflies hovering over a canal, and others seem never to stop as they sweep in patterns across the fronts of buildings.
In addition to the artists' contributions, bridges are outlined in white lights that reflect in the canals below. With all the water to reflect the shapes and colors, the show is a constantly changing one, especially when viewed while moving on the water in a canal boat.
If you are in Amsterdam in late December or January, consider traveling north to historic Zwolle for the Netherlands Ice Sculpture Festival, when artists from around the world create ice and snow sculptures.
11. Prague, Czech Republic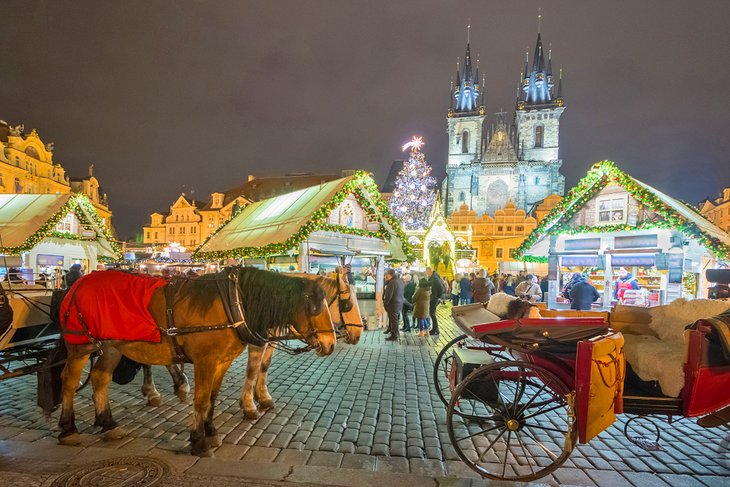 Visiting the charming old-world city of Prague at Christmastime is a truly magical experience. The most stunning place to visit in December is Prague Castle (Pražský hrad), the world's largest castle complex, which is decorated with lights and holiday cheer from its foundation to its spire. Castle grounds include St. Vitus Cathedral and St. George's Basilica, which both offer advent concerts, and the area in front of St. George's becomes one of the city's most popular Christmas Markets.
Old Town Square in the city center also fills with market stalls; a 22-meter tree; decorations galore; and month-long activities like public caroling, choral concerts, and visits from Saint Nicholas. While here, be sure to climb to the top of the Old Town Tower to get an unforgettable view of the lights and holiday bustle below.
Just five minutes' walk from here is Wenceslas Square, home to two massive Christmas trees and more market stalls, and concerts. Prague's Christmas markets are typically open from the last weekend in November through the first week of January.
A big part of Christmas in Prague is the food, and vendors can be found at all the markets throughout the city. Traditional Czech Christmas treats include Trdelník, a cinnamon pastry; sladké knedlíky (sweet dumplings); and palačinky (Czech pancakes). For something more savory, try rybí polévka (a traditional Christmas soup).
Music lovers can also catch more Christmas concerts at the Klementinum, and choral productions at St. Martin in the Wall Church. Be sure to head over to the Charles Bridge to admire the decorations and get photos of the festive River Vltava and surrounding historic buildings.
12. Rovaniemi, Finnish Lapland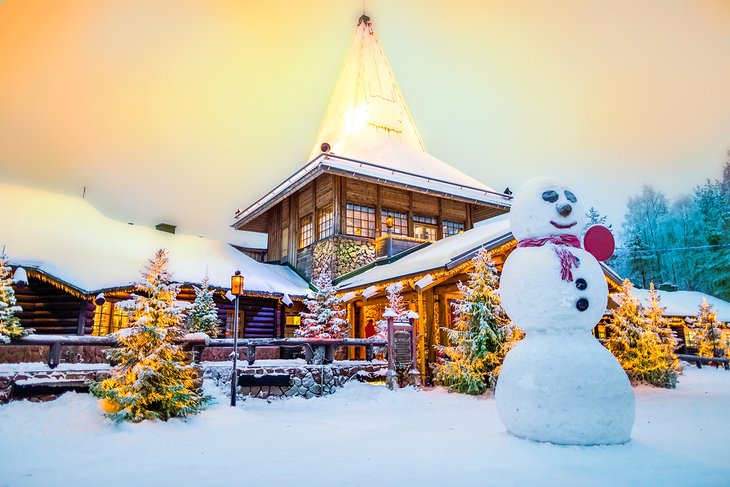 Tourists visiting Rovaniemi, located 6.4 kilometers inside the Arctic Circle, can get a North Pole Christmas experience like no other. Since 2010, Rovaniemi has been honored with the title of Official Hometown of Santa Claus, featuring an outpost of St. Nick's workshop, Santa Claus Village. Unlike Santa-themed amusement parks, the village is free to enter and provides a more authentic experience of what Santa's home town "really" looks like.
The village offers many activities, including Elf's Farm Yard Zoo, Elf's Hat Academy, snowmobiling safaris, dogsledding, reindeer sleigh rides, ice-skating, sledding, and plenty of places to eat. The village is located eight kilometers from the center of town and can easily be reached via local bus, car, or even by foot. Tourists can enjoy free admission to the village itself or book a guided tour to get the most out of the visit.
An excellent guided tour for those who want to explore both the village and the town is the Highlights of Rovaniemi Day Tour which includes a sleigh ride, meet-and-greet with Santa, and admission to both the Arktikum Arctic Museum and the Arctic Snowmobile Museum.
13. Bruges, Belgium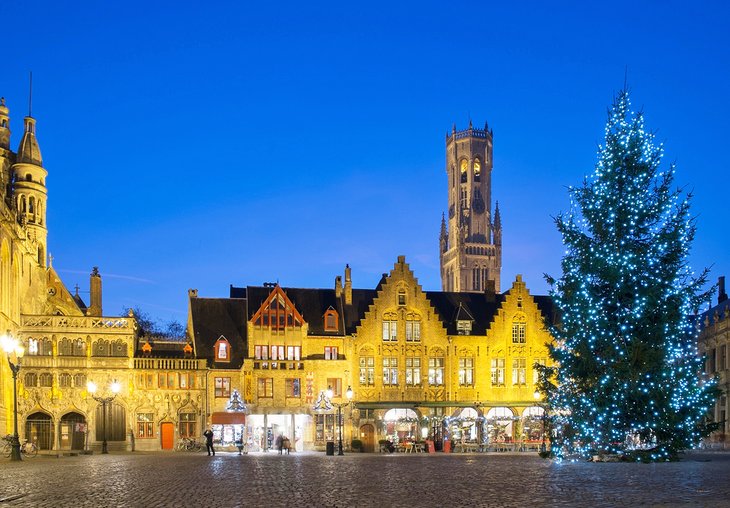 Belgium's most beautiful medieval town provides the perfect backdrop for a magical European Christmas holiday, offering limitless spots for Instagram-worthy photos. The city's official name for its holiday celebrations is "Winter Glow," a choice made to ensure that visitors of all faiths feel welcome.
Like most European cities, Bruges is home to several excellent Christmas markets, which offer not only plenty of shopping but also a variety of activities and public entertainment. Market Square (Grote Markt) is the biggest and best-known market area, and the nearby Simon Stevinplein square offers a market, as well as a children's activity area.
Bruges' Christmas markets are open daily, from late November through the first week of January, and stay open late into the evening.
Visitors who want to experience ice-skating in a beautiful setting can head over to Minnewater, where a rink floats on the water. To get even more views of the city's lights and decorations, be sure to take a canal cruise, which will provide both new perspectives and a good overview of the city's layout and history.
While visiting, be sure to sample traditional Belgian spiced Christmas cookies, speculaas, as well as the world-famous Liege waffles and Brussels waffles.
14. Kilkenny, Ireland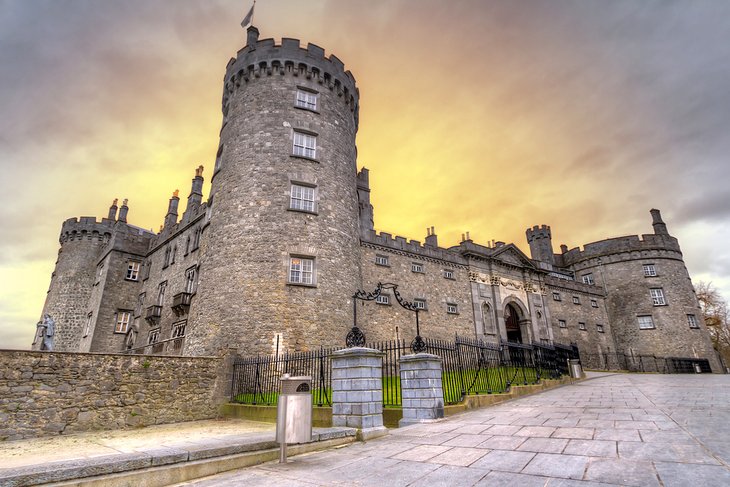 Each year in late November, Kilkenny kicks off Yulefest, a city-wide holiday celebration. A visit to the 12th-century Kilkenny Castle is a great place to start, and kids visiting at Christmastime can participate in special activities like a "Spot the Elves" scavenger hunt. Tourists who are in town the weekend before Christmas should also plan to catch the castle's Christmas fireworks display.
Yulefest is celebrated throughout the city, offering not only traditional Christmas markets but plenty of things to do. The main hub of action is on The Parade, a historic street that runs alongside the castle and its grounds. There are numerous public performances featuring local musicians, including nightly concerts on the Bandstand, as well as public movie nights and kids' activities.
There is also a pretty market area in Watergate Pocket Park that has many food and entertainment options, as well as additional Christmas celebrations in the nearby town of Castlecomer.
15. Malmö, Sweden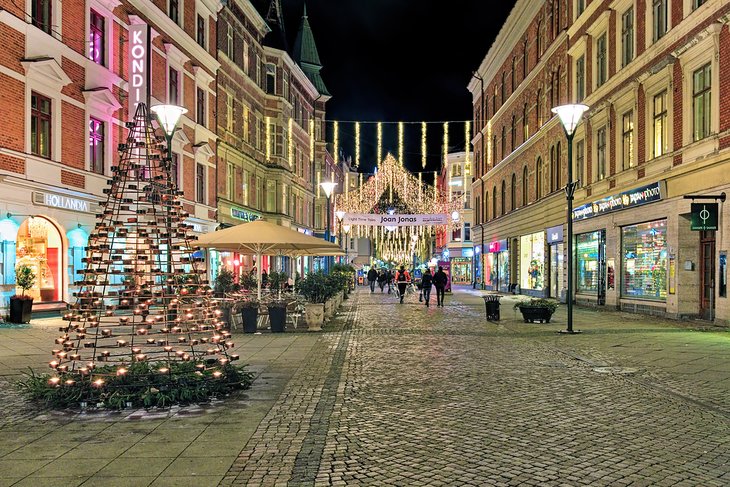 Christmas celebrations in Malmö begin four Sundays before Christmas with the First Advent and Julskyltning, a day when all the city's shops have special holiday sales and events.
If you miss this though, there are still plenty of shopping opportunities at the Christmas markets, the biggest of which is at Gustav Adolfs Torg in the city center. In addition to market stalls, visitors will find a skating rink; carousel; caroling; and traditional Christmas treats like pepparkakor, a Swedish gingerbread cookie.
Malmö's annual Lucia procession is a must-see event that happens every year on December 13th, a tradition unique to Sweden. Just at dusk, this procession of girls and boys dressed all in white passes through the main square, each holding a candle and singing.