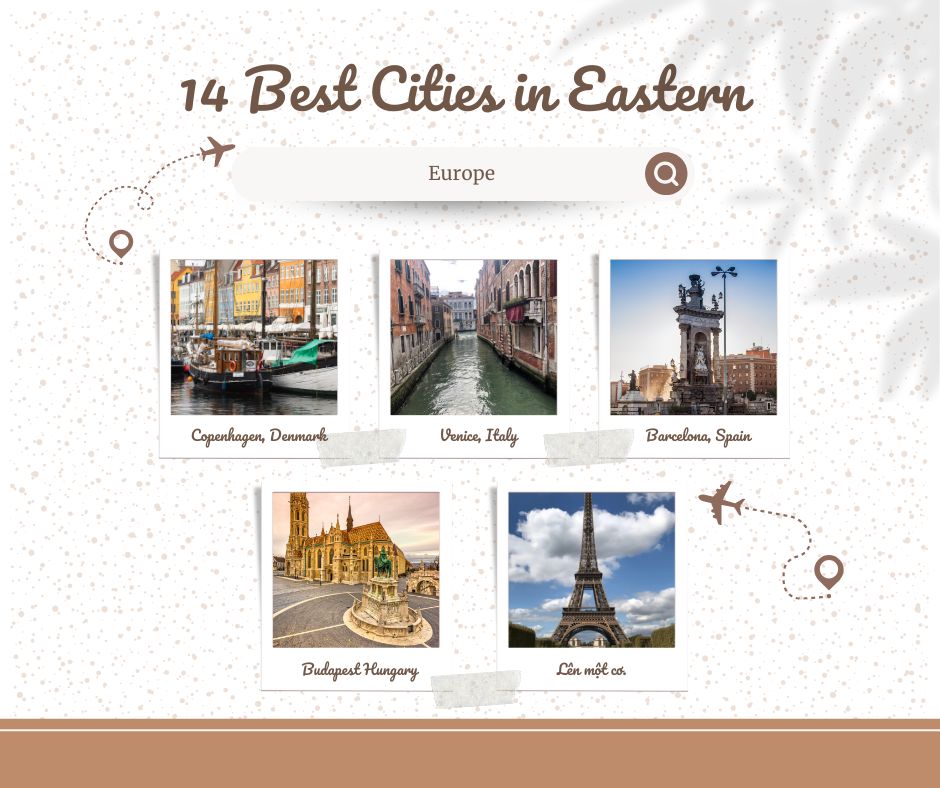 14 Best cities in Eastern Europe should be noted
In this blog post, we turn our spotlight to some of the best cities in Eastern Europe, each with its own unique charm and allure. The reason that when it comes to uncovering the hidden gems of the world, Eastern Europe offers a treasure trove of enchanting cities that should not be overlooked.
Whether you're a seasoned traveler or embarking on your first Eastern European adventure, these cities should be on your must-visit list, promising experiences that will leave a lasting impression.
Top 1 best cities in Eastern Europe - Prague, Czech Republic
Top 1 best cities in Eastern Europe - Prague, Czech Republic
Dating back to AD 870, Prague is not only one of the most visited cities in Eastern Europe, but also one of the oldest.
Prague is the ideal destination for bargain hunters, with regular flight and train connections from most major cities in Europe, and affordable accommodations. Many of the city's major attractions are also free - you can stroll across Charles Bridge, walk the grounds of the Prague Castle, or see the amazing views over Prague from Petrin Hill without spending a penny.
The city can get very crowded in summer, but this is also a great time to enjoy the outdoor cafés, have a picnic with a view on Kampa Park (home to some very famous and quirky art installations), or catch live music and events on the Naplavka riverbank.
On rainy days, the city's many museums and galleries are a must-see (don't miss the museum dedicated to Prague-native Franz Kafka), and there are also Cold War bunkers, plenty of theaters and concert halls, and the stunning Strahov Library (considered one of the most beautiful in the world) to explore.
Accommodation: Where to Stay in Prague: Best Areas & Hotels
Top 2 best cities in Eastern Europe - Tallin, Estonia
Top 2 best cities in Eastern Europe - Tallin, Estonia
Located right on the coast, with open views over the blue water of the Gulf of Finland, Tallin is a city that knows how to mix the old and the new very well. Over the past decade, Estonia has become a haven for entrepreneurs, and the growing business center of the city - with its many trendy shopping centers and restaurants - is proof of it.
Tallin also happens to be one of the most compact capital cities in Eastern Europe, which means you are never more than 15 minutes away from the stunning Old Town. A UNESCO World Heritage Site, Tallin's walled Old Town is filled with medieval churches, a Gothic Town Hall, impressive towers, and plenty of charming cafés for a quick stop when your feet are starting to complain.
There's still plenty to see and explore outside the center, including the Lennusadam Seaplane Harbour Museum, the pink Toompea Castle, the Russian-inspired Aleksander Nevski Cathedral, and a number of art galleries and small museums.
Although disputed, Estonians claim to be the inventors of marzipan, and the Kalev Chocolate Shop and Workshop is the place to stock up.
Top 3 best cities in Eastern Europe - Krakow, Poland
Top 3 best cities in Eastern Europe - Krakow, Poland
The official capital of Poland during the Middle Ages, Krakow still retains its impressive royal look. Krakow was also one of the few Polish cities to make it unscathed through WWII and as a result, its architecture - a fairy-tale mix of Romanesque, Gothic, and Art Nouveau, among others - remains intact.
This includes the beautiful historical city walls, St. Florian's Gate, St. Mary's Basilica and the world's largest Gothic altarpiece, and the towering Wawel Castle.
For both historians and movie buffs alike, much of the Oscar-winner movie Schindler's List was filmed here. Oskar Schindler's original enamel factory has been converted into two museums and now holds items from the movie set, including Schindler's desk. Visitors can also tour the former Jewish district of Krakow, the remnants of the Ghetto Wall, and many filming locations.
You can also visit the Wieliczka Salt Mines from Krakow. This former 13th-century working mine is located just outside of town and is considered one of the main tourist attractions in Poland. Krakow is also the starting point for trips out to the Auschwitz-Birkenau Memorial camps.
Top 4 best cities in Eastern Europe - Budapest, Hungary
With a dramatic skyline and plenty of historic and cultural sights, the capital's charms are undeniable. Also known as the "Pearl of the Danube," Budapest offers great food and a rich history that includes Roman and Turkish influences. You can see that in the thermal baths (especially the very popular Rudas or Szechenyi baths) that are considered a staple of Hungary's culture.
Budapest's most stunning area is Castle Hill, a limestone plateau that overlooks the Danube and is home to the most famous attractions in the city. These include the 13th-century Buda Castle and its underground labyrinth (part of the area's underground cave system), Trinity Square, a subterranean museum holding a WWII hospital and a nuclear bunker, and the Széchenyi National Library.
There are plenty of unique day trips you can take from Budapest, including the town of Eger, famous for its thermal baths and Baroque churches; the large Baroque Royal Palace of Gödöllo; and the Aggtelek National Park and the Baradla Cave, which extend into Slovakia.
Top 5 best cities in Eastern Europe - Bucharest, Romania
Romania is one of the cheapest European countries to visit, and the savings stretch to the capital as well. Public transportation is affordable, budget accommodation is plentiful, and many of the main activities in the city - including strolling along Calea Victoriei avenue and relaxing at Cişmigiu, the oldest public gardens in Bucharest - are free of charge or cost very little.
One of Bucharest's main attractions is its 15th-century Old Town, which features many historical buildings but also cobblestone streets lined with cafés; restaurants; and shops selling traditional jewelry, art, and food.
The city architecture is also worth a mention - it's famous for its impressive, ornate, and sometimes larger-than-life buildings. This includes the Palace of the Parliament; the Byzantine-inspired Stavropoleos Church; and the Romanian Athenaeum, home to the George Enescu Philharmonic Orchestra.
Other things to do in Bucharest include stopping by Bucharest's own Arch of Triumph and visiting the Dimitrie Gusti National Village Museum, an open-air museum that chronicles Romania's traditional way of life.
Top 6 best cities in Eastern Europe - St. Petersburg, Russia
Russia's second-largest city is also its most charming, filled with cultural attractions, including The Hermitage, the world's second-largest art museum (The Louvre takes the top spot).
There's more to do here than just museums and galleries, though, such as visiting Russia's oldest confectionery shop inside the Eliseyev Emporium, and shopping and walking down the massive Nevsky Prospect, the city's most impressive avenue, with luxury hotels and high-end shops.
St. Petersburg is better enjoyed on foot, especially as you walk along the almost 100 canals and rivers that crisscross throughout the city. The banks are lined with ornate palaces and bridges, as well as major attractions such as the Winter Palace and the multicolored Church of the Savior on the Spilled Blood.
No visit to St. Petersburg is complete without a trip out of town to see the magnificent Peterhof Palace, with its 173 fountains and its opulent rooms decorated in velvet and gold.
Also worth a day trip are the Rococo Catherine Palace and Park and Veliky Novgorod, Russia's oldest town with structures dating back to the 11th century.
Top 7 best cities in Eastern Europe - Dubrovnik, Croatia
A fortified old town on the Dalmatian Coast, Dubrovnik has become a massively popular tourist destination for beach lovers in search of a bargain. Its seaside location also makes it the perfect starting point for island-hopping, with a number of ferries making their way to the Elafiti Islands, filled with cafés, restaurants offering al-fresco dining, and sea caves waiting to be explored.
You don't have to leave the city itself to enjoy the sea, though, as the golden Banje Beach is just steps away from the Old Town.
With a history that dates back to the 7th century, it's no surprise that many of Dubrovnik's main attractions are historical structures, including the city gates, the Stradium pedestrian street, and the Rector's Palace and Cultural Historical Museum.
Many of Dubrovnik's best-known spots, including the old city walls, Fort Lovrijenac, and the imposing Spanish steps, were also used as filming locations for Game of Thrones. Although they were tourist attractions in their own right before, they attract even more visitors today.
Top 8 best cities in Eastern Europe - Belgrade, Serbia
As Eastern Europe goes, Serbia is harder to reach and discover than other countries. As a result, Belgrade has become the home base for most travel in the Balkan countries. While many visitors stop here just to regroup before heading towards more adventurous destinations, the historic capital has plenty of gems of its own to offer.
Belgrade's architecture has plenty of Art Deco, Baroque, Art Nouveau, and even modernist examples to offer. The Presidential Palace and the Town Hall are good places to start, but a stroll down the Kneza Mihaila pedestrian street is an even better way to appreciate historical buildings that have been converted into artsy galleries, boutique shops, and cozy cafés.
The Belgrade Fortress is the most visited attraction in Belgrade. Not only is the building itself and the museum inside stunning, but the fortress is also surrounded by the massive Kalemegdan Park and set on a ridge that overlooks the point where the Save and the Danube rivers meet.
The views are even more magnificent at night, when you can catch the reflection of the city lights over the water.
Other places worth visiting include the Nikola Tesla Museum and the uninhabited Great War Island, offering a swimming beach, opportunities for kayaking, and plenty of wild birds.
Top 9 best cities in Eastern Europe - Riga, Latvia
Riga is a small city, perfect to be explored over a quick weekend trip. Most budget airlines stop in Riga, offering plenty of connections for you to discover the cultural capital of the Baltics before you move on to other destinations in Latvia to enjoy the Baltic Sea's gorgeous coastline.
You don't have to go far to enjoy the sand either - Jurmala beach resort is just 20 minutes away by train from central Riga.
Latvia's capital is a melting pot of various nations and cultures, something you can clearly see on the many different architectural styles lining the cobblestone streets of Old Town.
Riga's Central Market, the largest indoor market in Europe, with over 3,000 stalls, is another great way to explore the diversity of the city - you can pick souvenirs here, experience some authentic street food, or try fresh products from local Latvian farms.
Top 10 best cities in Eastern Europe - Bratislava, Slovakia
Bratislava is often a stop on the way to the many stunning national parks that dot the nation, but this small and sometimes unassuming city has plenty to offer in the way of history, culture, and food.
In fact, Bratislava is a great destination for a city break with a vibrant gourmet scene, a unique café culture, and plenty of sports and activities for all ages and tastes.
The city is especially bike-friendly, and visitors can easily rent one to explore the many themed bike circuits around town.
When it comes to architecture, it's hard to beat Bratislava Castle, which sits atop a hill and can be seen from almost anywhere in the city. If you make it to the castle itself, make sure you climb the almost 50-meter-tall castle tower for a sprawling view over Bratislava.
If you're into museums, the castle houses a branch of the Slovak National Museum, but there are plenty of other museums and galleries to discover around the city, as well as many quirky statues hidden in parks and city corners.
Other things to do in Bratislava include taking a river cruise to enjoy the Danube scenery; visiting one of the many urban parks; taking a stroll through the gardens of Grasalkovičov Palace; or visiting Hviezdoslav Square, home to the Slovak National Opera Theater and to a stunning Christmas market during the winter.
11. Sofia, Bulgaria
Sofia's history and architecture have been heavily influenced by some of the biggest civilizations in the world, including the Greeks, Romans, and Ottomans. A clear example of the eclectic architecture here is the Neo-Byzantine Saint Aleksandar Nevski Cathedral, Sofia's main tourist attraction and one of the largest Orthodox churches in Europe.
Other important historical monuments here include the 10th-century Boyana Church Museum and its many frescoes, the Sveti Georgi rotunda, and the former Turkish Mineral Baths, which now house the Sofia History Museum.
Hearty Balkan dishes are a must-try when in Sofia, and so is the local mineral spring water, which flows freely from drinking fountains around the city. For active visitors, Vitosha Mountain is just 30 minutes outside the city and offers both hiking and skiing, depending on when you're visiting.
Traveling to Sofia, the capital of Bulgaria, with the assistance of European coach hire is an excellent choice for an enriching and convenient journey. Sofia is a city where history and modernity coexist harmoniously, offering travelers a wide array of cultural and architectural wonders to explore.
Booking an European coach hire ensures that your voyage to Sofia is not just about reaching your destination but is an integral part of your adventure. As you traverse the scenic roads leading to this captivating city, you'll have the chance to visit iconic landmarks like Alexander Nevsky Cathedral and the ancient Serdika ruins. 
12. Český Krumlov, Czech Republic
If you've already visited Prague and fallen in love with its red rooftops and cobblestone streets, medieval Český Krumlov is the perfect follow-up stop.
Much smaller and intimate than Prague, Český Krumlov feels like you've taken a step back in time. The historical center, a UNESCO World Heritage site, surrounds the 13th-century castle, and you could get lost in the little alleyways and pretend you're in a fairy tale. Make sure you spend some time wandering around the medieval streets to discover hidden little boutique shops selling art and unique handmade souvenirs.
The castle itself sits right on the banks of the meandering Vltava river – a popular destination in itself for kayaking and rafting. Climb to the top of the castle tower for the best 360-degree views over the charming town, then join one of the guided tours if you want to see the inside of the castle, or visit one of the few surviving Baroque Castle Theaters in Europe.
Aside from the castle, the church of St. Vitus (the burial place of notable Bohemian families) and the Minorite Monastery, with its classical concerts, are other top attractions in Cesky Krumlov.
On a rainy day, visit the Museum Fotoatelier Seidel, dedicated to the lives of European photography pioneers Josef and Frantisek Seidels.
13. Vilnius, Lithuania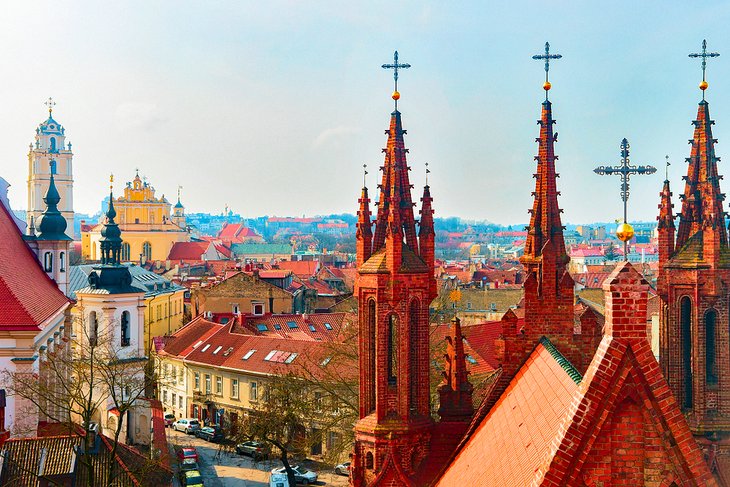 Vilnius, Lithuania
The capital of Lithuania is home to a UNESCO-listed Old Town, amazing cuisine, and trendy neighborhoods that make it a great destination for those looking for something off the beaten path. Vilnius is a compact city, and most of the main attractions are within walking distance of the town center, so if you only have a day or two to explore, you will still be able to see plenty of it.
The main attraction here is, without a doubt, the 14th-century Trakai Castle. Built in the middle of Lake Galve (one of the country's deepest lakes) and accessible via a pedestrian bridge, the castle offers tours and is home to a museum. Arrive in winter, and you'll find the lake has frozen over and you can skate on it for some stunning pictures.
Start your day with some pastries from the old Hales Market, stop by the historical Gate of Dawn, and make time to visit the Museum of Occupations and Freedom Fights to learn about the difficult history of occupation and resistance in Vilnius.
Just 10 minutes outside the city is the Verkiai Regional Park and its six emerald green lakes. Surrounded by wooded hills and with plenty of swimming spots, they make for a great (and very popular) summer destination.
14. Warsaw, Poland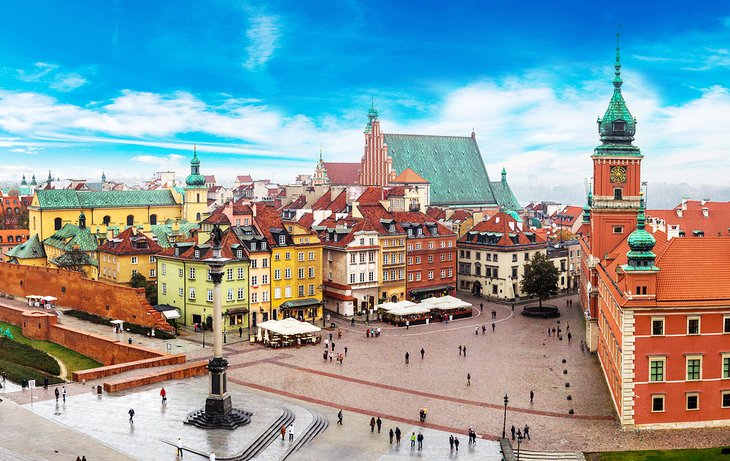 Most visitors arriving in Poland head to Krakow first, but capital city Warsaw has much to offer as well. More spread out than smaller Krakow, Warsaw offers a great mix of old and new, with a beautiful Old Town but also a vibrant café culture, great restaurants, and cool museums that will keep you busy for days.
Warsaw was heavily damaged during WWII, so many of the buildings you see today were meticulously rebuilt after the war. That means even the Old Town is relatively new compared to other Old Towns in Europe. Don't let that discourage you, though. Its colorful tenement houses, inscription as a UNESCO World Heritage site, and direct access to the Royal Castle are all reasons enough to take a look.
Home to plenty of green spaces (the 37-acre Saxon Garden is particularly beautiful), the very famous Wedel Chocolate Factory, and museums dedicated to Frédéric Chopin and Marie Curie (both born here), Warsaw really has something for everybody. Spend time at the unique Neon Museum and grab some traditional zygmuntówka cake.
In conclusion, the best cities in Eastern Europe deserve every traveler's attention and admiration. These cities are not just places on a map; they are living embodiments of history, culture, and the human spirit. They beckon to be explored, appreciated, and remembered for a lifetime.
>> See more: 13 Top cheapest European countries to visit