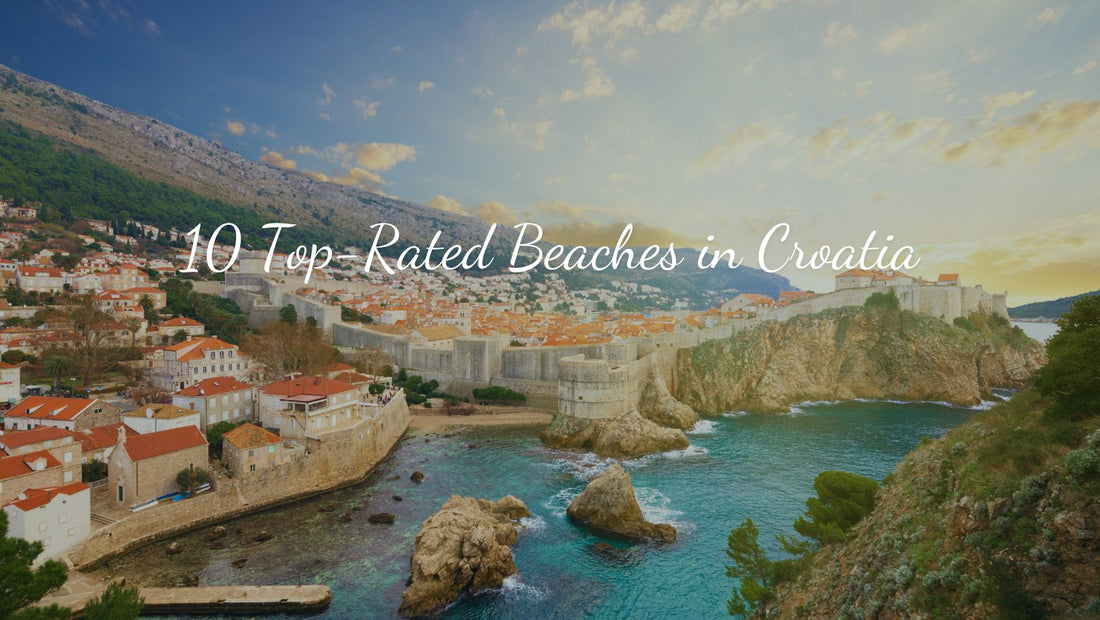 10 Top-Rated Beaches in Croatia
If you've been dreaming of beautiful beaches and thinking of visiting a one-of-a-kind destination, consider this your sign to book a ticket. You may want to come simply to admire its many islands and jaw-dropping beaches, but you'll find much more if you choose to explore Croatia's lovely cities and attractions. While travel continues to bloom here, this country provides an affordable and picturesque escape. Here are our picks for the best beaches in Croatia.
1. Zlatni Rat, Brac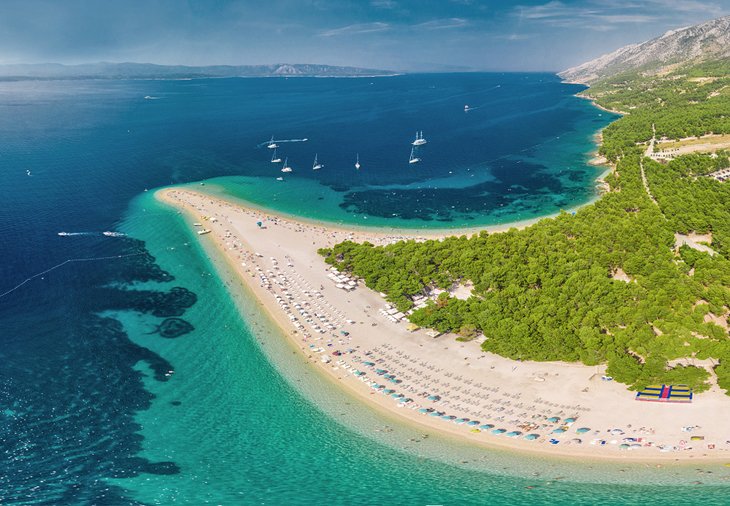 Want to go to the fairest, most famous Croatia beach of all? Low and behold Zlatni Rat. With a shoreside that's shaped uniquely and dotted with shiny pebbles, it's often called the Golden Cape or Golden Horn. Here, you'll find endless restaurants and hotels, as well as umbrellas, day chairs, and anything else for rent.
Big enough for families and romantic enough for couples, this beach offers everything you're looking for in a beach day in Brac. Keep an eye out for windsurfers who love the breeze while riding on the Adriatic Sea.
2. Banje Beach, Dubrovnik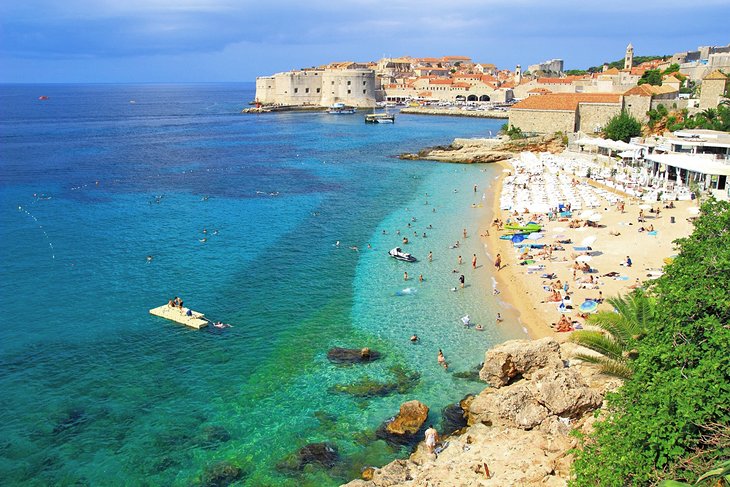 One of the most popular beaches in Croatia, if possibly only because of it's location in Dubrovnik, is Banje Beach. Game of Thrones fans will instantly know about Dubrovnik, the unofficial home to King's Landing. In addition to this pop culture fame, Dubrovnik also features a fascinating old town and ancient city walls, and places to dip yourself in the ocean and enjoy a day on the beach.
You may want to even base yourself out of the city center, closer to the waves, and consider finding a hotel near Banje Beach. Though very popular and crowded, it's the closest you can get to Dubrovnik without being part of it. Make sure to book reservations at one of the few restaurants along the beach for an ideal way to watch the sunset and celebrate your trip.
3. Punta Rata, Brela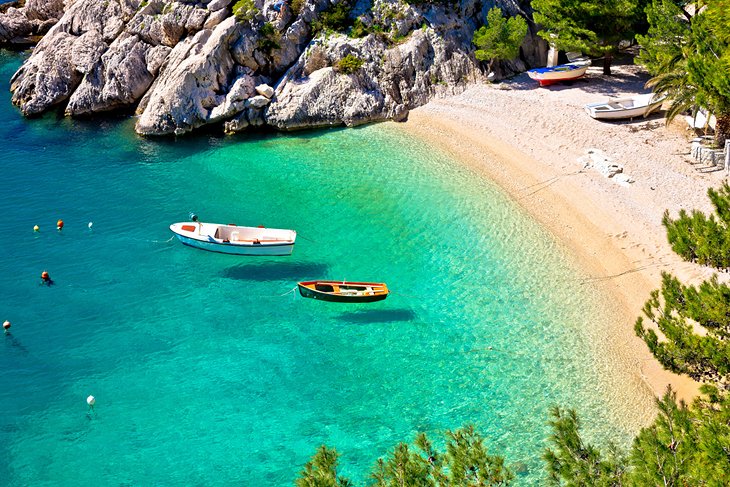 Punta Rata is a bigger beach in the area, known for soft sand and clear water. You can expect plenty of tourists, locals, and families. Take your pick of bicycling the unpaved trails or running the coast by foot.
Because of the location, you'll have views of the Biokovo mountain range from Punta Rata, and if you walk long enough, you'll come across the Brela Stone. This is what everyone takes a photo in front of, so get your phone ready to pose with a giant boulder that somehow grows pine trees.
When you arrive in Croatia, you'll likely fly into Split, an hour drive northwest of Punta Rata.
4. Sakarun Beach, Dugi Island (Dugi Otok)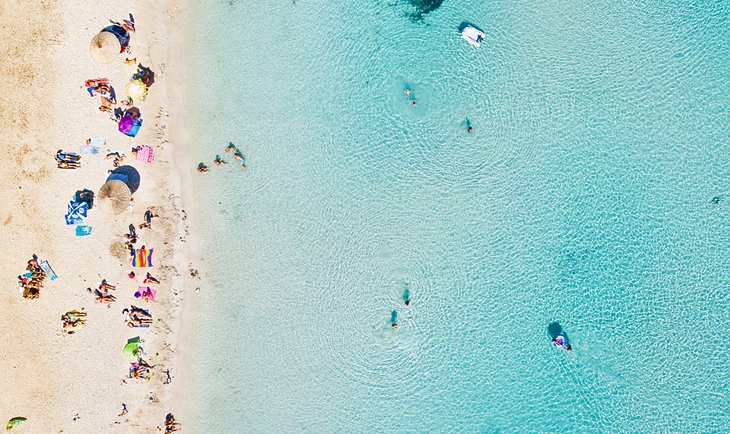 If you consider yourself a beach fan, but your skin isn't so keen, you'll need a beach with shelter from the intensity of those UV rays. When you're visiting Croatia, this is the right spot for you, since it's surrounded by pine trees. The natural shade makes it ideal for those sensitive to the sunshine or for families with children who need breaks from the heat. You'll also find calm, shallow waters for teeny-tiny splashers. During the peak travel season, lots of restaurants open their doors, but be aware that they operate only seasonally.
5. Betina Cave, Dubrovnik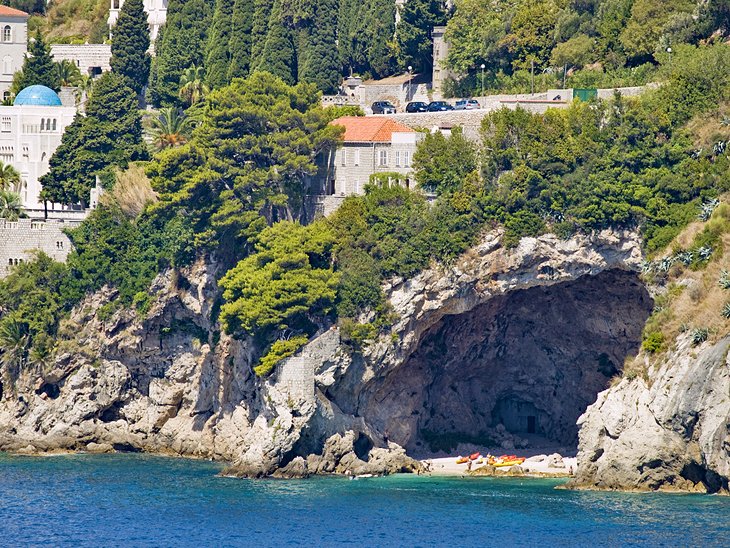 Imagine, if you will, a beach you can only get to if you know the secret trail. You'll need a kayak or you can call for a water taxi to take you to this sea-access-only beach, located under a natural cave and ideal for romantic honeymoon escapes.
With little vitamin D pouring in, you'll save yourself from the heat, and if you go at the start or end of the day, you won't have to battle other twosomes with the same idea. Consider yourself warned, there isn't much here-merely some sand-so you'll want to bring your own blankets, snacks, and drinks.
6. Nugal Beach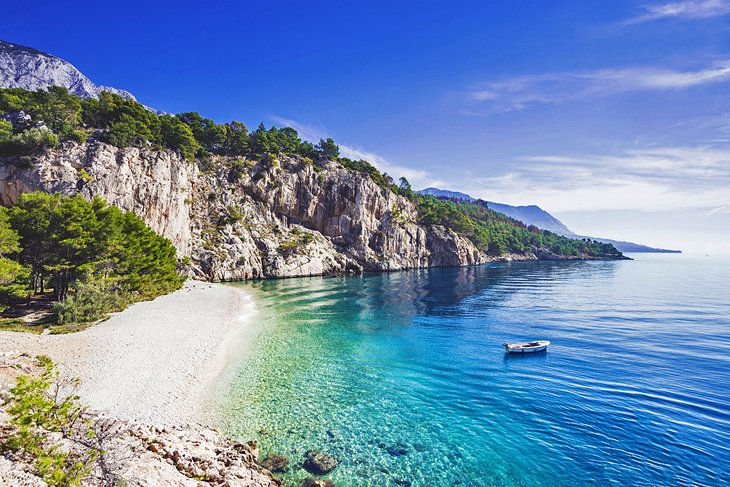 Pros of this beach: a beautiful, impressive nine-meter waterfall that floods from the nearby Mount Biokovo. Con: if you visit Croatia during the off-season, you can look at this natural wonder, but you can't swim in its wake.
Most people who visit Nugal Beach will come for a handful of reasons: to go hiking and detox on the shore, or to um, wear their birthday suit. Because of its location and seclusion within Forest Park Osejava, it's a popular area for nude bathing. When you have multiple days to have fun-in-the-sun, make sure to add this beach to your schedule.
7. Kamenjak National Park, Istria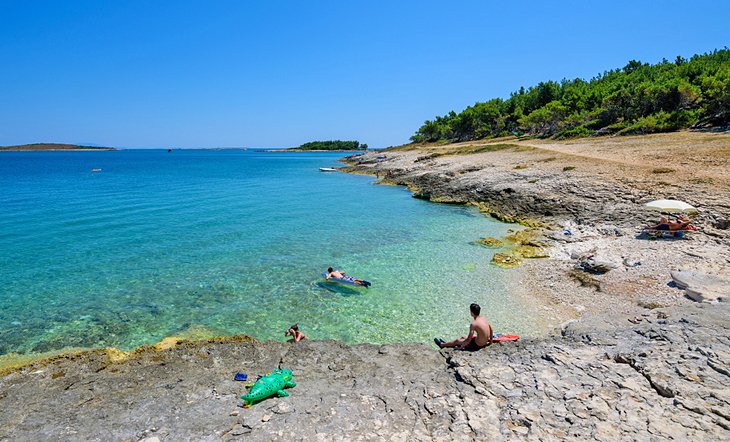 This national park is a landmark, an attraction, and an institution for Croatia, located on the southernmost tip of Istria. Travelers will come here to explore this mostly underdeveloped area, renowned for the peninsula that stretches six kilometers into the sea with 21-meter cliffs. Its history is said to date to prehistoric times, and dinosaur fossils have been discovered.
When you're hiking here, make sure you walk along the appropriately-named Dinosaur Path, where you can still see footprints in the limestone! The beach here is small and pebbly, but what you'll really take away is a new appreciation for this country, and Mother Nature herself.
8. Sunj Beach, Lopud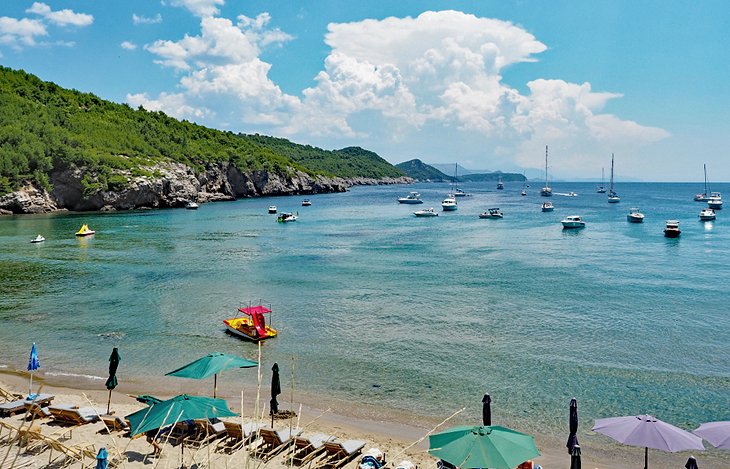 Truth be told, most of the beaches you'll find in Croatia will have pebble stones instead of sand. For those used to feeling sand between their toes, the Adriatic Sea is known for this shoreside feature. The rare exception is Sunj Beach, just west of Dubrovnik.
When you find an area on this usually crowded space, glance to your left and right, where you'll see bright green hills rolling in the distance. You won't find any cars on the whole island, since golf carts and bicycles are the preferred method of transportation. When you aren't racking up the freckles, you can explore the many monasteries, villas, forts, and palaces of this area in Croatia, too.
9. Zrce Beach Novalja, Pag Island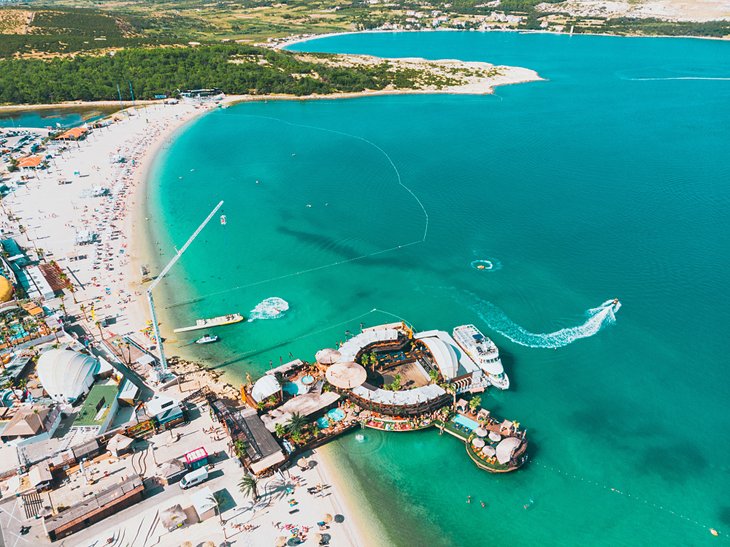 Though sometimes you're in the mood for serenity and quiet, other times, you want to add some excitement. For when the mood strikes, head to Zrce Beach, renowned as a lively destination for Croatia. Locals, tourists, and happenin' DJs frequent the beach, thanks to the many open-air restaurants. Most of these come complete with pools, Jacuzzis, and hot tubs, and you're welcome to come straight from the white-pebbled beach into the establishments.
10. Solta Island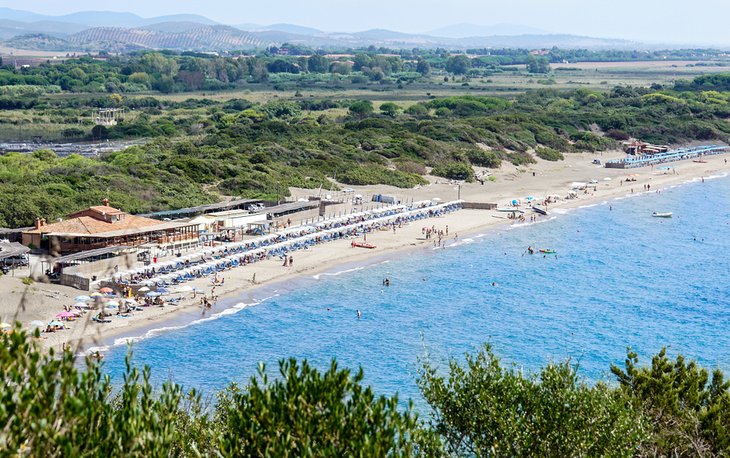 To escape the crowds but still get an island experience in central Dalmatia, check out the rugged island of Solta. Less touristy than nearby Hvar and Brač, it is home to some beautiful beaches, including Stračinska. The secluded pebble beach on the island's southern shore sits on a clear turquoise bay surrounded by bleached white rocks and a few homes (some of which can be rented). It is great spot for swimming, as the water gets deep.
The beach is easiest to access if you have a boat, although you can also get here via a walking and biking trail from GornjeSelo. Arriving on foot makes an impressive first impression: you'll emerge from thick pine woods at the top of a hill and enjoy a majestic view before descending down to the sea.
You can also walk from Stračinska to other nearby beaches on the same bay. To the left is Maložalo and to the right is Veložalo, which are white-pebble beaches that are usually mostly void of people.