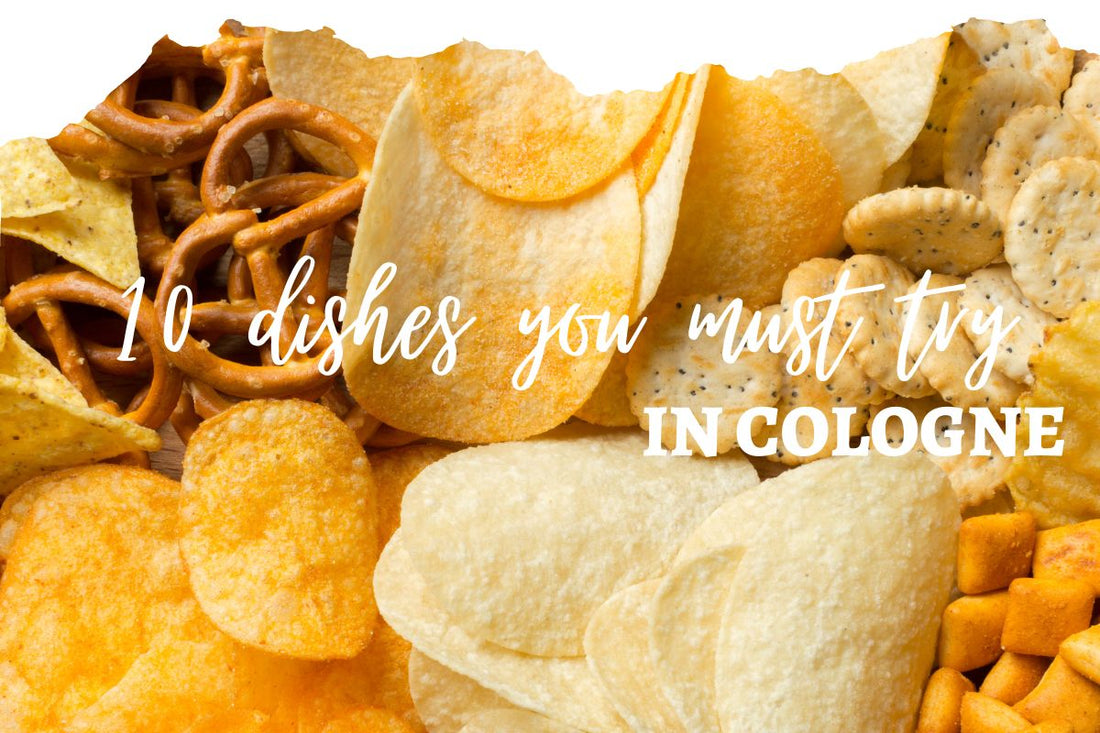 10 delicious dishes you must try in Cologne
Cologne is Germany's most populous city and the country's fourth-largest municipality, located in North Rhine-Westphalia. You can pause to taste and enjoy local cuisine between trips.
There are many filling options with often meat as the main ingredient, but if you're looking for something lighter, there are always delicious soups. Of course, no meal is complete without a refreshing beer.
Here are the top 10 dishes you must try in Cologne.
Rostbratwursten
A grilled or fried sausage is typically made of veal, pork, or beef. It can also be cooked in broth or beer. Bratwurst can be found in many recipes and served in various ways: at food stalls, it is often a sandwich form for those on the go or as an afternoon snack. 
It can also be found outdoors at beer gardens or sit-down restaurants, usually served with sauerkraut and potato salad. When ordering, customers can choose how many sausages they want to be included.
Sauerbraten
It consists of meat, potatoes, carrots, leek and onion. It's a common German meal that isn't limited to just Cologne; each region has its own little twist on the recipe.
The meat in the Rhineland, where Cologne is situated, for example, is marinated several days with vinegar, water and spices & herbs. The sauce served with it has a sweet and sour taste originating from its base of grapes.
Himmel a Ääd
It's the name of a famous sausage, which is made from finely ground beef and pork. It's also called "black pudding," and it originated in Germany. Fried onion and mashed potatoes with apple sauce are served with it, as well as black pudding, a type of sausage.
Sausages made from blood and pig intestine, known as black pudding, are a type of sausage commonly found in different local German dishes. To enrich the flavor, various ingredients, such as potatoes or onions are often added.
Its components, apples from the tree and potatoes from the ground, give it its name: "heaven and earth."
Spatzle
There are many variations of spatzle, but they all generally involve soft wheat flour, eggs and water. Cheese spatzle and spinach spatzle are two popular versions, but there are many others. 
Spatzle originated in southern Germany but has since spread to other regions such as Alsace, Switzerland and Trentino Alto Adige. Each region has its own take on the dish now, with different variants popping up all over the place.
Alpine dishes are definitely worth trying at the Servus Cologne, one of Cologne's most famous restaurants. Their "Kasespatzle aus der Schmiedepfanne", or cheese noodles with grilled onions, is mouthwatering.
Flönz
This product is typified by the city and is a Carnival classic. It's a black sausage that, traditionally, should be eaten fresh--not dry or long-lasting as sausages from southern Germany typically are.
The dish is often served with mashed potatoes, onions or vegetables. The basis of many recipes, Flönz is a type of blood sausage that is popular in Cologne, Germany. It may be misleading to name the dish "caviar" as they are not fish eggs but thinly sliced onions; however, the traditional recipe has been passed down for generations.
Pretzel 
True German gastronomy at its finest— you can find pretzels everywhere in Germany! These delicious Laugenbretzel (or Breze) are a must-try when visiting the country.
The bread consists of soft, braided dough made from flour, yeast, malt, and water. It is then covered with coarse salt and sesame seeds.
This particular shape of bread dates back to the 7th century when monks used to prepare them in convents. The three holes in the bread were created to recall the Father, Son, and Holy Spirit Trinity. Even if you're not religious, these hearty snacks are delicious and will tide you over until your next meal.
Suppe
Germany's food culture is world-renowned, and its soup game is no exception. Often served as a starter before the main course of meat, German soups are hearty and perfect for warming up on cold winter days. With so many different kinds of soup to choose from, you're sure to find one (or several) that you love!
The Leberknodelsuppe, a liver dumpling soup made with dried bread, liver flour, eggs and spices cooked in beef broth is something you should try.
Currywurst
It's a street food that's extremely popular in Germany! It's ideal for grabbing a quick lunch on a busy day of sightseeing. Vendors can be found almost any time of day. The sausage is grilled and cut into pieces, then served with a sweet and sour curry sauce on top. It comes with bread, fries, and your desired sauce, which you can add if you wish.
Halve to Hann
The people of Cologne believe that cheese sandwiches are an authentic, typical dish of the area. This sandwich is easy to make and only requires one loaf of rye bread, which is cut in half. First, spread butter on the bread, then add a generous amount of cheese." It pairs well with beer and makes for a filling snack if you get hungry while sightseeing.
Kölsch beer
A must-try while in Cologne is the local beer!
For beer lovers, Germany may seem like paradise – the beverage is cheap and widely available. However, if you don't enjoy drinking beer, you will need to be patient.
This refreshing lager is brewed locally and often at the breweries where it's served. It comes in tall, narrow glasses that hold 0.20 cl so you can enjoy several sips before needing a refill - perfect for keeping your beer cold longer on hot days!
There are many ways to have a good time in Cologne's culinary landscape. Take a look at the city and enjoy what it has to offer.