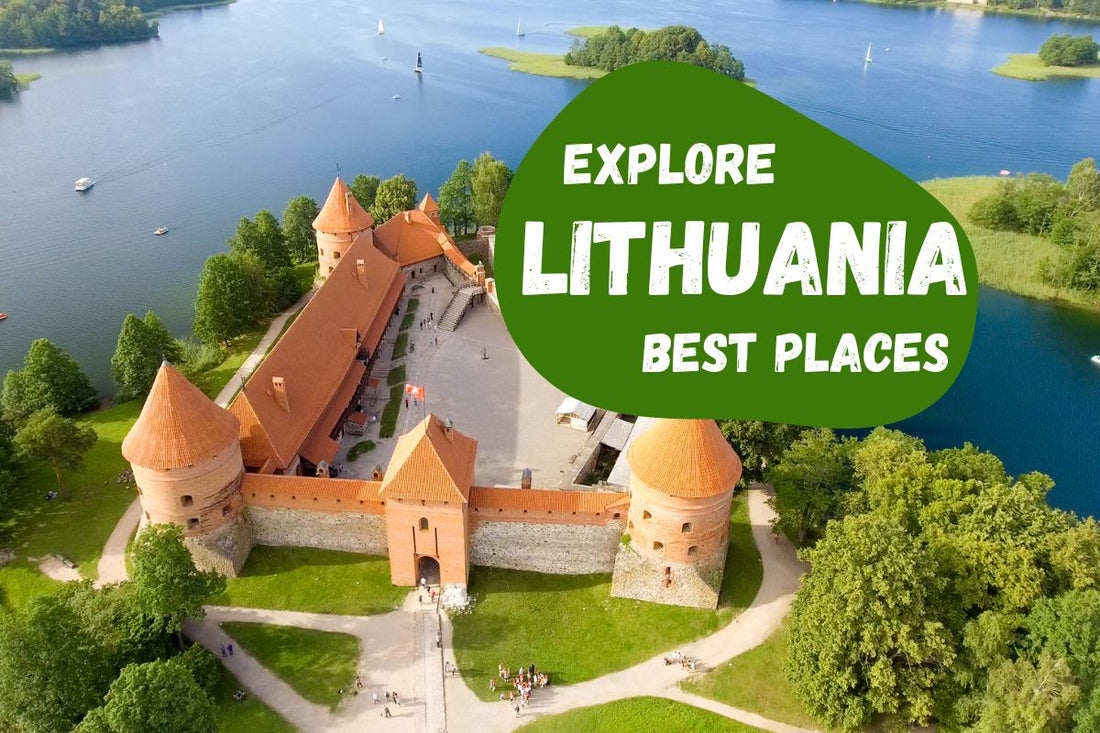 10 best places to visit in Lithuania
With alliances with Poland to the west and conflicts with Russia and Sweden, it is hardly surprising that Lithuania has so many interesting places for travelers. Find out what places to visit in Lithuania through this blog. 
Top 1 - Best places to visit in Lithuania: Kernave
UNESCO-attested Kernave is steeped in history and heritage that goes back further than many other towns in Lithuania.
It's hailed as one of the first-ever medieval capitals of the Grand Duchy, and it's thought that the golden age boom happened here in the 13th and 14th centuries, before the onslaught of the Teutonic Order came and razed the fortifications and keeps.
Today, travelers who make their way to the archaeological reserves lining the meanders of the Neris River can spy out mounds (literally!) of relics, now clad in the earth but concealing layer upon layer of bulwarks and burial sites, throne rooms, and more, and tracing back to the late Palaeolithic Period no less!
Top 1. Kernave
Top 2 - Best places to visit in Lithuania: Neringa
A patchwork of pine forests, grassland, dunes, and sandy beaches that curves across the Baltic Coast and towards the exclave of Kaliningrad is one of the most coveted destinations. 
There are a lot of outdoor activities to do in the area, including biking, hiking, windsurfing, fishing, and the sun-warmed resort strips of Nida and Pervalka. 
A cottage owned by Thomas Mann and various artist workshops and galleries sprang up here as the Germans fled in the 1800s.
Top 2. Neringa
Top 3 - Best places to visit in Lithuania: Dzukija National Park
The national park is located in the southeastern part of the country near the border with Belarus. 
It is adorned with pine forests and wetlands, all of which can be accessed from the channels of the Nemunas River. 
Inland dunes are a great place to visit, rising and falling to sandy peaks and troughs and playing host to a kaleidoscope of grass and rock formations. 
Mushrooms bloom in the undergrowth, and traditional waxwork crafting is found in rural villages on treks deep into the woods.
Top 4 - Best places to visit in Lithuania: Trakai
There islets and grassy hills, shimmering waters, and rolling flowers in Trakai. It's located close to the capital at Vilnius and draws a lot of travelers and locals during the year. 
A lot of people wonder at the Lord of the Rings-inspired castle that is the center of the Trakai Historical National Park because of the red-brick keeps and turrets that can be seen against the lake waters. 
The large lakes Akmena, Galve, and Skaistis and their banks provide the setting for the summertime recreation that others come for. A Turkic tribe in the Karaim community uses a pretty timber synagogue that you can see on-site.
Top 5 - Best places to visit in Lithuania: Panevezys
The fifth-largest cityscape in Lithuania can be found on the rolling floodplains of the Nevezis River. 
The Industrial Revolution and the European conflicts of the 20th century devastated the city, which was once a royal charter town. 
Some remnants of pre-war elegance still exist, whether in the style of the city cathedral or the lines of cottages that once stood in the middle of the blocks.
Top 6 - Best places to visit in Lithuania: Siauliai
The Hill of Crosses is located north of the town proper, and attracts many people who flock to it. 
This off-the-beaten-track center is home to many pretty tree lined streets, a buzzing cafe culture, and a beautiful local cathedral with eye-catching whitewashed faces and a spiked tower. 
The town's Bicycle Museum and Radio and TV tech institute are located in Povilas Visinskis Square, so be sure to stop and view the strange and offbeat exhibitions they offer.
Top 7. Vilnius
The capital city of the Grand Duchy is a UNESCO World Heritage site, with gorgeous Gothic and Baroque architecture. 
In the Old Town, cobbled roads weave under the buttresses of the beautiful St Anne's Church, over the plazas, and under the Gediminas Keep and Upper Castle citadel, which dates from the 13th century. 
The new town contains blocks of beer bars, sleepless rock clubs, and a place called the "Republic of Uzupis", a place of shabby-chic, graffiti-strewn streets and more drinking joints than you can count.
Top 8. Kaunas
Kaunas, is the second-largest city in Lithuania and home to an eclectic mix of charming Old Town alleyways lined with churches that date back centuries ago, as well as bistros serving creative drinks like multigrain cocktails for those who want something more than just beer or wine. 
Nightlife here flows freely from Laisves Aleja Street toward downtown, where Students Pack Her In. Sometimes literally if they're out on their feet, but most often metaphorically because plenty is happening all around town.
Top 9. Rumsiskes
The town of Rumsiskes, which is surrounded by the old forest and has been home to many centuries worth of traditions.
Unfortunately, not all hope was lost when a reservoir had its way with this beautiful piece that once upon a time stood strong against such an act. 
However, now you can enjoy museums showcasing authentic Lithuanian culture in what remains, a fascinating open-air museum filled with mysteries from across our world.
Top 9. Rumsiskes
Top 10. Palanga
Palanga has become a byword for summertime hedonism amongst Lithuanians across the country. Today, this one's high-season electro and chart parties rage from June to August on Jonas Basanavicius boulevard. 
The beach is another magnet during dog days offering perhaps Lithuania's most accessible stretch of golden Baltic sand (and sunbathing opportunities). 
There are also picturesque neo Renaissances charm in Tiskeviciai Palace, interesting Amber Museum near it, where you can learn about customs related amber jewellery found throughout Europe as well other museums like Militarg Festivals, which celebrates military traditions through music events held every three years since 2007,  providing insight into local culture.
Traveling to Palanga, a picturesque resort town on Lithuania's Baltic coast, with the assistance of Coach Hire UK Europe Limited promises an exceptional and hassle-free experience.
As you embark on your journey to Palanga, you'll be met with the comfort and convenience of modern coaches, ensuring that the scenic drive through the charming landscapes of Lithuania is a pleasure in itself.
Top 10. Palanga
As we wrap up our journey through the 10 best places to visit in Lithuania, it's clear that this Baltic gem has so much to offer to the intrepid traveler.  We hope this guide has been a valuable resource in planning your Lithuanian adventure.
>>See more: The environmental advantages of coach travel