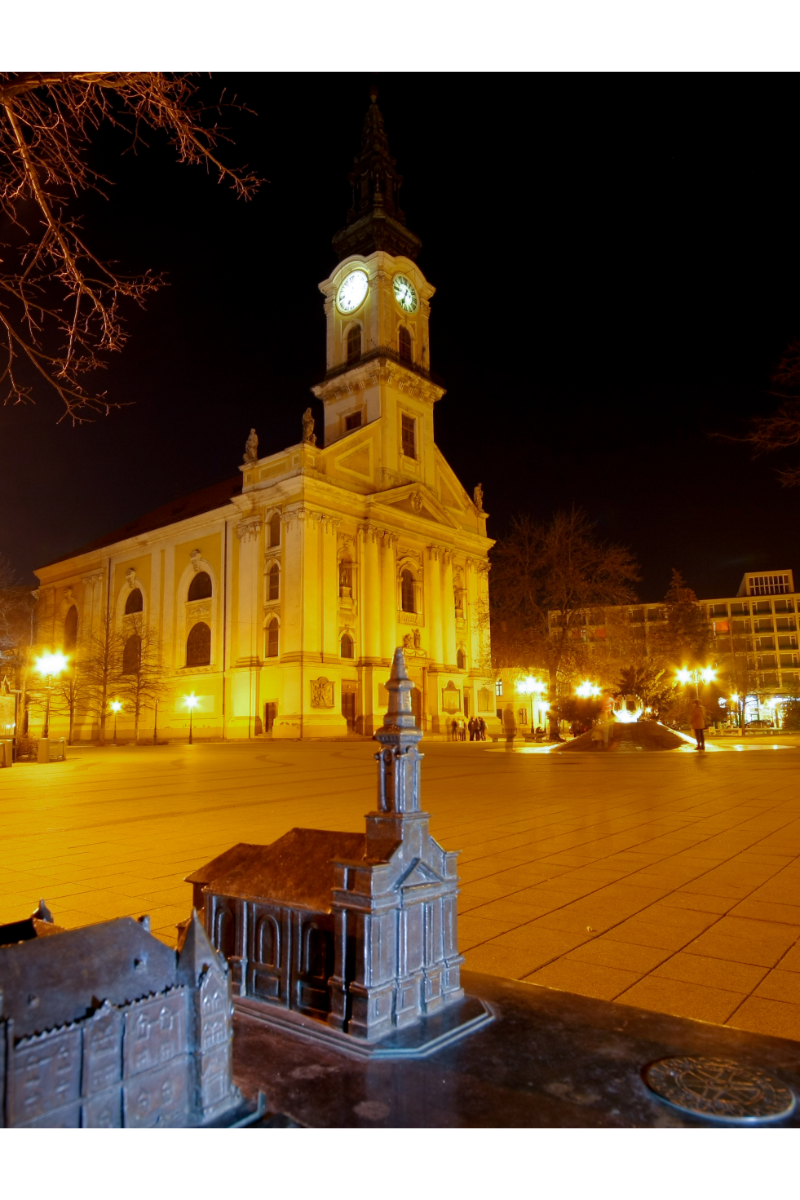 Bus rental for Kecskemét - The worthwhile gardening city to explore
Kecskemét is a city surrounded by vineyards and fruit gardens called "garden city," so why don't you come here to enjoy the freshness and fragrance of the gardens here, and while you're at it, consider arranging a bus rental for Kecskemét to explore the most beautiful architecture of any small city in Hungary? Along with its colorful art deco and separatist buildings, its museums, and the region's excellent barackpálinka (apricot wine) are also worth exploring.
Travel experience
Kecskemét is a city with county rights in central Hungary. It is the eighth-largest city in the country and the county seat of Bacs-Kiskun.
Kecskemet lies halfway between the capital Budapest and the country's third-largest city, Szeged, 86 kilometers (53 miles) from both of them and almost equal distance from the two big rivers of the country, the Danube and the Tisza. It is the northern of two centers of the Hungarian Southern Great Plain (Hungarian: Dél-Alföld) region (comprising the three counties Bacs-Kiskun, Békés, and Csongrád); the southern center is Szeged, the seat of Csongrád county. The city has a population of 106,200 people.
What vehicle can you use to transfer to Kecskemét?
By air
From Budapest Ferihegy's Airport, Kecskemét can be reached in 58 minutes by train from the recently opened Ferihegy train station near station 1 (from station 2 you can catch a bus (12 min., 300 ft (about 1.20€ or 1.85$) to the train station).
Trains from Budapest usually stop at Ferihegy station at exactly noon and move on to Kecskemét at 10 minutes before the next hour. The official ticket price for this trip is 1,350 ft (about 5.30 € or 8.30 USD).
By train
Trains from Budapest leave Nyugati Budapest station every hour, always ten minutes before each hour. The current price is 1,460 ft (5.75 € or $9) one way, booking can be purchased for an additional 520 ft (2.05 € or $3.20). The entire journey takes one hour and twenty minutes.
Trains also leave Szeged station every hour, always 42 minutes before the hour. The trip is one hour and four minutes and costs 1,350 ft (5.30€ or 8.30$).
By bus
Direct buses leave from Népliget Budapest bus station. Travel times vary between one hour and twenty minutes and two hours.
Geography
Kecskemét is a city in Hungary and the county capital of Bacs-Kiskun County, located halfway between Budapest and Szeged, almost equal distance from the country's two major rivers, the Danube and Tisza. The city is famous for its separatist architecture, and museums, and is said to be the birthplace of composer Zoltan Kodaly.
Located in the heart of Kiskunág, one of the famous regions of Hungary. The Kiskunság National Park was established in 1975 to preserve many different regional species of plants and animals. This is a "mosaic" type national park, consisting of unconnected units.
Weather for traveling
Spring or autumn are the two seasons that you should go, because the weather at this time is quite pleasant, not too hot, not too cold, very suitable for sightseeing, exploring attractive tourist attractions. in Hungary. This weather helps you fully enjoy the most beautiful views of Kecskemét with its clear sky. You can also travel in winter to experience the cold and watch the snowfall, which is also great because many beautiful places attract your eyes. Remember to bring a camera to preserve your beautiful moments.
The attractive places for Kecskemét tour
Kecskemét is famous for its majestic Art Nouveau buildings and perhaps most impressive is the Town Hall built between 1893-1897 based on designs by master architects Ödön Lechner and Gyula Pártos.
The former City Hall of Kecskemét was a Neoclassical building. By the mid-19th century, it was in very poor condition. The city council wanted to meet an old demand when it announced a design competition for a new building in 1890. Of the five entries received, the jury awarded the first prize to Ödön Lechner and Gyula Pártos for their design, which were nominated with not terrible height or depth.
In 1869 Lechner associated with Pártos and opened a construction office together. Of these, Lechner was the artist and Pártos was the entrepreneur. The building was constructed between 1893 and 1897 in the Art Nouveau style. In 1911, after an earthquake, it was restored under Lechner's control.
Between 1897 and 1996, the building hosted the City Library.
With its complex style, elements of French and Hungarian Renaissance architecture as well as contemporary English architecture are unified and the decoration is based on Hungarian folk art motifs.
Mosaic tiles and roofing tiles are produced by the Zsolnay factory in Pécs. The ceremonial hall is where City General Assembly meetings, domestic and international conferences, weddings, and receptions take place. The antique furniture of the Ceremony Room is a work of craftsmanship.
Co-Cathedral of the Ascension of the Lord, Kecskemét
The Co-Cathedral of the Ascension of the Lord also called Kecskemét Cathedral is a religious building affiliated with the Catholic Church located in the city of Kecskemét, Hungary, serving as the Co-Cathedral or alternate cathedral of the Archdiocese of Kalocsa-Kecskemét. It is dedicated to the Ascension of Christ.
The church was built between 1774 and 1806 in the Baroque style and remains the largest church in the Pannonian Plain. The original design corresponds to Gáspár Osvald, but the construction management was entrusted to Balthasar Fischer. Already in 1819 the tower of the church burned down and had to be renewed until 1863 then receiving its current form.
Bus rental for Kecskemét, how?
MBS 87 with many benefits for you in renting a car or booking a tour, we guarantee you the reputation of reasonable prices as well as promotions taking place on special occasions to help you have a cheap and quality trip. Our drivers and fleet are fully qualified to meet safety and environmental protection needs. With a trip to Bus rental for Kecskemét. We have bus companies that supply the bus rental Budapest and coach rental Hungary services in Hungary.
Plan your trip to Kecskemét today and immerse yourself in the beauty of this garden city. Whether you choose to arrive by air, train, or bus, there are convenient options to reach this enchanting destination. Explore the city's stunning architecture, visit museums, savor the local barackpálinka, and don't forget to consider a bus rental for Kecskemét through MBS 87 for a safe and affordable journey. Discover the hidden gems of this Hungarian gem and capture unforgettable moments in this picturesque city.
>> See more: Bus rental for Nyíregyháza