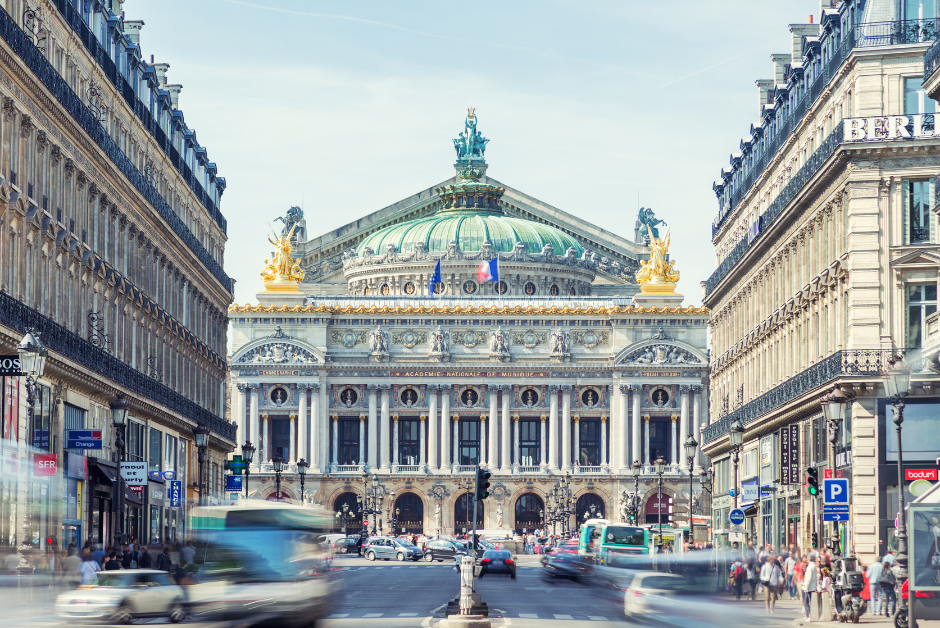 Palais Garnier - Explore the famous Opera House in Paris
Palais Garnier is a famous opera house with nearly 2,000 seats, built over 10 years for the Paris Opera and Paris Opera Ballet. Initially, the opera housewas called Salle des Capucines, because of its location on Avenue des Capucines in District 9, Paris. However, later, the opera house was renamed Opera House Garnier to recognize its elegance and at the same time, honor the building's architect, Charles Garnier. Let's explore this famous Opera house together.
Architecture of Palais Garnier
Opera house Garinier is the largest theater in Europe, 173 m long, 125 m wide and has an area of nearly 12 thousand square meters. With a design typical of ancient aristocrats, the Palais Garnier theater possesses lavish and expensive halls. The theater was built in the style of "Napoléon III", boldly "eclectic" and borrowed many historical elements. 
In addition, the architect of the building was skillful in harmoniously combining elements from Baroque - Palladio's classicism, and Renaissance architecture. All the facades and all the interiors, there is no place that is not decorated. 
Architect Garnier used multi-color decoration, along with different decorative materials (marble, stone, porphyry, gold-plated copper,...) to create an overwhelming effect. For the facade, he used seventeen different types of materials, arranged them into multicolored marble reliefs and pasted them on the columns and walls, and many of them depicted the Greek god.
The exterior part
A total of fourteen painters, mosaicists and seventy-three sculptors participated in the decoration of the main south facade. When we open the main door, we can see along l'Opéra Avenue. Charles Gumery's two prominent statues of L'Harmonie and La Poésie are made of gilded bronze and atop the left and right columns of the façade. 
In addition, the facade is also decorated with many prestigious works of art and bronze busts of many great composers, such as Rossini, Auber, Beethoven, Mozart,...
Stage truss system
The group statue of Apollo, Gumery Poetry, Gumery Harmony is located at the southern peak of the stage system, and is a work of art by Aimé Millet. Next to it, two smaller bronze statues of Pegasus are the work of Eugène-Louis Lequesne.
Pavillon de l'Empereur
Also known as the Emperor's Arch, the Pavillon de l'Empereur is a series of rooms located on the west side of the building and designed to welcome the Emperor. When the empire collapsed, construction stopped and the project was abandoned. 
Currently, this is where the library is located with nearly 600,000 documents, 100,000 books, nearly 2,000 magazines, 10,000 programs,... costume and stage sketches, posters and other papers. administration in history.
Pavillon des Abonnés
Also known as the Registrar's Hall, is located on the East side of the building, opposite the Emperor's Hall. The suites here are designed to allow those who register or reserve tickets in advance to go directly by their vehicle inside the building. The dome in this area has a 13.5 meter kings line, with two memorials on both sides to mark the entrance to the hall on the North and South.
Interior of Palais Garnier
Filled with velvet and gold pewter, along with decorations reminiscent of angels and beauties, the interior of the opera house Palais Garnier is characterized by lavish Baroque style. 
Stair 
This building owns a grand staircase made of white marble with red and blue marble balustrades. The steps are decorated with images of dancers carrying torches, a work of art by Alber-Ernest Carrier-Belleuse. The paintings on the stairs were painted by the famous Isidore Pils. 
Hall 
The splendid lobby was originally designed as a drawing room for Parisians. The lobby's ceiling is painted by Paul-Jacques-Aimé Baudry depicting different moments in music history. The end of the hall opens into a corridor and at both ends are two octagonal salons. An Eastern Salon has its ceiling painted by Jules-Élie Delaunay, a Western Salon has its ceiling painted by Félix-Joseph Barrias. 
Auditorium 
The theater auditorium has a traditional Italian horseshoe shape. The 7-ton bronze and crystal chandelier was also designed by the architect Garnier, then modeled by Jules Corboz, Lacarière and Delatour with Cie cast and carved. 
In 1896, a counterweight part of the lamp broke and the crystal chandelier broke the ceiling and fell into the auditorium. This incident inspired a famous scene at the end of Gaston Leroux's classic 1910 gothic novel, "The Phantom of the Opera''.
The large organ was built by Aristide Cavaillé-Coll for use in a number of works, and has been out of use for decades.
Restaurant
Garnier originally planned to put a restaurant inside the opera house. And through years of effort, finally, a restaurant on the east side of the theater was opened in 2011, restaurant L'Opéra. The restaurant has 3 different spaces and one is an outdoor terrace space.
A ticket to enjoy music at Palais Garnier 
If you want to immerse yourself in the melodious melodies at this theater, you should buy tickets in advance, this will help save time and avoid sold out tickets. And you should be on time for the show to start, or the manager will refuse to let you in. 
Since the Opera house Garinier was built a long time ago, it may not have as many conveniences and comforts as more recent constructions. Therefore, you should wear comfortable and simple clothes, bring a hand fan and binoculars if your seat is quite far from the stage. In addition, some other small notes include no smoking, no eating or drinking in the auditorium, no filming or taking photos,... 
After enjoying a concert, you can continue your journey to other wonderful places right in the city of Paris such as the Eiffel Tower, Versailles castle, Nimes city, Notre Dame Cathedral, ...
A tour to explore the Palais Garnier
Palais Garnier Opera House is always on the list of "places to visit when traveling in Paris" of most tourists. When you reach Paris, this opera house is just a walk away. If you are still wondering how to get started and what to do when you arrive in Paris, then don't hesitate to contact MBS87. 
With our headquarters located in Paris, we understand this place very well and it is very easy to arrange tours and journeys to anywhere in Europe, not just Paris. In addition, customers who come to us can experience many interesting and diverse fun activities, combined with sightseeing and practical experiences, learning about local culture. 
We also provide bus rental services in Paris and mini bus hire in France and other cities in European Union countries. Besides, we have branches all over Europe. So, wherever you are, we are ready to welcome you warmly and sincerely. Hope to see you on your upcoming adventures.
>> Read more: Orsay Museum