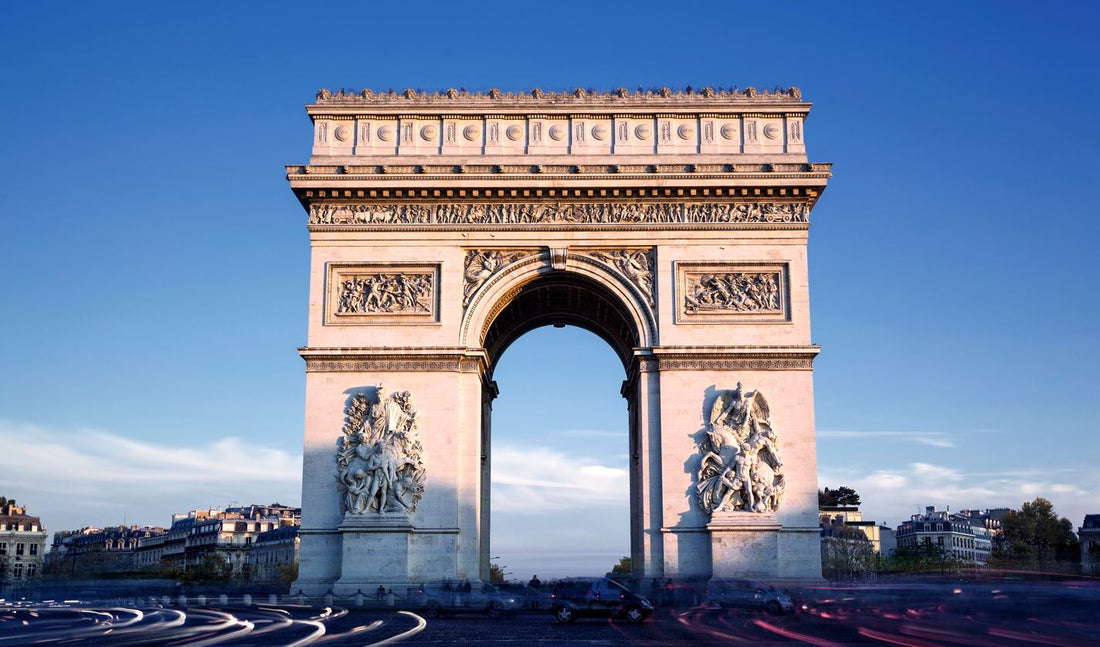 Exploring Paris with Ease: Arc de Triomphe and Bus Rentals from Paris
When it comes to iconic landmarks in Paris, the Arc de Triomphe stands tall, both literally and figuratively. This awe-inspiring monument holds a special place in the hearts of Parisians and visitors alike. In this article, we will delve into why choosing to visit the Arc de Triomphe is a must during your trip to the City of Love.
Why Choose to Visit Arc de Triomphe?
The Arc de Triomphe, built in the early 19th century, is a symbol of France's rich history and a testament to the country's resilience. It was commissioned by Napoleon Bonaparte to honor the French army's victories, and its significance still resonates today.
The Historical Significance of Arc de Triomphe
To truly appreciate this magnificent structure, it's essential to understand its historical importance. The Arc de Triomphe is not merely an arch; it's a symbol of triumph, unity, and national pride. It stands as a reminder of France's victorious past and its enduring spirit.
Arc de Triomphe: Must-See Attractions
When you arrive at the Arc de Triomphe, you'll find yourself standing before an extraordinary symbol of French history and pride. This iconic arch is not just a remarkable piece of architecture; it's a testament to the triumphs and sacrifices of a nation.
Exploring the Architecture and Design:

Dive into the intricate details of the Arc de Triomphe's design and architecture. Discover the challenges faced by the architects and builders as they worked tirelessly to create this monumental structure. The meticulous craftsmanship and artistic elements that adorn the arch make it a true marvel to behold.
Historical Background:

The historical background of the Arc de Triomphe's construction is a captivating story in itself. Learn about the visionaries who conceived this grand monument and the tumultuous times during which it was built. Gain a deeper understanding of the events that shaped its purpose and significance in French history.
The Eternal Flame and Tomb of the Unknown Soldier:

As you approach the Arc, you'll encounter the Eternal Flame, a solemn tribute to the soldiers who made the ultimate sacrifice for France. Explore the profound meaning and history behind this powerful symbol of remembrance. It's a moment to reflect on the bravery and resilience of those who defended their country.
Panoramic Terrace Views:

Take an exhilarating journey to the panoramic terrace atop the Arc de Triomphe. From this vantage point, you'll be treated to awe-inspiring views of Paris that stretch as far as the eye can see. Capture the city's beauty from a whole new perspective and create lasting memories with your camera.
Arc de Triomphe Museum:

Inside the monument, you'll find the Arc de Triomphe Museum, a treasure trove of exhibits and artifacts that provide further insights into its history. Explore the intriguing displays that shed light on the evolution and cultural significance of this iconic landmark. Immerse yourself in the stories and relics that have shaped its identity throughout the ages.
Best Things to Try
Your visit to the Arc de Triomphe wouldn't be complete without immersing yourself in these unforgettable highlights.
Climbing to the Top for Spectacular Views:

Make sure to ascend to the top of the Arc de Triomphe for a bird's-eye view of Paris that will leave you in awe. The panoramic vistas from this vantage point are nothing short of spectacular, providing a unique perspective on the city's iconic landmarks.
Witnessing the Impressive Arch from Below:

Standing beneath the massive arch is an experience in itself. Marvel at the sheer size and grandeur of this architectural masterpiece. The intricate details and craftsmanship that adorn the arch are truly awe-inspiring and offer a deeper appreciation for its historical significance.
Paying Respect at the Tomb of the Unknown Soldier:

Take a moment to pay your respects at the Tomb of the Unknown Soldier, a solemn and moving experience. This tribute serves as a poignant reminder of the sacrifices made by brave soldiers for the cause of freedom. It's a moment of reflection and gratitude.
Exploring the Surrounding Champs-Élysées:

After your visit to the Arc de Triomphe, take a leisurely stroll down the world-famous Champs-Élysées. This iconic avenue offers not only excellent shopping opportunities but also a chance to soak in the vibrant atmosphere of Paris. Explore high-end boutiques, stylish cafes, and world-class restaurants along this historic street.

Shopping and Dining Opportunities:

The Champs-Élysées is a shopper's paradise, with a wealth of high-end boutiques to explore. Additionally, you'll find an array of stylish cafes and world-class restaurants where you can savor delicious French cuisine and indulge in some well-deserved relaxation.
Street Performers and Entertainment:

The Champs-Élysées often comes alive with street performers and entertainment, adding to the lively ambiance of this iconic street. Enjoy impromptu shows and artistic displays that further enhance your experience as you explore this famous avenue.
Renting a Bus from Paris to Arc de Triomphe
Visiting the Arc de Triomphe is a rewarding experience, but getting there can be a logistical challenge, especially if you're traveling with a group. That's where renting a bus from Paris to the Arc de Triomphe becomes a convenient choice.
The Benefits of Renting a Bus
Saving Time:

Navigating the bustling streets of Paris can be time-consuming, and finding parking near the Arc de Triomphe can be a nightmare. Renting a bus eliminates these concerns, allowing you to focus on enjoying your visit.
Convenience for Large Groups:

If you're traveling with a large group, coordinating multiple transportation options can be chaotic. A bus provides a comfortable and unified way for everyone to reach the Arc de Triomphe together.
Cost Savings:

Surprisingly, renting a bus can be cost-effective when compared to individual transportation options. It can save you money on parking fees, public transportation fares, and the hassle of arranging multiple taxis or rideshares.
Selecting a Reliable Bus Rental Service
When choosing a coach rental France service, there are several factors to consider to ensure a smooth journey to the Arc de Triomphe.
Checking Fleet and Drivers:

Make sure the rental company has a well-maintained fleet of buses and experienced drivers who are familiar with the Parisian traffic.
Comparing Prices and Services:

Compare prices, services, and packages to find the one that best suits your needs.
Customer Reviews and Feedback:

Reading reviews and feedback from previous customers can provide valuable insights into the reliability and quality
MBS 87 Business & Travel - Elevate Your Journey with the best bus price
Speedy Quotes in Just 12 Hours
Say goodbye to waiting! Expect a prompt and precise travel quote from MBS 87 within a mere 12 hours. Our dedicated team is always at your service. For questions or a complimentary consultation, reach out to us directly.
Tailor-Made Tours for Every Occasion
At MBS 87, we specialize in catering to diverse groups, whether it's seniors, business travelers, students, tourists, wedding parties, family gatherings, or sports events. Thanks to our strong ties with reliable suppliers, we guarantee quick responses and competitive rates, all customized to your needs.
Unbeatable Market Prices
Enjoy the simplicity of dealing with a single travel contact and transparent pricing, all in Euros to spare you currency exchange concerns.
Unveil Authentic Local Insights
Our extensive network of suppliers across Europe grants us access to genuine, local perspectives on current travel trends. Get ready for immersive journeys filled with unforgettable experiences.
In conclusion, the Arc de Triomphe is not just an architectural marvel; it's a symbol of France's enduring spirit and a tribute to its history. Rent a coach Paris with MBS 87 now for your visit ensures a hassle-free experience, allowing you to explore this iconic monument and the surrounding attractions with ease and the best price.
>> Read more other spiritual place near Paris: Sacre-Cœur Basilica