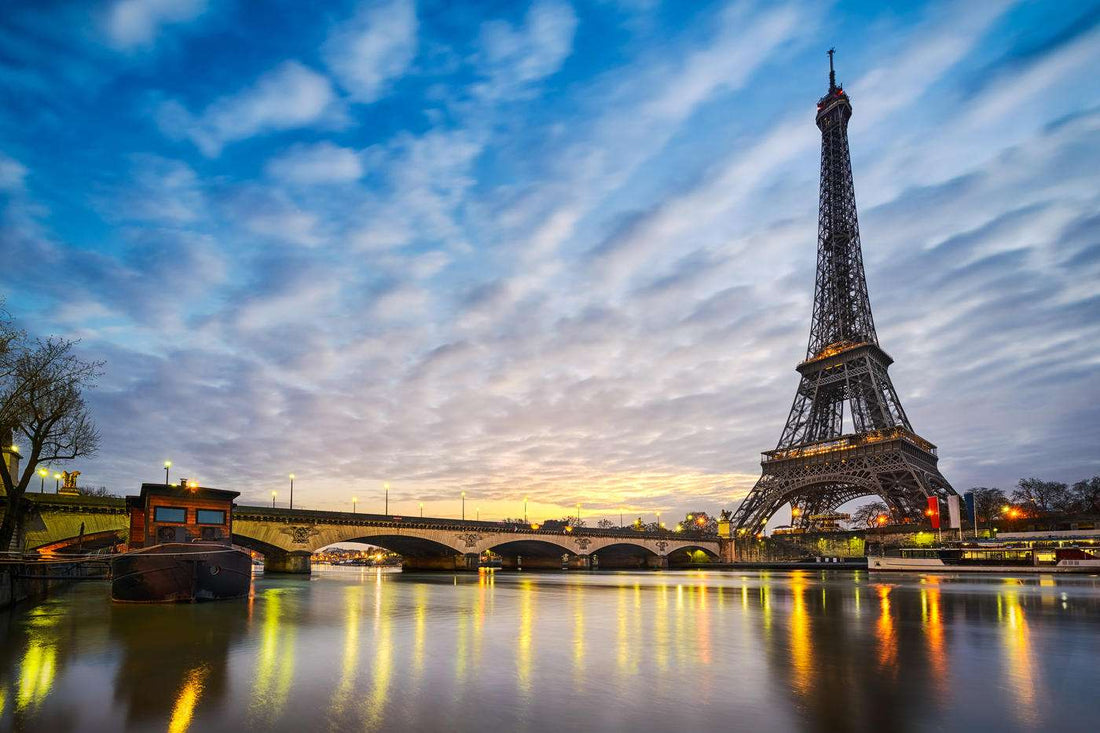 Detailed itinerary for 2 days in Paris on a budget
Paris is one of the cities that many tourists love and always promise to visit again and again. This place not only has beautiful scenery and world-class museums, but also has a lot of delicious food. If you are planning 2 days in Paris and want to visit many places, don't miss this article. We will share with you the journey of 2 days in Paris on a budget to help make the most of your stay here.
What can you do for 2 days in Paris on a budget? Paris itinerary day 1
2 days in Paris on a budget itinerary: Sainte Chapelle Church
Sainte Chapelle is one of the most beautiful churches with almost floor-to-ceiling stained glass windows. There is a unique large pink glass door that leaves a deep impression on visitors. This church always makes first-time visitors overwhelmed by its massive appearance and unique architecture. This is one of France's architectural masterpieces and a place to display relics. You should come here exactly at 9am, this is the time Sainte Chapelle church is open for visitors.
2 days in Paris on a budget itinerary: Notre Dame Cathedral 
Notre Dame Cathedral in Paris is one of the most famous architectural works in France. This church is near Sainte Chapelle with two giant towers and majestic flying buttresses. You will see 3 large arches, along with 2 69m high bell towers. Above the balcony are scattered 28 Kings Gallery statues with many delicate sculptures and carvings. It is one of the iconic locations of Paris and one of the most famous churches in the world. Therefore, with
2 days in Paris on a budget
you absolutely should not miss this place.
2 days in Paris on a budget itinerary: Louvre Museum
It will only take you 20 minutes to walk from Notre Dame Cathedral to the Louvre museum. This is home to the largest and most visited art gallery in the world. Many tourists come here to spend a lot of time admiring the beauty of Mona Lisa. You can spend a whole day or more exploring the Louvre, but your remaining time in Paris will be limited. So limit yourself to 2 or 3 hours of sightseeing here.
2 days in Paris on a budget itinerary: Eiffel tower
During their 2 day trip to Paris, you must definitely visit the Eiffel Tower. There are many ways you can experience the Eiffel Tower such as viewing it from the Trocadero, on the opposite bank of the Seine. Or see the tower from Champ de Mars park at sunset.
You can prepare a picnic, sit outside to admire the scenery and enjoy a glass of wine with your loved ones here. You should book a ticket in advance to climb the Eiffel Tower, this is something worth experiencing that everyone should do when coming to this beautiful country.
Arc de Triomphe Carrousel
The Arc de Triomphe is one of the locations for 2 days in Paris on a budget not to be missed when coming to Paris. Located at the western end of the Champs Elysees walk of fame with classic dome architecture. Not only is it a French architectural work, but the Arc de Triomphe is also a historical witness to the glorious battles of the Parisians.
Arc de Triomphe Carrousel
La Concorde Square
This beautiful public square is located right at the end of the Champs-Elysees, along the Seine River. Visiting this square, you will be able to see firsthand the Egyptian Obélisque monument - an important historical relic located in a central location. Besides, don't forget to admire the two exquisitely carved fountains in the South and North with unique and delicate designs.
Explore a 2-day trip to Paris - Paris itinerary day 2
2 days in Paris on a budget itinerary: Sacre Coeur Basilica
Day 2 in Paris will start at Sacre Coeur in Montmartre. It would be remiss to mention the unique religious architecture in the French capital without mentioning the Sacre Coeur Basilica. Even Parisians love to come to this place to rest and roam.
2 days in Paris on a budget itinerary: Visit the Opera Garnier house
Don't miss the Opera Garnier when visiting Paris, this is one of the most splendid and luxurious buildings in France. Standing from a distance, visitors will be impressed with the classic architectural style, carved with famous statues such as La Danse, L'Harmonie,... For art enthusiasts, the soaring domes, The sculptures and Renaissance paintings painted on the ceiling will be something not to be missed.
2 days in Paris on a budget itinerary: Dali Museum
When in the Montmartre area, you must visit the Dali Museum. Museum with more than 300 original works of art on display. This is the only museum dedicated to the artist in France with sculptures, drawings, watercolors and more.
2 days in Paris on a budget itinerary: Dali Museum
Orsay Museum
In 2 days in Paris on a budget,From the Opera Garnier we will continue to move to another famous museum of Paris, the Orsay Museum. This museum focuses on works of art dating back to 1848. There are many works of art by Monet, Van Gogh, Cezanne and Renoir.
Watch the sunset at Tour Montparnasse
Tour Montparnasse is the second tallest skyscraper in France, from the rooftop observation deck you can see the most beautiful views of Paris. Sunset falls, the scene here is very magical, the sun goes down at the end of the horizon and the city lights begin to turn on, followed by the twinkling lights of the Eiffel Tower. A perfect sight that you definitely shouldn't miss when you see a 2 day trip to paris.
Center Pompidou
Last place on the list is 2 days in Paris on a budgetThat is the Center Pompidou. This is the place to display and annually organize about 30 of the largest contemporary art exhibitions in Europe. The museum is open until 9pm, you can visit before or after sunset at the Tour Montparnasse. Don't miss the view of Paris from the balcony.
Means of transportation for travel 2 days in paris on a budget
Only with 2 days in Paris on a budget, you can travel to tourist attractions by subway or bus. This is the easiest way to get around the capital without spending too much money. When taking the bus, you can hop on and off throughout the city and comfortably explore places such as the Eiffel Tower, Champs-Élysées, Notre Dame and the world-famous Musée du Louvre. This is the perfect choice favored by many tourists and is also the easiest way to get around the capital.
MBS 87 is a reliable partner in minibus rental Paris services as well as minibus hire in France and other countries in Europe. With many years of experience in the industry, we are now a reputable companion, providing the best experience for our customers' European travel. Please contact us immediately for advice and to bring you optimal solutions for your Paris trip.
>>See more: planning a trip to paris