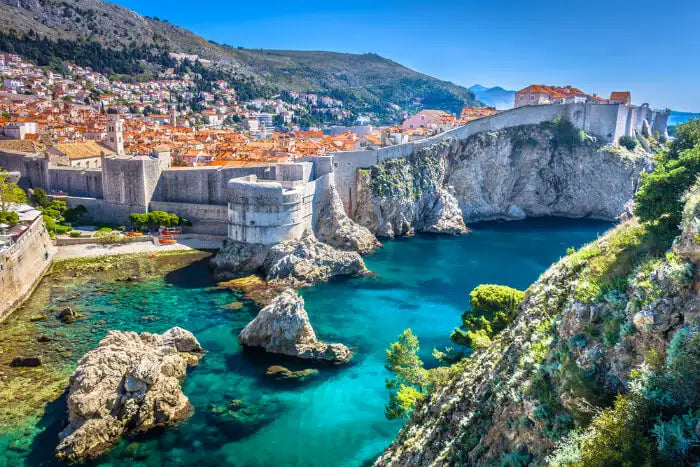 Top 10 Destinations to Travel in Europe in September
Europe offers a plethora of travel options. In this guide, we'll explore the best places to travel in Europe in September and why it's the perfect time for an autumn adventure.
September marks the beginning of autumn in Europe, bringing milder weather, fewer crowds, and a burst of fall colors. It's an ideal time to explore the continent's diverse landscapes and vibrant cities.
The Advantages of Traveling in Europe in September
Before diving into the specific destinations, let's consider the advantages of traveling to Europe in September:
Comfortable Weather
September offers pleasant weather with milder temperatures, making it an excellent time for outdoor activities and sightseeing without the scorching summer heat.
Fewer Crowds
With the summer vacation season coming to an end, popular tourist destinations tend to be less crowded in September. You can explore iconic landmarks with more ease and enjoy a quieter travel experience.
Autumn Foliage
As autumn begins, Europe's landscapes transform with vibrant fall colors. It's a beautiful time for scenic drives, hikes, and outdoor photography.
Cultural Events
Many European cities host festivals, cultural events, and local celebrations in September, providing travelers with a unique opportunity to immerse themselves in regional traditions and festivities.
Destinations for Your September European Adventure
Now, let's explore some of the top destinations to consider for your European adventure in September:
Top 1 - Destinations to travel in Europe in September: Barcelona, Spain
Barcelona is a captivating city that offers a blend of historic charm, vibrant culture, and stunning architecture. In September, you can explore iconic attractions like the Sagrada Família, Park Güell, and the Gothic Quarter without the summer crowds. Enjoy the city's lively atmosphere, dine on delicious tapas, and relax on beautiful Mediterranean beaches.
Don't Miss: Witness the mesmerizing Magic Fountain of Montjuïc, which hosts nightly light and music shows.
Top 2 - Destinations to travel in Europe in September: Santorini, Greece
Santorini is a postcard-perfect destination known for its stunning sunsets, whitewashed buildings, and crystal-clear waters. In September, the weather is still warm, and you can enjoy the island's beauty without the peak summer crowds. Visit the charming villages of Oia and Fira, relax on unique black sand beaches, and savor fresh Mediterranean cuisine.
Don't Miss: Take a boat tour to explore the volcanic caldera and swim in hot springs.
Top 3 - Destinations to travel in Europe in September: Amsterdam, Netherlands
Amsterdam is a city of canals, historic architecture, and artistic heritage. September brings pleasant weather for exploring the city's picturesque neighborhoods, including Jordaan and De Pijp. Visit world-class museums like the Rijksmuseum and Van Gogh Museum, and rent a bike to explore the city like a local.
Don't Miss: Stroll through the colorful blooms of Keukenhof Gardens or visit the Anne Frank House for a historical perspective.
Top 4 - Destinations to travel in Europe in September: Prague, Czech Republic
Prague, often called the "City of a Hundred Spires," offers a fairy-tale atmosphere and rich history. In September, you can explore the city's historic sites, including Prague Castle, Charles Bridge, and the Astronomical Clock, without the summer crowds. Enjoy pleasant weather and the city's unique architecture.
Don't Miss: Take a scenic boat ride along the Vltava River for picturesque views of the city.
Top 5 - Destinations to travel in Europe in September: Cinque Terre, Italy
Cinque Terre is a collection of five colorful fishing villages perched along the rugged Italian coastline. September is an ideal time to visit, with warm weather and fewer tourists. Hike along scenic trails that connect the villages, enjoy local seafood dishes, and relax on pristine beaches.
Don't Miss: Hike the famous Via dell'Amore (Lover's Lane) between Riomaggiore and Manarola for stunning coastal views.
Top 6 - Destinations to travel in Europe in September: Vienna, Austria
Vienna is a city of imperial palaces, classical music, and cultural heritage. In September, you can enjoy the city's grandeur and visit attractions like Schönbrunn Palace and St. Stephen's Cathedral without the summer heat. Attend classical concerts and savor traditional Viennese pastries in charming coffeehouses.
Don't Miss: Explore Belvedere Palace, which houses a remarkable collection of Austrian art, including Gustav Klimt's "The Kiss."
Top 7 - Destinations to travel in Europe in September: Edinburgh, Scotland
Edinburgh is a city steeped in history, with stunning architecture and a vibrant arts scene. In September, you can explore Edinburgh Castle, hike up Arthur's Seat for panoramic views, and stroll along the Royal Mile without the summer crowds. The city comes alive with cultural events and festivals.
Don't Miss: Experience the Royal Edinburgh Military Tattoo, a spectacular showcase of music, dance, and military pageantry.
Top 8. Lisbon, Portugal
Lisbon is a city of historic neighborhoods, colorful tiles, and vibrant street life. In September, the city's mild weather makes it perfect for exploring the charming districts of Alfama and Bairro Alto. Enjoy panoramic views from São Jorge Castle and savor Portuguese cuisine, including fresh seafood dishes.
Don't Miss: Ride the historic Tram 28 for a scenic journey through Lisbon's historic streets.
Top 9. Dubrovnik, Croatia
Dubrovnik, often referred to as the "Pearl of the Adriatic," is known for its well-preserved medieval city walls and historic charm. In September, you can explore the Old Town, walk along the city walls, and take boat trips to nearby islands in a quieter setting.
Don't Miss: Visit Lokrum Island, a short boat ride from Dubrovnik, where you can explore botanical gardens and enjoy peaceful beaches.
Top 10. Budapest, Hungary
Budapest is a city of thermal baths, historic landmarks, and vibrant nightlife. In September, you can enjoy the warm waters of Széchenyi Thermal Bath, explore Buda Castle, and take a cruise on the Danube River to admire the city's stunning architecture.
Don't Miss: Stroll along the beautiful Andrássy Avenue and visit Heroes' Square, a symbol of Hungary's history and heritage.
Travel Tips for September in Europe
To make the most of your September adventure in Europe, here are some essential travel tips:
Book Accommodations in Advance

: September is still a popular travel month, so it's advisable to book your accommodations well in advance to secure the best options and rates.

Stay Hydrated

: Even in milder temperatures, it's essential to stay hydrated, especially if you're spending time outdoors exploring.

Pack Layers

: Bring layers of clothing to adapt to changing weather conditions. A light jacket, comfortable walking shoes, and an umbrella can be handy.

Explore Local Festivals

: Research and explore local festivals, events, and traditions in your chosen destination. These can provide unique insights into the local culture.

Learn Basic Local Phrases

: Learning a few basic local phrases can enhance your travel experience and show respect for the local culture.

Respect Local Customs

: Be aware of local customs and dress codes, especially when visiting religious sites or participating in cultural events.

Travel Insurance

: Consider purchasing travel insurance to protect your trip from unexpected events, such as flight cancellations or medical emergencies.
Traveling Europe with MBS87 Bus Tour Company
MBS87 Bus Tour Company is a great option for travelers who want to see Europe on a budget. MBS87 offers  a variety of minibus hire with driver europe, including tours to major cities, popular tourist destinations, and hidden gems. MBS87 buses are equipped with comfortable seats, air conditioning, and Wi-Fi. Plus, MBS87 offers experienced drivers who can provide you with information about the places you're visiting.
Conclusion
September is a great time to travel to Europe, with mild weather and fewer crowds. If you're looking for a convenient and affordable way to get around, consider booking a tour with MBS87. With a wide range of tours to choose from, you're sure to find the perfect tour for your needs and budget.
>>See more: must have for european travel