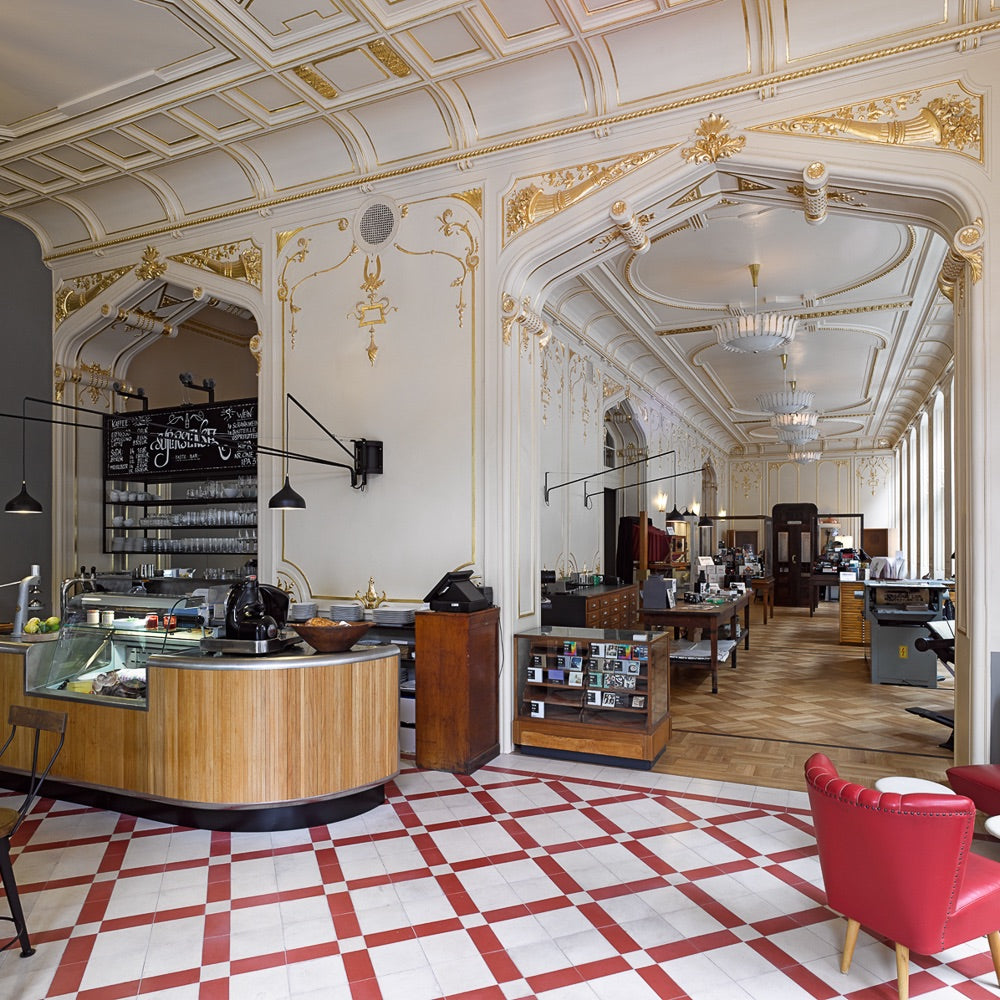 Supersense: A Curated Haven for Analog Delicacies in Vienna
Supersense is a unique concept store in Vienna, Austria that offers a curated selection of analog delicacies, from artisanal coffee and chocolate to vintage cameras and notebooks. If you are a lover of all things analog, be sure to add Supersense to your itinerary when visiting Vienn by renting a bus wien
Supersense: A Curated Haven for Analog Delicacies in Vienna
Vienna, Austria is a city steeped in history and culture, renowned for its classical music, imperial architecture, and vibrant coffeehouse scene. But for those seeking a truly unique and authentic experience, a visit to Supersense is a must.
Located on the ground floor of a Venetian palazzo hidden in the heart of the city, Supersense is a curated haven for analog delicacies, offering a diverse selection of products that embody the spirit of creativity, craftsmanship, and timeless quality.
As you step through the doors of Supersense, you are immediately greeted by a warm and inviting atmosphere. The space is thoughtfully designed to evoke a sense of wonder and discovery, with each corner showcasing a unique and captivating array of treasures.
From artisanal coffee and chocolate to vintage cameras and notebooks, Supersense offers something for everyone. Here is a closer look at some of the many analog delicacies that await you at this one-of-a-kind concept store:
Coffee of Supersense
Supersense sources its coffee from a carefully curated selection of micro-roasters around the world who share their commitment to quality and sustainability. Each coffee is roasted to perfection and freshly ground to order, ensuring that you enjoy the ultimate cup of coffee every time.
In addition to a wide variety of single-origin coffees, Supersense also offers a selection of signature blends, such as the "Analog House Blend" and the "Vienna Roast." These blends are crafted by Supersense's in-house barista team and designed to showcase the unique flavors of different coffee regions.
Chocolate
Supersense's chocolate selection is equally impressive, with a variety of bars, truffles, and other treats to choose from. All of the chocolate is made with high-quality ingredients and ethically sourced cocoa beans.
Some of the highlights of the chocolate selection include:
Bonnat Chocolatier (France): This renowned chocolatier has been crafting exquisite chocolates since 1884. Supersense offers a selection of Bonnat's signature chocolates, including the "Grand Cru" bars and the "Ganaches" truffles.

Domori (Italy): Domori is another world-renowned chocolatier known for its commitment to quality and innovation. Supersense offers a variety of Domori chocolates, including the "Cru" bars and the "Porcelana" truffles.

Zotter (Austria): Zotter is a beloved Austrian chocolate maker known for its creative and experimental flavors. Supersense offers a wide selection of Zotter chocolates, including the "Labooko" bars and the "Hands Off!" truffles.
Vintage Cameras and Notebooks
Supersense also offers a unique selection of vintage cameras and notebooks. These carefully curated items are sourced from around the world and represent a diverse range of styles and eras.
Whether you are a seasoned photographer or simply appreciate the beauty of vintage cameras, you are sure to find something to your liking at Supersense. The store also offers a variety of film and accessories, making it the perfect one-stop shop for all your analog photography needs.
The selection of vintage notebooks is equally impressive, with a variety of sizes, styles, and materials to choose from. Whether you are looking for a classic Moleskine notebook or a unique handmade journal, you are sure to find the perfect notebook for your needs at Supersense.
Other Analog Delicacies
In addition to coffee, chocolate, vintage cameras, and notebooks, Supersense also offers a variety of other analog delicacies, such as:
Fountain pens and inks

Vinyl records

Polaroid cameras and film

Typewriters and typewriter ribbons

Analog games and puzzles

Handmade soaps and perfumes

And much more!
More Than Just a Store
Supersense is more than just a store; it is a community hub for analog enthusiasts from all walks of life. The store regularly hosts workshops and events on a variety of topics, such as analog photography, coffee brewing, and calligraphy.
Supersense also has a strong commitment to sustainability and ethical sourcing. The store works with a variety of small businesses and artisans who share their values.
A Must-Visit for Analog Enthusiasts
If you are a lover of analog delights, Supersense is a must-visit destination. With its curated selection of products, welcoming atmosphere, and commitment to sustainability, Supersense is the perfect place to discover the beauty and simplicity of analog living.
Take your time. Supersense is a treasure trove of analog delights, so don't rush your visit.
Browse the shelves leisurely and discover new and exciting products that you may never have seen before. Take a moment to appreciate the craftsmanship and artistry that goes into each item. And don't be afraid to ask the knowledgeable staff for recommendations.
Here are some additional tips for making the most of your visit to Supersense:
Attend a workshop or event. Supersense regularly hosts workshops and events on a variety of topics, such as analog photography, coffee brewing, and calligraphy. These events are a great way to learn new skills and meet other analog enthusiasts.

Strike up a conversation with the staff. The staff at Supersense are passionate about analog products and are always happy to share their knowledge and recommendations. Don't be shy about asking them questions or telling them about your interests.

Take a break in the café. Supersense has a charming café where you can enjoy a cup of freshly brewed coffee or tea and a delicious snack. The café is the perfect place to relax and reflect on your findings.
If you are visiting Vienna, be sure to add Supersense to your itinerary. It is a truly unique and unforgettable experience.
Supersense by MBS87: A Hassle-Free and Extraordinary Bus Tour
Experience the best of analog Vienna with a hassle-free and extraordinary bus tour by MBS 87.Our private bus service offers convenient door-to-door transportation, carefully planned itineraries, and expert guides to bring the city's history and culture to life.
Effortlessly explore multiple attractions, including Supersense, a unique concept store that offers a curated selection of analog delicacies. Immerse yourself in the world of analog photography, vintage notebooks, and artisanal coffee and chocolate, and discover the beauty and simplicity of analog living.
Connect with fellow travelers, make lifelong memories, and experience the top-notch service of MBS87. Contact us today for a hassle-free and extraordinary bus tour at Supersense.
Book minibus hire Austria now and experience the magic of analog Vienna!
>> See more: Amalienbad