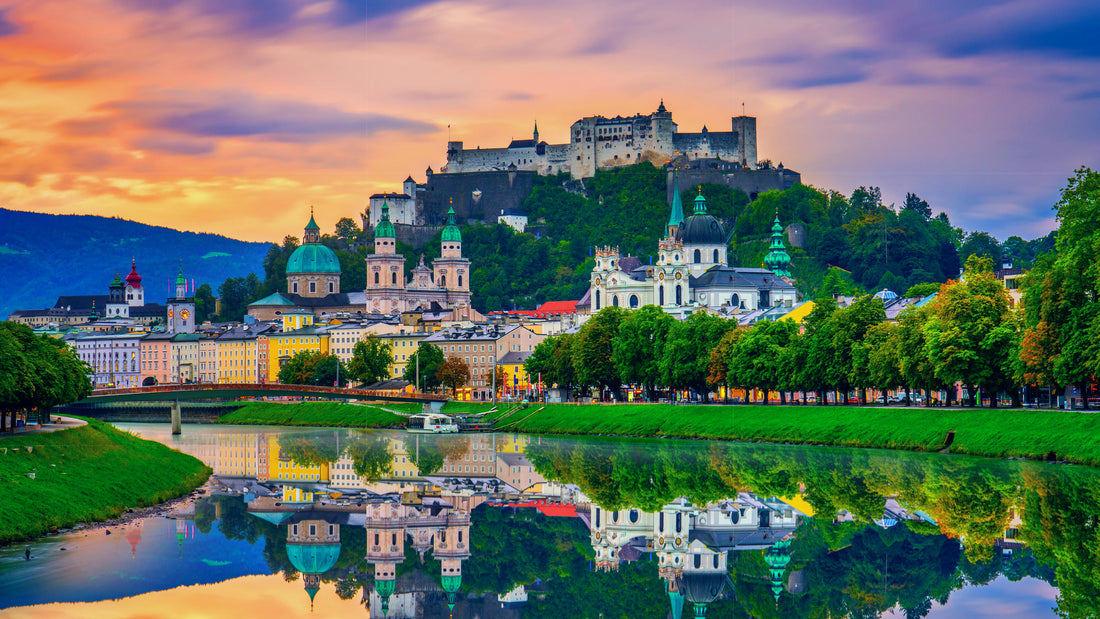 Bus Rental For Salzburg: Your Gateway to Seamless Travel
Salzburg is a charming city nestled in the heart of Austria. Situated on the banks of the Salzach River, it is renowned for its captivating beauty, historical significance, and unmatched cultural heritage. Known as the birthplace of the famous composer Wolfgang Amadeus Mozart, Salzburg offers a rich blend of history, art, and music. It's fun to enjoy the trip to Salzburg with the bus rental For Salzburg service.
Salzburg - a beautiful architecture, music, and romantic city of Austria
The city's architectural marvels are a sight to behold. The stunning 900-year-old Hohensalzburg Fortress stands tall atop the Festungsberg Mountain, offering breathtaking views of the city and the surrounding Alps. The Old Town, a UNESCO World Heritage site, boasts narrow cobblestone streets, magnificent churches, and beautifully preserved baroque buildings.
Let's make a tour bus in Salzburg to explore this wonderful city!
Famous landmarks in Salzburg
Hohensalzburg Fortress
Situated atop the Festungsberg hill, the Hohensalzburg Fortress is an imposing castle that dominates the city's skyline. This medieval marvel dates back to the 11th century and is one of the largest fully-preserved fortresses in Europe. Visitors can enjoy exploring its various sections, including the impressive Golden Chamber, the Chapel of St. George, and the Fortress Museum. The breathtaking views of the city and the surrounding mountains from the fortress's walls are simply awe-inspiring.
Mirabell Palace and Gardens
The Mirabell Palace is a Baroque masterpiece that was built in the 17th century by Archbishop Wolf Dietrich for his beloved mistress. The palace is renowned for its exquisite gardens, which feature geometrically arranged flowerbeds, statues, and charming fountains. The gardens' scenic beauty has made it a popular filming location, including the iconic scene from "The Sound of Music" where Maria and the children sing "Do-Re-Mi" on the steps.
Salzburg Cathedral
Salzburg Cathedral, also known as Salzburger Dom, is an impressive edifice that stands as the ecclesiastical heart of Salzburg. Its striking architecture combines elements of Gothic and Baroque styles. The interior is equally remarkable, with its awe-inspiring domed ceilings and exquisite artwork. Mozart, Salzburg's most famous resident, was baptized in this very cathedral, and visitors can still see the baptismal font today.
Mozarts Geburtshaus
Speaking of Mozart, a visit to his birthplace is a must for any music lover. Mozart's Geburtshaus, located on Getreidegasse - a famous shopping street - is the house where the prodigious composer was born and spent his early years. Now a museum, it showcases Mozart's life and showcases personal belongings, original scores, musical instruments, and memorabilia. It offers unique insights into the life of one of the greatest musical geniuses of all time.
Hellbrunn Palace
Escape the city center and visit the magical Hellbrunn Palace, a short distance from Salzburg. Built as a summer residence, this magnificent palace is not only renowned for its remarkable architecture but is also known for its whimsical trick fountains. These hidden water features were designed to surprise and delight guests during parties and still operate to this day. The palace's vast parkland, with its stunning gardens and charming pavilions, is perfect for a leisurely stroll.
Transportation to get to Salzburg
Transportation to get to Salzburg is no longer a luxury, as traveling to countries around the world has become commonplace for global citizens. The city of Salzburg, with its captivating beauty and rich history, attracts millions of tourists from all over the world every year.
If you're wondering how to explore Salzburg within a short period of time or have no idea what to do, fret not, because MBS87 is here to help. MBS87 specializes in providing services such as private tours and bus rental in Austria
With over 10 years of experience in European tourism, we understand each customer's needs and strive to fulfill them in the fastest and simplest way possible. Whether you want to travel with friends and family or visit specific places based on your preferences, MBS87 is the perfect companion for you.
Additionally, if you're looking to explore Salzburg without worrying about time and parking locations, renting a tour bus from MBS87 is a great option. Besides, you can take a tour with bus rental wien because we have a diverse fleet of vehicles, including standard buses, minibusses, and limousines, to accommodate any group size and travel distance.
At MBS87, we believe that affordable tours are no longer a challenge. We always adapt to the current situation and value customer opinions, offering the most suitable and budget-friendly prices.
With our headquarters in Paris and branches throughout Europe, our team of professionals is committed to delivering exceptional service. We can reach you quickly, wherever you are, to provide attentive and prompt service. Our staff is extensively trained and always ready to listen and incorporate customer feedback. We are dedicated to rectifying any errors and continuously improving our services, ensuring that our customers feel comfortable and satisfied when they choose us.
How to get to Salzburg by bus?
Hiring a coach to Salzburg becomes hassle-free when you choose MBS87. Simply hop on our coach rental service in Salzburg, and we will take you anywhere you desire, whether it's within Austria or throughout Europe.
For those residing in nearby countries who wish to visit Salzburg, MBS87 is your ideal partner. With our extensive transportation network across Europe, we can conveniently pick you up and arrange a minibus tour rental in Salzburg based on your preferences.
We are always ready to serve you, so don't hesitate to contact MBS87 today.