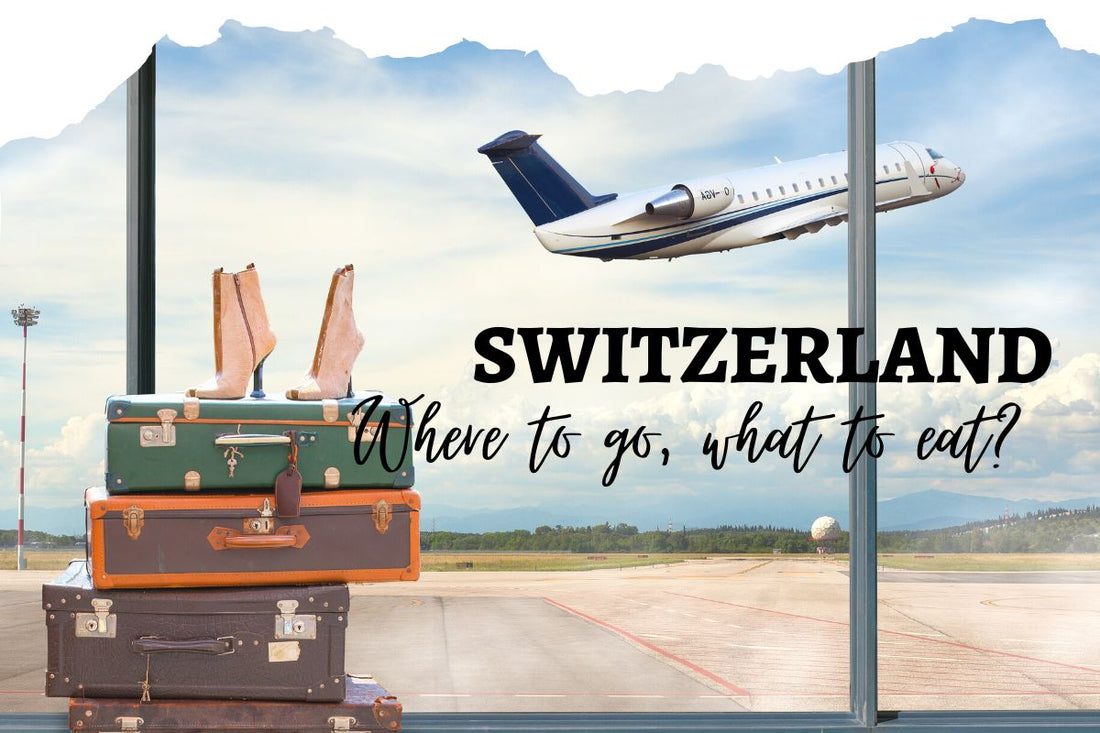 Where to go, what to eat in Switzerland: The best guide
With picturesque villages, stunning lakes and the awe-inspiring Swiss Alps in the background, it's easy to see why Switzerland is such a popular tourist destination. Check out this comprehensive travel guide for everything you need to know about planning your trip, from where to go and what to eat, to estimated costs and helpful tips.
Switzerland overview
Switzerland is full of stunning scenery, ranging from rolling hills and valleys to towering mountains and pristine lakes. It is also notoriously expensive - often cited as the most costly country in Europe. Regardless, people still find it one of the most beautiful destinations on Earth.
Switzerland is well worth a trip anytime of the year. Let's explore all the great things about this country.
Where to go in Switzerland
1. Zurich
Zurich is a stunning metropolitan situated on a lake- making it the perfect place to visit if you want breathtaking views. You can explore cathedrals, grandiose opera houses, and historic old towns. For something more relaxingly fun, take a boat ride or stroll down one of the most beautiful streets in Zurich while admiring all of the city's wonders.
Zurich
2. Lucerne
The lovely Lucerne Lake is the border to central Switzerland and is located in western Lucerne. The city combines both urban and rural lives.
Lucerne
3. Geneva
Lake Geneva, Mont Blanc, and the United Nations are only a few reasons you should visit Geneva. The third-largest city in Switzerland also boasts beautiful views and endless amounts of museums to explore.
Geneva
4. Interlaken
Interlaken is the perfect place for those who love adventure sports. From stand-up paddling to canyon swinging and biking, there's something for everyone. And don't forget to take a gondola ride!
Interlaken
5. Three White Peaks
It's such a regret if you miss Switzerland's Three White Peaks, Mount Titlis, Mount Pilatus, and Jungfrau with stunning sightseeings.
6. Montreux
Nestled on the edge of Lake Geneva, Montreux is a storybook resort town complete with a fairytale castle (Chateau de Chillo). It's the perfect destination for couples looking for romance.
7. Rhine falls
The High Rhine's largest waterfall is the Lorelei. This magnificent cascade can be found on the border between Schaffhausen and Zurich, in the High Rhine Valley. In Schaffhausen, you may also see a few more sights.​​
8. Picturesque villages
Come explore some of Switzerland's most picturesque villages, such as Grindelwald (or Glacier village), Andermatt, Spiez, and Soglio. You can also tour the Graubunden area to see houses dating back to the 13th century.
9. Lakes
There are many gorgeous lakes in Switzerland, so don't miss out on the opportunity to see them! A few of the must-sees are Lake Maggiore, Lake Constance, and Lake Lucerne.
Lakes
>> Don't miss:
What to eat in Switzerland
1. Älpermagronen
This hearty Swiss dish is a combination of macaroni pasta, potatoes, cheese and onions. It is often referred to as the Swiss version of American macaroni and cheese. You can find älpermagronen in almost every restaurant and ski resort in Switzerland. It pairs well with apple sauce.
2. Berner platte
The Berner platte is a tray of typical Swiss foods that often includes dishes like beef, smoked pork, beef tongue, etc. It's cooked with sauerkraut flavours and juniper berries and usually served with potatoes, beans, and sauerkraut as side dishes.
3. Zopf
Zopf, a well-known Swiss bread, is usually eaten on Sundays as part of breakfast or brunch. If you are to visit Switzerland, you will often see Zopf being served with jams, fruit juices and teas.
4. Rösti
Rösti, despite its simplicity, is quite delectable! Rösti is a dish made of shredded potatoes fried in butter until crisp and golden brown. Looking for something extra delicious to eat? This famous and national dish can be combined with onions, spices, cheese, vegetable broth, and more to add greater taste.
5. Chocolate
Switzerland has a reputation for making high-quality chocolate that is both world-renowned and affordable. Swiss chocolates are perfect for taking home as souvenirs for your friends and family. That is if you don't eat them all before then!
6. Cheese fondue
Cheese fondue is one of the first things that comes to mind when you think of Swiss cuisine. This dish has been enjoyed by locals and visitors for centuries, making it a staple item in Switzerland.
Fondue began in Switzerland in the eighteenth century to stretch out old cheeses and bread during the winter months, when fresh food was scarce.
Locals discovered that if they heated the cheeses with wines, garlic and seasonings, not only would the bread become easier to eat, but the flavors of all ingredients would meld together nicely.
Today, people enjoy fondue by dipping bread cubes into a communal pot (a caquelon) that is heated over a portable stove. Long-stemmed forks are used to prevent anyone from getting too close to the heat source.
7. Wine
A little-known fact is that Switzerland produces a large majority of the world's wine. Switzerland is home to several noteworthy wine regions, including Geneva, Neuchatel and Graubüden. Swiss vineyards cultivate more than 200 grape varieties.
8. Bündner Nusstorte
The Bündner Nusstorte (a Swiss nut tart or Engadiner Nusstorte), is flavourful, caramel-filled, and perfect with coffee or tea. With its traditional Geneva filling of walnuts, this dessert is doubly delicious. Who wouldn't want a slice...or two?
Estimated costs of a trip to Switzerland
Accommodation
Dormitory: 30-50 CHF/night
Budget hotels: 80-122 CHF/night
Mid-range hotels: 140-200CHF/night
Luxury rooms: 250-500 CHF/night
Airbnb: Around 35 CHF/night, whole apartments start at 70 CHF/night
Food
On average, eating at a restaurant for lunch costs around 20 CHF, but if you make your own lunch at home, it will only cost 10 to 15 CHF. If you want to have dinner at a nicer restaurant, it will typically cost around 40 CHF, but if you really want to splurge, be prepared to spend 60+ CHF.
The cost of a water bottle is around 3-6 Swiss Francs. Food expenses will average out to 45 CHF per day (assuming that, even though you are eating outside, you are still keeping track of your budget). People who cook their own meals and eat out only on special occasions will spend about 20-25 CHF/day.
Transportation
Local buses within the city cost about 2.70 to 5 CHF, Intercity trains cost around 30 to 50 CHF, Taxi fares depend on both the city and distance, costing an average of 3 to 6 CHF per kilometer. Fuel costs also differ depending on the location, averaging 1.40 to 1.60 CHF per liter.
Sightseeing
Most museums in Switzerland charge an entry fee of 10 CHF. The cost of skydiving starts at 395 CHF and is more expensive during the winter; paragliding usually costs around 150 CHF. Hiking and other activities typically cost about 70 CHF, while skiing and snowboard tickets usually fall between 30-75 CHf.
The average daily cost of traveling in Switzerland is between 120 and 140 CHF, depending on your type of lodging, outside meals, activities, and transportation.
When is the best time to visit Switzerland?
Summer time
The finest time to go is from June to August, when the temperature ranges from 18°C to 20°C.
Shoulder season
It's between September to November. The humid summer days dwindle as the weather starts to cool and the leaves begin to change color.
Winter time
It's from December to March. Although many tourists avoid visiting during this season because minimum temperatures can fall to -2 degrees, skiing adventure enthusiasts can still enjoy themselves.
April to May
The drying process is slower and the temperature drops from 7 to 17 degrees. Hiking and cable car operations begin at a slow pace. It's a good time to get great prices!
Key takeaways
For those who plan to travel by train extensively in Switzerland, the Swiss Rail Pass is an ideal option. The pass allows holders unlimited access to trains across the country and public transport in many cities, as well as discounts or free entry to some museums and cable cars. 
Most businesses accept credit cards, with a few small exceptions.
The standard European three-prong plug is used in Switzerland, which has two round prongs.
If you're looking to save some money on your vacation, cook your own meals instead of eating out at restaurants. On average, a week's worth of groceries will cost you between 75-100 CHF. The three main supermarkets in Switzerland are Migros, COOP and Spar.
In Switzerland, tap water is perfectly safe to consume. In Switzerland, buying a water bottle is a waste of money.
If you plan to spend more than a day riding the trains in Switzerland, then buy a Swiss Travel pass -- it's cost-effective. You can save money on fares by buying your train tickets online.
In Switzerland, it is neither necessary nor encouraged to tip restaurant staff. A service charge is generally included into your bill at a restaurant, and you are not required to tip.
Local chocolatiers typically have great tasting chocolate, and it will save you money to buy from them instead of a large chain.
Be mindful of the shops' hours. A lot of stores take a break in the afternoon and close pretty early at night.
Are you planning a great trip to Switzerland? Contact us now!