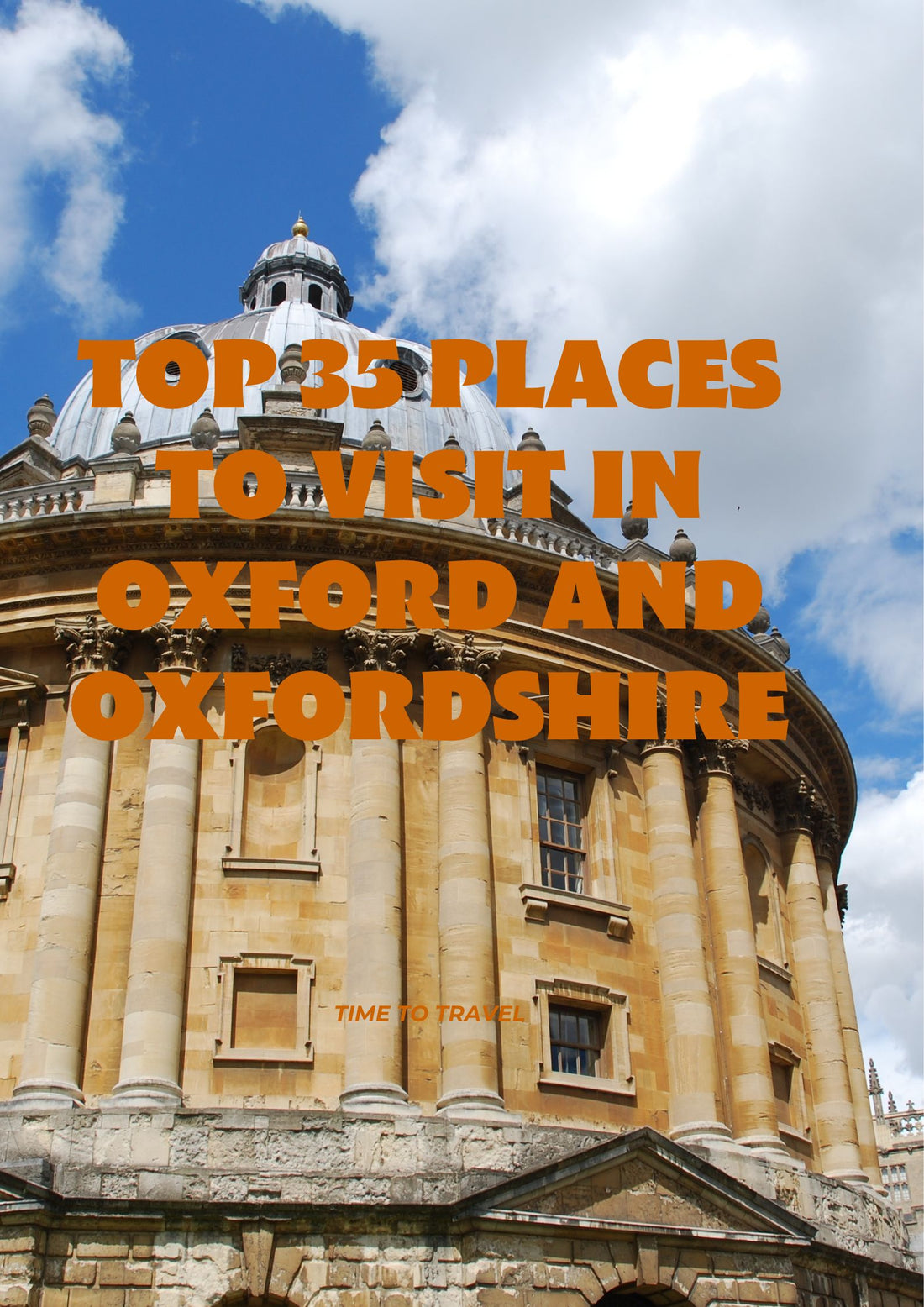 Top 35 Places to Visit in Oxford and Oxfordshire
1. Bodleian Library
As you step close to the building, you'll really feel a magical vibe, as if you were stepping into a Hogwarts library! The Bodleian library is one of the oldest in the world and it is so mesmerizing that you'd really want to spend hours just admiring the architecture. And indeed, most of the top 10 things to do in Oxford are just like that – pretty and not just on the outside! However, if you'd like to enjoy the vast collection of the library, you'd need to literally take an oath – it used to be just an oral one, but with time, it turned into a written one. This oath is, as follows:
I hereby undertake not to remove from the Library, nor to mark, deface, or injure in any way, any volume, document or other object belonging to it or in its custody; not to bring into the Library, or kindle therein, any fire or flame, and not to smoke in the Library; and I promise to obey all rules of the Library.
2. Radcliffe Camera
It's not just the Italians that are good at building duomos (domes)! The Radcliffe Camera in Oxford has one of the largest domes in the country and it is just as pretty as the Italian ones. You can only visit it with a guided tour, but even seeing it from the outside, you'll really appreciate it as one of the best things to do in Oxford.
3. Christ Church & College
We can't talk about top 10 things to do in Oxford and not mention the stunning Christ Church! It's quite a large complex, and the nearby meadow would be perfect for a picnic on a sunny day. The Tom Tower of Christ Church was actually even designed by Sir Christopher Wren, the most renowned architect in England. Christ Church is such a popular university, that among its alumni are over a dozen prime ministers, archbishops and even Lewis Carroll!
If you're a Harry Potter fan – the Great Hall was a huge inspiration for the dining hall in the movies! And not just that – it even inspired similar halls in Harvard and Cornell. If you're looking for more curious Harry Potter sights, check out my post on nerdy things to see in London. You can also explore all of the Harry Potter sights in Oxford via a guided tour!
4. Bridge of Sighs
It's not just Venice that has a Bridge of Sighs – Oxford does too (and even Cambridge, to be precise)! If you're a student of Hertford, chances are that you'll be crossing it every day <3 However, it was never intended for this Bridge of Sighs to be similar to the one in Venice. In fact, it's actually more similar to Rialto in Venice than the Venetian Bridge of Sighs! You'll find this best thing to do in Oxford right at the heart of the city – next to the Bodleian Library.
5. The Sheldonian Theatre
The Sheldonian Theatre absolutely made me want to be a student again! This gorgeous building is only open for special events – concerts and graduation ceremonies. If you're an Oxford student, you'll visit it twice – for the acceptance ceremony and for your graduation one.
The theatre was, too, built by Sir Christopher Wren. It got its name from the Archbishop of Canterbury – Gilbert Sheldon, chancellor of the university and sponsor of the building.
6. Merton College Chapel
The Merton College Chapel is one of the best things to do in Oxford that you shouldn't skip! It's a Gothic 13th century church that is pretty inside an out, so step inside and you won't regret it <3
7. Magdalen College
In my opinion, after Christ Church, the Magdalen College has the prettiest buildings in the city! When looking for places to see in Oxford and it popped up, I was really excited to see it in person when scrolling through all the pretty pictures. No wonder it's also one of the wealthiest universities in Oxford – the financial endowment for 2018 was £273.2 million!
8. Ashmolean Museum
We can't skip the world's first university museum in the top 10 things to see in Oxford! It has a few floors with different curious exhibitions. On the lower ground floor, you'll find textiles, money, reading and writing historical objects, while the ground floor holds pieces from many different ancient cultures – Greece, Egypt, China. If you're looking to explore the Mediterranean – go to the first floor, and Western cultural pieces from Japan and China are on the second floor. The Ashmolean museum's opened a contemporary art floor – the third floor, in 2011.
The museum is open every day from 10am to 5pm and the admission is free!
9. University Church of St Mary the Virgin
This Gothic church with a baroque porch is proclaimed by historians as one of the most beautiful in all of England. And no wonder – it is a truly breathtaking place to visit in Oxford! You can even climb the tower for just £4 and enjoy the spectacular view from above <3 The steps are just 127, so not that many, especially as compared to Florence's towers with steep 300+ steps.
10. University College
This is actually the oldest college of the University of Oxford! Some of its most prominent alumni include Bill Clinton and Stephen Hawking! 🙂 
Fun Things to Do in Oxford
11. The Round Tower of Balliol College
The lovely Balliol College has one of the cutest towers I've ever seen – as I call it, the Rapunzel tower 🙂 It's right at the heart of the city, so you wouldn't be able to miss it even if you wanted to. It's also close to a parking space in the middle of the street.
12. Treasure Hunt Oxford
I must admit I'm an absolute sucker for treasure hunts! I've been on a few and I have even organised tiny ones for friends. One of the loveliest things you can experience in the city is Treasure Hunt Oxford. It's self-guided, so you won't need to worry about social distance and you can do it on your own pace. You won't just have fun, but you'll learn a lot about the city too – an afternoon well spent!
13. Punting on the River Cherwell
If you're visiting Oxford in the summer (or late spring/early autumn), punting on the river is one of the most fun things to do in Oxford! The punts (or small boats) fit up to 6 people and cost about £18-20 per hour or £90-100 per day. You can find more information on this boathouse's website.
14. Museum of Modern Art Oxford
Okay, I'll admit it – I'm not much into modern art. But this is what makes it all the more fun for me – as I don't understand it at all, some of the pieces and installations are pretty odd and fun for me! However, the Museum of Modern Art in Oxford holds different talks, movie screenings and even music events, which makes it a very cool thing to visit in Oxford.
15. Oxford University Museum of Natural History
If you're visiting the city with kids, they will absolutely appreciate this as one of the most fun things to do in Oxford! I, myself, am a huge fan of natural history museums (especially the huge one in London!). This Oxford museum is free, so you should absolutely take a stroll if you have time – you'll find curious exhibitions of bacteria, fossil reconstructions, birds and even woodland management.
16. Pitt Rivers Museum
Well, while you're inside the Museum of Natural History in Oxford – go to the building on the East, as you can only access the Pitt Rivers Museum through the Natural History one. However, it's a very cool thing to do in Oxford – you will see shrunken heads, figurines from around the world, Japanese Noh masks and many other curious artefacts. Admission is free!
17. The Covered Market
If you love the London markets (the Greenwich one is definitely my favorite!), you must absolutely visit the Covered Market in Oxford! Over 50 traders have chosen it as their main place of business. You'll find many different items – from clothes, to food (iScream! haha), shoes, souvenirs and handmade items <3
18. Oxford Castle Unlocked
The Oxford Castle is naturally one of the oldest buildings in the city – it's over 1,000 years old! If you couldn't climb the tower of Saint Mary's, you can absolutely climb the Saxon St. George's Tower in the castle! Another spectacular view of the city from above. And it's not just the tower that will convince you this is a very fun thing to do in Oxford – you can visit the underground crypt, the prison and even learn a bit more about the inmates.
19. Lewis Carroll's local favorites
For those of you that don't remember – the Lewis Carroll's real name was Charles Lutwidge Dodgson (who was another Christ Church alumni!) One of Charles' favorite things to do was to row a boat on the Thames, while entertaining his boss's children by telling them stories. And this is how he got to know the cute little girl named Alice, that inspired his famous "Alice in Wonderland"! You can find Alice's Shop in Oxford (where the girl supposedly bought candy when she was little) which is full of cute souvenirs from related to the books.
There are many many locations that refer to our favorite Alice, if you're curious, follow this to read the ultimate guide to Alice in Wonderland in Oxford!
20. The Headington Shark
This is the one fun thing to do in Oxford that I am super sad that I missed, as I found out about it about a month after my visit! It's a 7-meter long shark which has landed on a house… or maybe it tried to eat it? Who knows! Find this amazing sight at Number 2, New High Street in Oxford.
Free Things to Do in Oxford
Most museums at Oxford are free – the Ashmolean museum, the Natural History museum, the Pitt Rivers museum, and most of the top things to see in Oxford can also be enjoyed from the outside. However, here are some more ideas for free things to do in Oxford:
21. Footprint tours – free walking tours
Out of all the free things to do in Oxford, the Footprint walking tours are definitely some of the most fun! But what is it that makes them different? Well, your guide will be an Oxford student, how cool is that?? If you'd like to save a spot in such a tour or to get the audio guide version, follow this link for Footprint tours.
22. Museum of the History of Science
If you're looking for a very curious free thing to do in Oxford, the Museum of the History of Science is your best bet! Here are some of the most fascinating things you can find there: blackboard used by Albert Einstein, Lewis Carroll's photo equipment, Wimshurst twin plate electrostatic machine and X-ray material and even original penicillin culture and specimen!! 
Although the museum is free, donations are always encouraged, especially if you enjoy it 🙂 
23. Museum of Oxford
A great thing about this free thing to do in Oxford is that it's almost never full! The Museum of Oxford has one main goal – to tell the story of the people that live/lived in the city. Compared to the other Oxford attractions, this museum is pretty small as it is located in the town hall.
Please remember to check the opening times before your visit, as the museum is currently under some major reconstructions!
24. University Parks – South Park
If you'd like to enjoy a lovely walk around nature, a picnic, or even a fitness trial – don't skip South Park in Oxford! If you have some extra pounds to spare, you can even enjoy a hot air balloon during the summer months (just look for Adventure Balloons), but if you're keen on keeping it free – go for the "dreaming spires" for another lovely view of the city of Oxford.
25. Port Meadow
Welcome to the land that has never been plowed! It is said that this is Oxford's "oldest monument", and a few artefacts dating as far back as the Stone Age have been found here. Other than it's fascinating history, it's another perfect sight for a walk around nature and enjoy the Thames.
26. University of Oxford Botanic Gardens
Spend an afternoon at the Oxford Botanic Gardens – the perfect free thing to do in Oxford! You can explore the glasshouses where you'll find a rainforest and carnivorous plants, the orchard in the lower garden or the lovely walled garden.
The botanic gardens also have a "Arboretum" – a section dedicated just for trees which is especially beautiful in the summer, when the rhododendrons and azaleas are in bloom. The arboretum is home to a few animals as well – peacocks, bunnies and cute little foxes!
Where to Park in Oxford
There are a few parking spots in Oxford where you can leave your car and enjoy a walk around the city center and the most important areas. However, the paid car parks on the street in the center are very limited in terms of time – only about 1 or 2 hours, which won't be enough for you at all. 
If you're doing Oxford as a day trip from London, I recommend choosing Glouchester Green car park or the Worchester​ one. Both are in the city center, but there is no time limit when using them.
Things to Do in Oxfordshire
Now that we've exhausted the list of places to visit in Oxford, let's see what you can explore nearby!
27. Bibury
Bibury is an absolute MUST if you're visiting Oxford! It's less than an hour away from Oxford (opposite direction of London), and we decided to combine the two for the perfect day trip from London. It's not a very popular destination, and even though you will surely see tourists around, you'll also find it very quiet with even few cars passing by. 
Bibury has been described as one of the most picturesque villages in all of Europe and it is indeed so charming, it will take your breath away! Explore the Arlington row with the cotswolds, Bibury trout farm, and Arlington mill museum.
28. The Cotswolds
Besides Bibury (which is not the absolute typical cotswolds destination), here are some other great ideas for places to visit near Oxford:
Woodstock

 

– this is actually the birthplace of Winston Churchill! Visit his hometown and enjoy the spectacular Georgian town in Oxfordshire.
Northleach

 

– in addition to the actual cotswolds, there is also an old prison where nowadays you can grab a cafe in!
Churchill

 

– among its most spectacular attractions is a beautiful Victorian fountain
Barnsley

 

– this is one of the smallest (but maybe cutest!) cotswold villages. But still – it has a church, a pub (duh!) and a luxury hotel!
You can also explore the cotswolds via a guided tour from London!
29. The Blenheim Palace (Woodstock)
If you're in Woodstock to enjoy the cotswolds, you must absolutely visit the palace too! This place to visit near Oxford offers some breathtaking sights – it even has a maze! The formal and pleasure gardens, the butterfly house, the miniature train are all things you can see just on the outside, while the inside offers all you can want in a palace – lavishness and luxury. Walk in Churchill's footsteps and don't look back! Find out more in their official website.
30. Fly over the Cotswolds with Finest Hour Experiences (Bicester)
If you've ever dreamt of seeing Oxfordshire from above – this is your perfect chance! You can even learn to fly in the open cockpit of the lovely biplane. The prices aren't THAT bad – about £200 for 20 minutes (depending on what you're looking for), but the experience is absolutely unforgettable. Find out more at the Finest Hour Experiences website.
31. River & Rowing Museum (Henley-on-Thames)
With its unique and one-of-a-kind collection, the River & Rowing museum is a lovely place to visit near Oxford. The Wind in the Willows "cave" is the most fascinating of its items, but if you're visiting Henley-on-Thames with children, there is a designated area where they can play, dress up and enjoy creating art. Check out the museum's website for more!
32. The Stonor Park & House (Henley-on-Thames)
Visit one of the oldest family homes that is still inhabited today! The park itself is pretty large – it has 3 main gardens: the Italianate Pleasure Garden, the old Kitchen Garden and the Arboretum (tree garden). You will also find wildlife (among which even deer!), a chapel and history of the Stonor family.
33. Hook Norton Brewery (Chipping Norton)
If you have enjoyed the Heineken Experience in Amsterdam, you will love the Hook Norton Brewery! It's a traditional preserved Victorian brewery where you can even brew your own beer in its designated micro-brewery. Take a tour, explore it and try some of the most delicious beer – Hooky Mild, Hooky, Lion, Old Hooky or the Double Stout. This is certainly a hidden gem place to visit near Oxford, don't you think?
34. The Broughton Castle (Banbury)
The Broughton Castle is actually a huge fortified manor and it's over 700 years old. Its rooms will remind you more of a palace than a castle – lavish, pretty and lots of artwork and paintings around. The garden of the castle is not that large, but it is mesmerizing in the spring!
35. The Chinnor and Princes Risborough Railway (Chinnor)
As compared to most of the things to do in Oxfordshire, this attraction is very new – it opened in 2018! Volunteers collected over £750,000 over 25 years in order to revive the heritage railway. Enjoy the 12 km round-trip steam ride or sign up to solve a supper murder mystery!! There are lots and lots of different activities, so plan your visit very well beforehand, in order to catch the specific date.