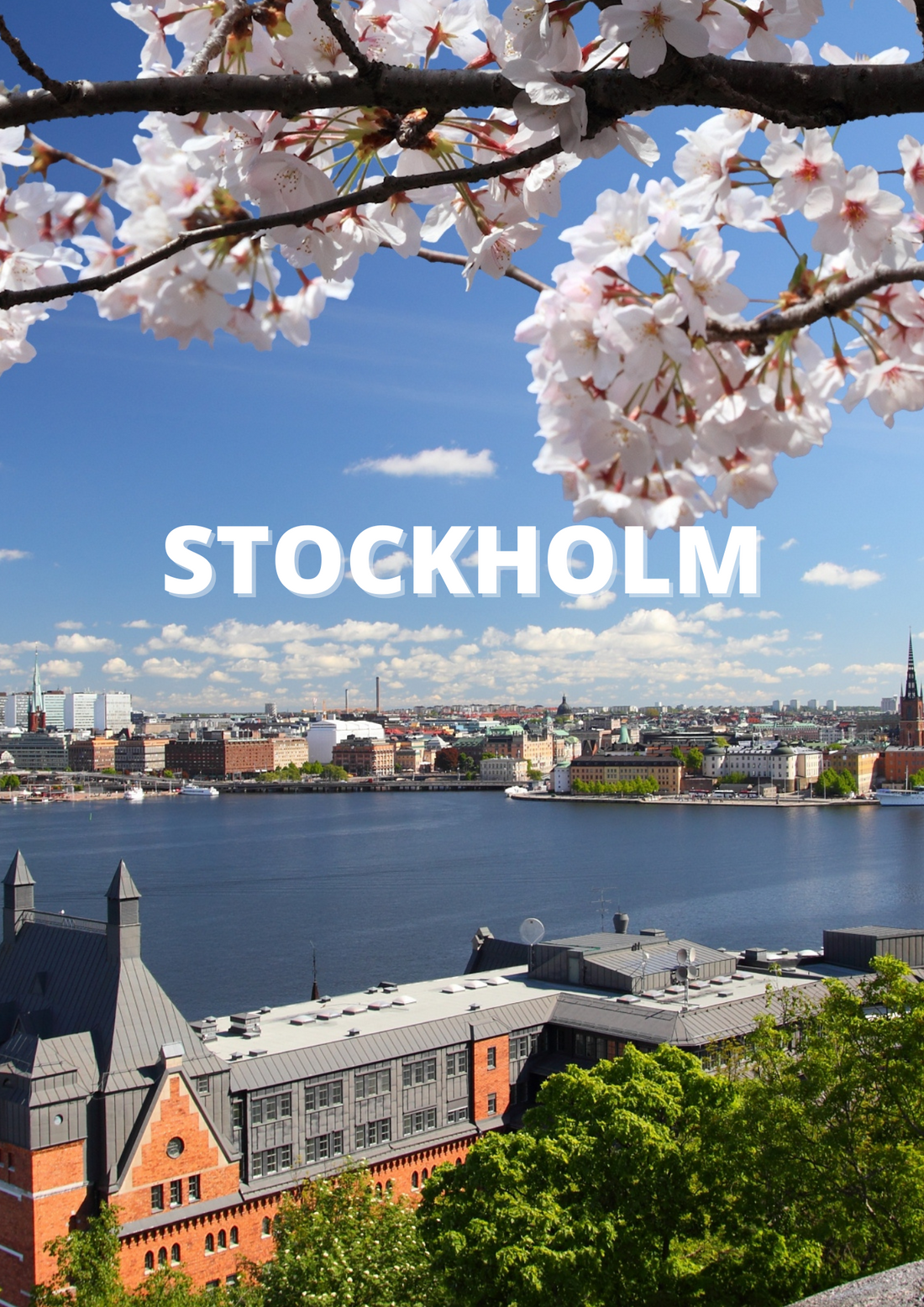 The Stockholm travel guide blog for first-timers
Why don't you check out some Stockholm travel guide to have most economical experiences and tips for the journey if you have been fascinated by the city.
So, what to do and how to plan a perfect budget trip to Stockholm for the first-time? Let's check out our Stockholm travel guide for how to get there, best time to come, where to stay, best places to visit and top things to do to find out the answer!
Stockholm travel guide blog: Overview of the Swedish capital 
Sweden regions, cities map with its capital Stockholm
As you can see on the map above, Sweden is part of the Scandinavian peninsula in Northern Europe. The beautiful country of Sweden is the 3rd largest country in Europe, the 1st in Northern Europe and shares a border with Norway, Finland, and Denmark.
The official language of Sweden is Swedish, but English is widely spoken here and the Swedes have the second best English speaking skills in the world. In addition, Swedish also has a great similarity with Norwegian and Danish, so if they speak slowly, people in these 3 countries can still communicate with each other. And in fact, many people think that Swedish is quite easy to learn because it is very similar to English. So if you intend to travel to Sweden, don't worry about your communication skills.
Stockholm, the capital with more than 30% of the area is water, 30% is green vegetation, so this place is ranked as the capital with the 3rd freshest air in Europe after Berlin and Copenhagen. Stockholm has a harmonious combination of ancient architecture and modern architecture today with very unique designs.
Green city of Stockholm City, Sweden. 
Stockholm travel guide blog: When to come?
Having the characteristics of a country in Northern Europe, Sweden has harsh weather and long winters. However, in winter, sports activities are still taking place, so you can choose to go to Stockholm at any time of the year. The average temperature in winter is about -10 degrees Celsius and it often snows.
Stockholm in winter
Stockholm Christmas market 
A small tip is that you should travel to Stockholm in the summer from May to August, when the weather is quite warm and pleasant, the temperature is from about 17-24 degrees Celsius with light sunshine and not too harsh, it does not make you suffocating, hot and uncomfortable, but warm and comfortable. Sunny days will last until September, so the city is quite crowded at this time.
Backstreet
In addition, May is also a good suggestion for those who like quiet because this is the low season but the weather is still quite mild and the cost of travel is also significantly reduced.
And during the peak season from September, you can enjoy long sunny days. At this time, the price of hotels and services is a bit more expensive, but the attractions are also open for longer.
Stockholm travel guide blog: Getting to destination
You can fly, take a ferry or train to Stockholm from other European cities.
Airport Arlanda Stockholm
Travel guide to Stockholm: begin from the airport
There are 3 ways to get to Stockholm city center from the main Arlanda airport.
Arlanda Express, (€16), 20 minutes of riding
Train: Costs €13.5 for 40 minutes
Flygbussarna Airport Coach, costs €10.5 for 40 minutes
Stockholm travel guide: use public transport
Stockholm tram no. 7 bound for Sergels Torg.
A single ticket costs €4.3/trip, valid for 75 minutes.
Parents traveling with a stroller with a baby will be free of charge (like Finland). Please note that it is only free when taking a bus. Traveling by metro still has to buy tickets as usual. In the Finnish capital Helsinki, all vehicles are free.
Stockholm Pass
With this pass you can take hop on – hop off bus, boat, ferry and free admission to all attractions in Stockholm. I find buying this ticket is also quite convenient because if you just hop on – hop off the bus, it costs €30, taking a boat also costs €24. So, you should spend a little more to get free entrance to famous tourist attractions such as Vasa Museum, Viking Museum, Nobel Prize Museum, very convenient.
Prices as follows:
€62/adult/24h (children from 6-15 years: €32)
€82/adult/48h
Stockholm Travel Card for tourists
This ticket allows you take all public transport in Stockholm city with the following prices:
24 hours: SEK 160 (adult fare); SEK 105 (discounted fare)
72 hours: SEK 315 (adult fare); SEK 210 (discounted fare)
7 days: SEK 415 (adult fare); SEK 280 (discounted fare)
If you have a travel card, traveling from the airport to the city center will be able to buy tickets with a discount of 11.6 euros at Skycity at Terminal 4, 5 (only applicable for train rides). And if you're under 18, it's free.
Hop On – Hop Off bus
€31/person/24h
€36/person/72h
Stockholm travel guide blog: Where to stay?
During my trip, I stayed at City Backpackers Hostel Stockholm: 500m from the pier and fully equipped, whether you stay in a double room or a dormitory room. Double room price €61/night and €16/dorm bed.Below I recommend more best budget, mid-range and upscale hotels with good ratings and reviews you can refer to.
Radisson Blu Waterfront Hotel. 
Downtown Camper by Scandic. 
Haymarket by Scandic.
Freys Hotel.
Scandic Grand Central.
Hotel Rival.
Stockholm City Hall
This is the building of the Stockholm City Council. It is located on the eastern tip of the island of Kungsholmen, next to the northern shore of Riddarfjärden and opposite the islands of Riddarholmen and Södermalm.
The town hall was built in 1911 with 8 million pink stone slabs, 106 m high, where the annual Nobel Prize ceremony is held. The city hall was once ranked by the Swedes as the most beautiful architecture in the country.
Stockholm Globe Arena (Avicii Arena, Stockholm Globe City, Ericsson Globe)
The Ericsson Globe is a white sphere-shaped architecture used to host grandiose sporting events that can accommodate up to 16,000 people. Built in 1989, it is now one of the iconic buildings of Stockholm and the largest spherical building in the world. Inspired by the solar system, the tilting elevator on its body called Skyview consists of 2 chambers, running parallel to each other on 2 rails. From here, visitors can enjoy a panoramic view of beautiful Stockholm without being obstructed by anything.
Address: 121 77 Johanneshov, Sweden
Height: 85 m
Opened: February 19, 1989
Bromma Church
Bromma Kyrka Church is located in the western suburbs, is one of the oldest places in Stockholm and was voted the most beautiful place in this city. The church keeps many medieval paintings of the late 15th century.
Address: Gliavägen 100, 168 58 Bromma, Sweden
Architectural style: Romanesque architecture
Old Town (Gamla Stan)
Colorful houses on Stortorget square in Old Town, Stockholm.
The Royal Palace (Stockholms Slott)
Located in Gamla Stan, Stockholm Royal Palace is a 20-minute walk from the centre. The Palace is open daily from mid-May to mid-September. For the rest of the year, the palace is open from Tuesday to Sunday, excluding major holidays. Visitors can sign up for a 45-minute guided tour in English.
This is a Baroque-style palace located in the Old Town. Built in the 1700s, today the Stockholm royal palace is the residence and workplace of the Swedish royal family. You should visit this seven-story Stockholm palace to explore some of its 1,430 rooms, as well as admire Italian sculptures and witness the changing of the guard. The 40-minute ceremony includes a walking procession, followed by a military band and sometimes with the royal cavalry. Do not miss this tourist attraction and pay attention to the time when the changing of guards takes place.
Address: Kungliga slottet, 107 70 Stockholm, Sweden
Hours: 10AM–4PM/Tuesday: Closed
Construction started: 1697
Opened: December 7, 1754
Number of rooms: 1,430 (2008)
Nobel Prize Museum
Located in Gamla Stan, the Nobel Prize Museum is a short 15-minute walk from the Royal Palace of Stockholm and Storkyrkan from Central Station. These locations are very close to each other, so it is very convenient to visit.
At the Nobel Museum, visitors can explore the history of the Nobel Prize and learn about its founder and laureates. The museum has been open since 2001 in the Stockholm Stock Exchange Building, exactly 100 years since the first Nobel prize was awarded.
True to its name, the Nobel museum is home to an exhibition of Nobel's wills and inventions as well as a list of winners of this prestigious prize. Here you will learn about his most famous inventions, including dynamite, detonators and why he decided to create this international prize.
In addition, visitors can also learn about the development of the Nobel Prize since its inception in 1901 such as a visual tour of Marie Curie's laboratory and witness the moment Nelson Mandela was released from prison after 25 years in captivity.
Don't forget to visit the museum's restaurant to try Nobel Ice Cream. This is a dessert that was previously served only at the Nobel Prize Banquet reception.
If you come on Tuesday, you will be able to visit the Nobel museum for free, from 5 pm to 8 pm.
Stockholm Palace and Nobel Museum are two of the most famous tourist attractions in Stockholm that you should not miss when exploring the old town of Gamla Stan.
A 3-min walk from the Stockholm Palace
Address: Stortorget 2, 103 16 Stockholm, Sweden
Established: 2001
King's Garden Park (Kungsträdgården)
King's Garden Park is located in the heart of Stockholm and was opened to the public by King Gustav III in the late 18th century. Today, it is one of Stockholm's most popular meeting places. In the center of the park is a neoclassical statue of King Charles XIII. Around the statue are four lions created by Swedish sculptor Bengt Erland Fogelberg.
I consider this a place worth visiting when exploring Stockholm because this park grows 100 cherry blossom trees given by the Japanese government to Sweden and the flowers usually bloom in April, which is extremely beautiful. Flowers with many petals, very beautiful pale pink, large flowers. In general, I have never seen such beautiful cherry blossoms in Vietnam. If you want to see flowers, you should watch this time.
The park is located in the heart of the Swedish capital so it is very convenient to travel between places of interest in Stockholm. Only 10 minutes walk to Gamla stan Old town.
Address: Jussi Björlings allé, 111 47 Stockholm, Sweden
Vasa Museum
Vasa Museum is a 30-minute walk from Central Station. At the Vasa Museum (Vasamuseet), visitors can learn the history of a warship dating back to the 17th century, from its made to salvage and preservation.
In 1628, the warship Vasa sailed from the port of Stockholm to make her maiden voyage. However, the ship sank just minutes after departure. More than 300 years later, marine archaeologists salvaged the boat and in 1990 turned it into a public museum. For myself, this is my favorite museum during my recent trip to stockholm.
Address: Galärvarvsvägen 14, 115 21 Stockholm, Sweden
Entrance ticket: Adults: SEK 150 (€15)/Peak season: 200-300 SEK/Under 18: Free
Hours: Daily 10AM-5PM/Wednesday: 10AM-8PM/Peak season from June to August with different hours.
Kungliga Djurgarden
This park is extremely large, containing many museums, such as the Nordic museum, the Abba (Abba band) museum, etc. However, I want to mention the most famous museum here is the Nordic museum. There are other places you can go if you still have time. This place is very large. In general, the beautiful scenery in Sweden in the summer is really worth visiting.
Nordic Museum
The Nordic Museum is about a 20-minute walk from the central King's Garden park. The way here is beautiful. There are rows of trees that are cut into square blocks that look very nice. In addition, along the route is a harbor with many boats anchored. The panoramic view of the harbor from the museum is very nice.
You can learn about Swedish culture from the 16th century to the present by visiting this museum. The museum was founded in the late 1800s by Artur Hazelius, with many folklore artifacts, including costumes, furniture and photographs. Today, the museum owns more than a million artifacts and stores 7 million photographs.
The main hall of the museum has a statue of Gustav Vasa, the king who helped bring Sweden out of the Danish colonial yoke to become an independent country. In the interior exhibition area, there is a clear change in interior design style from the 1800s to the 2000s.
A 3-min walk from the Vasa Museum
Address: Djurgårdsvägen 6-16, 115 93 Stockholm, Sweden
Hours: 10AM–5PM
Founded: 1873
Height: 75 m
ABBA Museum
A self-sufficient trip to Stockholm will be incomplete if you have not come to this interesting museum. Although admission isn't cheap, it's well worth it, as you'll have a good time with this great band and music-related merchandise.
Address: Djurgårdsvägen 68, 115 21 Stockholm, Sweden
Hours: 10AM–5PM
Established: 2013
Admission: SEK 250 per adult and there are discounts for students, children and seniors.
National Museum
This lovely art museum displays art by world-renowned artists such as Rembrandt, Rubens, Goya, Renoir, Degas and Gaugin, along with renowned Swedish artists such as Carl Larsson, Ernst Josephson, CF Hill and Anders Zorn.
Address: Södra Blasieholmshamnen 2, 111 48 Stockholm, Sweden
Hours: 11AM–5PM/Monday: Closed
Opened: 1860
Swedish History Museum
If you're interested in Scandinavian historical culture, this museum has everything from the Stone Age to the Viking Age, plus a wealth of antique treasures from the Bronze Age to the 16th century. This museum was opened in 1866, and over the centuries, it has collected the rich artifacts of today.
Address: Narvavägen 13-17, 114 84 Stockholm, Sweden
Hours: 11AM–5PM/Monday: Closed
Established: 1934
The village of Skansen
This is the world's first open-air museum, and also a special zoological garden with Nordic animals (including deer, reindeer, bears and wolves). The museum and old village is located on the island of Djurgården. There are more than 150 ancient buildings from many centuries ago, from which you can get an interesting glimpse into the history of Sweden. Not only that, at this tourist attraction, the hosts are also wearing classic costumes, so you will have an extremely interesting experience, like stepping back in time. The host will perform a number of traditional crafts such as spinning, weaving and glass blowing.
Stockholm guide blog: What to eat?
Swedish meatballs
During your trip to Stockholm, the first dish that you should try is Swedish meatballs, which many tourists choose to enjoy. Meatballs are usually made from beef, pork… After being chopped, it will be mixed with fresh milk and other spices such as flour, green onions, eggs, pepper, white salt… Continue to mix them well, round it and then deep fry in oil or can be grilled at the request of diners.
Blodpudding
Black sausage made from pig's blood, milk, barley flour… doesn't eat directly, but it's fried in butter, or cooked with milk, and served with blackberry jam.
Gubbröra (Swedish egg-anchovy sandwich)
Quite popular in Sweden. People mix meat and anchovies in a specially recipe sauce and then served with bread. A very reasonable appetizer.
Pickled herring
You also should remember to try pickled herring, this is a traditional dish of the capital's people. Fish after being caught will be washed, soaked in salt and fermented. Then it will be canned and eaten gradually. When eating pickled herring, you can eat it with bread and some other foods to enjoy the better taste.
Pyttipanna
It is a dish made from meat, with onions, sliced ​​potatoes and cherry tomatoes, then fried or boiled, eaten with egg omelet and other ingredients.
Pea soup (Ärtsoppa)
A traditional Swedish dish, bean soup was usually enjoyed by the Middle Ages people in the middle of every Thursday. This dish is made from ingredients including: Sliced ​​salt pork, sliced ​​carrots, finely chopped onions, sliced ​​white garlic, thyme, marjoram, salt, bay leaves, and pepper.
Semla
Semla is a traditional Nordic cake, made from wheat flour, fragrant with nutmeg, in the middle of the cake is a thin layer of almond cream and greasy fresh cream. Normally, Semla is placed in a bowl with hot milk, but nowadays, this step is skipped and served directly with hot tea or coffee.
Stockholm travel guide blog: What to buy in Stockholm?
 Along with that are many other famous Swedish brands such as Ikea, H&M, Ericsson, Volvo, Skype, Spotify… Check out the list of the following items if you need to buy in Stockholm:
Licorice Candy Dala horses
Licorice Candy: Honestly, I don't like eating this candy at all. The candy is very strong with the smell of licorice, but this is an indispensable thing in many holidays in Sweden.
Absolut vodka
Dalecarlian horse or Dala horse: One of the symbols of Swedish souvenirs. It is made from wood carved by hand or sewn from fabric. Originating from a traditional toy of children, Dala Horse has now become a symbolic gift of this land. Tourists often buy this gift. The small one costs about €5-10€, the big one costs €30.
Gingerbread Cookies: This type of cake is often eaten at Christmas and is also quite popular in other nordic cultures.
Lovikka Mittens: A type of woolen gloves often bought by the Swedes to give gifts at Christmas.
Vasa ship model
Swedish watches: There are quite a few types of swedish watches today that are making a big splash in the watch world. Some Swedish watch brands you can refer to and buy are Daniel Wellington, Gustafsson & Sjögren, Triwa, Epoch Stockholm, Sjöö Sandström.
Abba's CDs: If you've ever heard the song Happy New Year, the band that performed it is Abba from Sweden. Come here, don't forget to buy their discs as gifts for music lovers.
Akvavit wine (Aquavit): Produced mainly in Scandinavia in the Nordic region since the 15th century. The ingredients to make this wine are potatoes or grains, in addition to spices and flavors such as cinnamon, star anise, dill, cardamom… In Sweden it is a familiar drink during holidays.
Stockholm travel guide blog: Summary of Stockholm travel tips
Swedish people are friendly, speak English well. I remember the time when I fumbled to find Central Park. There were two Swedes who found me absentmindedly holding a map and they ran over to ask if I needed any help. In general, the Swedes are very sweet and hospitable.
The Swedish landscape definitely is beautiful! Especially – the capital of Sweden, which is known as the Venice of Northern Europe.
If you plan to visit Stockholm for more than 2 days and want to access attractions, I recommend you buy a Stockholm pass for convenience and cost savings. This ticket is much more profitable than buying single tickets for each attraction.
The Swedish currency is the kronor (SEK). However, I see that tourist destinations in Stockholm still accept euros, so it is not too serious to exchange money in Sweden or not. Visa debit cards are also widely accepted in the capital of Stockholm.
About the price, of course, Stockholm, like other Nordic countries, is not cheap at all. The cost of accommodation, eating and travel in Stockholm for a day can be around €150. However, if you want to make the most of it, I think you can go to Lidl supermarket, you can walk between all the attractions.
In addition, if you want to save money on hotels, you should take the train from Finland or another Nordic country and overnight on the train to save accommodation costs. You can choose a cabin with full amenities like a hotel room, if you know how to hunt for tickets, it's not too expensive. For example, the Helsinki-Stockholm route with Vikingline round-trip tickets for 2 nights on the train are sometimes only about €20.
When planning your trip to Stockholm, consider utilizing minibus hire Europe for a convenient and cost-effective way to explore the city and its surroundings. Stockholm boasts a well-connected and efficient public transportation system, and renting a bus in Europe can be a great option for larger groups or those looking for flexibility in their itinerary. 
As we conclude this Stockholm travel guide for first-timers, we hope you're now feeling well-prepared and excited to embark on your journey to this stunning Scandinavian city. Stockholm, with its captivating mix of history, culture, and natural beauty, promises a truly unforgettable experience for newcomers.
>>See more: Are you ready for a quick tour in Amsterdam?