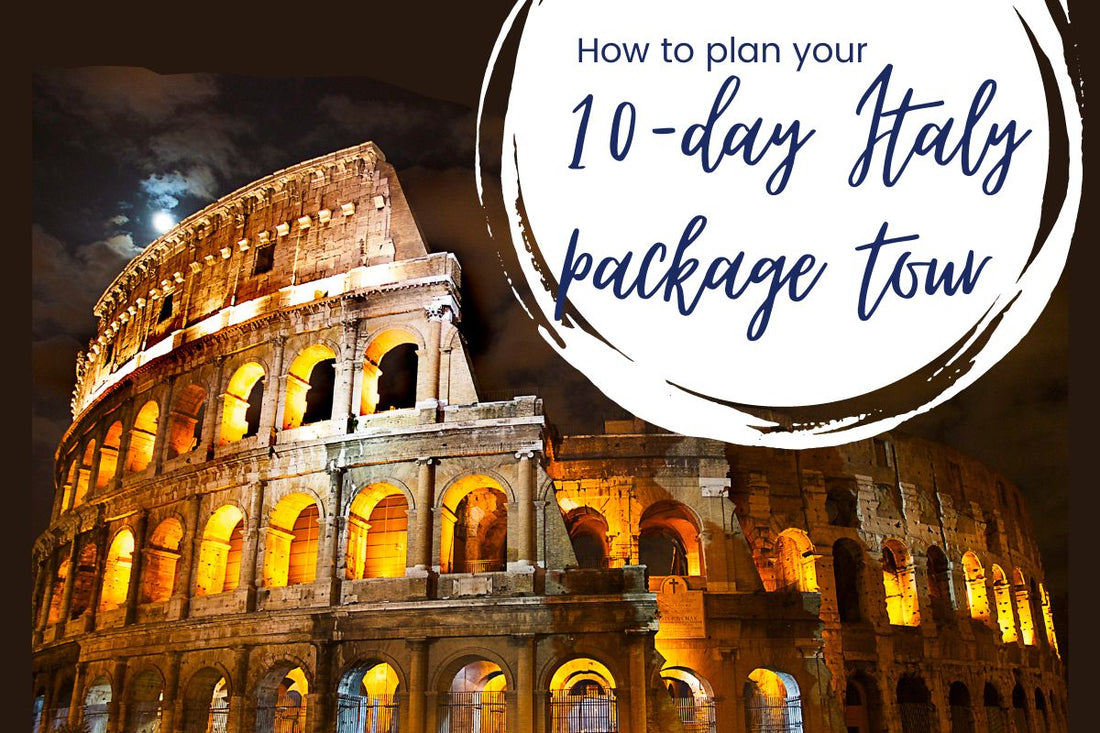 How to Plan A 10-Day Italy Package Tour?
How to Plan A 10-Day Italy Package Tour?
If you're looking for an Italy package tour getaway full of delicious food, stunning scenery and historic sites, Italy should be at the top of your list. With 10 days in the country, you could explore everything from the snow-capped mountains to the sunny coastline. And of course, don't forget to indulge in gelato and world-famous wine along the way!
Plan a 10-day Italy package tour: Option 1
On this itinerary, you'll get to see some of Italy's most stunning scenery along the Amalfi Coast, take a day trip to the beautiful island of Capri, and visit Pompeii. Plus, you'll have more time in Rome to explore all the city has to offer!
Italy package tour day 1, 2 & 3: Rome
This itinerary gives you a chance to explore Rome in depth. You'll have plenty of time to see the sights and experience the culture.
Day 4: Visit Pompeii and Sorrento
Today, you'll be making a stop in Pompeii on your journey from Rome to Sorrento. This is easy to do and doesn't require much planning. Simply take the train from Rome to Naples (it's only 70 minutes) and then move to the Circumvesuviana train. 
You can buy your ticket for this leg of the trip right before boarding, so you don't need to purchase it in advance. The ride from Naples to Pompeii takes about 36 minutes.
At Pompeii Scavi station, you can stow your bags in the luggage storage area on the ground floor.
After you tour Pompeii, grab your bags and take the Circumvesuviana train to Sorrento. Odds are, you'll be arriving in the afternoon or early evening. After checking into the new hotel (where you'll be staying for the next 3 nights), visit the marina, have dinner, and don't forget to taste some limoncello in this Italy package tour.
Day 5: Capri
Soak up the sun on a 20-minute boat ride to Capri from Sorrento. Marvel at the rocky cliffs and crystal blue waters as you cruise around the island. Disembark to explore Capri and Anacapri at your leisure. Or, hike up Mount Solaro for stunning panoramic views.
Day 6: Amalfi coast
Take a drive along the Amalfi Coast for the most amazing views in the world. Stop in Positano, Amalfi, and Ravello for a taste of small-town Italian life.
There are several ways to get around the Amalfi Coast, each with its own set of benefits and drawbacks. Private drivers and ferries can be expensive, but they offer the most flexibility and convenience. Public buses can be cheaper, but they can be crowded and difficult to use during peak season.
Day 7, 8 & 9: Florence and Tuscany
After a leisurely breakfast in Sorrento, you'll make your way to Florence via the Circumvesuviana train (1 hour) or a private driver (1 hour). The journey of your Italy package tour itself is just as beautiful as the destination, especially the last hour as you travel through Tuscany.
If you're looking to explore the best of Tuscany, be sure to plan time in both Florence and the surrounding hill towns.
Day 10
Your journey home begins in the beautiful city of Florence. It will be ideal if you can take a flight from Florence airport. If there is no option from this airport, you may have to go back to Rome and take the flight from there instead.
10-day Italy package tour: Option 2
If you're looking to hit Italy's most popular tourist destinations, our classic Italy itinerary is perfect for you. Visit Rome, Florence, Venice and the Cinque Terre for a well-rounded experience of the country.
Day 1 & 2: Rome
Your first day in Rome can be tough if you fly in a late-night. Try to adapt to the time difference, explore some sights in the afternoon, and turn in early.
There's so much to see in Rome that it can be hard to know where to start. A few must-see sights include the Colosseum, the Pantheon, and the Borghese art gallery. You can also tour the Vatican or stroll through Piazza Navona. For dinner, head over to the Trastevere neighborhood.
Day 3, 4 & 5: Florence and Tuscany
If you take the train to Florence, you will only be a 1.5 hour journey away from this beautiful city. This means that you can easily spend a day exploring all Florence.
This is a suggested itinerary for those who wish to spend three days exploring the city of Florence and the surrounding area of Tuscany. On the first day, it is recommended that you tour the main sights of Florence. 
The second day should be dedicated to exploring Tuscany, including visiting Siena. You can decide how to enjoy your third day, either by seeing more of Florence or continuing your exploration of Tuscany's smaller towns and vineyards.
To fully enjoy your time in Tuscany, you should hire a driver. So, you can sit back, relax, and enjoy the stunning views and delicious wine without worrying about parking or navigating between towns. If you're more independent, renting a car is also a great option. You shouldn't take the bus, cause there is a high chance you will be stranded after the bus fails to show up.
Day 6 & 7: Cinque Terre
If you're looking to explore the Cinque Terre, consider taking the train from Florence. Direct trains are available, which will get you there in 1.5 to 3 hours. If you have time, you can also visit Pisa along the way.
To reach the Cinque Terre by train, take the line from La Spezia to one of the five towns. On the journey from La Spezia to Riomaggiore, you only have to spend 9 minutes. The trains run very frequently.
The Cinque Terre is a stunning collection of five cliffside towns overlooking the Mediterranean Sea. Visitors can spend a day hiking or hopping between the towns.
Day 8 & 9: Venice
To get from the Cinque Terre to Venice, you'll need to take a train. Because no direct trains are available, so you'll have to transfer in Milan or Florence. Try to book the quickest train possible so you'll have more time to enjoy Venice.
While one day in Venice is enough to see the main sights, you may want to consider spending more time exploring the canals and visiting nearby islands like Murano and Burano.
Plan A 10-Day Italy Package Tour
Day 10
It's time to head home and wrap up this Italy package tour. Time to say goodbye to new friends and places and return to the familiar comforts of home.
10 days of an Italy package tour may not seem like a lot, but you can make the most of it by focusing on fewer cities. This way, you can get to know each place and have a richer overall experience.
If you have the fortune of more than 10 days, consider expanding your stay in destinations like Tuscany, Rome, or any of the other places mentioned in this itinerary. Your vacation will be more amazing if you take your time.
MBS 87 Business & Travel Co.,Ltd.
Tour Operator - Incentive - DMC - Coaches
Address: 60 rue François 1er - 75008 Paris 
E-Mail : sales@mbs87.com
TEL:(+33) 771800874
www.mbs87.com
https://www.facebook.com/MBS87Store