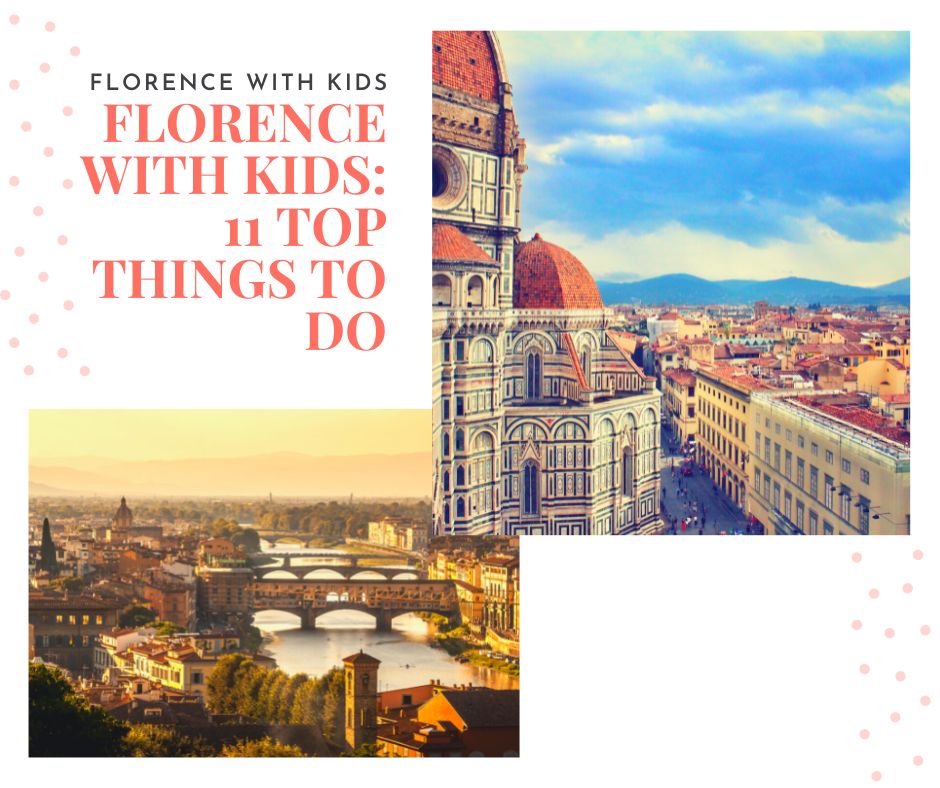 Florence with Kids: 11 Top Things to Do
For young and old alike, Florence is one of the most evocative cities in Europe. Just strolling the cobbled streets of the compact historical center is a sensory adventure for children as they savor creamy gelato, listen to street musicians, and gawk at the scenery along the Ponte Vecchio.
But culture vulture parents will want to visit some of the famous museums and galleries as well, and some are more kid-friendly than others. The Palazzo Vecchio, the Leonardo da Vinci museum, and the Stibbert Museum offer exhibits and programs that appeal to children, and the educational Museo Galileo is great for older kids.
With little ones in tow, it's a good idea to break up your museum and gallery gazing with fun outdoor adventures. Kids can ride an antique carousel at Piazza della Repubblica, run wild in the Boboli Gardens, or learn how to cook traditional Florentine cuisine.
See also: Where to Stay in Florence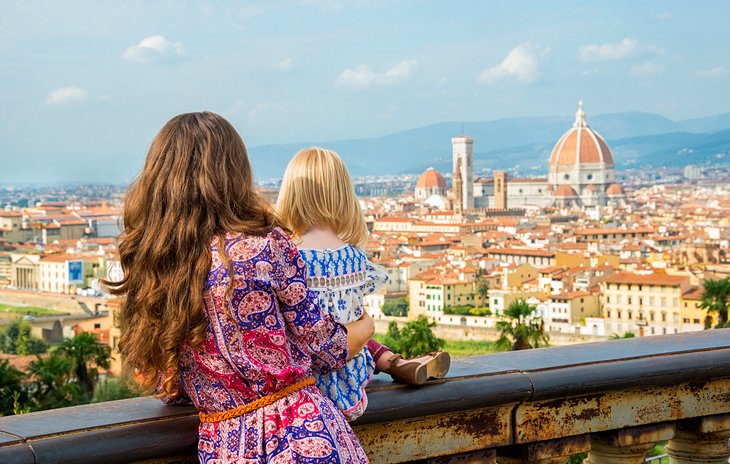 As you embark on your family adventure, here are a few tips: Keep your museum and gallery visits short and sweet, and show your children some of the exhibits online before you go, so they can look for them on the tour.
Book tickets for Florence's top tourist attractions in advance to avoid standing in long lines. Finally, engage older children by encouraging them to take artistic photos during their tour of the city and share their best snapshots with you at the end of the day. If that fails, there's always the promise of gelato – Vivoli, Gelateria La Carraia, Grom, and Perché no! are favorites.
Looking for more activities and places to visit on your family vacation? Check out our list of the top things to do with kids in Florence.
1. Dress Up Like the Medici Family at Palazzo Vecchio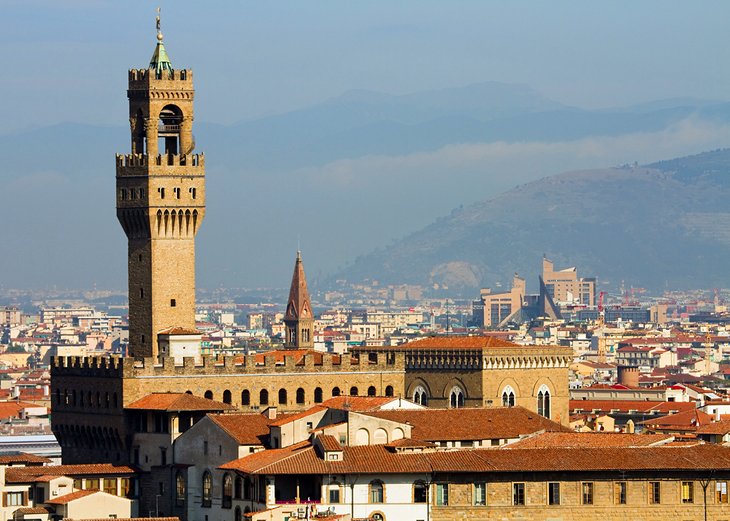 In Piazza della Signoria next to the Uffizi, Palazzo Vecchio (also known as Palazzo della Signoria) is one of the best family-friendly museums in Florence.
Once the home of the Medici family before they moved to the Palazzo Pitti, this is a great place for kids to step back in time and see how this wealthy family lived centuries ago.
Before you explore Palazzo Vecchio, call in advance to book the museum's special English-language family tours (with costumed guides) and children's activities. Perks for kids in these tours include puppet shows and stories, scavenger hunts, and a children's kit with maps and tools to keep little ones busy on the tour.
Life At Court is a fantastic guided tour of the Palazzo for families. It targets children up to eight, but even teenagers will enjoy learning about the Medici's privileged lifestyle. A highlight is the secret passage leading to a costume room, where kids can dress up in clothes that the royal family's children might have worn. Most of the tours and activities last between one and two hours.
After touring the museum, try to coax children (six years of age and over) up the 95-meter-high tower for spectacular views of the city and a rooftop photo op with the Duomo in the background.
Other fun things to do here include fresco painting workshops and painting on wood with egg tempera. Advance reservations are mandatory.
2. Learn to Cook Florentine Cuisine
Editor's Pick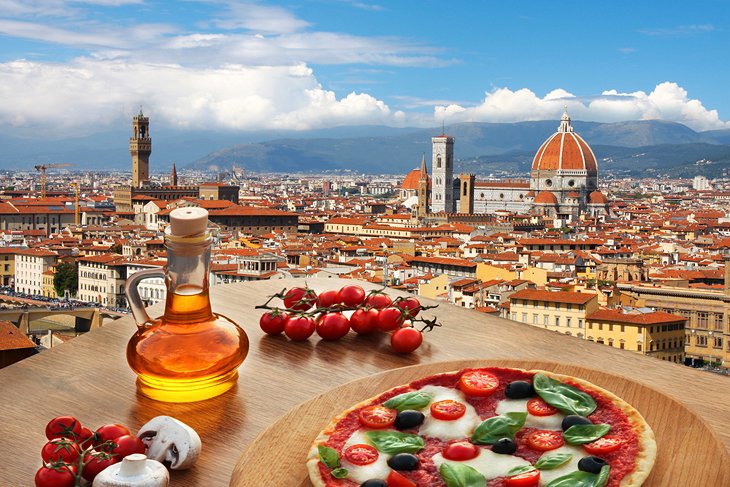 One of the top kid-friendly things to do in Florence is tasting all that mouthwatering Italian food. Best of all, this is an activity Mom and Dad will probably love just as much as the kids!
Wandering around the streets of Florence, children can't help ogling the tubs of rainbow-hued gelato, pillowy pasta and gnocchi, and colorful pomodoro-topped pizzas.
Budding chefs can attend small-group cooking classes to learn how to make these popular foods. Classes range from family affairs in private Florentine apartments and historic palaces to rustic Tuscan farmhouse lunches. Several hotels also offer children's cooking classes, and a few start with a Florence market visit, so young cooks can help pick the fresh produce and create the meal from start to finish.
Even if you don't enroll in a cooking class, kids might enjoy a visit to the Mercato Centrale, the city's large food market. Stalls brimming with fresh produce, pungent herbs, and colorful flowers will spark all their senses.
If you're looking for a rewarding cooking class with personal attention, the three-hour Florence Cooking Class: Learn How to Make Gelato and Pizza is a great option. Little chefs use fresh organic ingredients to create classic Italian specialties under the guidance of an expert chef. After the class, participants can feast on their creations.
3. Take a Family Tour of the Uffizi Gallery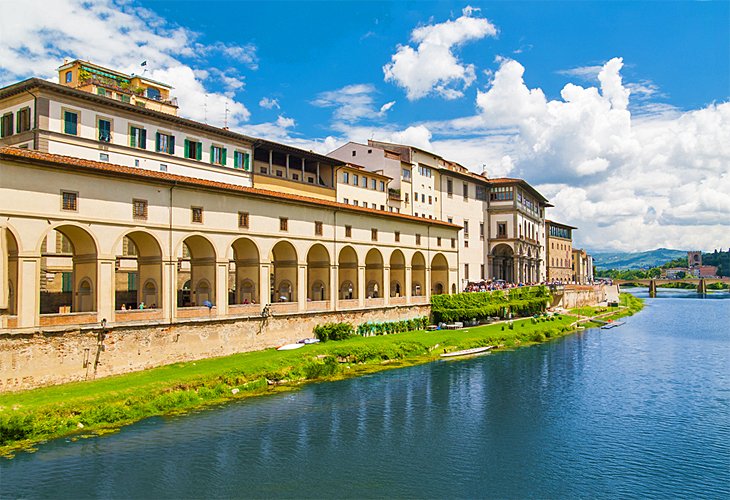 You don't have to skip the superb exhibits at the famous Uffizi Gallery just because you have kids in tow. Instead, some guides offer special tours designed just for families, with engaging activities for both younger children and teenagers.
Treasure hunts, trivia games, and interactive activities help keep the kids entertained, so you have time to admire the famous artworks, like Botticelli's Birth of Venus, Cimabue's Madonna Enthroned, and Michelangelo's Holy Family.
Better still, sign up for the Skip-the-Line Private Uffizi Tour for Kids and Familie. This 2.5-hour guided tour saves time spent waiting in line with wriggly kids to buy tickets, and includes educational games and a commentary customized to your children's ages and interests.
4. Ride Piazza della Repubblica's Antique Carousel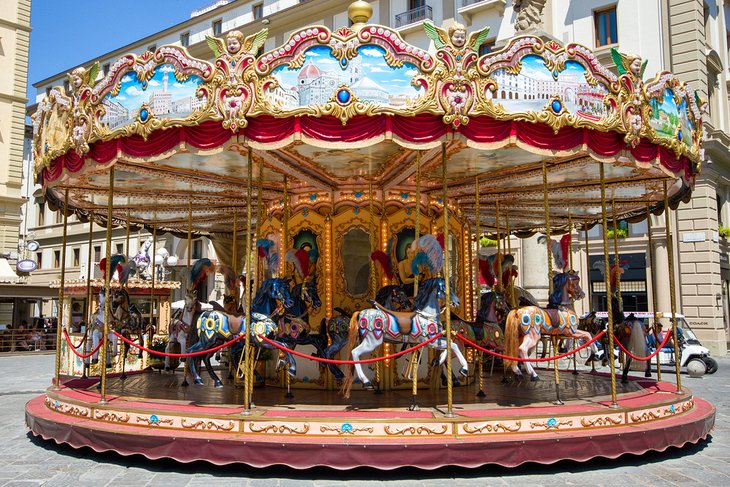 Piazza della Repubblica buzzes with locals and tourists alike. If you're in Florence with a toddler or a small child, head to the beautiful antique carousel here before a busy day of sightseeing – or after as a treat. Notice the scenes of Florence painted around the top.
The piazza has a festive ambience. Street musicians and performers often entertain the crowds, and shops and cafés line the square, including Cafe Gilli, which tempts the sweet-toothed with its Florentine pastries and sweets.
Also nearby is the delightful toy workshop, Bartolucci, where you can buy wooden toys and Pinocchio souvenirs made by the namesake family. For adults, the Uffizi Gallery is a short stroll away.
5. Enjoy a Picnic in the Boboli Gardens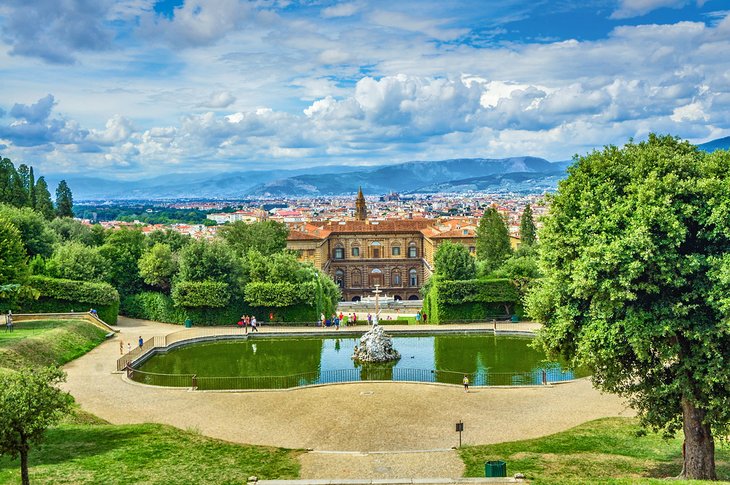 After exploring the extravagant Pitti Palace, let the children run wild in the palace's backyard: the beautiful Boboli Gardens. While the kids dart between the statues, climb trees, and hide behind box hedges, you can relax with a panini picnic in this famous Medici Renaissance garden. You won't find many flowers here, but the gardens are still beautiful, with winding paths and fountains.
Looking for things to do in Florence with a baby? Lying on the soft grass here, watching the play of dappled light through the trees and listening to the soft burble of the fountains is the perfect anti-stress activity after a hectic day of museum hopping.
If you have time, be sure to wander up to the top of the gardens to see inspirational views over Florence, where you can point out iconic landmarks to the kids. Note that the gardens are terraced, so it's an uphill climb and not suitable for strollers.
After relaxing in the gardens, you can take the kids to watch Florentine artisans embossing leather, marbling paper, and making mosaics in the streets of the nearby Oltrarno neighborhood. Some studios offer classes and workshops.
6. Discover Brunelleschi's Dome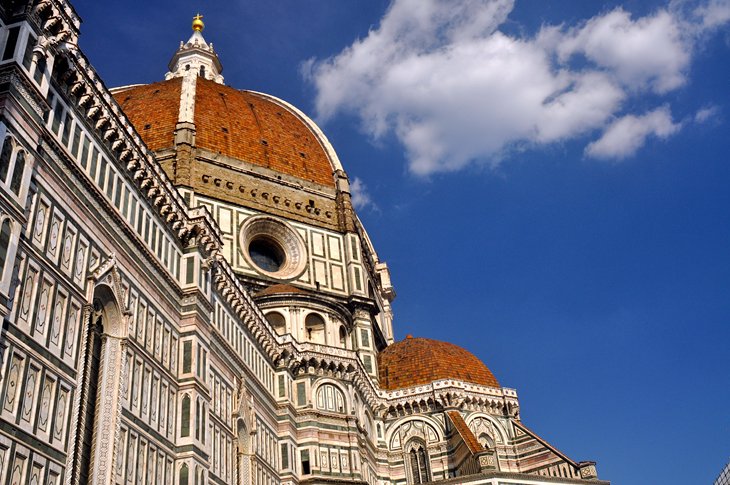 At first glance, the famous Duomo (Santa Maria del Fiore Cathedral) is a heart-stopping sight, and even children will be awed by its magnificence.
Before visiting the spectacular Duomo, try sharing some of its history with your children. Tell them that Brunelleschi's dome is still the largest masonry and brick dome ever built, and skeptics thought it might collapse. As you stand underneath the dome with them in the cool, dark interior, ask them to try and imagine the workmen building the dome without the use of modern tools and equipment.
Outside the cathedral, point out the detail of the white, green, and pink marble exterior and ask your kids to imagine how long it would have taken the artists to create it.
After your tour, it's time to enjoy the views. Climbing the cupola to gaze over Florence is one of the most popular things to do here. The 463 steps are too much for little ones, but the hike through the winding stairwell is an adventure for older kids.
Entrance to the cathedral is free, however if you plan on visiting all the other monuments in the complex, including the Baptistery, Giotto's Bell Tower ("campanile"), the Cathedral Museum ("Museo dell'Opera del Duomo"), Brunelleschi's Dome (the "cupola"), and the underground archaeological site of Santa Reparata, you need to buy a ticket, and the lines can be long!
To save time, purchase a Skip-the-Line Florence Duomo with Brunelleschi's Dome Clim, which includes a guided tour of the cathedral, dome, baptistery, and North Terrace. As a perk, you'll also have a chance to explore areas that are usually closed to the public.
7. Explore the Leonardo da Vinci Museum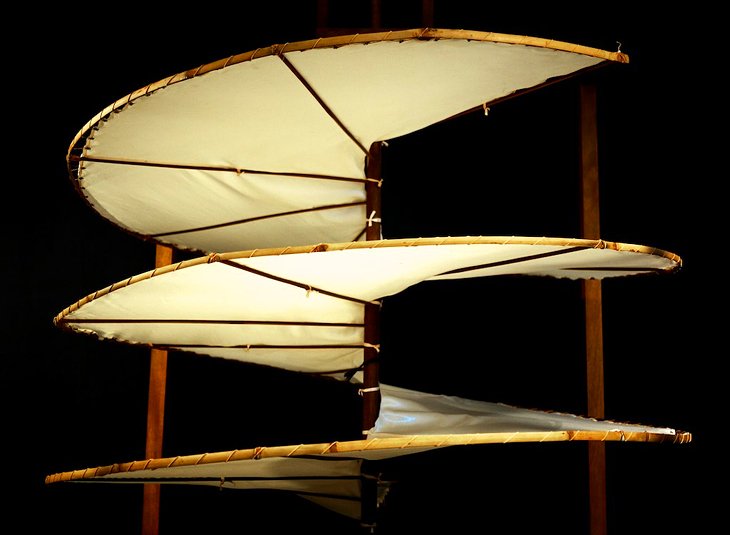 Near the Duomo, the small Leonardo da Vinci Museum is a great choice for older kids and teens, who want to see another side of this Renaissance master.
The museum displays reconstructions of Da Vinci's civil engineering, military, and flying projects. Many of the exhibits are interactive – unlike most museums in Florence – and kids can play with the machines and actually test them out. Multimedia displays help you understand the function of some of the designs.
Reproductions of Da Vinci's most important paintings are also on display here. Before you leave, don't miss snapping a photo with your face peeking through the hole in the Mona Lisa reproduction near the entrance.
Address: Via de Servi, 66R, 50122, Florence
8. Admire Antique Armour at the Stibbert Museum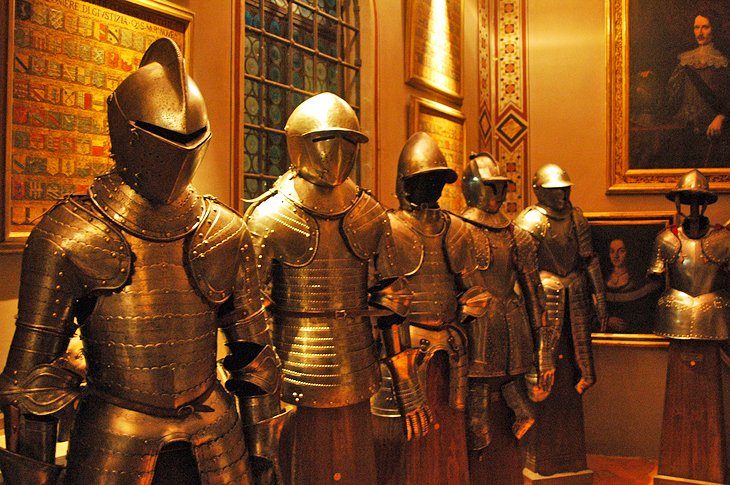 Young fans of knights and armor will especially love the Stibbert Museum (Museo Stibbert). It sits on a hill about 20 minutes by taxi or bus from the historical center of Florence, and anyone will be impressed by the treasure trove of artifacts here.
Frederick Stibbert (1836-1906) inherited this collection and continued to add to it, eventually transforming his 19th-century villa into a museum. Frederick collected artifacts from all over the world, including costumes, tapestries, furniture, musical instruments, and paintings.
Most impressive here is the grand main hall, with horses and knights in procession, as well as arms and armor from eastern and western civilizations. Only guided tours are permitted.
After viewing all the exhibits, you can take the kids to the little café here, or stroll through the English-style gardens surrounding the villa.
Address: Via Federigo Stibbert 26, 50134, Florence
9. Peek through Ancient Telescopes at Museo Galileo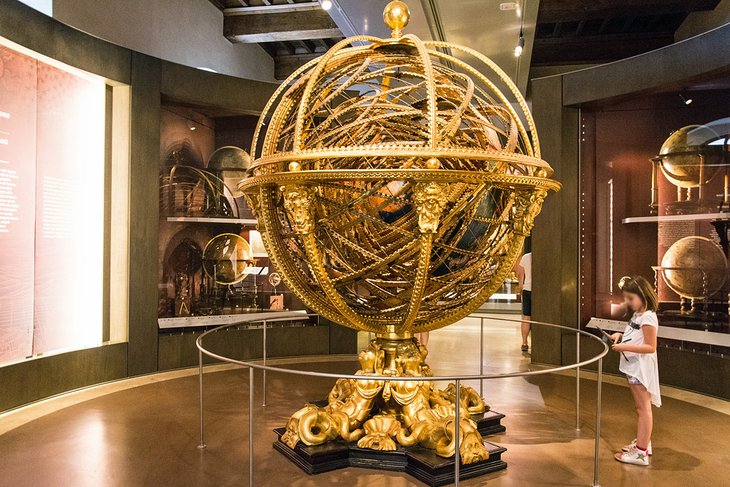 Older school-age kids and teens, especially math, science, and gadget geeks, will enjoy this little museum, just around the corner from the Uffizi Gallery.
Focusing on Galileo's contributions to scientific discovery, the museum hosts exhibits on fields such as astronomy, geometry, meteorology, navigation, and medicine. Particularly fascinating are the displays of ancient instruments such as early microscopes, telescopes, globes, clock parts, and even the first thermometers.
It's a good idea to read up on Galileo before visiting, so you can imagine how some of the instruments were used. Some of the exhibits are interactive to keep younger children entertained.
A gruesome exhibit, which older kids might enjoy, is a display of what is supposedly one of Galileo's preserved fingers.
The website offers mini-guides you can download (available in several languages) to help you organize your visit, including a map of the two floors of the museum.
Address: Piazza dei Giudici 1, Florence
10. See the Sights from the Hop-On Hop-Off Tour Bus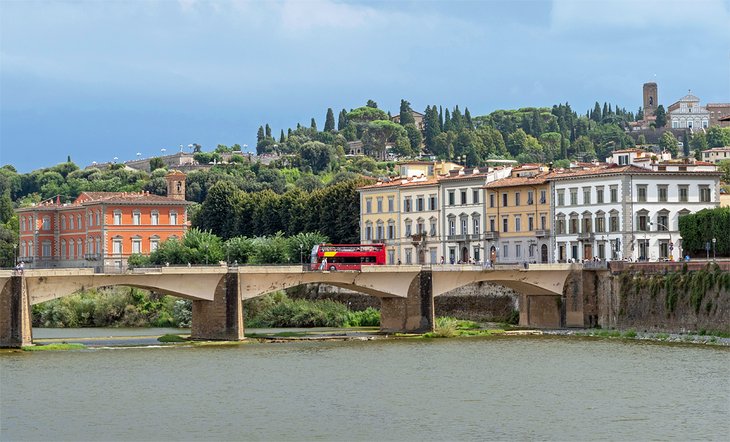 The double-decker Florence Hop-on Hop-off bus tour is fabulous for families – especially if you only have a short time to see the sights and you want maximum flexibility during your tour.
Although the bus can't navigate the historical center of the city, it stops at about 15 major Florence tourist attractions, including the Duomo; Boboli Gardens; the Pitti Palace; and the pretty town of Fiesole, with beautiful views of the city.
On a fine day, a seat at the top has the most sensory appeal. From here, children can experience all the sights, sounds, and smells of this historic city.
You can choose from three different routes, and commentaries are available in several languages, interspersed with the strains of Vivaldi, thanks to earphones handed out as you board. You can hop on and off the bus at any of the stops, and the lower level is wheelchair accessible.
This is a fantastic activity to add to your Florence itinerary with kids – especially for families who only want to stop for a quick visit at the main attractions. It's also a convenient way to see most of the sights without worrying about directions.
11. Learn about Nature at La Specola (Natural History Museum)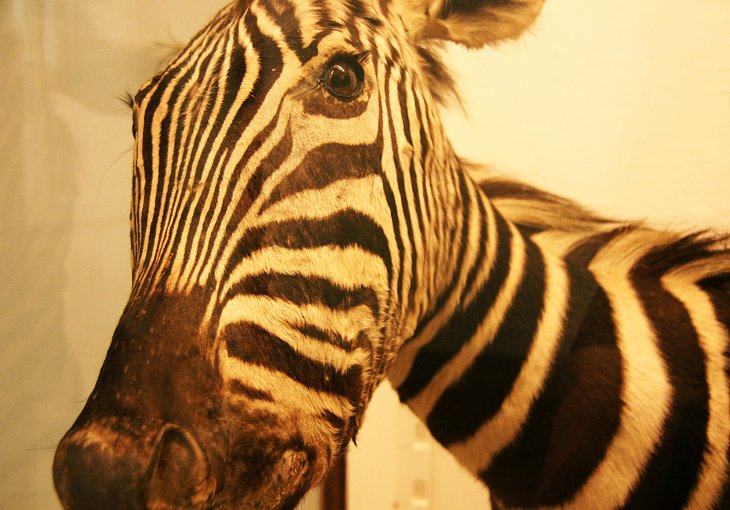 Europe's oldest science museum, La Specola Natural History Museum is a great choice for older kids who are burned out on paintings and palaces.
Stuffed animals and skeletons make up most of the exhibits at this quirky museum, and young zoologists will be dazzled by the array of insects, sea creatures, birds, and mammals, including a stuffed hippopotamus that was a former 17th-century pet of the Medici family.
Another section, which some parents might want to skip, displays wax figures with detailed cross-sections of human anatomy. These were designed in the 18th century for medical students to study the human body, and they might be a little confronting for younger children.
The museum lies adjacent to Boboli Gardens, so you can take a picnic lunch here and let the kids blow off steam after your visit.
Editor's Note: The museum closed from September, 2019 for renovations, with a projected reopening in 2021.