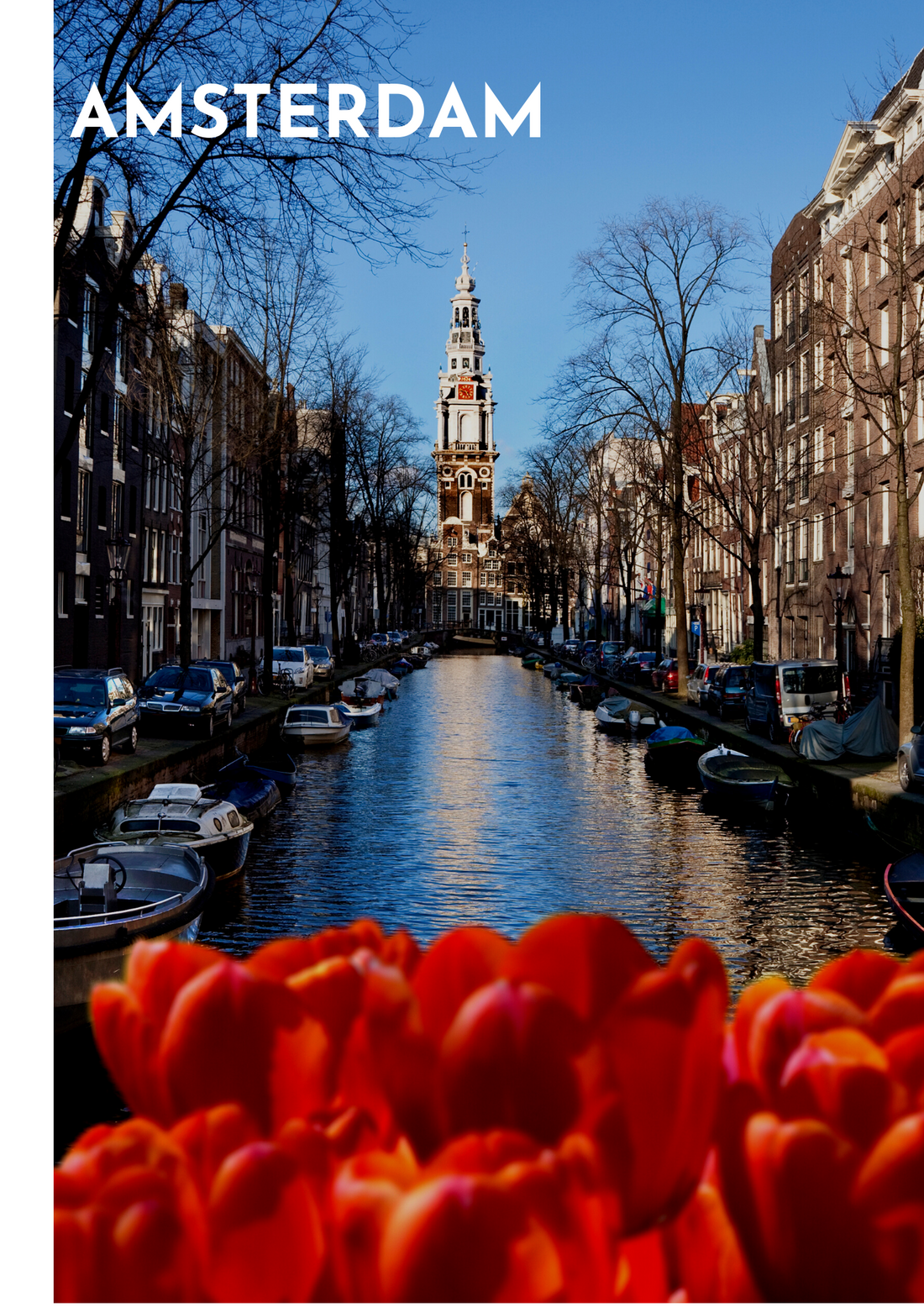 ARE YOU READY FOR A QUICK TOUR IN AMSTERDAM?
Amsterdam, known as the city of freedom, attracts both local and foreign tourists every year. The city, which scores high with its canals, flower market, museums, natural beauties, historical buildings, boat houses, bicycle tours, food and beverage and artistic side, is also on the forefront with its night life. It is absolutely necessary to plan 7-8 days for individual or touring trips for Amsterdam, which has many places to visit.
Amsterdam Travel Guide
Amsterdam, the capital of the Netherlands, is ranked 5th among the most visited cities in the world. The city's deep-rooted history stretches back to the 12th century and first originated as a small fishing village. The city's name is derived from the river it was settled on meaning old Dutch for "water-area". The city's population appears to be 1,5 million including the urban area.
The old part of the city consists of intertwining canals. What makes these channels so important is that they have historical structures remaining from the 17th century. Although some of the structures are used as houses, they continue to be used publicly or as a place of business in general.  Another point which attracts attention to the city are the boat houses.  These houses, built in the past for the reasons of housing problems, nowadays give the city an exotic and remarkable appearance. There are people from various nations in the city's diverse demographic structure, due to the mass migration which occurred in the 20th century.  This plays an important role in bringing the city to a more cosmopolitan structure and achieving cultural richness.
Places to See in Amsterdam
There are many addresses to be visited in Amsterdam, which has won the admiration many with its entertainment, museums, natural beauties and historical places.  Visitors in Amsterdam must see the Red Light District, the Royal Palace, Dam Square, Flower Market, Rembrandt Square, Van Gogh Museum, Rjiks Museum, Old Church, Anne Frank House, Madame Tussauds, Amsterdam History Museum, Diamond Museum, New Church and Tropenmuseum.
Red Light District 
Red Light District, one of the most visited places in Amsterdam, is referred to as the center of entertainment world. It is possible to find tourists from every country on this street especially in the summer when is the busiest.  You can enjoy this street by visiting after midnight, which is the address for alcohol, music and entertainment.
The Royal Palace
The Royal Palace, one of the most spectacular buildings in Dam Square was originally built as the Town Hall for the city but today it is used only for official ceremonies. The construction of this building, which is the symbol of the city, began in 1648 after Spanish war. Because the chandeliers, furniture and clocks in the palace date back to 1808, the palace is guarded by palace security forces throughout the day.
Dam Square
Located in the city center, Dam Square is one of the most important places in the city. Referred to as the Dam by the public, is visited by both local and foreign tourists throughout the day. Important structures such as Koninklijk Paleis (Royal Palace), Damrak Avenue, Madame Tussauds Museum, Nieuwe Kerk, National Monument, Kalverstraat and NH Grand Hotel Krasnapolsky are also located in this vicinity.
Flower Market
Flower Market, where thousands of flowers are displayed, fascinate visitors with its picturesque view, colorful harmony and unique scent of flowers. Even if you are not going to shop, you should definitely visit the Flower Market and take a souvenir photo with colorful flowers.  
Amsterdam Food Culture
Amsterdam cuisine, which has many flavors from world cuisine, is able to appeal to many different tastes. Dutch cheeses, Tostis, Broodjes, Uitmijter, pancake variaties, Stroopwafels, Oliebollen and Limburgse Vlaai are amongst the very special flavors you must try when you visit Amsterdam.  If you wish you can choose to taste these dishes at D'vijff Vlieghen and Excelsior Restaurant.
Shopping in Amsterdam
You might want to purchase souvenirs which every time you look at will remind of you of this perfect city, even after you return from Amsterdam.  You can buy souvenirs such as tulip bulbs, wooden shoes, porcelain products, or cheese and beer from Amsterdam for both your own home and your loved ones. In case you have a higher budget for shopping, you might wish to visit the antiques market for diamond souvenirs. 
When to Visit Amsterdam?
In Amsterdam, which is visited throughout the year, the intensity increases with the start of the warmer temperatures especially in the spring and summer. The city, which is very cold in the winter months, can be visited in the spring and summer to sightsee more and use less of local transportation.   You can roam the city freely between April and October.
Festivals in Amsterdam
You might want to check out the festival dates before purchasing your flight ticket, to take part in these events. There are many festivals throughout the year in the city where entertainment is very lively. The Amsterdam dance contest, held in October, is one of the most visited events. International Film Festival, the world's most important documentary film festival, is also held in Amsterdam in November. In addition, you can also attend the Cannabis Cup (November), Amsterdam Run (March), Holland Festival (June), Keti Koti Festival (July) and Amsterdam Roots Festival (June).
Where to Stay in Amsterdam?
If you wish to remain close to tourist attractions you would want to arrange your accommodation in the city center.  By staying in the city center you will be able to walk to many attractions. For lower budgets you might want to consider accommodation a little further from city center.  Since the public transportation system is extremely developed and economical, you can choose to stay further away from the center with mind at peace.  
Flights to Amsterdam
In order to purchase the most affordable flight you must make an early reservation.  Once you have prepared a plan and decided on the length of your holiday, you can save money by purchasing your airline tickets at least 1 month in advance.  Another way of purchasing economical tickets are by selecting flights late at night or early in the morning.  In case you do not have any transportation issues you might want to consider one of these options.
Another good way to speed up your time at airport is via online check-in 24 hours prior to your departure. The flight time from Istanbul to Amsterdam Airport - Amsterdam Schiphol Airport is 3 or 3 and a half hours. You can rent a vehicle by contacting the Amsterdam rent a car companies in advance to travel comfortably with your own private car.