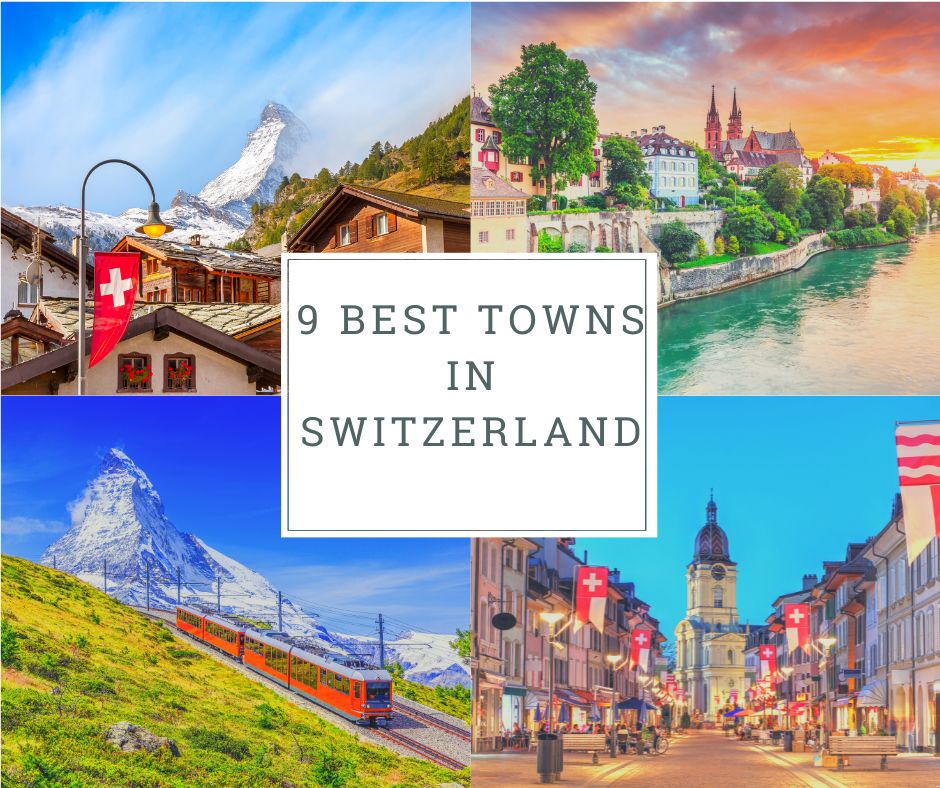 9 Best Towns in Switzerland
Switzerland is home to many delights (chocolate, cheese, and cows with flower crowns, to name a few) but there is one draw that trumps them all – its bounty of fairy-tale towns. From the snow-covered villages in the Swiss Alps, where ski enthusiasts flock to the ski resorts each season, to the pretty, picture-perfect lakeside resort towns surrounded by flower-filled fields and snowcapped mountains, in Switzerland there's something for everyone.
See which one is calling (yodeling?) your name by taking a virtual stroll through our list of the most beautiful towns in Switzerland.
1. Locarno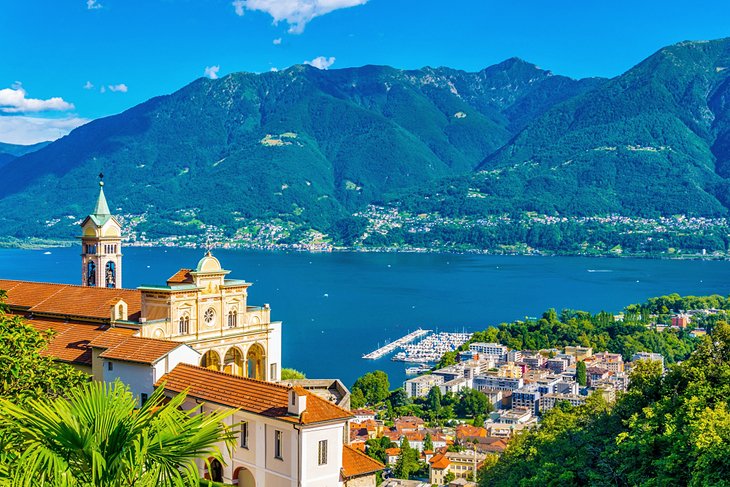 Sitting just two hours north of Milan by car (and three hours south of Zurich), Locarno is one of the most beautiful towns in Switzerland and has a distinctly Italian vibe.
It features candy-colored palazzos; open-air cafés; a generally relaxed attitude; and a reputation as the sunniest Swiss town, with over 2,300 hours of sunshine yearly. Palm and lemon trees, camellia, bougainvillea, and grapevines cluster along the boulevards and waterfront promenade that wrap around the stunning, mountain-ringed northern shores of Lake Maggiore.
Locarno's Piazza Grande is the largest piazza in Switzerland and hosts large, boisterous events throughout the year – take a stroll around its perimeter, with a gelato in hand, and pop into the little boutiques and shops that line the old town's cobbled streets.
For a truly relaxing experience, walk over to Termali Salini & Spa Locarno, a modern spa facility right on the edge of the lake, featuring a series of waterfall-fed salt pools, a stunning subterranean sauna complex, and an outdoor infinity pool that looks out over the lake and snowcapped mountains.
To get a taste of the rich history (and one of the best views) in the area, take the 113-year-old Funicular Locarno up to Sacred Mount Madonna del Sasso in Orselina, a popular pilgrimage destination and one of the most important religious sites in Ticino. If you follow the Cardada cable car right to the top (elevation 1.3 kilometers), you'll be rewarded by a view where you can simultaneously see Switzerland's lowest point, the Maggia River delta, and its highest, Dufourspitze, an impressive ice-covered mountain in the Swiss Alps.
2. Intragna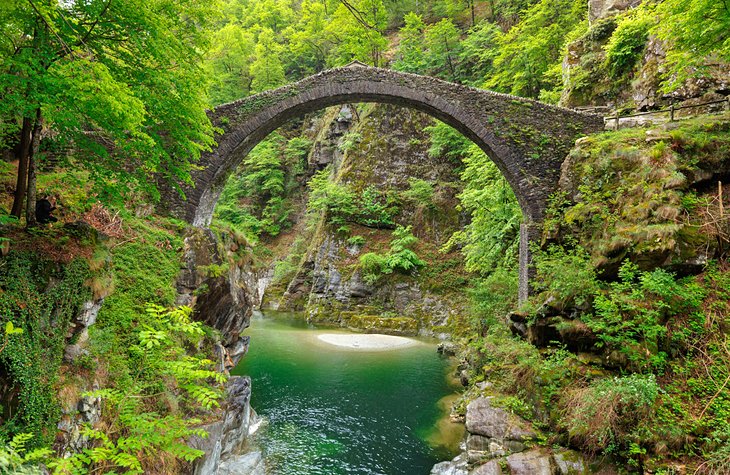 Perched high on a rocky spur at the meeting of the Isorno and Melezza Rivers, with narrow cobbled streets and multistoried buildings, Intragna is the perfect example of a pretty, medieval Swiss town. As it's only an 18-minute train ride from Locarno, this tiny town is an ideal day trip destination from the region's capital.
Start at the 21 exhibition rooms of the Museum of Centovalli and Pedemonte for a comprehensive overview of the region's history and the role of Intragna's families. San Gottardo Church, which was reconstructed into its present form in 1722, boasts the highest church bell tower in Ticino, clocking in at just over 213 feet – both church and tower are open for visitors.
For the site that truly makes Intragna one of the prettiest towns in Switzerland, go for a stroll along the former Intragna-Remagliasco mule track and stop at Ponte Romano (aka Roman Bridge). This stone bridge was built in 1578 and arches majestically over the can't-quite-believe-they're-real turquoise waters of the Melezza River.
Before heading back on the train, sit down for a delicious meal at the family-run bistro Stazione Da Agnese, which specializes in locally sourced produce and regional favorites, such as caught-that-day lake perch paired with lemon-zest risotto.
3. Lucerne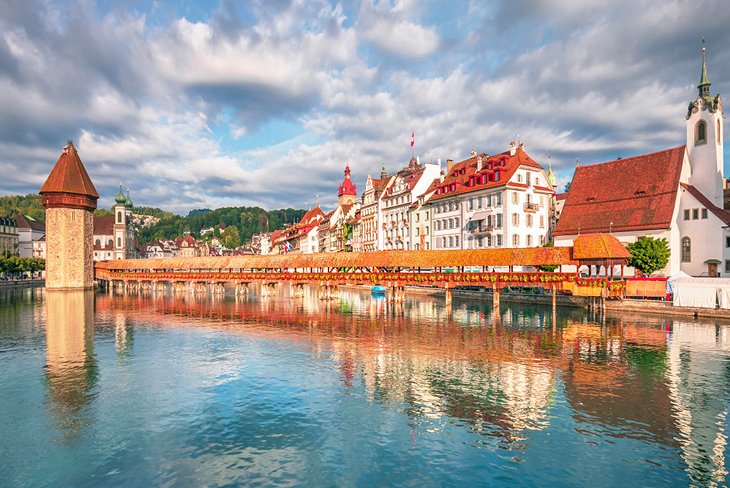 If you're in search of a large fairy-tale town in Switzerland with oodles of charm and tons of amenities, look no further than Lucerne. This beautiful medieval town near Zurich sits on the shores of Lake Lucerne in central Switzerland – in fact, one of the most majestic ways to get to this Swiss town is via a fleet of stately steamboats (they're part of the Swiss travel system) from Flüelen, which stop in at other small towns along the lake route.
Stake your claim on one of the reclining deck chairs and take in the tiny picture-perfect lakeside Swiss towns that cling to the shoreline. You'll even glide past the famous Rütli meadow, which is the exact spot where Switzerland was founded in 1291.
Once you've docked in town, it's only a few hundred feet to one of Switzerland's most visited landmarks – Kapellbrücke (Chapel Bridge), a colorful 14th-century covered bridge that spans the river Reuss, connecting the town's two commercial districts. As the oldest covered bridge in Europe, walking its span is like going back in time – look up and you'll spy hundreds of bold patterned interior paintings, which date back to the 17th century.
A few minutes' walk from the bridge, you'll find Hotel Wilden Mann, a historic hotel that started out as a rowdy public house back in 1517. There are fantastical touches throughout the property (see if you can spot the "Wilden Mann" himself peeking out around corners), and each guest room is decorated with individualized flare. To taste regional dishes with a modern twist, reserve a spot in the popular dining room.
4. Interlaken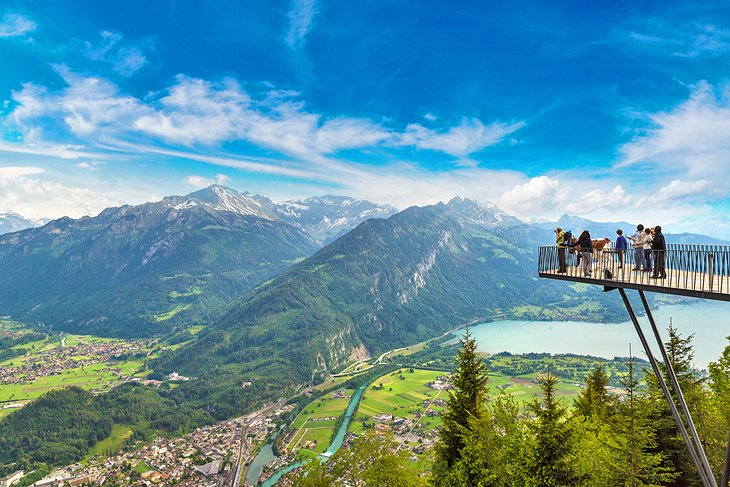 Sitting right in the heart of the Bernese Oberland region, Interlaken has long been a traditional holiday destination for the outdoor-loving Swiss people. Surrounded by some of this landlocked country's tallest peaks – Eiger, Mönch, and Jungfrau – and sandwiched between the crystal-clear waters of Lake Brienz and Lake Thun, it is undeniably one of the prettiest towns in Switzerland and also makes an ideal base camp for any Alpine or water-based pursuits.
Rent a small sailboat and try your hand at navigating the calm waters of either lake, or, if you're itching to get up into the mountains, take the funicular up to Harder Kulm, a viewpoint situated 4,337 feet above sea level that is the starting point for many hiking paths. To get up close and personal with the region's loftiest peaks, hop on one of the many charming Alpine trains that wind through the picturesque mountain villages on the way up past the tree line.
5. Grindelwald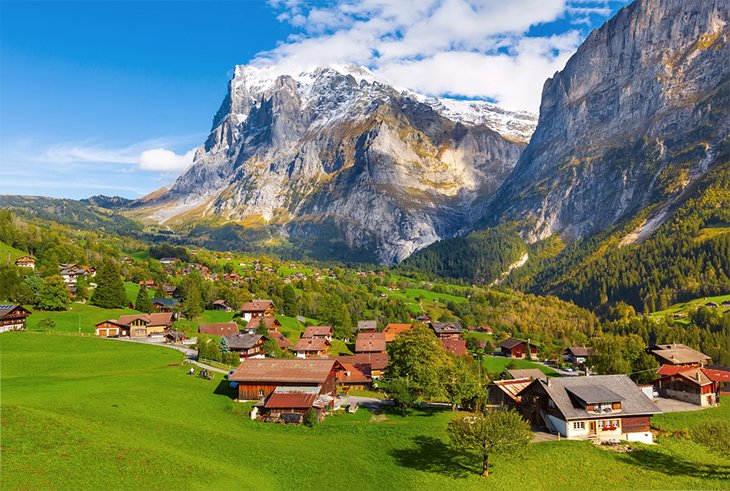 Hopping on one of those mountain trains from Interlaken will get you to one of the most beautiful towns in Switzerland, Grindelwald Village.
Tucked in at the foot of the iconic Eiger North Face (elevation 3,966 meters), this picture-perfect mountain town in the Jungfrau region has been a ski destination since the mid 1850s, when snow-sport enthusiasts would scale up by oxen cart to get to their beloved slopes. Now, a tiny yellow-and-green train winds its way up the steep mountain incline, weaving in and out of the flower-filled valleys and pretty farmland that make up the Jungfrau region, until it reaches its final destination.
Grindelwald hasn't lost any of its old-world charm, with undulating streets lined with traditional ornamental wood chalets and boutique stores, but it definitely has all the modern amenities of a cutting-edge ski resort.
First is the town's main recreational mountain and is accessible year-round via cable car. No matter what time of year you visit there is something for thrill seekers of every age. Designed by Swiss watch experts Tissot, First Cliff Walk is a suspended boardwalk and bridge that follows the edge of two cliff faces right at the summit. The views are astonishing, but don't be surprised if you're greeted with a sudden snow cloud even in July – the elevation is 2,168 meters above sea level.
For those in search of even more adrenalin, head to First Glider and strap yourself into a cable zipline, which pulls you up the mountain and then releases you back down at 83 kilometers per hour.
6. Montreux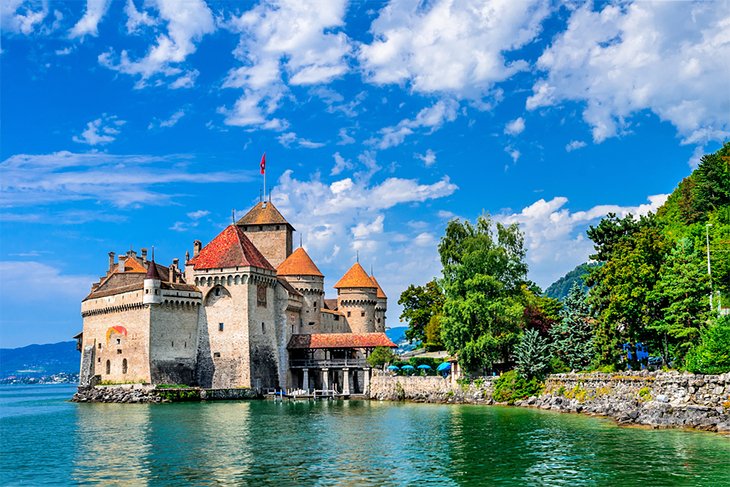 One of the most scenic ways to get from the Swiss Alps down to Montreux on the sparkling shores of Lake Geneva is on the GoldenPass Panoramic train. This historic train line follows the flow of the Lütschine River down the steep slopes, across unthinkably high bridges and past aquamarine lakes until it arrives at the Belle Époque streets of Montreux. Within the span of a couple hours, you've gone from German-speaking ski resorts of the Swiss Alps to the French-speaking, Parisian-like streets of this ultra-elegant town.
It's famous for its yearly summer Montreux Jazz Festival, but even if you're not here in July to enjoy the music, book a table at the hip Montreux Jazz Café to peruse memorabilia from festivals past and enjoy a contemporary meal in a chic setting.
Hop on a bus and take the 10-minute ride along the lake to Chillon Castle, a thousand-year-old, perfectly preserved fortress situated on its own easy-to-protect island. The recorded headset guides are definitely worth using to get all the juicy details of the history of Switzerland's most visited historical landmark, including the "guests" its dungeon has seen, such as Lord Byron in 1810.
For the ultimate in Swiss hospitality (and an amazing breakfast buffet), book a room at the Grand Hotel Suisse Majestic and enjoy panoramic views of Lake Geneva and the surrounding mountains.
7. Lutry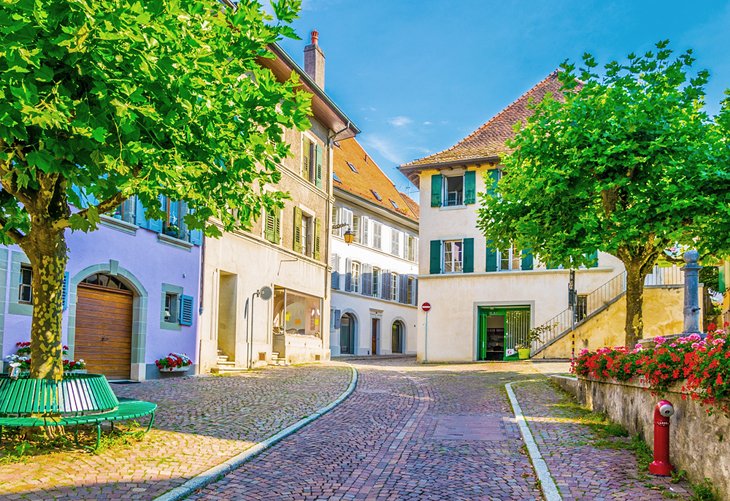 Located on the edge of the spectacular Lavaux Region, a famous UNESCO World Heritage Site with thousands of rock terraces that hug the edge of Lake Geneva, Lutry is one of the prettiest small towns in Switzerland. Its roots as a thriving medieval market town can still be spotted throughout its narrow cobbled streets, from the remnants of the 13th-century circular protective wall to the dozens of tiny, ornate stone fountains found in quiet sunlight-filled squares.
In the 11th century, the local ruler erected a fortified tower known as Lutry Castle, which still stands today right outside the train station. The town's church also hails from the same era, although it's been updated throughout the centuries, boasting interior paintings from 1577 by Flemish artist Humbert Mareschet.
A bit farther south along the lake, above the city of Vevey, is another attraction that's not to be missed – Chaplin's World. Even if you're not an existing fan of Charlie Chaplin, this interactive museum housed in his personal chateau chronicles his fascinating life and career. Why Switzerland? When Chaplin was denied reentry to the U.S. in the 1950s, he settled in Vevey with his family and happily lived there for 25 years.
8. Zermatt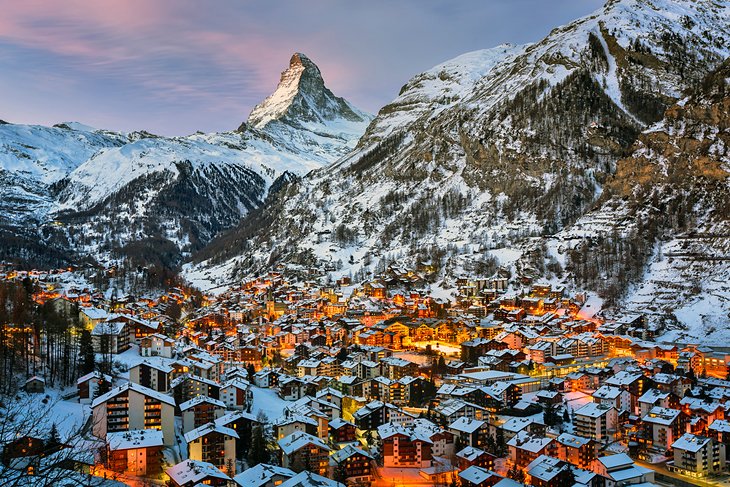 As the home of the Matterhorn, Zermatt is the highest resort town not only in Switzerland but in the whole of Europe, with its chairlifts peaking at 3,883 meters. It hard not to be swept away by the romanticism of this fairy-tale town in Switzerland's southern Valais canton, with the immense snowcapped Matterhorn framing the picture-perfect scene of chic, traditional wooden chalets; pretty public skating rinks; and well-dressed Europeans strolling the boutique-lined main street, Bahnhofstrasse.
Thanks to a long snow season and the permafrost on Zermatt Glacier, guests can find powder year-round at this famous car-free ski resort in the Swiss Alps.
But it's not all snow sports in Zermatt – this Swiss mountain town also pulls in culinary tourists who want to experience fine dining at its two Michelin-starred restaurants, Ristorante Capri in the Mont Cervin Palace and After Seven at the Backstage Hotel.
9. Chur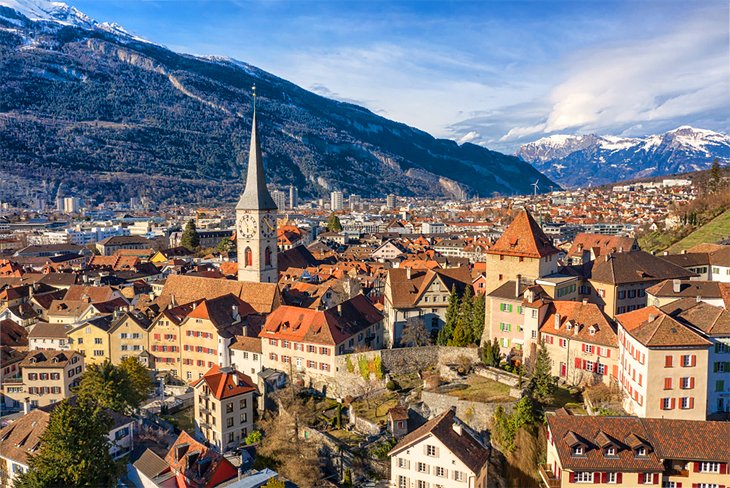 Settled over 5,000 years ago, Chur holds the title of the oldest (and one of the prettiest) towns in Switzerland. High up in the Grisonian Rhine Valley, sitting at 1,800 meters above sea level, the clear Alpine air is noticeably crisp and the mountain-spring water particularly delicious. In fact, there are 47 natural springs running under (and sometimes through) the cobbled streets of Chur, many of which have been redirected to this mountain town's 135 public stone fountains.
Only a few minutes' walk from the train station, Old Town is a perfectly preserved, walled, medieval maze of narrow streets, tiny squares, and brightly plastered buildings.
One of the most fascinating aspects of this Swiss town is that the common language is Romansh, which descended from the spoken Latin of the Roman Empire. This mountainous region was colonized by the Romans way back in 15 BC and yet the language remains.
Historically on the crossroads of several busy Alpine trade routes, Chur also became an important religious center, with one of the oldest churches in Europe, the impressive 5th-century Chur Cathedral and bell tower.
When you've exhausted your sightseeing for the day, step back in time at the charming Romantik Hotel Stern a chic Alpine guest house and traditional dining room that's been welcoming visitors for more than 300 years. The busy restaurant is a local favorite that specializes in regional delicacies and seasonal fare – for a taste of the region, order the cabbage rolls with apple sauce. The Museum of Fine Arts Chur is also worth a visit to get a glimpse into the lives and minds of the country's top artists.