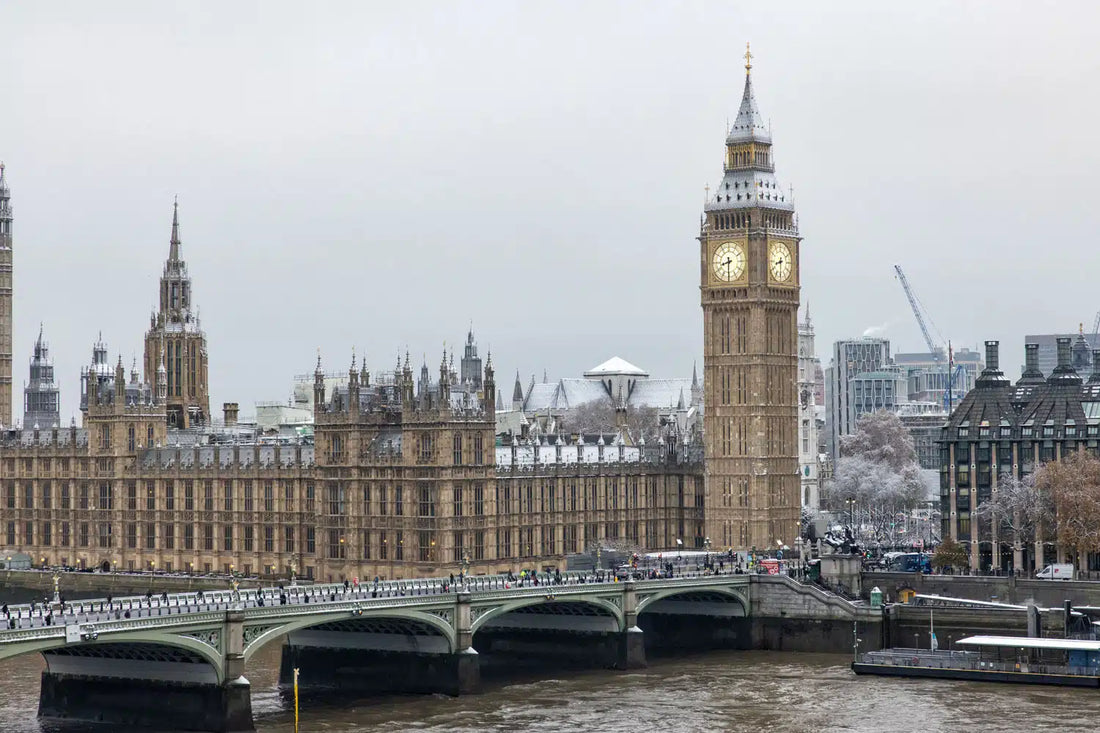 5 Days in London: The Ultimate London Itinerary
5 Days in London: The Ultimate London Itinerary
In general, I grouped sites together based on their location in order to save you time walking and using public transportation. This will keep you from spending unnecessary time on London's metro (aka the Tube and the Underground) and backtracking through the city.
Also, I grouped some of the most expensive activities into days 2, 3, and 4, so you can take advantage of the London Pass (more about this at the end of the post).
Also, at the end of this post, we give recommendations on how to shorten this London itinerary if you only have 2, 3, or 4 days to spend in London.
The provided walking distances are the amount of walking you will do to get between sites. These do not include the amount of walking you will do inside museums, art galleries, etc.
LONDON ITINERARY: DAY 1
Arrive in London
Depending on your flight, most likely you will arrive in London in the morning. Check into your hotel and get settled. Only take a nap if you desperately need one. It's better to drink some coffee and stay awake so you can adjust to the time change as quickly as possible. It's amazing what getting out into the sunshine can do to revive tired travelers. However, it is London, so there is the chance that the sun will be hidden behind the clouds.
To get to your hotel from the airport, you can take a taxi or hire a private driver (expensive, about 45 minutes, but most likely will be longer depending on traffic), take the Underground (cheap, about 1 hour), or take the Heathrow Express to Paddington station and then take the Underground to your hotel (about 45 minutes but varies depending on hotel location). 
HOP-ON HOP-OFF BUS TOUR
Normally, we do not recommend bus tours. Unless you are in London. This city is huge and the list of sites to see is long. Taking a bus tour is a great way to get an overview of this amazing city. Plus, it's the perfect, low-key activity for jet-lagged travelers.
There are multiple companies that offer Hop-On Hop-Off Bus Tours. Big Bus, Golden Tour, and The Original Tour are the most popular. We recommend Big Bus, only because this is whom we used and we had a good experience.
Most companies offer multiple routes through the city. Tickets are valid for one, two, and three days, and extra excursions may be added in, such as a river ride on the Thames. For the purpose of today, all you need is a basic 24-hour ticket.
To get an overview of the city, I recommend the Red Route with Big Bus. This route takes you past the main sites without going too far out of the way. Enjoy the journey as you glide by Big Ben, Westminster Abbey, St. Paul's Cathedral, Buckingham Palace, and the River Thames.
TAKE A RIDE ON THE LONDON EYE
A ride on the London Eye is another ultra-touristy thing to do in London, but if this is your first time in the city, it's thrilling to look down on the River Thames, Parliament, and over the London skyline.
Cost: Tickets start at £33 if you book in advance. If you want to skip the line, choose the Fast Track option (slightly more expensive). Tickets are available on the official website.
Hours: 10:00 am – 8:30 pm, although hours change frequently depending on the season. Visit the London Eye website for more information.
Getting here: Use the bus tour to get here, hop off and ride the London Eye, and then hop back on the bus to complete the loop back to your hotel (or your starting destination).
Have dinner and go to bed early to get that much needed sleep.
LONDON ITINERARY: DAY 2
1.Westminster Abbey, Buckingham Palace, Big Ben, Whitehall, Covent Garden
a.WESTMINSTER ABBEY
Westminster Abbey is the site of the coronation of the monarchs of England, royal weddings, and the funeral of Princess Diana. Hundreds of people are buried in tombs and in the floor of the Abbey, including Charles Darwin and Sir Isaac Newton. Included with your entry fee is an audio guide that explains the history of this amazing place.
Plan Your Visit: Tour Westminster Abbey in photos.
Hours: 9:30 am – 3:30 pm Monday through Saturday; Sundays: only open for worship
Cost: £27 online in advance; included on the London Pass, if tickets are sold out for your dates of travel.
Website:  Check opening times and get updated pricing on the official website
BUCKINGHAM PALACE
From Westminster Abbey, walk through St. James's Park to The Mall (1.1 km, 0.7 miles, about 15 minutes) to Buckingham Palace. Most visits here are quick, with just a view of the Palace through the fence, but if you get your timing right, you can watch the Changing of the Guard.
The Changing of the Guard occurs every other day at 11 am (usually Monday, Wednesday, Friday and Sunday). In the summer, the Changing of the Guard may occur daily. This schedule can change, and the ceremony will not occur in inclement weather.
The Changing of the Guard is a ceremony that takes place between St. James's Palace and Buckingham Palace. The ceremony starts at 10:30 am at St. James's Palace, at 10:45 the procession enters The Mall and walks towards Buckingham Palace, and at 11 am the official Changing of the Guard occurs at Buckingham Palace. You can watch this ceremony on the mall and in front of Buckingham Palace. It helps to get here early (as much as an hour early during the very busy summer months) to get a good spot.
LUNCH
Next, we will be walking over to Whitehall. Restaurants on Whitehall either mediocre or expensive (your best bet on Whitehall is The Red Lion). There are numerous restaurants to try just south of Buckingham Palace, including Bon Gusto (Italian), Quilon (Indian and Asian), or Buckingham Arms (bar/pub located on at 62 Petty France).
CHURCHILL WAR ROOMS
After lunch, walk to the Churchill War Rooms. This museum has two parts to it. At the Churchill Museum you learn about the life and legacy of Winston Churchill. Then you enter the Cabinet War Rooms. This is the underground bunker where Churchill and his staff ran their operations during World War II.
This museum is fascinating, and you do not need to be a history buff to appreciate this visit. If you want to learn more about Winston Churchill before your visit to London, consider watching the movie Darkest Hour or reading the book The Splendid and the Vile: A Saga of Churchill, Family, Defiance During the Blitz by Erik Larson. It is about Winston Churchill's first year as prime minister during the bombings by Hitler. This story is told by using the journals from Churchill's inner circle and it provides a fascinating insight on the mind of Churchill and what it was like to live through this time period.
Cost: Adults £27.50, Child (5-15) £13.75; included on the London Pass
Hours: 9:30 am – 6:00 pm, last admission at 5 pm
Website: Get updated hours and pricing before you go on the official website.
Tour of the Churchill War Rooms: Get more out of your visit on this small group tour of the Churchill War Rooms and war sites in Westminster.
BIG BEN
From the Churchill War Rooms, walk towards Westminster Bridge along Great George Street/A302. Along this walk, you will pass several red phone booths where you can photograph the phone booth and Big Ben together, as in the photo below.
PARLIAMENT
From the Churchill War Rooms, continue the walk towards Big Ben. Before long, you will be able to see some of London's most iconic sites: Big Ben, Westminster Abbey, and Parliament.
Walk across Westminster Bridge and take a look back towards Parliament. This is a great place to snap that iconic photo of Parliament and the River Thames.
If it interests you, you can take a tour of Parliament or attend the debates, if Parliament is in session. You can take an audio tour or watch the debates at the House of Commons or the House of Lords, but what exactly you can do depends on whether or not you are a UK resident.
HORSE GUARDS PARADE
Walk one more block north on Whitehall to Horse Guards Parade. This is a large, gravel area used for parades and a daily changing of the guard (at 11 am).
TRAFALGAR SQUARE
Continue the walk north to Trafalgar Square. This is one of London's most popular public squares. It has been the site for anti-war demonstrations, New Year's Eve celebrations, and victory parades.
BEN FRANKLIN'S HOUSE
Ben Franklin, in London? For sixteen years, from 1757 and 1775, Ben Franklin lived in London. This house is the only surviving house that he called home. It is now a museum and can be visited while you are in London. Visit the official website for hours of operation and ticket prices if a visit here interests you (included on the London Pass).
COVENT GARDEN
Covent Garden is a district in the West End that is now a popular shopping and dining area. Spend the rest of the afternoon and evening exploring this neighborhood.
There are numerous restaurants in this area, including a cluster of restaurants and shops in Apple Market.
Neal's Yard is a colorful alley near Covent Garden. It's worth the quick visit just to take a photo. Just around the corner is Neal's Yard Dairy, one of the best spots in the city to sample artisanal cheese.
LONDON ITINERARY: DAY 3
Tower of London, Tower Bridge, Borough Market, Tate Modern, St. Paul's Cathedral, Sky Garden
TOWER OF LONDON
For nearly 1000 years, the Tower of London has served as a royal palace, prison, place of execution, stronghold for riches, and the symbol of the monarchy in England. This is absolutely a must-visit destination in London. This was our favorite history lesson in London, plus the crown jewels are stunning, and probably the best in all of Europe.
There are several parts to a visit to the Tower of London, so expect to spend approximately 2 hours here.
The one-hour Yeoman Warder tour is not only educational but also entertaining (even for kids!). It's a fascinating lesson about the history of London and the events that occurred at the Tower of London.
The Crown Jewels, an astonishing display of diamond studded crowns and scepters, are the most amazing in Europe. Now they sit on display for all of us common folk to see.
You can also explore the tower walls and tour the White Tower and visit its museum with exhibits containing executioner's blocks and the Royal Armory.
Ceremony of the Keys: This is a ceremony where the Tower of London is locked up at the end of the day. Tickets must be reserved online in advance and they can sometimes sell out a year in advance.
Cost (online price):
Adults £29.90, Child £14.90, included on the London Pass; walk-up tickets cost £2 – £4 more than online tickets
Hours: Summer (March 1 to October 31) Tuesday through Saturday 9:00 am – 5:30 pm, Sunday and Monday 10:00 am – 5:30 pm, last admission 5:00 pm; Winter (November 1 to February 28) Tuesday through Saturday 9:00 am – 4:30 pm, Sunday and Monday 10:00 am – 4:30 pm, last admission 4:00 pm
Getting here: Take the underground to Tower Hill, then it is a 5 minutes walk to the Tower of London
Website:  Get updated hours and pricing on the official website
TOWER BRIDGE
Walk out to the River Thames to Tower Bridge. Tower Bridge is London's most famous bridge. Enjoy the view and take your photos.
Stroll across the bridge and take in the view down the River Thames.
You can also climb the tower to an elevated glass floor. From here, it's a thrilling look down at the pedestrians, cars, and buses traveling over London Bridge.
Walking across the bridge is free, but if you want to climb the tower and walk across the glass walkway, you will have to buy a ticket.
If you purchase your tickets online 24 hours in advance, you will save money off of the ticket price. You still may have to wait in line to enter the glass walkway depending on crowd levels. 
Cost: Adult £11.40, Child £5.70, included on the London Pass
Hours: 9:30 am – 6:00 pm; last entry at 5:00 pm
THE VIEW FROM THE SHARD
From Tower Bridge, walk west along the Thames River to The Shard. You know you are heading in the right direction if you see a building that looks like a giant piece of broken glass pointing up to the sky. This is The Shard, one of London's newest editions to its skyline.
At the View from The Shard, you will have the highest view over London. It's pricey, but it may be worth it on a day with clear weather.
Note: If you don't want to spend your time or money here, later today you will visit the Sky Garden. This is another viewing platform that gets rave reviews and it is free.
Cost: tickets start at £28; included in the London Pass
Hours: 10:00 am – 10:00 pm, with reduced hours during the winter. Visit the official website for more information.
LUNCH AT BOROUGH MARKET
From The Shard, walk a few blocks to Borough Market. The food options are endless at this market. Stalls specialize in different cuisines from around the world, so this is a great place to sample some new foods or assemble a picnic lunch to enjoy back on the banks of the River Thames.
Note: Borough Market is closed on Sundays. However, there are numerous restaurants nearby if you are here when the market is closed.
SHAKESPEARE'S GLOBE THEATRE
Continue your walk along the River Thames to the Globe Theater. The original Globe Theatre was built in 1599 and hosted plays written by Shakespeare. A modern version of the Globe Theatre was built in 1997 on the site of the original theatre. Visitors can take a tour of the theatre or watch a performance here.
For the performance schedule and details about visiting the Globe Theatre, visit their website.
TATE MODERN
Sitting next door to the Globe Theatre is Tate Modern, a museum that is home to modern art. This is a place that most people seem to either love or hate. Either you will think the art is rubbish or you'll think that it's brilliant. We kept our visit quick (about an hour) and were still able to tour most of the museum.
The Tate Modern is worth it if you are an art lover, but it is skippable if you are not. Hey, if you don't like it, no biggie. The Tate Modern is free to visit!
Cost: Free
Hours: 10:00 am – 6:00 pm
MILLENNIUM BRIDGE
Built in 2000, Millennium Bridge is a pedestrian bridge that crosses the Thames River. It has been featured in several movies, including Harry Potter and Guardians of the Galaxy. Walk across Millennium Bridge and continue on to St. Paul's Cathedral.
ST. PAUL'S CATHEDRAL
St. Paul's Cathedral dates back to the late 17th century. It was designed by Sir Christopher Wren after the Great Fire of London of 1666. Recent historical events that have taken place here include the wedding of Prince Charles and Lady Diana, the Diamond Jubilee of Queen Elizabeth II, and the funeral of Winston Churchill.
For us, the highlight was climbing the steps to the Whispering Gallery and to the rooftop for views over London.
You can buy your fast-track entry tickets online, in advance, to save £3 per ticket and skip the line.
Cost (online): Adults £20.50; included with the London Pass
Hours: Hours vary by the day of the week and it is not open on Sunday for sightseeing. 
MONUMENT TO THE GREAT FIRE OF LONDON
After your visit to St. Paul's Cathedral, walk east to the Monument of the Great Fire of London. This is a permanent reminder of the Great Fire of 1666 that destroyed the city of London. Christopher Wren was also the architect for this monument. If you still have energy, you can climb its 311 steps for another view over London.
SKY GARDEN
Some people say that this is the best view of London. What's even better is that a visit here is free. From its large observation deck, you can look out over the River Thames and see many of the places you walked to today.
LONDON ITINERARY: DAY 4
National Gallery, Greenwich, Prime Meridian, Up at the O2
NATIONAL GALLERY
Located in Trafalgar Square, the National Gallery is the most popular art gallery in London. It is here that you can see British art from the 13th century to 1900. It would take all day to fully explore this art gallery. For those who want to hit the highlights, visit the National Gallery website and check out their list of 30 must-see paintings.
Cost: Free
Hours: 10:00 am – 6:00 pm, open until 9:00 pm on Friday
If you have extra time (and do not have museum fatigue yet) you can also visit the National Portrait Gallery, located behind the National Gallery.
PICCADILLY CIRCUS AND REGENT STREET
From the National Gallery, walk to Piccadilly Circus. This spot is similar to Times Square in New York City. This meeting point, where several main roads come together, is a very busy spot in London. Enormous neon signs bath the area in colorful light and double decker red buses and cars continually stream by. Have a seat on the steps of the Shaftesbury Memorial Fountain and watch London in action.
Next, walk up Regent Street. This is a major shopping street in London. Along the way, you will pass Hamley's, one of the largest toy stores in the world and a great place to take kids. Continue up to Oxford Circus, another famous London intersection.
Have lunch nearby. If you like the idea of Indian food, consider Dishoom Carnaby, located on Kingly Street, one block off of Regent Street.
GREENWICH
There are several great things to do in Greenwich. Depending on how much time you have left in the day, you may not be able to get all of these in.
Getting Here: From Oxford Circus Station, take the Central line towards Epping, getting off at Bank Station. Change to the DLR towards Lewisham, getting off at Cutty Sark for Maritime Greenwich. Approximately 30 minutes travel time.
OLD ROYAL NAVAL COLLEGE
This is a UNESCO World Heritage Site located in Greenwich. It once served as a naval hospital and later as a naval college. Now, this site is being used as a filming location for many famous movies such as The King's Speech, Patriot Games, Pirates of the Caribbean: On Stranger Tides, Four Weddings and a Funeral, The Avengers, and The Dark Knight Rises.
The Painted Hall, which is the main attraction in the Old Royal Naval College, reopened in 2019 after a renovation project. 
You can book your tickets online in advance through the official website.
ROYAL OBSERVATORY AND THE PRIME MERIDIAN
Here is your chance to stand over 0° longitude, placing one foot in the eastern hemisphere and one foot in the western hemisphere. You can also visit the planetarium museum. Since this observatory sits on top of a hill, you have a great view over Greenwich and the River Thames from here.
CUTTY SARK
The Cutty Sark was the fastest ship of her time, the world's sole surviving tea clipper ship. Tours are available daily. The Cutty Sark is located in Greenwich.
UP AT THE O2
The O2 is an entertainment district with an arena, music club, cinema, and restaurants. Up at the O2 is a 90-minute experience where you get to climb onto the O2 roof. The views over London from the top are spectacular.
You can do the climb during the daytime, at sunset, and at twilight.
Visit the Up at the O2 website for full details, hours, cost, and how to schedule your visit.
Getting here from Greenwich:
By Bus: Bus 188 from Cutty Sark from Maritime Greenwich to North Greenwich, 10 stops, 10 minutes
By Tube: Cutty Sark from Maritime Greenwich to Canary Wharf on the DLR, transfer to Jubilee Line, go one stop to North Greenwich Station
End the day with dinner and drinks.
LONDON ITINERARY: DAY 5
British Museum, Afternoon Tea, Portobello Road Market, Victoria and Albert Museum, Harrod's
BRITISH MUSEUM
The British Museum is one of the world's greatest museums. This museum contains a massive collection of historical artifacts that were amassed while Great Britain was a major world super power. See the Rosetta Stone, a portion of the Parthenon, Egyptian mummies, and hieroglyphics. As you wander through these rooms you will be amazed at how much stuff the British Empire amassed during their world rule.
We are putting this museum first in the day. The British Museum is huge and it is best tackled when you are fresh and full of energy. Make sure you have a good breakfast to keep you fueled as you journey back in time at this museum.
Depending on what you want to get out of this visit, you have lots of options. You can see the highlights in one hour, or spend three hours and dive deeper into what there is to visit here. There is so much to see that really you could spend an entire day at the British Museum. Unfortunately, there is not enough time in this itinerary for a visit that long, but spending the morning here is an appropriate amount of time for most visitors.
The British Museum website has lots of great information on how to organize your time and how to keep kids interested. To have the best experience, check out their recommendations.
Cost: Free!
Hours: 10:00 am – 5:00 pm daily, open until 8:30 pm on Fridays
Getting here: The nearest underground stations are Tottenham Court Road, Holborn, Goodge Street, and Russell Square.
PORTABELLO ROAD & MORE MUSEUMS OR AFTERNOON TEA
At this point, you have a choice to make: would you like to do more sightseeing, or would you like to have a leisurely, somewhat indulgent afternoon and evening?
You can spend your time visiting Portabello Road, followed by the museums in Kensington. OR, have afternoon tea, take a stroll through one of your favorite neighborhoods in London, and follow this up with dinner and drinks.
OPTION #1: PORTABELLO ROAD & MUSEUMS IN KENSINGTON
PORTOBELLO ROAD MARKET
From the British Museum, hop on the underground and head out to the Portobello Road Market. Portobello Market is the world's largest antique market. You can also shop for books, clothing, music, and grab lunch here. It is open all week but the best day to go is Saturday. On this walking tour of Notting Hill, you get to visit Portobello Road Market, famous filming locations, and celebrity homes.
Getting here: From Tottenham Court Road Station, take the Central Line to Notting Hill Gate (direction Ealing Broadway). Then walk 5 minutes to the market.
MUSEUMS IN KENSINGTON
Spend the rest of the afternoon at the Natural History Museum and/or the Victoria and Albert Museum. These two museums sit next to each other on Cromwell Road.
With wildlife and geological exhibits, the Natural History Museum is a museum that is fun for the whole family.
The Victoria and Albert Museum is the world's largest museum of decoration arts and design. Paintings, sculptures, medieval objects, jewelry, photographs, and costumes from around the world can be seen here.
Both museums are free to visit and are open until 5:45 pm.
Getting here: from Notting Hill Gate Station, take the Circle line to South Kensington Station
HARRODS
End the day with a visit to Harrods, one of the most popular department stores in the world. It's motto, Omnia Omnibus Ubique, is Latin for "all things for all people, everywhere." And have everything, they do. There are 330 departments offering things for sale like jewelry, electronics, furniture, clothing, and stationary. There are also 32 restaurants so finding a place for dinner should be easy.
OPTION #2: AFTERNOON TEA & A LEISURELY AFTERNOON
For a quintessential British experience, dine on finger sandwiches, scones, and small cakes at one of many hotels offering afternoon tea.
There are many hotels and restaurants that offer afternoon tea. We had afternoon tea at The Dilly, at the Montagu Kitchen & Lounge at Hyatt Regency London – The Churchill, and at the Wellington Lounge at the InterContinental London Park Lane. Each experience was fantastic and of the three, we really don't have a favorite. You can visit each of the websites and pick out the one that looks the most interesting to you or take a look at the list of afternoon teas in this article.
After having tea, go for a stroll in the neighborhood of your choice, or visit one of London's green spaces, such as Hyde Park and Green Park.
In the evening, have drinks and dinner at a rooftop bar or restaurant. We recommend 8 at the Londoner (creative cocktails and Japanese cuisine), The Rooftop (great views over Trafalgar Square), and the Aviary Rooftop Restaurant.