20 Top-Rated Things to Do in Manchester, England
As the commercial and cultural capital of Lancashire, Manchester is a celebrated center for the arts, media, and higher education. Together with Salford and eight other municipalities, it forms the metropolitan county of Greater Manchester, in which some three million people now live.
Like neighboring Liverpool, Manchester has undergone something of a renaissance with the introduction of initiatives such as the Castlefield project, with its many canals, and its museum complex on Liverpool Road.
The extension of the city's entertainment and sports facilities has also considerably enhanced its appeal for tourists, making it one of the best places to visit in northern England. Notable examples include the excellent Opera House, with its roster of theatrical and music performances, and the thrilling Chill Factor, Britain's longest and widest indoor ski slope.
It has also become a favorite for shoppers with an enormous range of retail opportunities, including the elegant shops of St. Anne's Square, King Street, and the Royal Exchange, as well as the large covered market halls of Bolton Arcade.
To learn more about these and other attractions in this part of England, be sure to read through our list of fun things to do in Manchester.
See also: Where to Stay in Manchester
1. Explore the Canals of Castlefield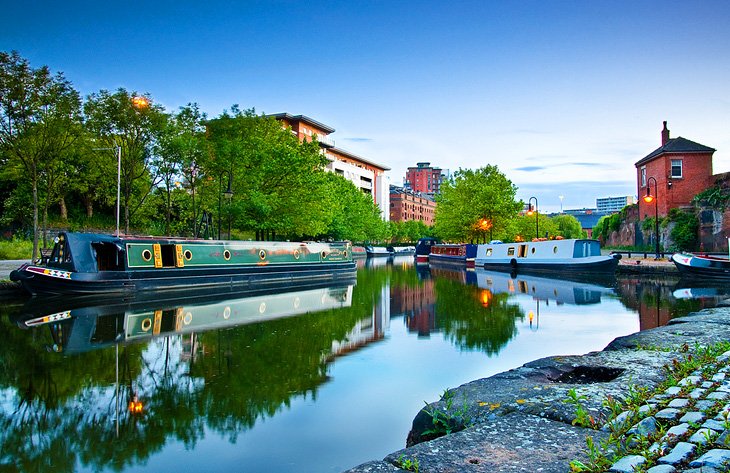 Designated an Urban Heritage Park, Castlefield is an excellent place to visit to begin exploring Manchester. A walk among the lovingly restored Victorian houses along the old canals or through the reconstructed Roman Fort is time well spent.
Be sure to explore the Bridgewater Canal. It was constructed in 1761 to transport coal from the mines at Worsley to Manchester. The many old warehouses that line the canal have been restored and turned into offices, shops, hotels, and restaurants. A trip on one of the Bridgewater tour boats is highly recommended.
Other interesting tourist attractions include the Castlefield Art Gallery, with its exhibitions of contemporary art, and Bridgewater Hall, home to the Hallé Orchestra and first-class concerts. The Castlefield Bowl hosts regular pop and classical concerts and is also worth a visit.
Location: Castlefield, Manchester
2. Science and Industry Museum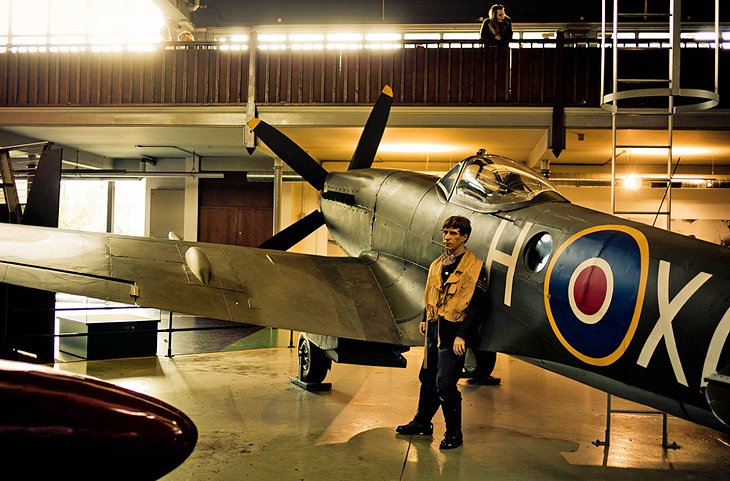 The Science and Industry Museum is situated on the site of the world's oldest railroad station. Its 12 galleries include the Power Hall, with water and steam-driven machines from the golden age of the textile industry, as well as vintage made-in-Manchester cars, including a rare 1904 Rolls Royce.
3. Imperial War Museum North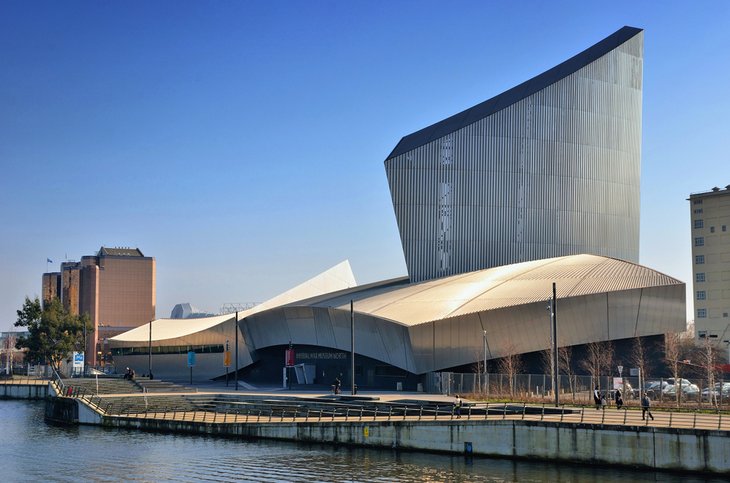 Imperial War Museum North (IWM North) is also worth visiting, especially if you have an interest in the history of warfare. Opened in 2002, this branch of the Imperial War Museum is a popular attraction for its collections of fighting vehicles and aircrafts.
4. Manchester Cathedral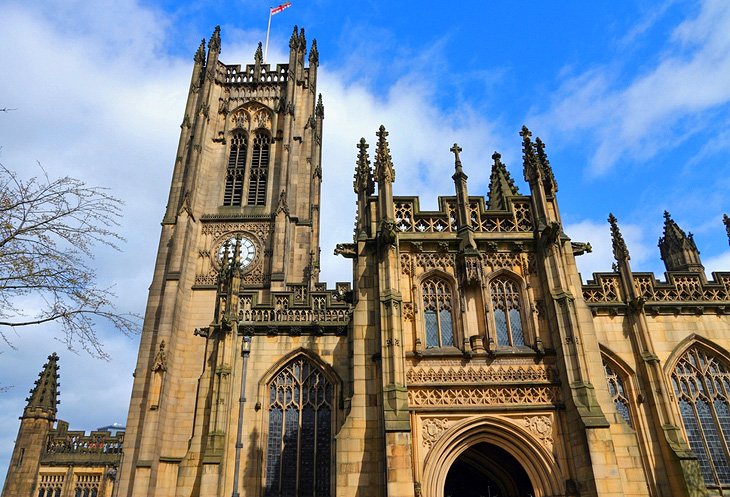 Perched on the banks of the River Irwell, Manchester Cathedral - officially the Cathedral and Collegiate Church of St. Mary, St. Denys, and St. George - dates mostly from 1422 to 1506 and was raised to cathedral status in 1847. Particularly attractive are its chapels on both sides of the nave and choir.
It was built between 1486 and 1508 with further additions and alterations in almost every subsequent century. Of particular note are the choir stalls, with some of the most richly decorated misericords in the country.
5. Manchester Museum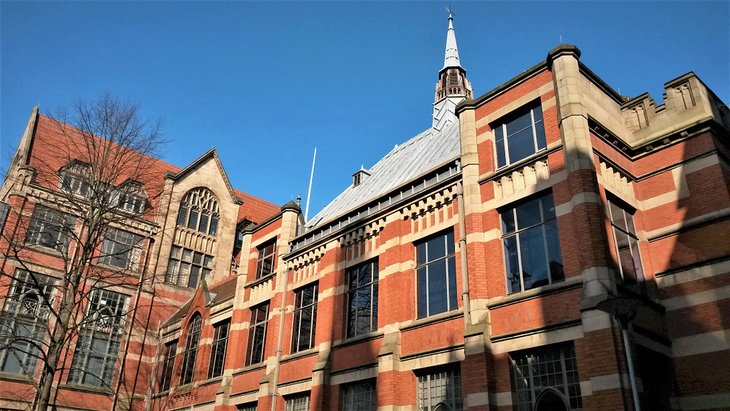 Manchester Museum is another of the city's excellent university museums to include on your itinerary. The museum is notable for its displays relating to natural history, archaeology, and anthropology, with its oldest collections dating back to 1821 (the museum itself was established in 1888).
Notable as the largest university museum in the UK, its sizable collection of over 4.5 million artifacts includes examples from all over the world. It's well known for its large Chinese cultural collections.
6. Take a Tour of St. Mary's Catholic Church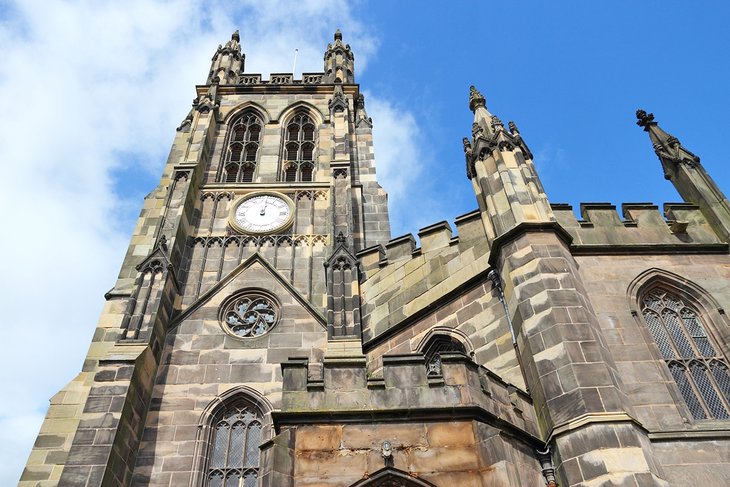 Another religious site worth visiting - and something of a hidden gem in Manchester - is St. Mary's Catholic Church. Built in 1794 and located next to the historic Market Hall, it's also known locally as "The Hidden Gem." But don't let the structure's rather plain exterior stop you from popping in for a look inside.
7. National Football Museum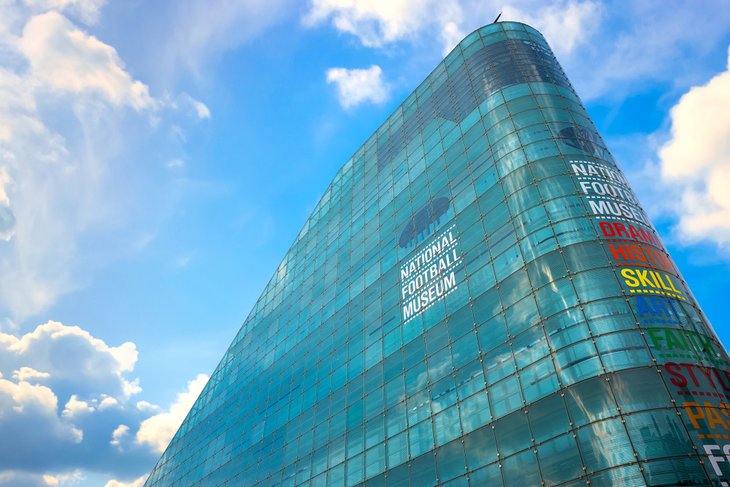 Home to two of Europe's top football teams – Man City and Man United – Manchester is a great place to pay homage to the country's favorite sport. Your first stop should be the National Football Museum. This football shrine features fascinating memorabilia related to the sport, including such gems as the very first rulebook, as well as historic trophies and clothing.
A variety of great short movies show the history of the sport, while fun hands-on (and feet-on, for that matter) displays provide plenty of additional entertainment for youngsters. Check their website for details of special events and programs.
8. Visit Britain's Oldest Public Library: Chetham's Library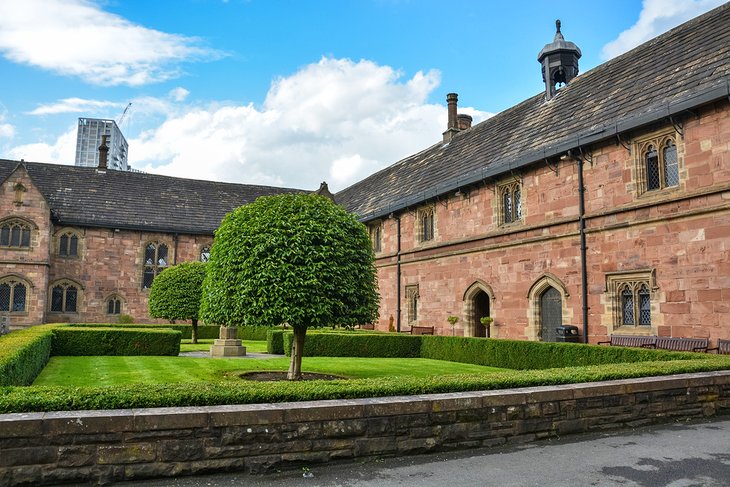 Chetham's Hospital, just north of Manchester Cathedral, dates in part to 1422. Originally a residence for priests, it's now home to a music school and Chetham Library, the oldest public library in England.
In continuous use since 1653, the library has more than 100,000 books, more than half of them printed before 1850. Chetham's is also famous as the meeting place of Karl Marx and Friedrich Engels during Marx's visit to Manchester. Guided tours are available.
Other libraries of note are the Manchester Central Library next door to the Town Hall, and the Portico Library, which houses the literary collection of Dalton and Joule, founders of the Manchester Literary and Philosophical Society.
The Victorian John Rylands Library, now part of Manchester University, is also worth seeing for its many special collections, including medieval texts, a Gutenberg Bible, and collection of early printing by William Caxton.
9. Manchester Art Gallery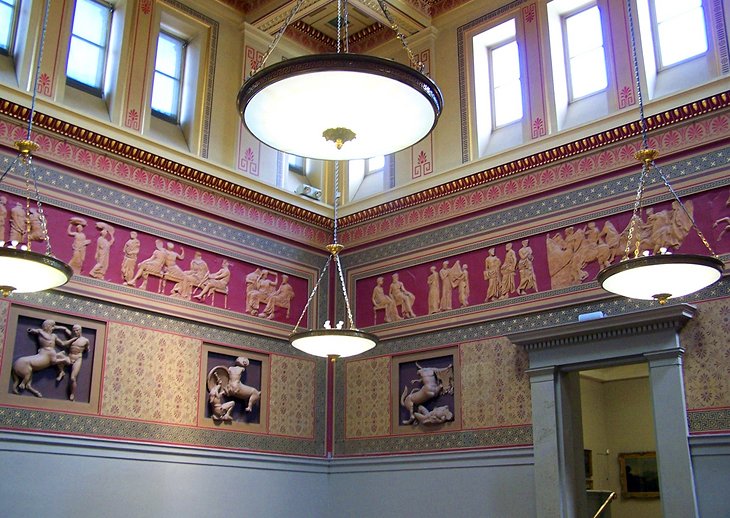 The Manchester Art Gallery possesses one of the largest art collections in Britain outside of London. The gallery includes works by the pre-Raphaelites; Flemish masters of the 17th century; French impressionists, including Gauguin, Manet, and Monet; and German artists such as Max Ernst.
There are also pieces from well-known English artists, including Stubbs, Constable, and Turner. The gallery's impressive sculpture collection includes works by Rodin, Maillol, Jacob Epstein, and Henry Moore.
10. The Whitworth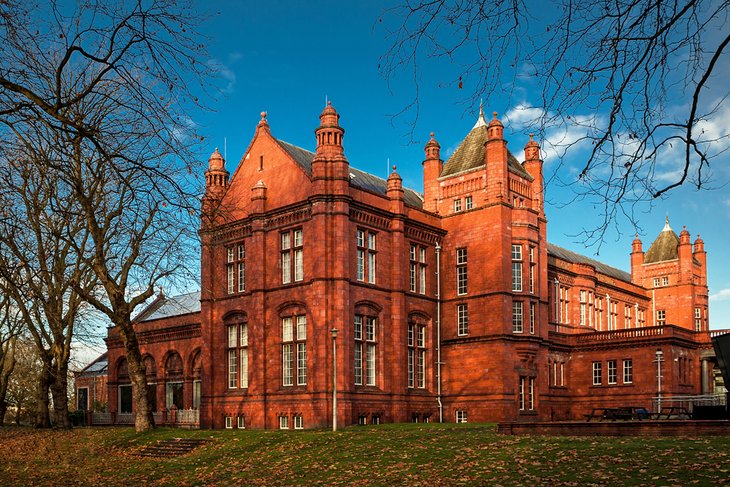 Fresh from a major redevelopment, The Whitworth art gallery features over 55,000 artworks in its vast collection. Named after the surrounding park, the gallery's very modern facilities are housed in a mix of old and new buildings overlooking a very pleasant green space.
The oldest collections themselves date back to 1889, and its stellar collections of sculptures and mostly modern artworks have seen it consistently ranking in lists of top attractions in Manchester. Other notable collections include watercolours, textiles, and even wallpapers. Works by the likes of Francis Bacon, Van Gogh, and Picasso can all be enjoyed, along with a sizable collection of outdoor art.
11. Explore Chinatown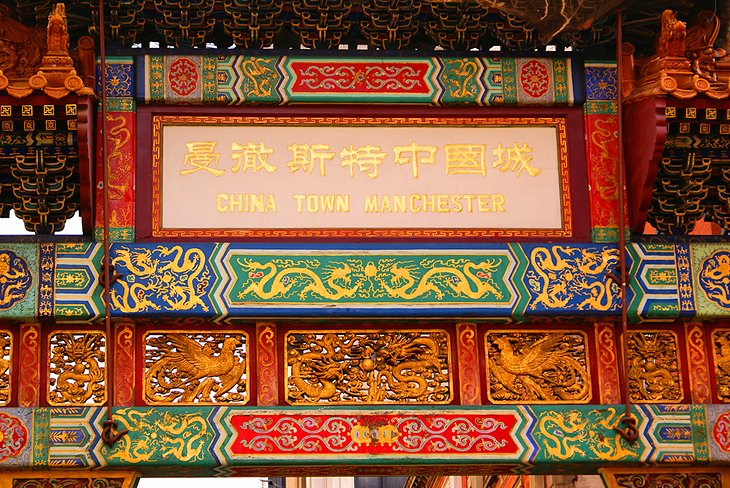 The colorful home of one of the largest Chinese communities in Britain, Chinatown is only a stone's throw from the Manchester Art Gallery. The richly decorated arched gateway leading into the district is especially striking.
12. Manchester Town Hall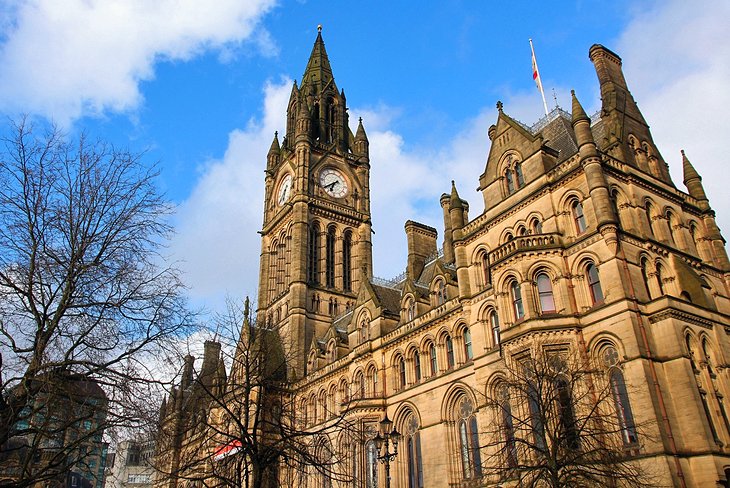 The imposing façade of the neo-Gothic Town Hall (1877) graces pedestrianized Albert Square, and the tower offers excellent panoramic views of the city. Inside, the Council Chamber merits special attention, along with the cycle of Ford Madox Brown murals that depict the history of the city. While there, visit the Free Trade Hall, opened in 1951.
The centrally located Manchester Central Convention Complex, one of the largest such sites in England, hosts many musical performances throughout the year. The building is unique in that it was constructed amid the former Victorian railroad station on Windmill Street.
13. People's History Museum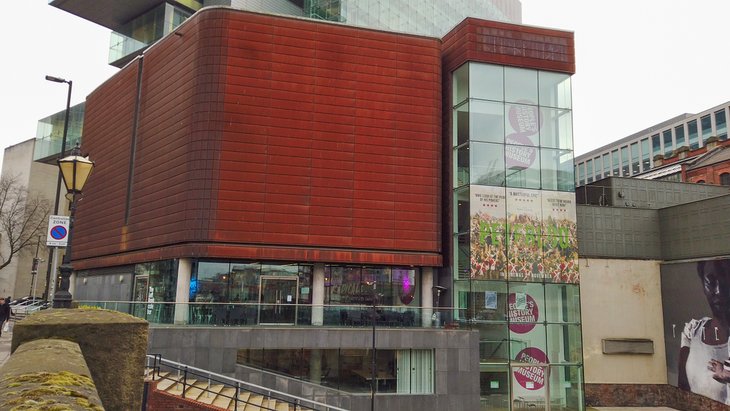 The People's History Museum is the national center for the collection, conservation, interpretation, and study of material relating to the history of working people in Britain.
Located in a former pumping station, the museum showcases the history of British democracy and its impact on the population, as well as extensive collections of artifacts relating to trade unions and women's suffrage.
Another museum that's close by and worth visiting, the Manchester Jewish Museum features a unique collection dealing with the city's Jewish community.
14. Salford Quays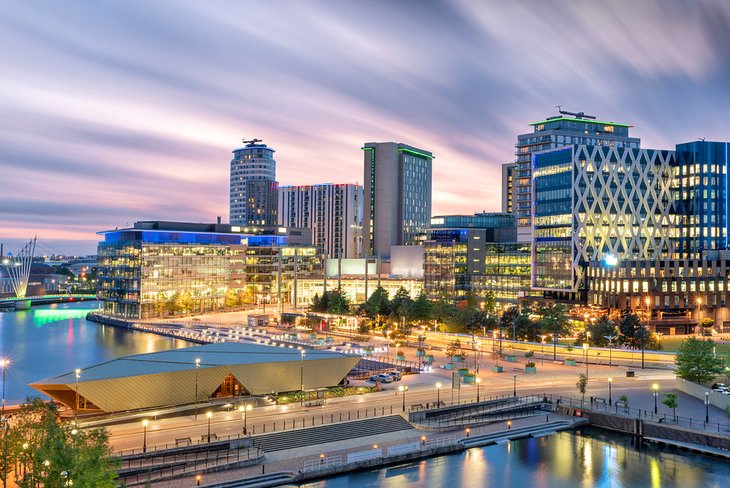 While there are enough fun things to do in Salford for those wanting to make a day trip out of it, those crunched for time would do well to visit one or two attractions in this pleasant university town. The Salford Quays – usually referred to simply as "The Quays" – should definitely top your list.
An easy 25-minute, five-kilometer ride away by public transit, this much revitalized area straddles the banks of the city's ship canal and is a delight to explore on foot. In addition to such popular attractions as the Imperial War Museum North and Old Trafford, home to Manchester United Football Club, you'll find the Lowry Arts Centre.
Dedicated to the life and work of local artist L.S. Lowry, it contains numerous unique pieces, as well as a performing arts center.
15. Heaton Park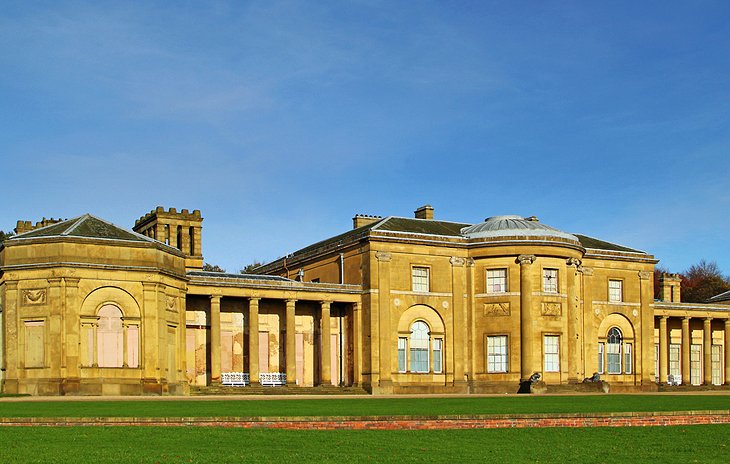 Covering some 600 acres, Heaton Park is the biggest park in Greater Manchester and one of the largest municipal parks in Europe. Heaton Hall, built in 1772, lies in the very heart of the park and although not all of it is open to the public, it remains an impressive sight (some buildings, such as the charming Orangery, are open seasonly to the public).
16. See the Blooms at Fletcher Moss Botanical Garden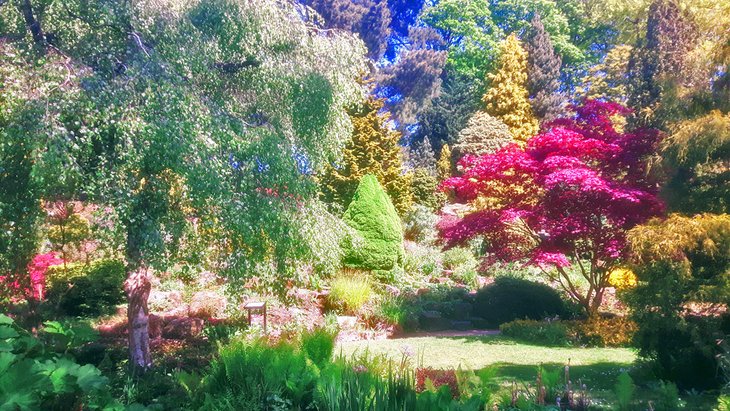 Also worth visiting is Fletcher Moss Botanical Garden. Founded in 1917, this large green space - part botanical garden and part wildlife habitat - is an engaging contrast to the busy city center. There are numerous walking trails on the property, as well as regular guided "health" walks.
17. Platt Hall: Gallery of Costume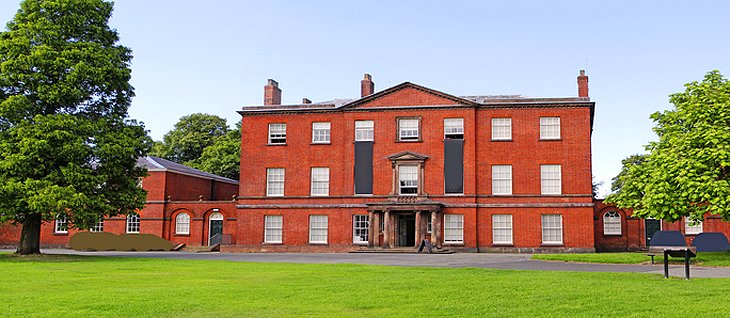 Platt Hall, an elegant Georgian house built in 1764 and now part of the Manchester Art Gallery, presents an excellent overview of English fashion and costume from 1600 to the present day. It is perhaps the only collection to rival London's Victoria and Albert Museum.
Strengths of the museum include its many examples of everyday dress, with the Gallery of Costume containing one of the largest collections of costumes and accessories in Britain.
18. University of Manchester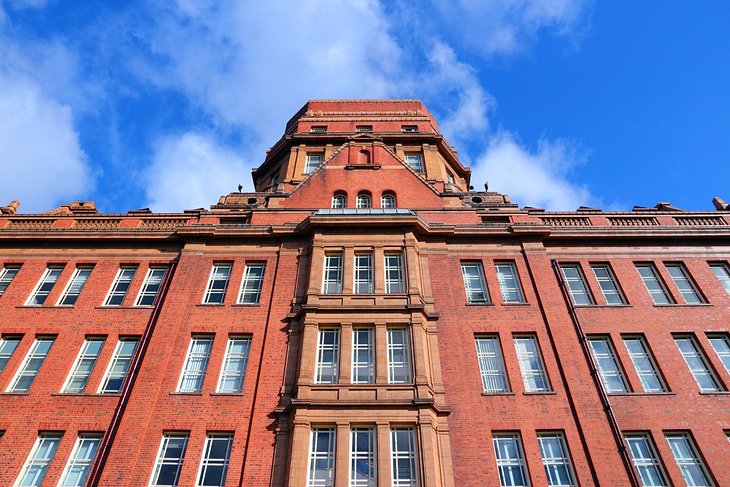 Manchester's educational precinct, encompassing the University of Manchester (1851), includes a variety of institutes and halls of residence.
The university can claim three Nobel prizewinners: Ernest Rutherford (1871-1939), who laid the foundations of modern atomic physics; physician James Chadwick, who in 1932 proved the existence of the neutron; and Sir John Cockcroft (1897-1967), one of the leading physicists in British and Canadian atomic research.
19. Tour Manchester's Historic Victoria Baths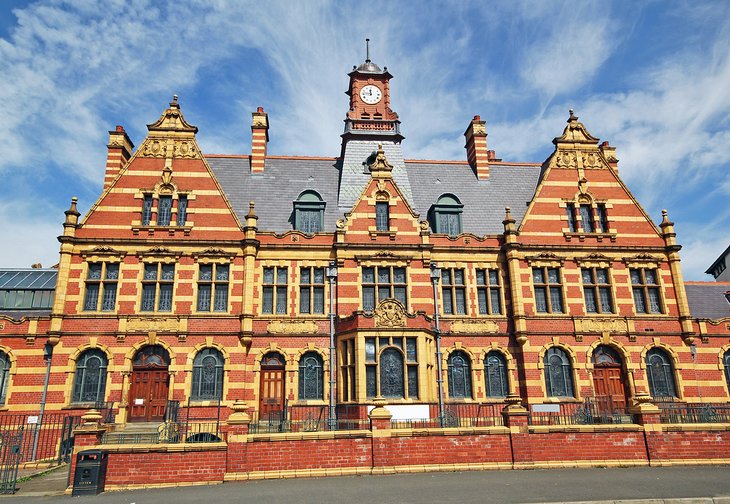 Known to locals as Manchester's "Water Palace," the Victoria Baths are well worth a visit. The building is a perfectly preserved example of a Victorian-era bath, a feature once relatively common in many large urban areas in bygone days. Although not unlike modern public swimming pools, it was built in 1986 and is unique for the change facilities that line the pool's perimeter, as well as the ornate steelwork that holds the structure up.
20. Museum of Transport, Greater Manchester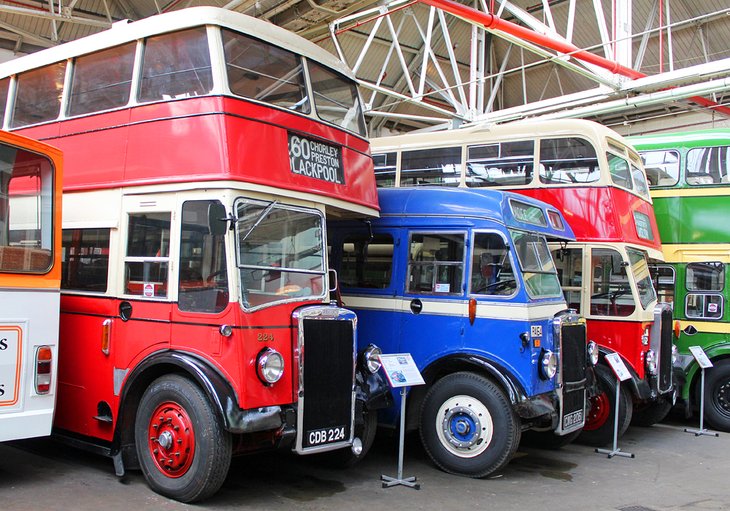 A visit to the Museum of Transport, Greater Manchester is a fun activity for all ages. Located in the city's Cheetham Hill area, this impressive collection of vintage transportation consists of over 80 buses, many of them still working. Other historic modes of transport housed here include an original city tram dating from 1901, as well as old trolleybuses.
---
← Older Post Newer Post →
---