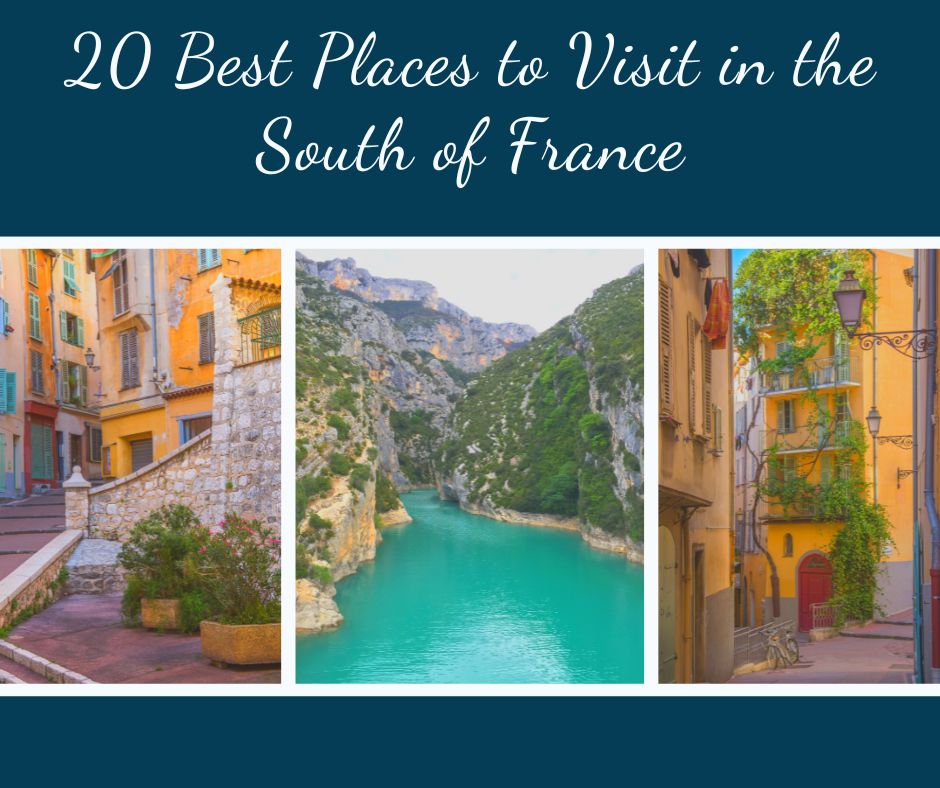 20 Best Places to Visit in the South of France
The South of France conjures up images of stylish seaside holidays, complete with private beach clubs, upscale boutique shopping, and fancy gourmet dining. This description fits the Côte d'Azur, filled with glitzy towns like Nice, Cannes, Monaco, and Saint-Tropez, but this is just one aspect of the South of France.
After the French Riviera, the second most-visited area in the South of France is Provence. This sun-drenched countryside bursts with charm and historic attractions, including enchanting medieval hilltop towns and ancient Roman ruins. Small farms, fields of lavender, and colorful open-air markets add to the rustic appeal. In terms of cultural value, Aix-en-Provence, Arles, and Avignon are must-see cities in Provence.
For those interested in the South of France's less touristy side, Marseilles provides a glimpse of a real working city with a cosmopolitan vibe. Toulon is another authentic seaport with tourist appeal.
In Southwest France, the Basque seaside resort of Biarritz boasts an elegant Second Empire hotel, beautiful sandy beaches, and spectacular coastal scenery. Biarritz also has a superb aquarium and many fine-dining restaurants, as well as trendy bistros.
Slightly off-the-beaten-path, the Languedoc-Roussillon region includes outstanding attractions like the UNESCO-listed fortified city of Carcassonne and lively university town of Montpellier.
The most undiscovered area in the South of France is the rural Gascony region. This unspoiled countryside is known for its quiet villages and hearty cuisine. Toulouse is the biggest city in Gascony yet has the feel of a small town, thanks to its relaxed and convivial ambience.
Plan your French sightseeing itinerary with our list of the best places to visit in the South of France.
1. French Riviera Seaside Resorts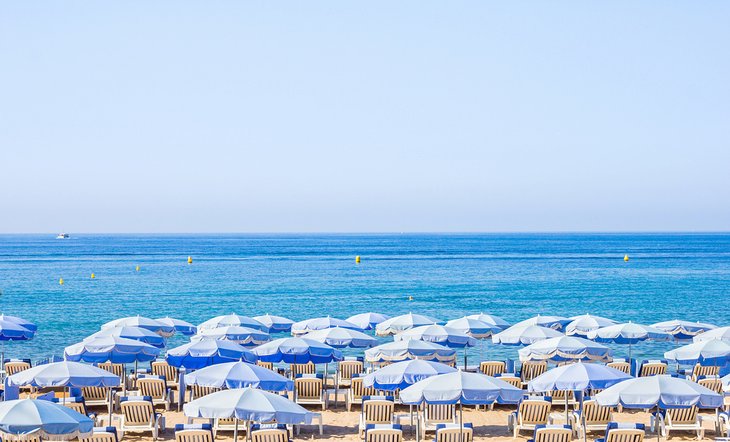 The sunny weather, mesmerizing deep-blue sea, and leafy palm trees give the French Riviera a dreamy quality. It is no wonder British aristocrats began vacationing here in the 19th century. By the early 20th century, artists followed suit to capture the sublime scenery on canvas. As a result, the Côte d'Azur is filled with art museums displaying the works of Renoir, Matisse, Chagall, Picasso, and other painters who were captivated by the local landscapes.
Nice is prized for its gorgeous waterfront promenade and lush gardens, while Cannes is known for private beach clubs and the annual film festival. Other top resort destinations include Monaco and Saint-Tropez. The French Riviera also has smaller lesser-known towns that are full of charm, such as Fréjus, Antibes, Villefrance-sur-Mer, Beaulieu-sur-Mer, Èze, Roquebrune-Cap-Martin, and Menton.
Of all the French Riviera resorts, the coastline near Antibes has the best beaches, especially outside of Antibes' Old Town, nestled along the Golfe Juan on the Juan-les-Pins and Cap d'Antibes headland. In this area, there are about a dozen public beaches with excellent facilities, including showers, restaurants, and snack bars. The Plage de la Garoupe is the prettiest beach, with a fine white-sand shoreline, but much of it is occupied by private beach clubs during the summertime.
2. Nice: Art Museums and Beaches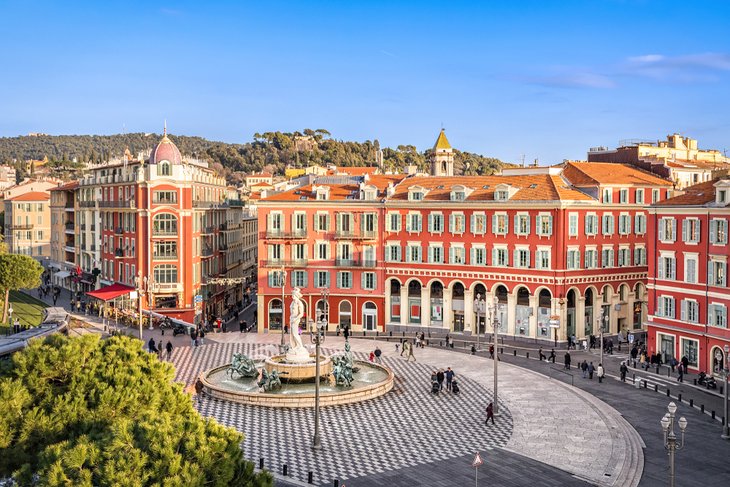 One of the highlights of the Côte d'Azur, the town of Nice deserves special mention because of its atmospheric old town and amazing art collections: the Matisse Museum, Chagall Museum, Fine Arts Museum, and Museum of Modern and Contemporary Art.
With its scenic beachside location, balmy weather, and pleasant Mediterranean landscape, Nice is the quintessential French Riviera resort town. The centerpiece of Nice is the Promenade des Anglais, a palm-fringed seafront promenade, while the Vieille Ville (Old Town) is a delightful warren of medieval alleyways and winding cobblestone streets.
Surrounding Nice, the sunny Provence countryside is full of wonderful day-trip possibilities, such as Grasse and Fréjus. Within a 30-minute drive are the adorable hilltop towns of Saint-Paul-de-Vence and Èze, as well as the fetching seaside villages of Cagnes-sur-Mer and Villefranche-sur-Mer.
Other highlights include the Villa Ephrussi de Rothschild on the Saint-Jean-Cap-Ferrat peninsula and the sea-facing Villa Kérylos in Beaulieu-sur-Mer, a replica of an ancient Greek nobleman's mansion of the 2nd century BC. Both villas are open to the public for visits.
3. Aix-en-Provence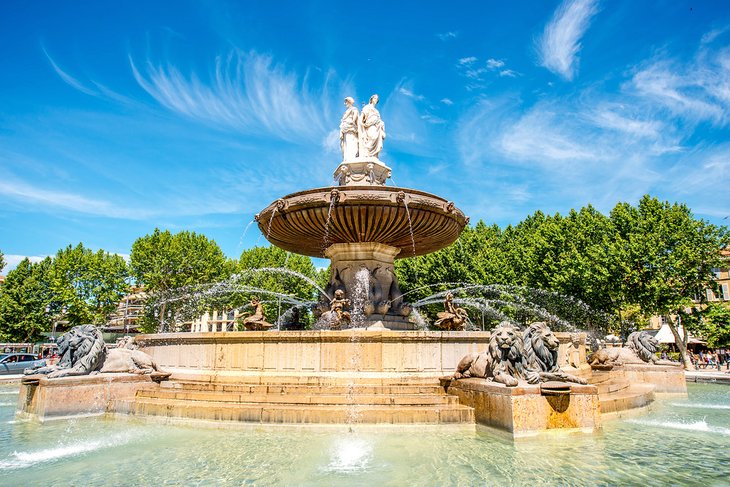 Aix-en-Provence immerses visitors in the lifestyle of southern France, with its vibrant open-air markets, bustling outdoor cafés, and refreshing fountains that adorn the public squares.
As in most towns of Provence, the ambience is slow paced and relaxing. Local residents have perfected the art de vivre, with leisurely meals and strolls along graceful tree-lined streets.
Top tourist attractions in Aix-en-Provence are Vieil Aix (the Old Town); the Cours Mirabeau, a lovely tree-lined avenue with many sidewalk cafés and restaurants; and the Quartier Mazarin neighborhood, which was developed in the 17th century.
Those who appreciate Post-Impressionist art will enjoy visiting the Atelier de Cézanne, the studio where Paul Cézanne created many famous paintings. Cézanne was born in Aix-en-Provence and spent his childhood here. The Cézanne Trail gives visitors a chance to explore the landmarks associated with the artist on a self-guided walking tour.
4. Historic Monuments in Avignon & Arles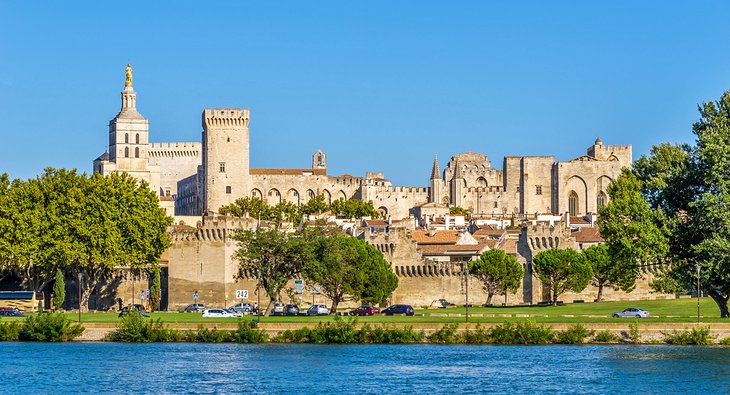 To discover the cultural heritage of Provence, the best places to visit are Avignon and Arles. The UNESCO-listed Palais des Papes in Avignon stands as an awe-inspiring testimony to the grandeur of Christendom during the 14th century.
Avignon also has an outstanding museum of fine arts (the Musée du Petit Palais), noteworthy medieval churches, and lively festivals throughout the year.
Renowned for its ancient Roman monuments and traditional festivals, Arles is a characteristic town in the heart of Provence. Tourists are awed by the remarkably well-preserved Roman Amphitheater that was built in the 1st-century to accommodate 21,000 spectators, as well as several other Roman-era archaeological sites.
In Arles, it's fun to wander the town to find the landmarks that were painted by Vincent van Gogh. Depicted in one of the artist's famous paintings, the Café du Forum has a typical Provençal ambience thanks to its outdoor terrace on the Place du Forum. Also on the Van Gogh Trail is the scene immortalized in the Starry Nights painting.
5. Saint-Tropez: A Charming Village with Beautiful Beaches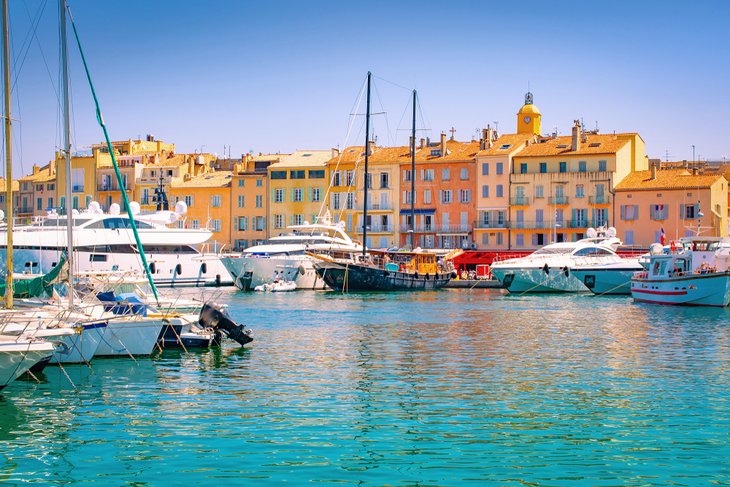 Saint-Tropez was just a humble fishing village until 1956 when the film And God Created Woman (starring Brigitte Bardot) made it famous. Scenes from the movie were shot on location throughout the town, including at the Plage de Pampelonne, which is still known for its glamorous private beach clubs.
Today, this alluring beach resort still seduces visitors with its picturesque port (Vieux Port) and quaint historic town center (La Ponche), luxuriant Mediterranean scenery, and pristine sandy beaches. Tourists can hike the Sentier du Littoral, a seaside trail with superb views of the scenery.
Besides its old-world charm and natural beauty, Saint-Tropez also offers many touristic and cultural attractions. An outstanding collection of Impressionist and Post-Impressionist art is on display at the Musée de l'Annonciade, housed in a chapel that dates to 1510.
At the Musée d'Histoire Maritime, visitors learn about local fishermen who began traveling beyond the Mediterranean Sea in the 16th century.
To soak up the ambience of Saint-Tropez, visitors should spend time at the Place des Lices. At this central town square shaded by leafy plane trees, outdoor café terraces provide the perfect vantage point to take in the everyday scenes of men playing pétanque (a traditional Provençal game similar to bocce ball) and women shopping at the open-air produce market (on Tuesday and Saturday mornings). You can go to this beautiful and peaceful place with our bus rental in france service, contact us to get the best price.
6. The Upscale Seaside Resort of Biarritz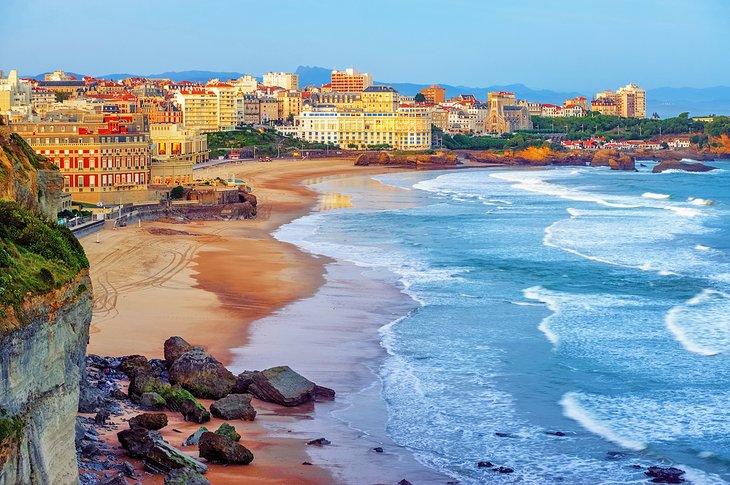 Stunning coastal scenery and elegant architecture distinguish Biarritz from other seaside resorts in the South of France. The town was once a holiday destination for aristocrats and royalty, and for that reason is known as the "Queen of resorts and the resort of Kings."
Empress Eugénie (wife of Napoleon III) adored this seaside location in the Basque region because of its natural beauty. Thanks to the empress and other aristocratic visitors in the 19th century, the little fishing village became a sophisticated and genteel beach town. The regal air of the past is evident in opulent oceanfront mansions and streets named after royalty.
The magnificent palace built for Empress Eugénie now houses the five-star Hôtel du Palai overlooking the Grande Plage, the main beach of Biarritz. Guests are treated to sumptuous accommodations in exquisitely decorated rooms and fine dining in lavish Second Empire salons. Tourists may enjoy a meal at one of the hotel's gourmet restaurants.
7. The Walled Medieval Town of Carcassonne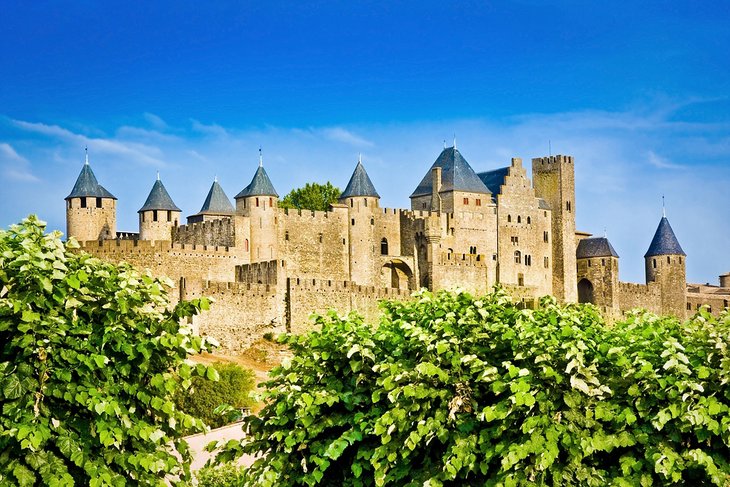 Carcassonne gives travelers the impression of stepping into the scene of a fairy tale. This marvelously well-preserved, fortified medieval town is surrounded by massive ramparts. In fact, some portions of the ancient walls and turreted towers were restored by Viollet-Le-Duc in the 19th century, which lends a Disneyland-like quality.
By exploring the narrow alleyways and cobblestone streets of Carcassonne, visitors can imagine what life was like in a typical town of the Middle Ages. Le Grand Puit is one of the wells where townspeople withdrew drinking water.
As early as the 12th century, residents worshipped at the Cathédrale Saint-Nazaire et Saint-Celse, an impressive Gothic monument that is now a basilica.
For a peek at a medieval fortress, visitors should head to the Château Comtal, where the Vicomte of Carcassonne resided in the 12th and 13th centuries.
Carcassonne is designated as a UNESCO World Heritage site because of its cultural value and tops the list of attractions in the Languedoc-Roussillon region.
Another nearby UNESCO site is the Canal du Midi, a canal created in the 12th century to link the Atlantic Ocean to the Mediterranean Sea.
8. Hilltop Villages of Provence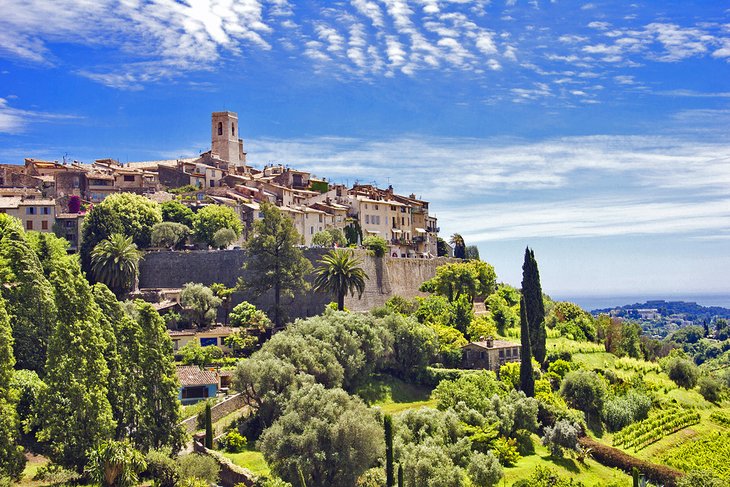 Quaint medieval hilltop villages encapsulate the old-world charm of Provence. Many of these ancient towns are still enclosed by ramparts, which adds to the magical feeling of being enclosed in a little medieval world.
Visitors enjoy wandering narrow cobblestone streets and pedestrian lanes to discover small boutiques, fountain-adorned squares, and historic churches. Another delightful aspect of the Provençal hilltop villages are the splendid views of the countryside.
Travelers can create their own driving itinerary to discover the quaint country villages of Provence, especially in the remote Luberon region, which is designated as a UNESCO-listed Natural Regional Park.
For those based in Nice, several interesting hilltop villages are easy day-trip destinations.
About a 30-minute drive from Nice is a very popular tourist destination, Saint-Paul de Vence. This characteristic Provençal "village perché" (perched village) stands on a precipice overlooking the landscape. Beginning in the 1920s, many famous artists were drawn to the beauty of Saint-Paul de Vence, and their work is on display at the Fondation Maeght, two kilometers outside the village.
Along the French Riviera coastline, Èze is a captivating hilltop village (only 12 kilometers from Nice) perched 400 meters above the sea. This picture-perfect village affords sweeping vistas of the Mediterranean and the Cap-Ferrat coastline. Luxurious accommodations are found at the Château de la Chèvre d'Or hotel a Relais & Châteaux property with a Michelin-starred restaurant.
It is also worth taking the 45-minute drive from Nice to visit Grasse, a lovely village in the foothills of the Maritime Alps surrounded by fields of flowers. Famous for its prestigious perfume factories, Grasse has a wonderful old town, with tree-shaded courtyards, pleasant outdoor cafés, and quaint cobblestone streets. Several lush, romantic gardens in Grasse feature superb views.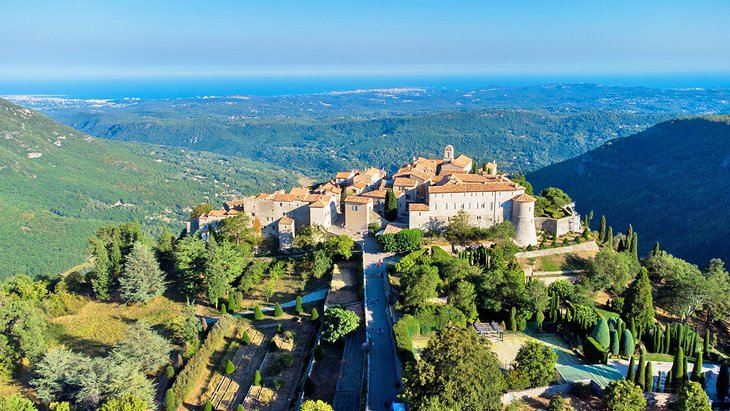 One of the Most Beautiful Villages of France, Gourdon (kilometers from Nice) boasts many artisan craft boutiques and an impressive château with gardens designed by André Le Nôtre. From Nice, tourists can go on a full-day Provencecountryside small-group day trip to visit Grasse, Gourdon, and Saint-Paul de Vence.
Medieval hilltop villages are scattered throughout the Haut-Vaucluse area of Provence. Two more of France's Most Beautiful Villages are Séguret (10 kilometers from Vaison-la-Romaine), built on a hillside overlooking the Dentelles de Montmirail mountain range, and the enchanting hilltop town of Venasque, which affords views of Mont Ventoux. The perched village of Saumane-de-Vaucluse delights visitors with its Romanesque church, old stone houses, and gurgling fountains.
Presiding above rocky gorges, Monieux has a museum dedicated to truffles, the Musée de la Truffe du Ventoux, and hosts a Medieval Festival in September.
Crillon-le-Brave offers the charm of a quiet hilltop hamlet. Besides its Romanesque church and medieval château, the main draw of Crillon-le-Brave is the Hôtel Crillon Le Brave a plush five-star Relais & Châteaux resort property.
The Luberon natural regional park within the Haut-Vaucluse area has many medieval hilltop towns on the Most Beautiful Villages of France list: Gordes, dramatically perched on a steep promontory; Ménerbes, made famous by Peter Mayle's A Year in Provence novel; Lourmarin, which has a majestic château that hosts cultural events and festivals; Roussillon, built alongside an ochre cliff and surrounded by woodlands.
Also in the Luberon area, Bonnieux stands out because of its traditional Provençal market; wide selection of restaurants and cafés; and its fantastic museum devoted to the history of bread, the Musée de la Boulangerie.
Apt is known for its large Provençal market and museum of archaeology, while Cadenet has a luxurious boutique hotel, the Auberge La Fenièr, with a Michelin-starred restaurant.
Fountain-adorned squares, pedestrian staircases, and terraces with views distinguish Joucas, a hilltop village with an aristocratic heritage.
Renovated by fashion designer Pierre Cardin, the adorable town of Lacoste is full of art galleries and outdoor café terraces that afford vistas of the countryside.
9. The Glamorous Seaside City-State of Monaco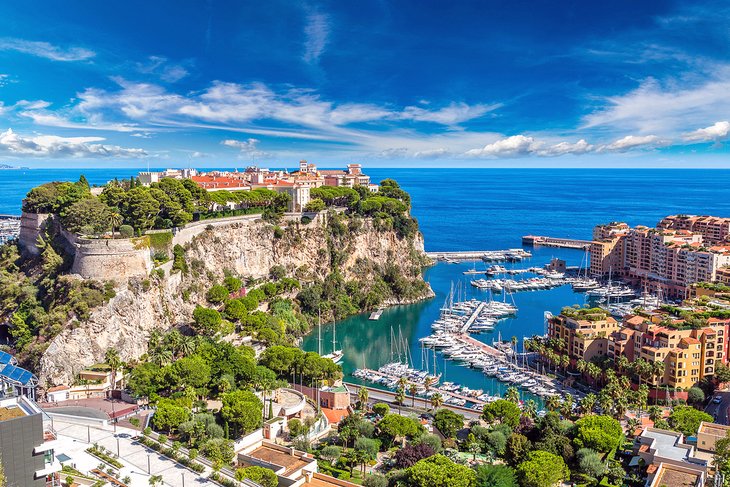 This dazzling city-state on the French Riviera is home to a glamorous royal family with a heritage that dates back to the 13th century. Perched on a promontory above the sea, Monaco boasts an impressive ancient castle (the Palais du Prince) and splendid coastal views.
Just a 30-minute train ride from Nice, Monaco draws fashionable crowds to its high-profile yacht shows, the annual Formula One Monaco Grand Prix car race, and the Opening Gala at the Opera House.
Tourists should be sure to visit the top attractions of Monaco including the Palais du Prince, the Musée Oceanographique, and the Jardin Exotique.
10. Montpellier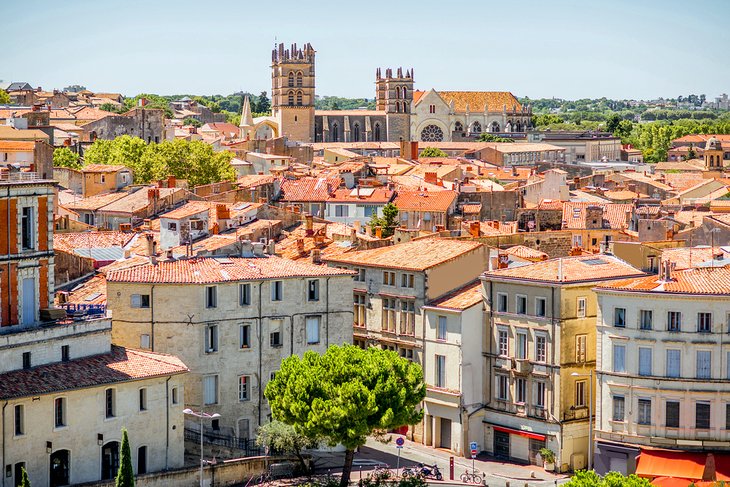 Despite being a modern urban city, Montpellier has retained its historic character in the Old Town known as L'Écusson. This collection of ancient quarters has the feel of an open-air museum with its jumble of winding medieval streets, elegant squares, beautiful churches, and stately hôtel particuliers (aristocratic mansions).
Encircling L'Écusson, spacious tree-lined boulevards were created by Baron Haussmann (who designed the Grands Boulevards of Paris) in the 19th century, replacing the city's medieval ramparts. The best of the 21st century is seen in Montpellier's sleek tram system with new cars featuring decorations by Christian Lacroix.
An air of trendiness and youthful energy reigns throughout Montpellier, thanks to the university-student population. Hopping sidewalk cafés and chic gourmet restaurants delight locals and tourists alike.
11. Lourdes & Pyrénées Nature Sites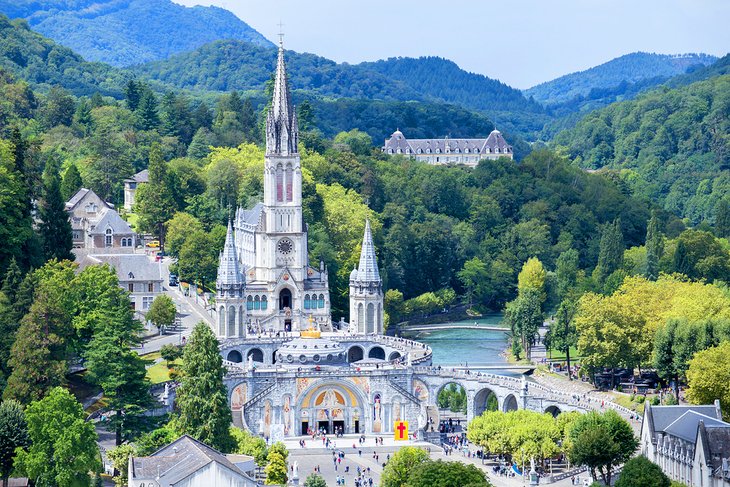 The densely forested, rolling hills of the Pyrenees Mountains provide an inspiring natural backdrop for the Lourdes cathedral, which stands beside the rushing Ousse River. Pure spring waters flow into a Grotto where Saint Bernadette received visions of the Virgin Mary. Water from this source is believed to have healing properties.
Millions of pilgrims visit Lourdes annually, making it the biggest pilgrimage destination in France and one of the most important Catholic pilgrimage sites in the world. Pilgrims visit the Grotto of the apparitions, worship at the Basilique Notre-Dame du Rosaire (Cathedral of Our Lady of Lourdes), and participate in candlelit Marian processions.
One of the top attractions of the French Pyrenees, Lourdes draws many pilgrims who hope for cures to an illness by bathing in the sacred waters. So far, the Catholic church has validated 70 official miracles.
Lourdes is an ideal starting point to explore the nature sites of the Pyrenees Mountains. The UNESCO-listed Cirque de Gavarnie awes visitors with its spectacular scenery of sheer granite walls and rushing waterfalls. The highest summits (Pics du Marboré au Taillon) soar to 3,000 meters; the Grande Cascade with a 422-meter drop is Europe's tallest waterfall.
An easy walking path at the Cirque de Gavarnie allows tourists (of any fitness ability) to soak up the scenery of snow-dusted mountains, alpine chalets, and grazing goats, while listening to the refreshing sounds of a meandering stream and the chirping of little birds.
12. Marseilles, the Calanques & Cassis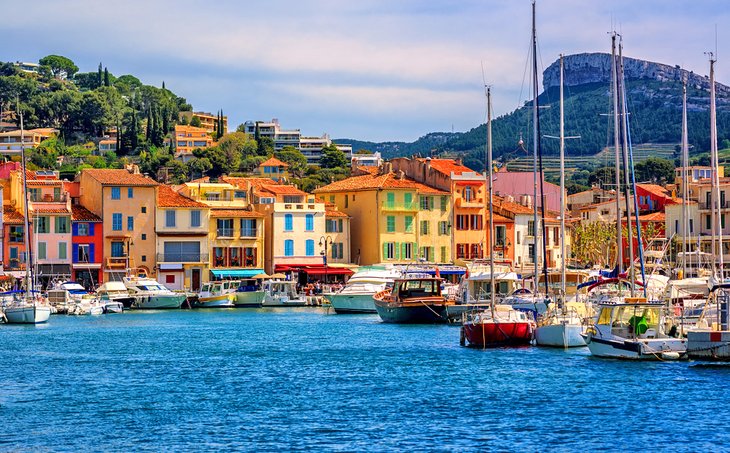 To experience an authentic Mediterranean seaport, tourists should spend a day or two exploring Marseilles. A bustling harbor explains the city's raison d'etre, as well as its rich multicultural heritage. With its historic buildings, artisan boutiques, and authentic restaurants, the Old Town (Le Panier) of Marseille is full of character.
The Vieux Port of Marseilles dates back to the 6th century BC and is still in use today as a launching point for fishing boats. A fish market is held every morning at the harbor, and the restaurants around the waterfront are the best places to visit to sample the gastronomic specialty of Marseilles, bouillabaisse (seafood stew). The upscale Restaurant Miramar (12 Quai du Port) is famous for its bouillabaisse.
From the Vieux Port in Marseilles, travelers can hop on a ferry to reach two favorite tourist destinations: the 16th-century Château d'If (fortress) on the Ile d'If, and the Calanques, a national park featuring white limestone coves filled with seawater. Tourists can also take cruises and private boat excursions to explore the Calanques. Besides, you can book bus rental from Paris to go sightseeing this place because it is quite close to Paris.
It is even possible to take an Electric Bike Tour to the Calanques from Marseill. This full-day tour traverses the wild terrain of the Calanques with a stop at a beach for swimming and lunch, and concludes with a visit to the Basilique Notre-Dame de la Garde, one of the top tourist attractions in Marseilles.
A short drive from the Parc National des Calanques and less than 30 kilometers from Marseilles is the alluring Provençal fishing village of Cassis. The pastel-painted houses, picturesque port, and bright Mediterranean sunlight appealed to Post-Impressionist painters such as Paul Signac, Henri Matisse, and Raoul Dufy, who arrived in the late 19th and early 20th century to paint scenes of the harbor and coastline in their distinctive, vibrant style.
Today, Cassis is a recreational getaway for residents of Marseilles. It's an equally enticing destination for travelers who appreciate the charm of a small seaside town. For those who would like to visit Marseilles, Cassis, and the Calanques in one day, the Provence Sightseeing Tou is the perfect option.
13. Ancient Roman Monuments & Archaeological Sites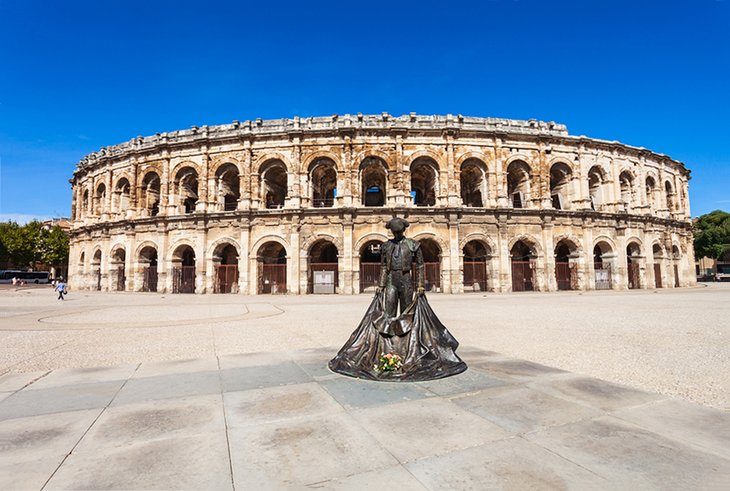 Both Arles in Provence and Nice on the French Riviera have fascinating ancient Roman ruins, among their other tourist attractions. The Roman Amphitheater in Arles was designed for a large audience to attend gladiator fights and theatrical events. In the Cimiez Quarter of Nice are the ancient ruins of Cemenelum, revealing vestiges of the Roman baths and amphitheater.
Nîmes in the Languedoc region has some of the most impressive ancient Roman monuments in the south of France. The Arènes de Nîmes is a perfectly designed Roman amphitheater, remarkable for its exceptional state of preservation. A fully restored classical Roman temple, the Maison Carrée, presides over a square in the center of town. The colonnaded facade awes visitors with its monumental and harmonious proportions, while the interior reveals a sense of grandeur.
An important town during classical antiquity, Orange boasts a UNESCO-listed Théâtre Antique (Roman theater dating to the 1st-century). This incredibly well-preserved ancient theater today hosts the renowned Chorégies d'Orange music festival, as well as other cultural events.
In the Haut-Vaucluse area of Provence, Orange is a 30-minute drive away from Vaison-la-Romaine, which is considered one of the "Plus Beaux Détours de France" (France's official list of places worthy of a detour). Vaison-la-Romaine has remarkable archaeological sites dating to the 1st-century. The old Roman theater of Vaison-la-Romaine is used as an open-air venue for Vaison Danses, an international dance festival that takes place every year in July.
Also in the Haut-Vaucluse area, Pernes-les-Fontaines was founded during the Gallo-Roman era. This relaxing town was named for its many fountains that provide abundant drinking water, a legacy of the Roman heritage.
14. UNESCO-Listed Albi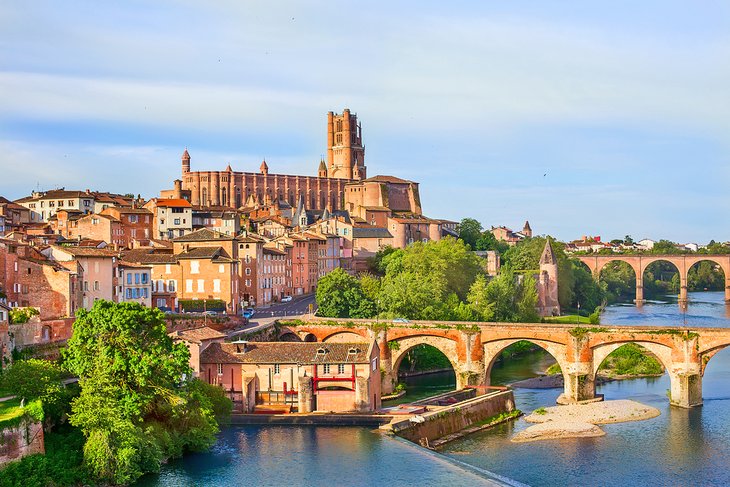 The historic episcopal city of Albi is designated as a UNESCO World Heritage site because of its exceptional architecture and cultural value. An imposing fortress-like cathedral presides over the medieval town.
Founded in the 13th century, the enormous Cathédrale Sainte-Cécile is the world's largest cathedral built from brick. The breathtaking, spacious vaulted interior features over 18,000 square meters of frescoes and an ornately decorated Gothic choir with 200 intricate statues. Not to be missed is the Last Judgment fresco, a masterpiece of Renaissance painting.
Housed in the UNESCO-listed 13th-century Palais de la Berbie, the Toulouse-Lautrec Museum is devoted to the work of the famous artist, Henri de Toulouse-Lautrec, who was born in Albi. The museum displays Lautrec's distinctive posters, as well as paintings and drawings.
Albi is a worthwhile day trip from Toulouse ( a one-hour drive) or combined with an itinerary of other attractions such as Carcassonne (about a two-hour drive).
15. Toulon & Île de Porquerolles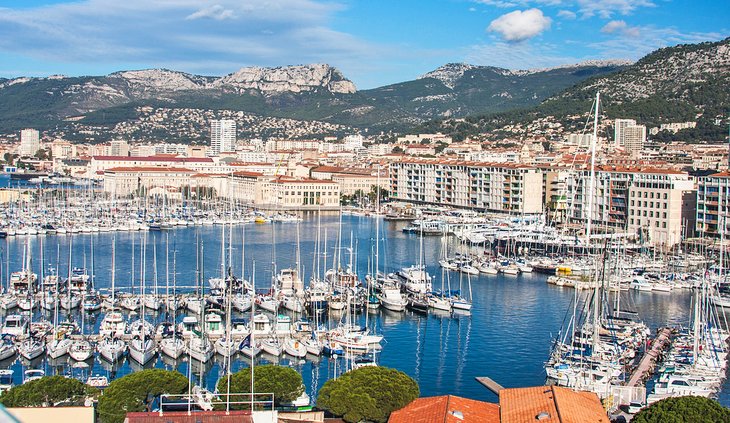 Toulon is less touristy than other seaside cities along France's Mediterranean coast yet offers plenty of attractions. This characteristic port town has an attractive palm-fringed waterfront, which is full of shops, and restaurants with outdoor terraces.
Highlights of Toulon are the atmospheric Le Mourillon quarter, an old fishing village; the historic harbor with the Porte de l'Arsenal, an 18th-century military building that houses the Musée National de la Marine (seafaring museum); and the astounding coastal views from Mont Faron (accessible by the Téléphérique du Faron cable car).
A traditional Provençal market has been held at the Cours Lafayette since the 18th century. Today, this market takes place every day (except Mondays) from 7:30am until 12:30pm; vendors sell fresh vegetables, fruits, flowers, specialty food products, and Provençal fabrics.
From the Port of Toulon, travelers can sail away to the Île de Porquerolles. Just an hour ferry ride away, this idyllic island features magnificent natural scenery, sandy beaches, and secluded coves. It's the perfect destination for a relaxing getaway. Besides sunbathing, the Île de Porquerolles offers opportunities for snorkeling, hiking, and mountain biking.
16. The Gascony Region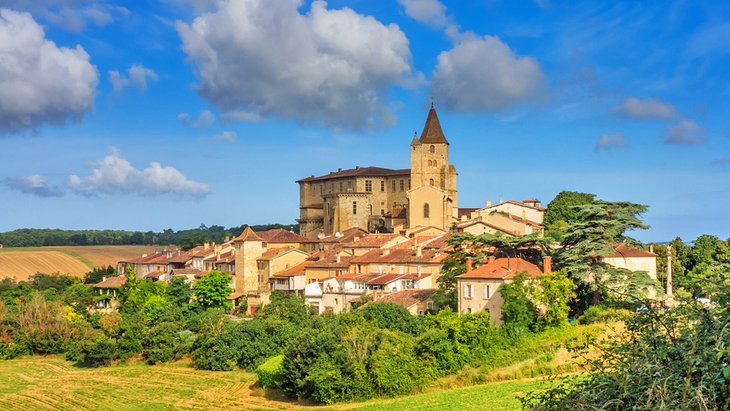 The distinctive character of Le Gers (the Gascony region) in Southwest France derives from its ancient feudal heritage. In this unspoiled pastoral landscape, farmlands blanket the undulating countryside in a colorful patchwork while hilltops are dotted with imposing castles, walled medieval towns, and quiet country villages.
There are plenty of things to see in Toulouse, including a UNESCO-listed Romanesque basilica and 13th-century Dominican monuments, both constructed from the red bricks that earned the city its name of "La Ville Rose."
In the country of the musketeers, La Bastide en Gascone in Cazaubon invites travelers to indulge in the relaxation and pampering of a bucolic retreat. This charming Relais & Châteaux property offers minimalistic yet refined guest rooms, a gourmet restaurant, spa, outdoor swimming pool, garden, and bikes (on loan) for exploring a scenic trail nearby.
17. Bordeaux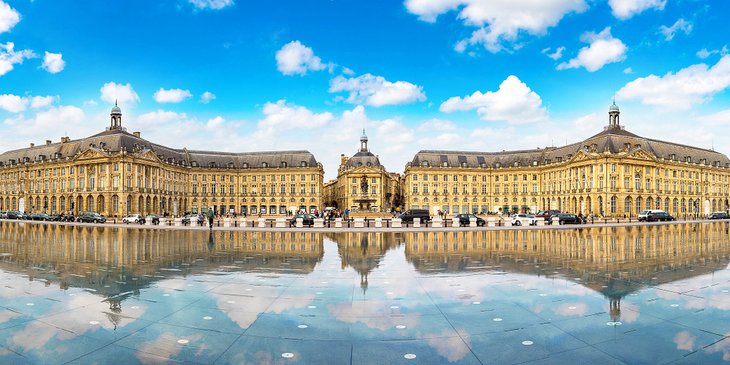 UNESCO has designated the entire city of Bordeaux as a World Heritage Site because of its cultural value and architectural treasures from the Age of Enlightenment. The city boasts over 350 buildings that are listed as Historic Monuments.
Built up along the Garonne River in Southwest France, Bordeaux is a cosmopolitan port town with a heritage that stretches back to antiquity. The city flourished during the 18th century, which explains the coherence of neoclassical architecture dating to that era.
Among Bordeaux's top tourist attractions are the UNESCO-listed 12th-century Cathédrale Saint-André and the 18th-century Grand Théâtre, which hosts ballet, opera, and music performances.
18. Le Var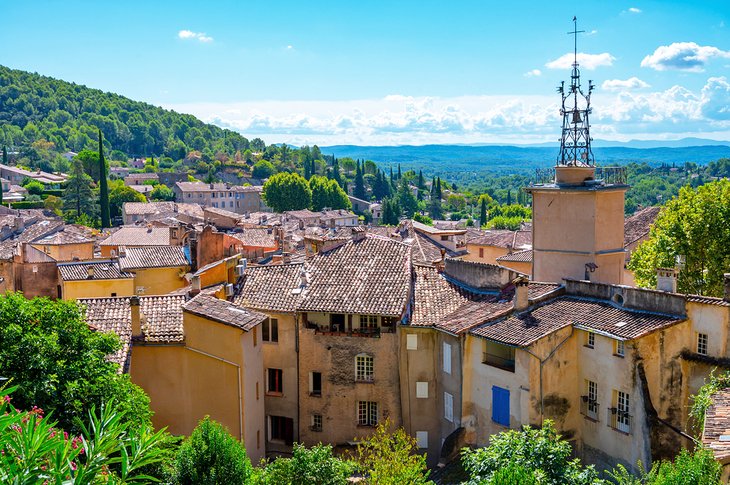 Nestled between Provence and the French Riviera, Le Var region is a hidden gem of Southern France. Lush woodlands, rolling hills, and farmlands define the landscape of this rural area, which is also rich in cultural heritage. The countryside is dotted with historic towns, ancient abbeys, and beautiful villages.
A Carthusian monastery founded in the 12th century, La Chartreuse de La Verne stands amid an oak and chestnut forest in the Massif des Maures mountain range. This listed Historic Monument is currently home to a community of nuns, but also welcomes the public for visits. Tourists will appreciate the peaceful setting, as well as the Romanesque church and the ceramics (for sale at the monastery's boutique) that are handcrafted by the resident nuns.
The Abbaye du Thoronet is another 12th-century abbey (classified as a Historic Monument) hidden deep within a forest of oak and olive trees. This tranquil abbey awes visitors with its austere architecture and serene ambience. The Thoronet Abbey is one of three important Cistercian monuments in the South of France (the others include the Silvacane Abbey and the Abbey of Sénanque in Provence).
The Var region is full of traditional country villages and towns featuring fountain-adorned squares and inviting outdoor cafés. Lorgues exemplifies a typical town of the region with its many fountains, an impressive historic church, an atmospheric medieval quarter, and a weekly open-air market that draws many visitors.
Near Lorgues are two tourist attractions that will appeal to luxury seekers and gourmands: Set amid vine-cloaked fields and olive groves, the Châteade Bern (in the town of Flayosc) is a luxurious five-star Relais & Châteaux hotel with a Michelin-starred gastronomic restaurant, spa, fitness center, tennis court, and outdoor swimming pool.
For traditional French cuisine, the famous Chez Bruno (in Le Plan Campagne Mariette, four kilometers from the Château de Berne) specializes in dishes made with truffles.
Sheltered by steep limestone cliffs, Cotignac (23 kilometers from Lorgues) is classified as a "Village de Caractère du Var" (Village of Character of the Var) thanks to its lovely ambience, picturesque streets, and pleasant tree-lined central square.
Nature lovers should be sure to see the Gorges du Verdon in the region's northeastern corner. Part of the Parc Naturel Régional du Verdon (Verdon Regional Natural Park), this dramatic 700-meter-deep river canyon offers an abundance of recreational opportunities. The Verdon Regional Natural Park is a great place for swimming, water sports, and hiking.
19. The Camargue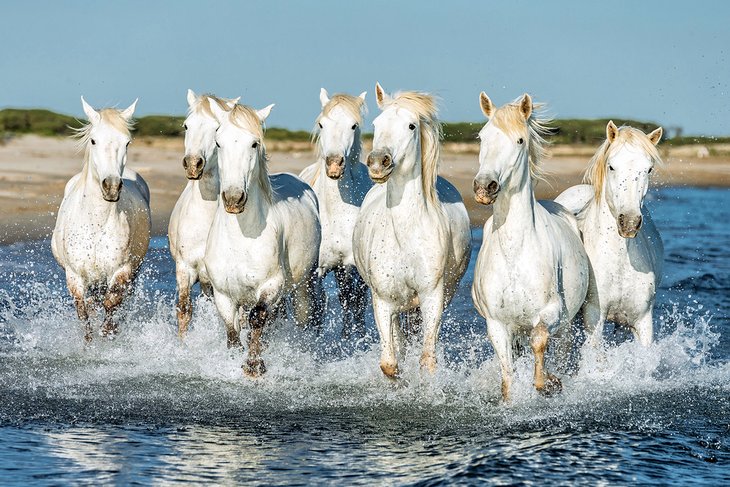 About a 20-minute drive from Arles, the Camargue is a unique landscape of wetlands, marshlands, beaches, and sand dunes. The area is protected as a Natural Regional Park, the Parc Naturel Régional de Camargue, which is home to wild white horses, Camargue bulls (used in bullfighting), and over 300 species of birds including pink flamingos.
Within the Parc Naturel Régional de Camargue, Saintes-Maries-de-la-Mer delights tourists with its sandy beaches and great selection of cafés, restaurants, and shops.
Just outside the Natural Regional Park are several noteworthy historic towns. Dating back to the 13th century, Aigues-Mortes has its medieval fortifications completely intact. These ancient walls conceal an atmospheric warren of narrow streets, steeped in the ambience of the Middle Ages.
Salt marshes surround the town of Aigues-Mortes and less than two kilometers away is the Salin d'Aigues-Mortes, where sea salt is harvested by artisans in the centuries-old manner. This saltworks company produces the prized Fleur de Sel de Camargue (a finely textured sea salt). At the Salin d'Aigues-Mortes site, tourists can take a guided walking tour of the salt marshes and watch artisans harvest the salt.
The Camargue Natural Regional Park area also boasts seaside vacation destinations: Le Grau-du-Roi (seven kilometers from Aigues-Mortes), an old fishing village that has been transformed into a modern resort; and Port Camargue (12 kilometers from Aigues-Mortes), which has sandy beaches.
20. Plage de l'Espiguette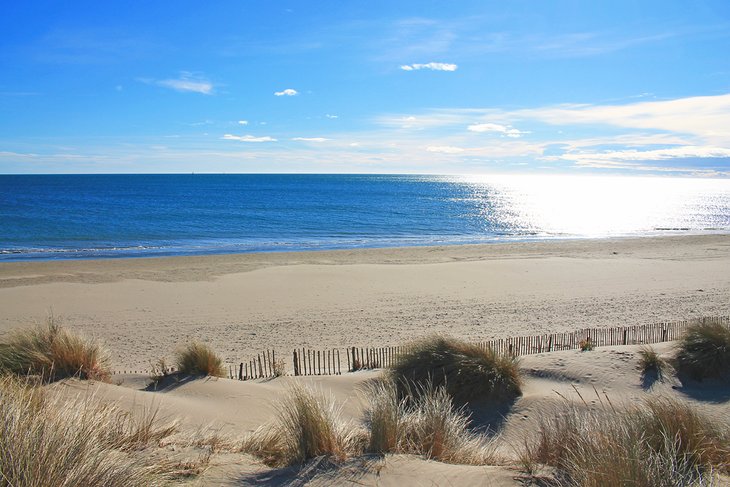 The Plage de l'Espiguette ranks as one of the best beaches in France because of its pristine environment and calm deep-blue seas. This dreamy stretch of white-sand shoreline is a favorite summertime destination in the Languedoc-Roussillon region (a 45-minute drive from Montpellier).
At this wild unspoiled beach, outdoor activities are the main draw. Things to do include swimming, nature walks, horseback riding, kitesurfing, and fishing.
>> Get to know other magnificent place in France: Colmar, Alsace