15 Top-Rated Tourist Attractions in North Wales
North Wales, one of Britain's oldest and most established tourist regions, offers an abundance of excellent holiday attractions within a relatively small area. Road signs proclaiming "Croeso i Gymru" (Welcome to Wales) greet visitors as they enter the country and bear witness to the warm, inviting hospitality of the Welsh.
The elegant little town of Llandudno is one of Britain's oldest and most popular seaside resort towns, and the North Wales coast roads offer a tremendous variety of scenery. Add to this its numerous large open stretches of sandy beaches and lively resorts, scenic rugged cliffs, quaint fishing villages, and countless secluded bays, and it's not difficult to understand why North Wales is among the most popular places to visit in the UK.
Perhaps the best-known attraction here is spectacular Snowdonia National Park. Here, Wales' highest mountain, Snowdon, stands 1,085 meters tall and has for centuries attracted climbers and walkers, while the Lleyn Peninsula and the Clwydian Range are also designated as areas of outstanding natural beauty.
The area also boasts many historical sites and charming little towns, deep ravines, and picturesque valleys, which turn any outing into a voyage of discovery.
Learn about fun things to do in this beautiful corner of the UK with our list of the top tourist attractions in North Wales.
1. Snowdonia National Park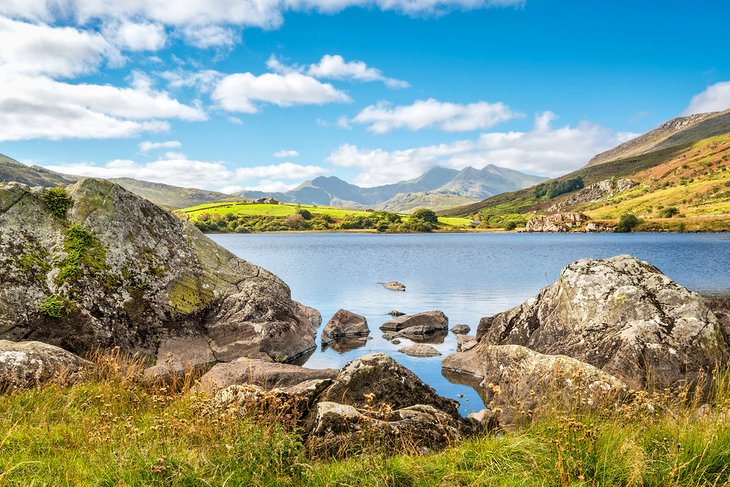 Snowdonia National Park covers a great deal of North Wales, extending inland from the coast between Penmaenmawr and Caernarfon by way of Bethesda, all the way to Bala Lake and Llanfairfechan. Visitor access to the most beautiful part of this area, including the summit of Snowdon itself, is made easier by the wonderful Snowdon Mountain Railway, which starts in Llanberis and is considered one of the world's top railway journeys.
This beautiful park is one of the best places to visit in Britain for hiking and climbing adventures, and offers plenty of extremely rugged and scenic mountain vistas along the way. But there's more to explore in Snowdonia than just stunning mountain scenery. The park also boasts many lovely sandy beaches and dunes, countless picture-perfect Welsh valleys, as well as over 50 lakes and smaller pools of water.
Fans of British history are attracted, too. Here, you'll find evidence of a rich cultural heritage that includes everything from Roman ruins, prehistoric circles, ancient stonewalls, and traditional Welsh farms.
Address: Penrhyndeudraeth, Wales
Official site: www.snowdonia.gov.wales/home
Accommodation: Where to Stay in Snowdonia National Park
2. Caernarfon Castle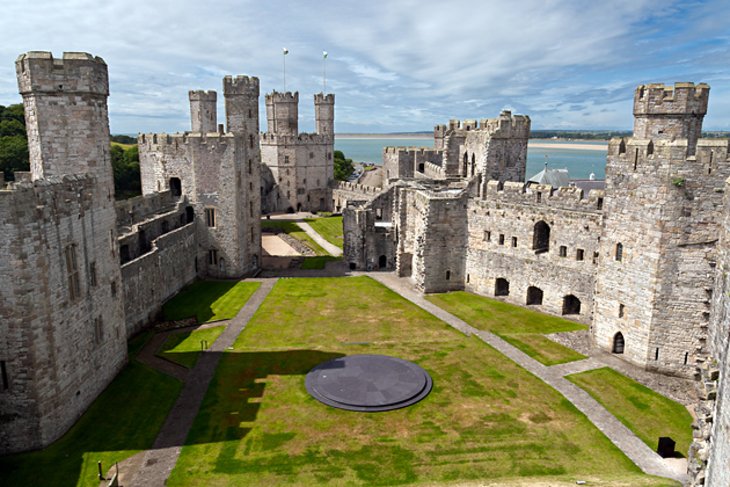 Caernarfon Castle was begun by Edward I in 1283 as a seat for his eldest son, Edward of Caernarfon, the first Prince of Wales. The structure took almost 37 years to complete, and the power and might of the English throne is symbolized by the great stone eagles on the Eagle Tower and the layout of the castle's walls and towers.
With its 13 towers and two gates, this massive building is one of the most impressive and best-preserved medieval fortresses in Europe. As you'll learn during one of the castle's highly-recommended tours, it occupies the site of an earlier Norman castle that once stood here protecting the waters of the River Seiont and the Menai Strait.
The castle has had an eventful history and has withstood many sieges. More recently, it was the scene of Prince Charles's investiture as Prince of Wales in 1969, an event marked by a special exhibition. While you're here, be sure to explore the magnificent Queen's Tower, home of the Royal Welch Fusiliers Regimental Museum.
If you are traveling with kids be sure to spend time at the newest addition to this top attraction: Legends of the Sky. This fun 3D experience allows you to take control of a "virtual dragon" and swoop, dive, and even breathe fire over the castle. Afterwards, be sure to visit the on-site gift shop.
Address: Castle Ditch, Caernarfon, Gwynedd, Wales
Official site: https://cadw.gov.wales/visit/places-to-visit/caernarfon-castle

3. Conwy Castle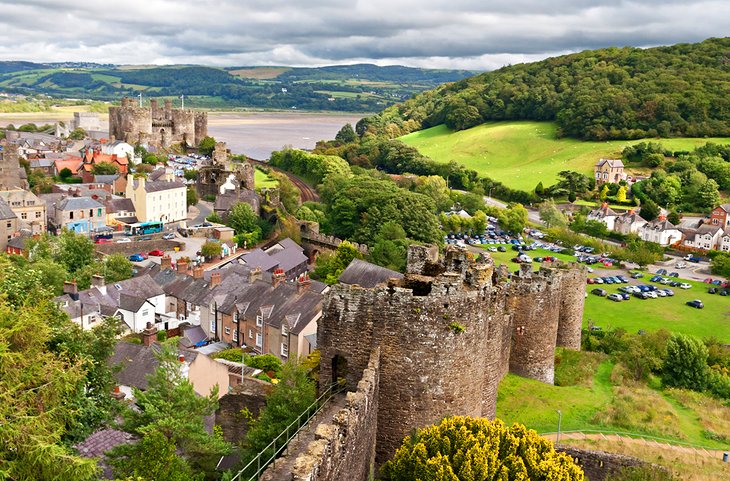 Conwy Castle, located only a short distance from Manchester, is a masterpiece of medieval architecture that took an estimated 2,000 workers to build between 1283 and 1289. And it was completed just in time, as in 1290 Edward I was besieged behind its 3.6- to 4.5-meter-thick walls and eight towers by the Welsh.
While the 38-meter-long Great Hall is now roofless, one of the eight original arches that supported it has been rebuilt and demonstrates the original magnificence of the structure. It's now considered one of Wales' most picturesque fortresses, and is in fact one of the best preserved 13th-century fortresses in Europe. Along with fine examples of medieval royal chambers, Conwy Castle features an excellent exhibition on the history of Edward I and his numerous Welsh castles.
Afterwards, be sure to explore the old town itself. Conwy's other highlights include its well-preserved 13th-century town walls, which offer superb views of the surrounding area, and Aberconwy House. This 14th-century merchant's house was one of the first buildings to be built within the town walls. Also worth seeing are the superbly preserved Elizabethan home, Plas Mawr, and what is reputedly the Smallest House in Great Britain.
Address: Rose Hill Street, Conwy, Wales
Official site: https://cadw.gov.wales/visit/places-to-visit/conwy-castle
Accommodation: Where to Stay in Conwy
4. Llandudno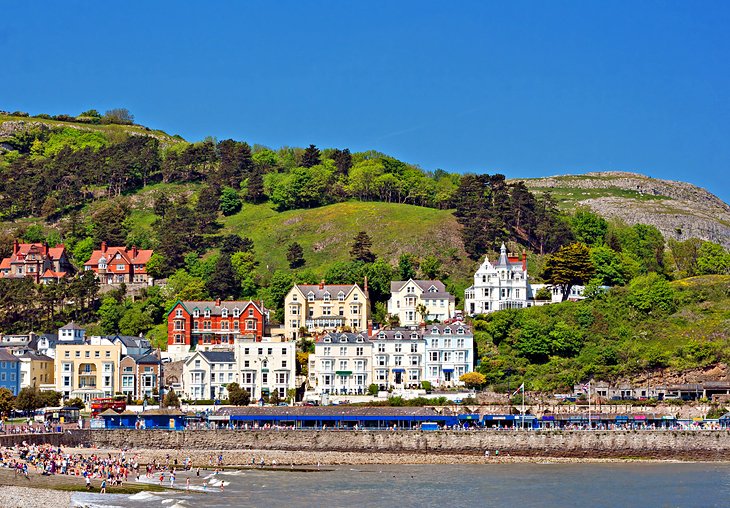 Lovely Llandudno is one of the most popular seaside resorts in all of Wales, in part due to its two sandy beaches (one on either side of the town) and picture-perfect promenade. With the advent of tourism in the last century, this Victorian town became a gathering place for the new middle class, who came here from the nearby industrial regions of Liverpool and Manchester.
The more easterly of the two beaches, North Shore, is bounded by another headland, Little Orme. One of the most popular things to do here is hopping aboard the Great Orme Tramway. The only cable-hauled tramline in Britain, it has been taking visitors on a lovely journey to the top of the Great Orme, with its superb views over the Irish Channel, since 1902.
Alternative means of getting to the top of Great Orme include hiking along any one of the scenic trails available or aboard the mile-long Llandudno Cable Car.
The town's magnificent late Victorian pier has been mercifully spared the modern fairground influences so typical of many resorts on the south coast and is a popular hangout for anglers (fishing gear is available for rent at the pier entrance). It's also a great place to simply sit and enjoy the sea air, especially if accompanied by a hot drink or snack from one of the food outlets here.
A must-do if traveling with kids is stopping and watching one of the fun "Punch and Judy" puppet shows, performed frequently along the promenade. Mostyn Street, with its superb shopping arcades, is well worth a visit and is home to a wide range of cultural events and entertainments.
Accommodation: Where to Stay in Llandudno
5. Portmeirion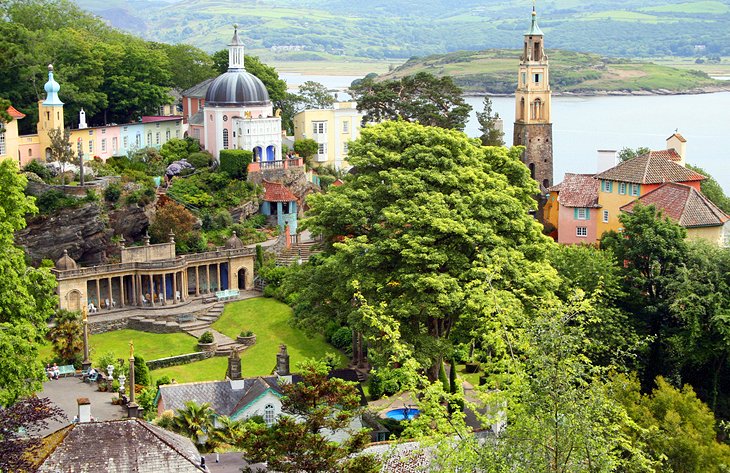 Located in Tremadog Bay on a wooded peninsula between Porthmadog and Harlech, Portmeirion is famous the world over for being a replica in miniature of a picturesque Italian village.
Portmeirion was the brainchild of Sir Clough Williams-Ellis (1884-1978), who dreamed of recreating an Italian village in Wales and had it built on his own private promontory, together with a mansion (now a hotel) and beautiful Gwylt Gardens.
Also on-site are a number of boutique shops, plus dining options in the tearoom, café, and restaurant. The village was also where the famous Portmeirion pottery line originated. Now made in Stoke-on-Trent in England, these Portmeirion-inspired products adorn tables and shelves the world over.
This unique property is best visited as part of an overnight stay; when the gates close for the evening, guests get the whole place to themselves to explore, from its beautiful gardens, fountains, and church, to the coastal paths of the lower village. The location for numerous films and TV programs, including the cult show The Prisoner, Portmeirion is a must for any sightseeing visit to North Wales.
Address: Minffordd, Penrhyndeudraeth, Gwynedd, Wales
Official site: https://portmeirion.wales
6. The Isle of Anglesey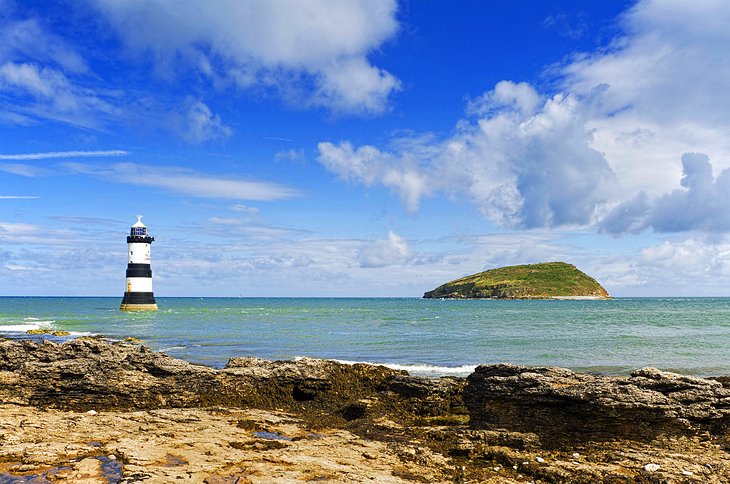 The Isle of Anglesey, separated from the mainland by the nearly mile-wide Menai Strait, is spanned by two imposing bridges, the most interesting of which is the Menai Suspension Bridge (1818-26). Along the coast are a series of small seaside resorts that have grown out of fishing villages, the most significant being Holyhead. Head inland, and you'll find five market towns and many tiny villages all linked by numerous narrow roads.
In addition to its mild climate and fresh sea air, Anglesey is blessed with over a hundred miles of exceedingly attractive coastline, its rugged cliffs interrupted at intervals by picturesque sandy bays. Inland, hills provide fertile pasture for vast flocks of sheep.
Highlights include South Stack Lighthouse, built in 1809 and now open to the public. Visitors can take the stairs to the top for great views over the coast and the Irish Sea.
Other popular attractions include Beaumaris Castle (see the full listing below for further details), and Holy Island. This smaller island is linked to Anglesey by bridge and is a popular holiday resort, with two promenades, one of them 2.4 kilometers long. Puffin Island at Penmon Point is especially popular among bird-watchers.
Anglesey is also famous for having the world's longest place name: Llanfairpwllgwyngyllgogerychwyrndrobwllllandysiliogogogoch. A great way to truly experience the island and its many attractions is by hiking the 200-kilometer Anglesey Coastal Path, part of the much longer Wales Coastal Path.
Official site: www.visitanglesey.co.uk/en/
7. Pontcysyllte Aqueduct & the Llangollen Canal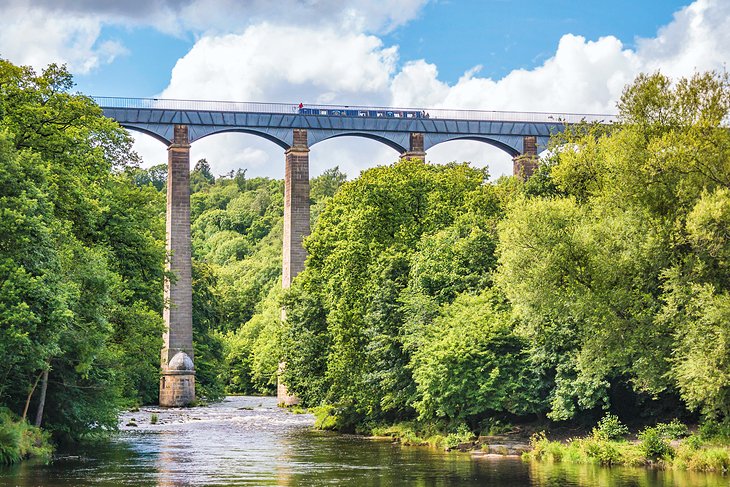 One of the most recognizable landmarks of the industrialization that took place across Great Britain in the early 19th century, the Pontcysyllte Aqueduct is a spectacular 18-arched stone and cast iron aqueduct built to carry coal barges across the Vale of Llangollen.
Designed by engineer Thomas Telford and finished in 1805 after 10 years of construction, the aptly nicknamed "stream in the sky" has been classified as the world's highest navigable aqueduct, and at 336 yards is the longest such structure in the country. Today, the structure is used only by pleasure craft, canal boats, and pedestrians.
Part of the Llangollen Canal, it is perhaps unsurprisingly one of the most popular stretches of inland waterway thanks to its magnificent scenery, and, of course, the chance to boat across the Pontcysyllte Aqueduct. Now a World Heritage Site, this spectacular edifice is also open to pedestrian traffic and makes for a fun outing.
Pleasant boat rides are available that cross the aqueduct regularly. Better still, go whole hog and rent a canal barge for a few days to explore this magnificent part of Wales at a very leisurely pace, as canal barges have average speeds of approximately eight kilometers per hour.
Address: Station Road, Trevor Basin, Wrexham, Wales
Official site: www.pontcysyllte-aqueduct.co.uk
8. Porthmadog & Ffestiniog & Welsh Highland Railways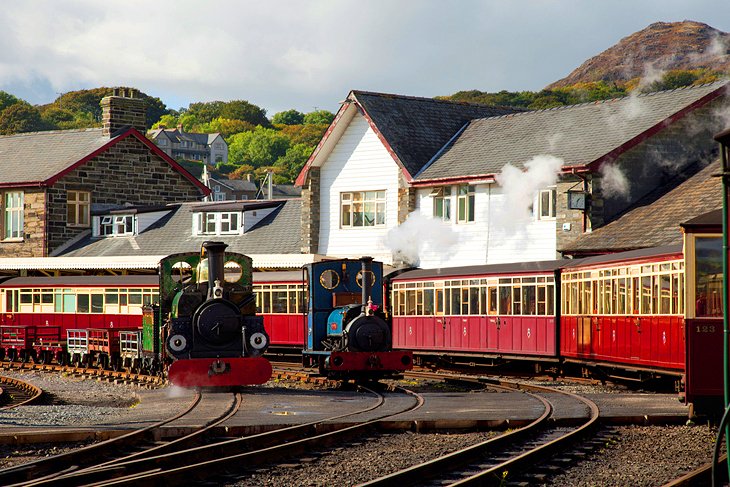 Located at the mouth of the River Glaslyn are the twin towns of Porthmadog, often referred to simply as Port and Tremadog, tiny industrial centers that attained international importance for the shipping of slate. Today, they have developed into pleasant seaside resorts with a number of great sandy beaches.
From Ynys Tywyn, near the harbor, there are wide views of the surrounding area where the poet Shelley lived for some time, as did Lawrence of Arabia, who was born here. The Coed Tremadog woods, a designated nature reserve, are worth visiting and offer many great walking and hiking trails.
Porthmadog is perhaps best known as the terminus for the oldest narrow-gauge railroad in the world, built in 1836 to transport slate from the mines at Blaenau Ffestiniog. Today, the wonderful Ffestiniog and Welsh Highland Railways offer visitors a chance to explore this beautiful area on more than 64 kilometers of narrow-gauge railway.
Address: Harbour Station, Porthmadog, Wales
Official site: www.festrail.co.uk
9. The National Slate Museum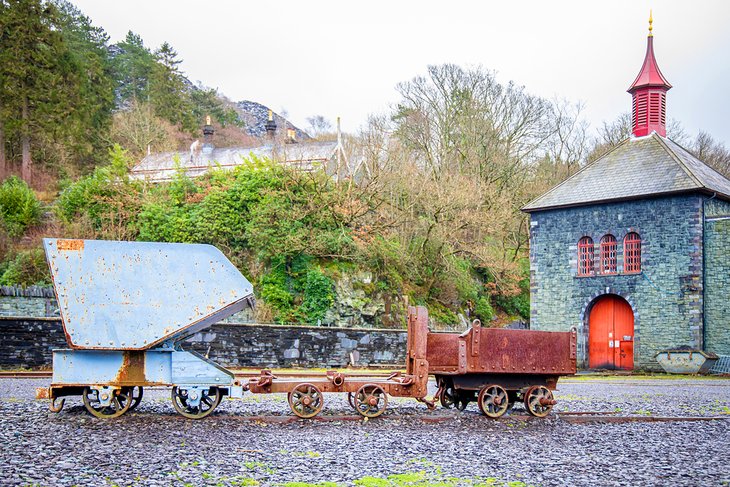 You'll find the National Slate Museum, a superb museum dedicated to what's been dubbed the most "Welsh of Welsh industries," in Padarn Country Park. This collection of well-preserved 1870s workshops formerly housed the men and machinery of the once busy Dinorwic slate quarry.
These days, the buildings and the still-operating heritage narrow-gauge railway that served the quarry paint a vivid picture of the workings of the slate mine, and the tough conditions for those that toiled here. Highlights include the original machinery used to mine and prepare the slate for export, including a huge working waterwheel, as well as four preserved workers' cottages.
You can, in fact, reach the museum via the Llanberis Lake Railway, which frequently makes the journey to and from Llanberis. Guided tours are available, and a gift shop and café are located on-site.
Location: Llanberis, Caernarfon , Wales
10. Beaumaris Castle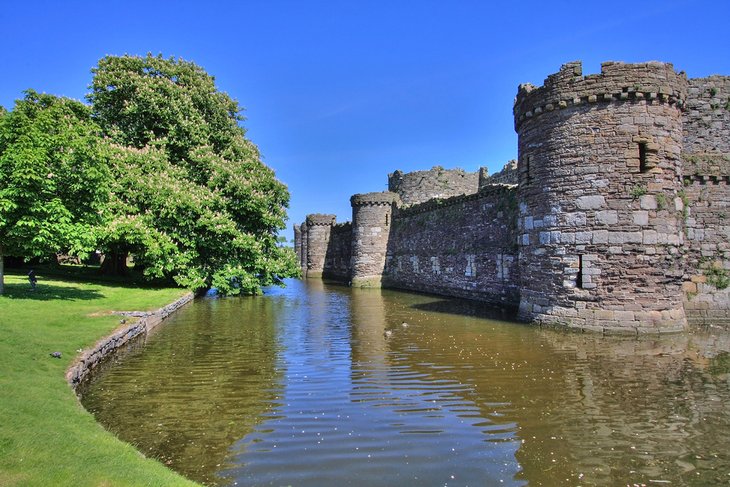 Beaumaris Castle, a magnificent moated edifice with sturdy walls and defensive towers located on the Isle of Anglesey, is well worth including in your list of must-see Welsh fortresses. Begun in 1295, it was the last and largest of the fortresses that Edward I built in Wales (a display in the chapel tower details the story of their construction).
Its exterior walls are some five meters thick, with solid corner towers, and enclose the square inner courtyard. The water-filled moat presented an impressive first-line defense outside the ring of walls.
Address: Castle Street, Beaumaris, Isle of Anglesey, Wales
Official site: https://cadw.gov.wales/visit/places-to-visit/beaumaris-castle
11. Harlech Castle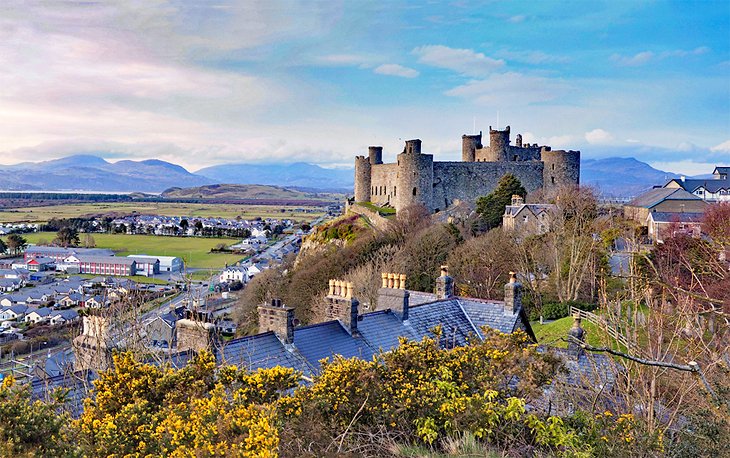 Built on a rocky outcrop overlooking the Irish Sea, Harlech Castle is another of the chain of fortresses built by Edward I in the late 13th century to seal his conquest of Wales. The castle endured numerous sieges through the centuries, including during the English Civil War in the 17th century, after which it was left mostly to fall into disrepair.
Despite these years of neglect, the castle is now considered by UNESCO to be one of Europe's best surviving examples of military architecture from the 13th and 14th centuries. Today, the castle - the subject of the unofficial Welsh anthem, Men of Harlech - is a delightful place to explore, with its rich history on display at the visitor center.
For a real treat, book one of the castle's luxury apartments housed in the center, once a former hotel. Be sure to also explore the delightful adjacent village of Harlech, too, along with its long stretch of sandy beach.
Address: Harlech Castle, Harlech, Wales
Official site: https://cadw.gov.wales/visit/places-to-visit/harlech-castle
Accommodation: Where to Stay in Harlech
12. Bodnant Garden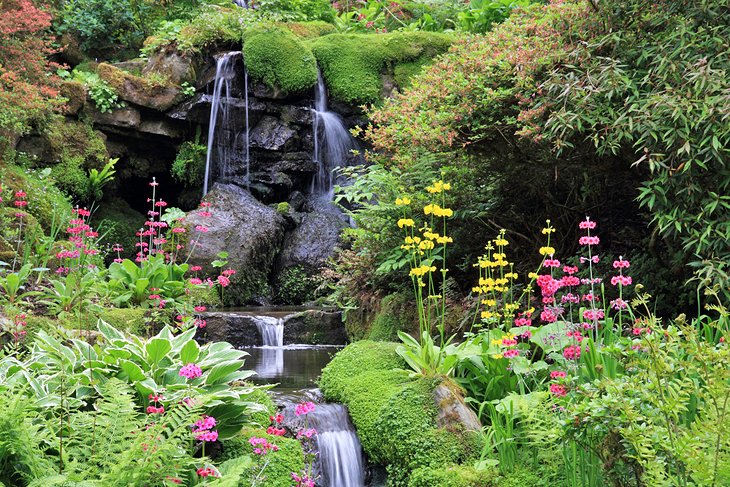 Gardeners shouldn't pass up the opportunity to pay a visit to Bodnant Garden, one of the oldest and most visited formal gardens in Wales. Now a National Trust location, Bodnant is situated on a hillside overlooking the Conwy Valley near the small village of Tal-y-Cafn.
In addition to its many fine floral displays, it offers superb views over the surrounding Carneddau peaks. Covering an impressive 80 acres, Bodnant was established in 1874 and retains to this day many facets of the original explorer collections that were deposited here. These include its fine Italianate terraces, a gorge garden, collections of trees and shrubs, plus an attractive waterfall. Newer additions include a winter garden and a very pleasant riverside garden.
The big draw, though, is the garden's magnificent 55-meter-long laburnum arch. Planted in 1880 and flowering each May and June, it continues to draw large crowds who travel here to enjoy its splendid display.
Other notable highlights include its two restaurants, two tearooms, guided walks and talks, along with fun workshops. Those traveling with dogs are welcome to visit with their canine friends on select days.
Address: Bodnant Rd, Tal-y-cafn, Colwyn Bay, Wales
Official site: www.nationaltrust.org.uk/bodnant-garden
13. Llechwedd Slate Caverns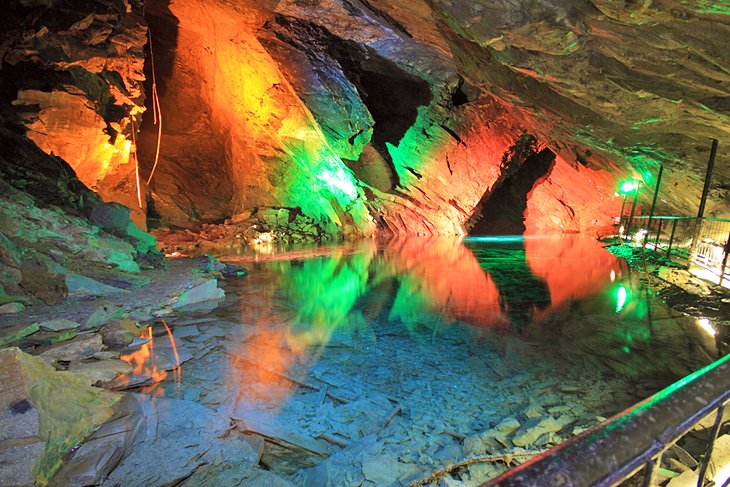 Another of North Wales' mining-related attractions and one of the region's most visited tourist attractions, Llechwedd Slate Caverns is located in the quaint town of Blaenau Ffestiniog. Often referred to simply as "Llechwedd" this fascinating attraction paints a very vivid picture of the history and importance of slate mining to the region, and focuses around the Llechwedd quarry.
A highlight of a visit is the Llechwedd Deep Mine Tour. This thrilling experience involves taking the country's steepest narrow gauge railway some 152 meters down to some of the property's most spectacular slate caverns. Also fun is the Quarry Explorer, a 4x4 vehicle experience that carries guests on a fascinating tour around the vast mine area.
The inclusion of other notable features, such as mountain biking trails, underground ziplining, and an underground trampoline experience make this one attraction in Wales the kids are definitely going to love.
Address: Llechwedd, Blaenau Ffestiniog, Wales
Official site: www.llechwedd-slate-caverns.co.uk
14. Penrhyn Castle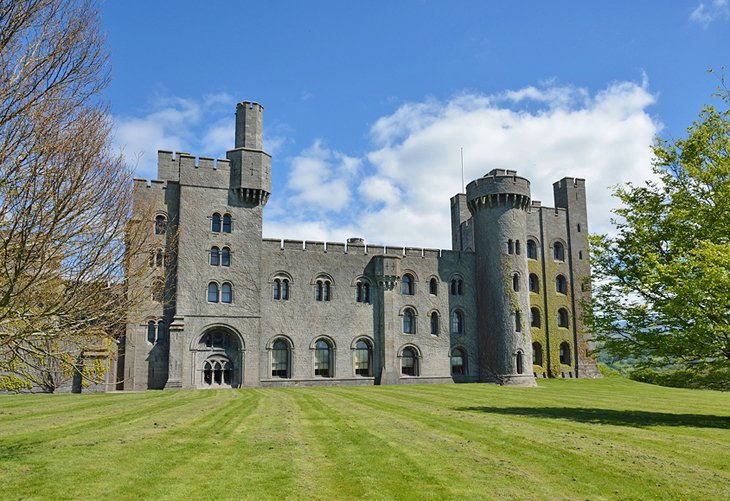 Just because it's one of the newest castles in all of Wales – really a "mock castle" as it was completed in 1837 – doesn't mean beautiful Penrhyn Castle is any less deserving of a visit. This well-preserved National Trust property offers plenty of reasons to linger, from its magnificent grounds to its elegant interiors.
It's a vast structure, built in a Norman fortress style with only its larger lower drawing room windows suggesting it's a relatively recent construction. Interior highlights include a rich décor boasting plenty of elegantly carved wood and stone, detailed plasterwork, plus a large art collection (including a Rembrandt). There's also a notable collection of furniture to match its Norman influences, including a huge bed made entirely of slate for Queen Victoria.
Notable features that make this a fun family day out include a number of delightful gardens; picnic areas (including beautiful views over the Snowdonia mountains); and a playground for kids.
The Penryhn Castle Railway Museum, home to a large collection of artifacts, rolling stock, and engines once employed in the former estate owner's nearby mines, is also worth seeing.
Address: Bangor, Gwynedd, Wales
Official site: www.nationaltrust.org.uk/penrhyn-castle
15. Erdigg Hall, Wrexham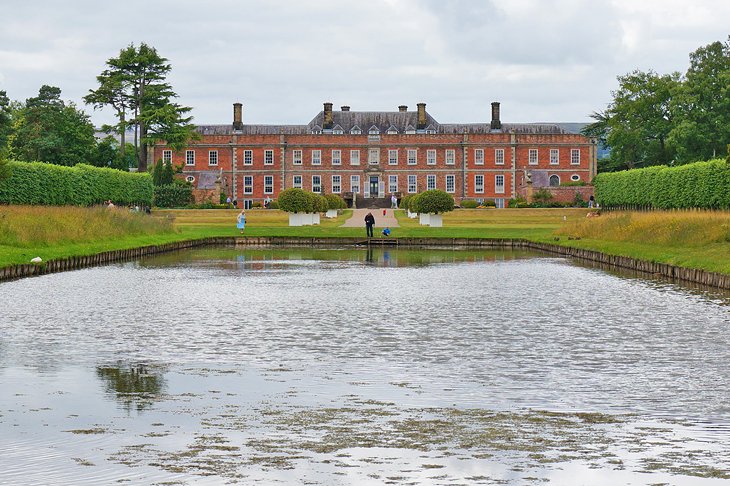 Erdigg Hall near Wrexham is another charming National Trust property worthy of being added to your North Wales itinerary. Constructed in 1687, it's considered to be one of the best-preserved stately homes in Britain.
A great way to enjoy Erdigg is via a guided tour, which will lead you through the servants' quarters, as well as the rather more opulent living areas occupied by the owners themselves. Along the way, you'll enjoy a wide variety of historic furnishings and artwork, and learn a great deal about life on the estate throughout the centuries.
Exterior highlights include an exquisite walled garden laid out in the 18th century (one of the oldest in the UK), and a number of outbuildings worth visiting, including a blacksmith's shop, a joiners, and the stables.