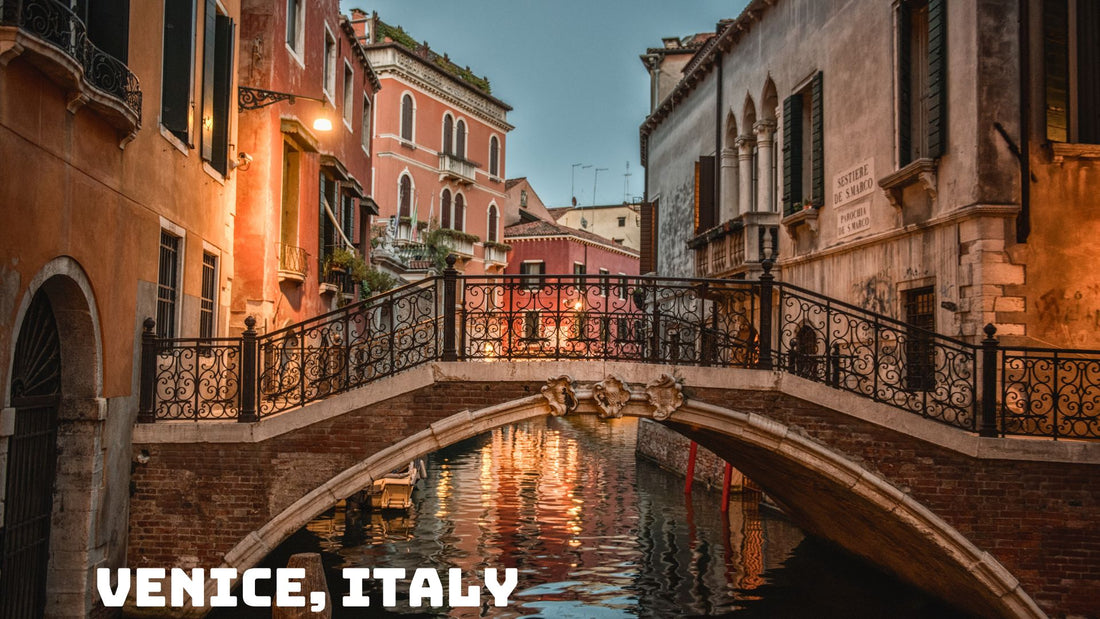 14 tips to make the best of your first trip to Venice Italy
Venice, Italy is your next destination, but you have no clue what to expect. Are we right?
If you are looking for tips for your first trip to Venice, you're in the right place!
Our tips will help you to get the most out of your first trip to Venice and to fully enjoy the city.
Naturally, our Venice tips are valuable and can be helpful even if you have visited before!
Venice Tip #1 - When to go to Venice Italy
When choosing the best time to visit Venice Italy, there are 3 factors to consider:
The crowds
The weather
Eventual events to attend
Avoiding the crowds:
To avoid crowds in Venice it is best to avoid weekends, late Spring and Summer, and Carnival.
These are, in fact, the busiest times in Venice.
However, keep in mind that tourism in Venice doesn't really have an offseason.
What kind of weather to expect:
The weather in Venice is usually humid. As a consequence, perceived temperatures are generally more intense than one would expect.
In other words, hot days feel hotter and cold days feel colder than one would think by looking at the reported lowest and highest temperatures.
You can check out our article for a full breakdown of the weather in Venice throughout the year.
Events to attend:
Finally, also Events can be an important factor when deciding when to visit Venice.
The most famous events are Venice Carnival and the Art and Architecture Biennale.
Venice Tip #2 - Best places where to stay in Venice
For the best experience of Venice, we strongly recommend you to stay within the historical city of Venice.
In other words, chose to stay on the "island" rather than on the "mainland".
Doing so allows one to enjoy the city also before and after day-trippers have come and gone: in the morning and at night you will have the feeling that you have the city all to yourself!
Venice historical center is made of 6 districts: Castello, Cannaregio, Santa Croce, Dorsoduro, San Marco, San Polo.
The last 2 are the most touristy and crowded ones. Therefore, we would recommend you to stay in one of the other 4 districts for a more authentic experience.
You can learn more about the districts of Venice and everything you need to navigate the city, here.
Venice Tip #3 - Don't fear to get lost, explore.
A crucial tip for your first trip to Venice, Italy is to lose yourself.
Yes, forget about maps and the GPS on your phone!
Leave your hotel room or apartment and just walk in whichever direction you feel like going.
Losing oneself is the best way to discover and appreciate the stunning beauty of the tiny alleys and narrow canals which make the fabric of Venice.
Also, it makes for great photo opportunities and allows you to discover more of Venice and feel the Venetian atmosphere.
And don't worry about your whereabouts: Venice is safe.
When we say that Venice is safe, we mean it is really, really, really safe.
So, take the chance to explore the city in depth alone or take part in a tour around Venice with us to make the best out of your visit!
WANT MORE TIPS, TOOLS AND STORIES FROM VENICE, ITALY?
We're on a mission to make it easy and fun to discover and support the authentic Venice. Try our email and see for yourself!
Venice Tip #4 - Get on a boat to see Venice Italy from the water!
Venice was built surrounded by water and designed to be admired from the water.
Indeed, the façades of the most beautiful Venetian Palazzi can be seen only from the water.
Even the Doge's Palace, the most important and spectacular building in Venice, was built to be admired first of all from the water!
In fact, its façade overlooking the lagoon was built 100 years before the one facing the land, the "Piazzetta" and the Marciana Library.
Therefore, when visiting Venice make sure to see it from the water. Take a Gondola, a private boat, a taxi or a water bus, whichever you prefer. But do it!
Gondola tours are one of the most beautiful ways to discover the city and explore its narrow canals.
Taxis were born as a transportation service but can also be booked for a sightseeing experience.
Private tours on rowing boats and kayaks are definitely a fun way to spend a few hours discovering Venice from the water.
Lastly, one can also board a public water bus and navigate the full length of the Grand Canal. This way, you can admire the stunning palaces all around the Grand Canal but will, unfortunately, miss all the narrow canals and tiny bridges that are so unique to Venice.
Venice Tip #5 - Eat authentic local food in Venice Italy. Even on a budget!
If you'd like to eat authentic Italian food, you can do so even if you're on a budget.
Eating well in Venice without spending much is possible.
A good authentic bacaro serves tasty and affordable finger food that will leave you stuffed and satisfied.
However, also having an intimate dinner in a restaurant trying delicious Italian and Venetian plates is an experience we warmly recommend. To find the right place for you, check out the list of restaurants and places we recommend!
One more amazing way to discover Venice and taste the best of local food and wines is to take part in a private food and wine experience in Venice with us!
Finally, if you want to find the right place where to eat all by yourself, please check out our article that helps you understand how to spot the right places where to eat and those to absolutely avoid in Venice.
Unlock a discount at the best authentic local businesses in Venice
Venice Tip #6 - Spot and enjoy the best local bars, restaurants and shops by looking for the Venezia Autentica Logo
To many people, it is important to find the right local businesses when travelling.
Where should I eat? Where should I shop for authentic products? Where should I stop for a good drink? Where is the best place for a Murano Glass bracelet?
The good news is that it is easier than you'd think:
You can find great local businesses by using our directories of local shops and bars & restaurants. Moreover, you can also look for the Venezia Autentica's logo on shop windows when you're walking around Venice.
Our logo means that the local business operates in a way that is positive both for you and the local community.
Those shops are locally owned and operated. They give decent jobs to local residents. They offer good quality to their customers and operate in a sustainable and responsible way.
Venice Tip #7 - Discover Venice with a local: the best way to see Venice Italy
One of the biggest joys of travelling is meeting new people and discovering new cultures and ways of life.
Luckily, due to technology, it has never been easier to do so!
Group tours are generally affordable and a classic way to discover a new place. Unfortunately, they tend to be standardized and might not be the most rewarding experience.
On the other hand, private tours or activities are a bit more expensive but can adapt to your needs and match your personal interests.
Our Experience Booking platform offers many different private experiences in Venice.
You can take walks off the beaten path, try hands-on activities or food-oriented tours.
They are all excellent ways to discover Venice from a unique point of view and engage in meaningful conversations with a Venetian.
Venice Tip #8 - Free yourself from the fear of not finding a bathroom when you need one
A piece of very useful information we can give you is on… toilets!
Public toilets, in fact, are very clean but are not always easy to find. They also have a small cost of 1,50€.
When you find yourself in need of a restroom, our tip is to look for a bar. You can then order a coffee or a pastry and, as paying customer, you will be welcomed to access the bar's restroom.
Please, do not just enter, use the toilet, and leave. Such behaviour is frowned upon in Italy.
Instead, check if the bar has a bathroom and then ask for a "caffè" (espresso coffee, 1€) or a "pastina" (a pastry, 1€ to 1,50€). After that, feel free to head to the restroom.
Venice Tip #9 - If you book a guided tour make sure your guide is a local
In 2014, the EU stated that all European guides and tour leaders have the right to work everywhere in Europe.
That sounds reasonable, doesn't it? Unfortunately, not so much.
In Italy, people must pass a rigorous exam to become a guide or a tour leader.
The majority of other European countries, on the other hand, do not require a mandatory certification or license.
Unfortunately, the latest EU regulation allows anyone who does not reside in Italy to sell his/her service as a guide and lead groups to Italy.
As a consequence, travellers might not be aware that guides and tour leaders are not all the same and might be tricked into picking the wrong professional.
Indeed, there is a stark difference between a trained guide that lives in an Italian city and a person that has no training and visited an Italian city a few times.
This is why we suggest you don't rely on (literally) "outsiders" as your tour guides.
A good local guide should know Venice inside-out, be able to answer your questions, and give you real insights.
On the contrary, people who do not know Venice might either stick to common knowledge available on most online articles or even tell wrong facts about Venice.
Therefore, if you want to tour the city with someone and have a good experience, make sure you're going with a certified local tour leader.
If you'd like to do it with us, feel free to check out our private off-the-beaten-path walk with a certified local tour leader.
Book an authentic experience in Venice
Venice Tip #10 - Take the time to enter artisans shops to discover centuries old crafts and get the real thing
Venice is a city with an incredible culture. Over the centuries, many unique crafts were born or adopted locally.
Nowadays, there is still a number of artistic artisans who are keeping centuries-old traditions alive in the city. Their workshops are a must-visit for arts & crafts lovers and for anyone interested in an authentic experience of Venice.
However, the invasion of mass-produced souvenirs is amongst the most visible things which are destroying the city and playing an important role in forcing the inhabitants to move out of Venice.
Recognizing authentic artisans shops is not easy. It requires a good eye and knowledge of the crafts.
However, there are few things which can help you understand whether or not you are likely to be in front of the window of an actual artisan or not.
You can find everything you need to know to shop local in Venice, here
If you are looking to understand the incredible culture of crafts in Venice from even closer and to enjoy a privileged moment with the master artisans, we invite you to attend experiences in the artisans' workshops.
Booking carefully designed and curated private tours or activities with local crafts-masters is the perfect opportunity for either a fascinating guided visit of the best local craftspeople or hands-on private activities.
Craft classes are unique ways to discover Venice from another viewpoint and to be initiated to mosaic making, glass making, handmade bookbindings, and more centuries-old techniques, directly by master artisans
Beware of mass produced souvenirs!
Besides copying and unfair competition that puts local shops out of business, the other problem caused by some mass produced items is a threat to your health.
Cheap masks, for example, do not comply with EU legislation regulating colors and substances for wearable products: the contact with your skin is potentially dangerous.
We created a shortlist that summarizes the risks and annoying things you should be aware of when in Venice.
Venice Tip #11 - To save time and money at the best local shops, bars, and restaurants in Venice get yourself the Venezia Autentica Friends' Pass
By visiting this link, you can buy a digital pass giving you access to a 10% discount in Venice on a minimum expense of 30 euros at the best Venetian local businesses identifiable by the Venezia Autentica logo on their door or window.
All are locally owned, employ locals and offer authentic quality sustainable products and services.
Read more about how you can save money and time in Venice with the Venezia Autentica Friends' Pass
Venice Tip #12 - For the best experience, leave those fancy and uncomfortable shoes behind
Don't wear high heels. Trust us, do not wear high heels!
Venice Italy is an old pedestrian city, with uneven streets, that will require you to walk, and walk, and walk.
Even if you are planning to board a water bus, you'll have a lot of walking to do to walk to the water bus stops, trying to navigate the uneven stone pavement, the bridges, and the crowds.
If you're staying in your hotel or get picked up by a water taxi to go to a private party, high heels might be a fair choice. In any other case, trust us, you really don't want to do it.
Your feet will thank us.
As Wikipedia points out, Venice is a pedestrian traffic-free city with almost 3.000 alleys… now you see the importance of wearing good shoes, don't you?
Venice Tip #13 - Our ecological tip for your first trip to Venice: Carry a refilable bottle of water
The water of the fountains in Venice is drinkable and of very good quality.
Almost every main square has a working fountain where you will be able to refill your bottle.
If you want to drink a prosecco, however, there is no such fountain yet. In this case, a stop at a bacaro will fulfill your needs.