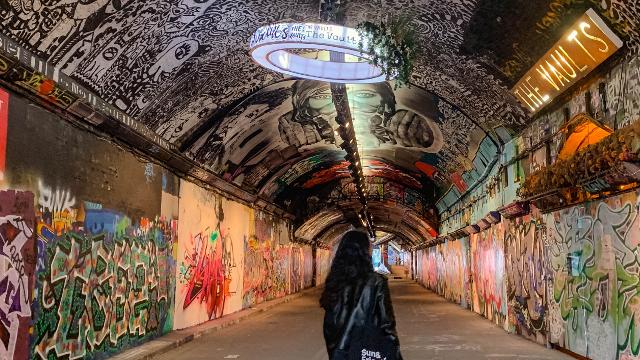 10 Best Places to Take Photos in London
A city steeped in history and full of iconic architecture, London is truly one of the world's great capitals. A city where world-class museums and art galleries are free for everyone, and where pop-up street food events happen right around the corner from Buckingham Palace — it's impossible not to feel energized here. To get you inspired for your trip, here are the 15 best photo spots in London, with tips on getting the perfect shot.
1. Big Ben and Westminster Bridge
Big Ben is the most popular London icon on Instagram, which means it's also the most photographed. Spending a little longer in a place, and being a little more inquisitive, can help us make a unique image. Head to the Westminster Bridge underpass — an oft-overlooked spot, though the secret's beginning to get out — for a new angle on Big Ben. Stand inside and use the archway to frame your image. Hold your camera in portrait mode and, if you're using a camera phone, use the HDR setting for best results.
2. St Paul's Cathedral from One New Change
Popular with city folk but not yet on the tourist circle, the One New Change shopping center has a great viewing platform. Take the elevator to the top floor and avoid the temptation of the bar. Head to the deck and take in the London horizon or St. Paul's Cathedral. Use your device in landscape mode; this is a great place to use the panorama feature on your phone if you have one.
3. The views from a Thames Clipper
Instead of taking a Thames boat tour, go for the commuters' favorite and hop on one of the Thames Clippers plying the river. Catch the boat from the dock at Embankment Pier and ride to Greenwich and back. Take an outside seat at the back of the boat for the best chance of capturing all the famous buildings along the river for your Instagram account. A zoom lens will be best for capturing multiple images near and far from the edge of the water. This is the best way to get up-close to HMS Belfast from a different angle. If you do go to Greenwich, make sure you explore the area as there are great panoramic views of the city near the Royal Observatory.
4. Light trails at Harrods
A trip to Harrods is a must, but if you prefer photography to shopping, head there when it's dark. Harrods is lit like a Christmas tree all year round and makes a great spot for long exposure photography. There's a crossing point on Brompton Road where you can position your camera and tripod with the widest lens you have. Use your camera's timer function if you don't have a remote. Be patient and wait for a bus or a taxi — it won't be long until either are in your frame.
5. The Shard from St Dunstan-in-the-East
Ever heard of St Dunstan-in-the-East? This ruined church and gardens is really hidden, but its tranquility is a haven from the business of Central London. From here you'll get a different perspective of The Shard — set your focus point on it and use your flash to highlight the ruins in the foreground. If you're using a camera phone, select the HDR mode if it's available.
6. Leadenhall Place and the Lloyd's Building
Leadenhall Place showcases some of London's oldest architecture juxtaposed against some of the city's more recent buildings. On one side you have the Lloyd's Building — Richard Rogers' 'inside out' design — all metal and glass on the exterior — was completed in 1986. It's situated next to Leadenhall Market, a beautiful covered market that dates back to the 15th century. With the widest-angle lens you have, stand in Leadenhall Place and look straight up to the roof of the market to capture all the old and new contrasts.
7. Leake Street Tunnel
A forever changing space only a few steps from the London Eye, this is a dark, dirty and awesome place for taking images. Leake Street Tunnel is great for photography at any time of the day. A wide-angle lens and a tripod would be best, but it's also worth going up-close and capturing the textures. With all the layers of paint, brickwork, and a generally dirty, industrial environment, there's a lot to photograph in here.
8. Reflections on The Gherkin
The Gherkin, or 30 St Mary Axe, is one of London's most recent iconic buildings, though it's slowly disappearing from the skyline due to all the new buildings popping up everywhere. On a sunny day, the clouds reflect against its glass really well. Stand right at the bottom and look up. Use the portrait orientation and look for reflections of the clouds and the various different buildings around you.
9. More London
More London, also known as London Bridge City, has great views of the capital and is a great alternative to busy South Bank. Put your camera or phone in a clear plastic bag (or use a waterproof camera) and wait for the fountains to shoot up in the air. Point towards either the Shard or Tower Bridge. Stick your protected camera into the water and snap away for a very different perspective.
10. Cross Rail Place Roof Garden
Head to Canary Wharf on a weekend and it'll feel worlds apart from the Monday to Friday bustle. Cross rail Place Roof is a brand-new garden that's so peaceful you wouldn't think you were in one of London's top business districts. From here you won't get your stereotypical London image. Look up and instead have your image filled with skyscrapers and palm trees.
https://mbs87.com/en-vn/blogs/eastern-europe-tour